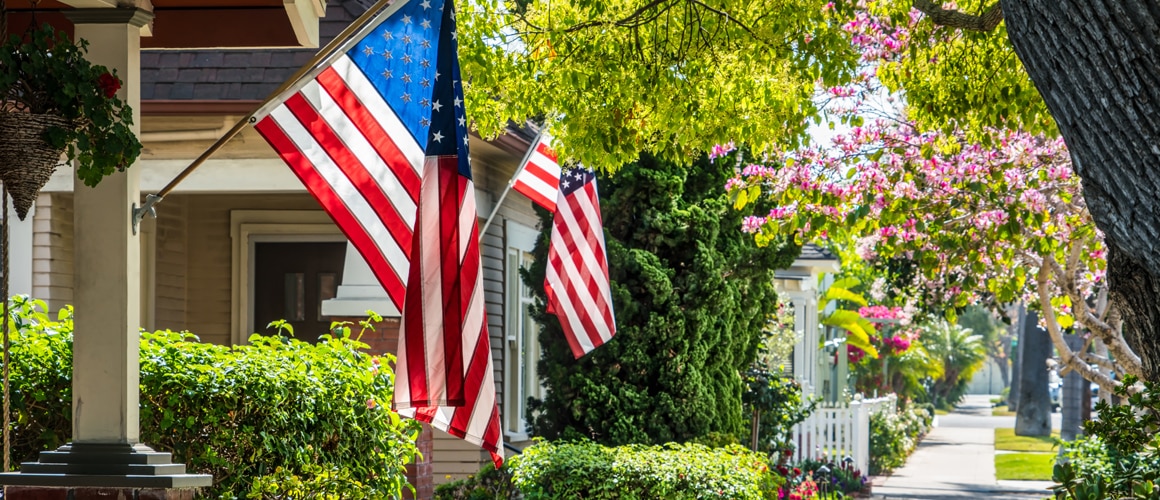 VA Home Loans: A Guide For America's Veterans
11-minute read
August 07, 2020
Share:
VA loans are a great benefit for eligible servicemembers, veterans and their surviving spouses. It allows you to qualify for more favorable loan terms if you're looking to purchase or refinance a home than many other loans even if your credit isn't perfect.
If you currently serve in the military or are a veteran, you're probably eligible for a VA loan. Here's what you need to know about these special government-backed loans.
What Is A VA Loan?
VA loans are government-backed loans issued to qualified veterans and active servicemembers. VA loans provide many benefits over conventional loans, including lower interest rates, more lenient borrowing requirements, and no down payment due at closing.
VA loans are a type of military loan that mortgage lenders issue to qualified veterans and spouses. They're backed by the government – specifically, the Department of Veterans Affairs (VA).
The VA does not issue VA loans, but they do determine who may qualify for one and which lenders can issue them. This means that VA loans pose less of a risk to lenders because they're backed by a government agency.
For those who are eligible, VA loans are very attractive because they don't require a down payment. They also have lower interest rates than many other types of mortgage loans you can get for similar terms. They don't have monthly mortgage insurance.
Although lenders set their own requirements for certain aspects of qualification, VA loans also have credit requirements that are more lenient than many other mortgage programs.
Take the first step toward the right mortgage.
Apply online for expert recommendations with real interest rates and payments.
Who's Eligible For A VA Loan?
Not just anyone who has served in the Armed Forces qualifies for a VA loan. You must meet at least one of the following criteria to qualify:
Served 181 days of active service during peacetime.
Served 90 consecutive days of active service during wartime.
Served more than 6 years of service with the National Guard or Reserves.
Are the spouse of a servicemember who lost their life in the line of duty or as the result of a service-connected disability. You generally cannot have remarried, although there are exceptions.
What Is A Certificate Of Eligibility (COE)?
A Certificate of Eligibility (COE) is a document that shows your mortgage lender that you're eligible for a VA loan. To get a COE, you need to demonstrate proof of service. The proof you need to submit varies based on whether you're an active-duty military member, a veteran, a surviving spouse, etc.
If you're eligible, Quicken Loans® can help you secure your COE.
Veterans
Veterans need to submit DD Form 214. DD Form 214 is a certificate that verifies your military discharge. You can request your DD Form 214 online by using the eVetRecs filing system.
Active-Duty Servicemembers
You'll need a statement of service signed by your personnel officer, adjunct or unit commander if you're an active duty servicemember. The statement of service must include your full legal name, Social Security number and birthdate.
It must also document the date you entered the service, information on any breaks or discharges you took from service and the name of the commander providing the information. Ask your superior for a statement of service before you apply for your COE.
Current National Guard Or Reserve Member
Current National Guard or Reserve members also need a statement of service. The requirements for your statement are the same as they are for active servicemembers.
Discharged Member Of The National Guard
Discharged members of the National Guard need to have NGB Form 22, Report of Separation and Record of Service for each period of National Guard service. You must also have NGB Form 23, Retirement Points Accounting and proof of character of service.
National Guard units belong to individual states, so there is no central record archive. Contact the National Guard Adjutant General's Office in the state where you served and request your NGB Form 22 and 23 in order to get your COE.
Discharged Member Of The Selected Reserve
You must have a copy of your annual Retirement Points Statement if you're a discharged member of the Selected Reserve. You also need proof of honorable service and discharge.
Surviving Spouses
Surviving spouses who do not get dependency benefits can get a COE as long as you have your spouse's DD Form 214, your marriage license and your spouse's death certificate. You also need to print and complete VA form 21P-534-ARE, available on the VA benefits website.
Surviving spouses who receive dependency benefits need to print and complete VA form 26-1817. You can download the form for free From the VA benefits website.
Once you've got your evidence, you have a few options to apply for your COE. You can apply online through the VA's eBenefits website. You can also mail your documents and a completed VA Form 26-1880.
Take the first step toward the right mortgage.
Apply online for expert recommendations with real interest rates and payments.
Other VA Loan Requirements
Once you've verified that you meet the service requirements for a VA loan, you need to make sure your income, assets and credit check out, as well as the property you're buying.
Property Type
VA loans can also be used on condos and manufactured homes, but not all lenders will finance loans for these property types. If you're getting your loan with Rocket Mortgage®, you can get a VA loan for a condo, but not for a manufactured home.
Whatever property you buy must meet the VA's minimum property requirements (MPRs). MPRs ensure the home is safe, structurally sound and sanitary.
A VA appraiser will conduct an inspection to ensure the home meets the MPRs. If any MPRs are not met, repairs will need to be made before the loan can close.
Credit Score
The VA doesn't require a specific minimum credit score for VA loans, so the credit requirement varies by lender. The minimum median credit score for a VA loan from Quicken Loans is 620.
Income
Your lender will evaluate your debt-to-income ratio (DTI) when considering your ability to pay back the loan. Your DTI represents how much of your monthly income goes toward paying back debt.
VA Loan Limit
The VA doesn't limit how much you can borrow, but there is a cap on the VA's guaranty – which is the amount of money they'll back if you default on your loan. According to the VA, the loan limit for a no-down-payment VA loan is $510,400 in most of the country.
Certain high-cost areas have higher limits. If you need a loan higher than that amount, you may be able to look into a VA jumbo loan, which doesn't require a down payment and may offer a lower rate than regular jumbo loans.
Down Payment And Assets
VA loans are one of the few loan options that don't require a down payment. However, your lender may have specific requirements for a no-down-payment VA loan.
For example, they may require that you have a higher credit score if you're putting down less than 10%. The requirement to purchase a home with a VA loan through Quicken Loans with no down payment is still a median of 620.
It's important to keep in mind that "no down payment" doesn't mean "zero cost." Here are some other costs to be prepared for, even if you're putting 0% down:
Funding fee: Most people who get a VA loan are required to pay a funding fee, which covers the cost to taxpayers. The funding fee ranges from 1.25% to 3.3% (2.3% – 3.6% beginning January 1, 2020) of your loan amount.
The cost of the fee is determined by your type of service, the size of your down payment, whether it's the first time you're getting a VA loan and whether you're buying or refinancing. If you don't have the money up front, it can be added to the loan amount in many cases.
Reserve funds: Most loans require you to have additional money in the bank that you're not using for upfront costs. This ensures that you'll be able to make payments once your loan closes.
The amount of leftover funds you'll need is determined by the cost of your mortgage payment – including principal, interest, taxes and insurance. Although it's not always required, it's a good idea to be able to show reserves equivalent to at least 2 months' worth of mortgage payments.
Take the first step toward the right mortgage.
Apply online for expert recommendations with real interest rates and payments.
VA Loan Vs. Conventional Loan: What Are The Benefits?
VA loans have many benefits over conventional loans. Among them are lower interest rates, no down payment requirement, no mortgage insurance, laser credit requirements and additional pluses for disabled veterans.
VA Loan Rates Are Typically Lower
Because they're backed by the government and carry lower risk for lenders and investors, VA loans typically have lower interest rates than conventional loans. The difference can be 0.25% or more.
VA Loans Don't Require A Down Payment
Because the VA loan is one of two major mortgage options that doesn't require a down payment – the other is from the USDA, you'll have lower closing costs and be able to take what you would've put into the down payment and put it toward furniture or future savings.
In addition, you don't need any equity to refinance your VA loan into a lower rate. In fact, with a VA Streamline loan, you can refinance up to 120% of your home's value for the purposes of changing your term or lowering your rate. This means you can refinance even if you owe more on your home than it's worth.
VA Loans Don't Require PMI
VA loans don't require PMI, a form of mortgage insurance on conventional loans that requires either a monthly payment or a higher rate in lieu of prepaying for mortgage insurance as part of your closing costs. This can save you anywhere between 0.5% – 1% of your loan amount per year for the first several years of your loan until you reach at least 20% equity.
VA Loans Have Lenient Borrowing Requirements
VA loans allow you to qualify with a higher DTI than any mortgage program from one of the major mortgage investors. While the limit is 50% if you have an adjustable rate mortgage (ARM), if you get a fixed-rate loan, that limit can go as high as 60%.
The VA loan is also the only program that lets you access 100% of your equity in a cash-out refinance, a key differentiation from other options. Quicken Loans does require that your credit score be at least a median of 680 or higher to do this. Otherwise, you can take out up to 90% of your home equity if you have a median score of 620 or better.
Additional Benefits For Disabled Veterans
In addition to standard VA loan benefits, disabled veterans also have access to other benefits as well.
VA Funding Fee Exemption: Disabled veterans have a VA funding fee exemption, which means that they don't have to pay any form of VA funding fee during closing. To qualify for the exemption, you must currently receive some form of disability benefits – your level of disability is irrelevant.
This may not sound like a big deal, but this exemption can save veterans or their surviving spouse thousands. For example, if you buy a home worth $200,000, you would usually pay between $2,500 – $6,600 ($2,800 – $7,200 starting January 1, 2020) in VA funding fees when you close. Disabled veterans can completely avoid this fee.
Access To Specially Adapted Housing Grants: Do you have a disability that affects your mobility or sight? You may qualify for a Specially Adapted Housing (SAH) grant.
SAH grants can go toward constructing a special home that's individually designed to fit the needs of the disabled individual, or they can allow you to modify an existing home to make it more accessible. SAH grants can also go toward the unpaid balance of an adapted home that was already purchased without VA grant assistance.
For 2019, you may qualify for a grant of up to $85,645 ($90,364 in 2020), and you may use the grant up to three times as long as your disability qualifies. Because the SAH is a grant and not a loan, you don't need to pay back the money you receive from the government.
Access To Other Adaptation Grants: Disabled veterans may also qualify for a Temporary Residence Adaptation (TRA) grant to add modifications to your property that make it easier for you to navigate if you live with a family member. Like SAH grants, you won't need to pay back your SAH or TRA grant, which makes them a powerful tool for veterans with mobility-related disabilities.
Property Tax Exemption: Property taxes are taxes that you pay to your local community to fund things like libraries, fire departments, and local road and development projects. Disabled veterans property tax exemptions can lower the amount you must pay in property taxes.
These tax exemptions aren't a federal program, and they vary by state, so make sure you check with your local VA office to learn more about what kind of exemptions you're eligible for. Some states offer an exemption to all veterans, while other states limit this benefit to veterans who are currently receiving disability payments. Disabled veterans are 100% exempt from property taxes in some states.
How to Apply For A VA Loan: 6 Steps
Applying for a VA loan is a lot like applying for any other mortgage in many respects. However, there are a couple of special considerations to think about so you know what to expect.
Secure A Certificate Of Eligibility (COE)
You'll need this in order to be eligible for your VA loan. You'll need to provide proof of your military service based on your status.
Quicken Loans can help you work through the process of verifying your eligibility and getting your certificate. VA-approved lenders like Quicken Loans can help you get your certificate in a very timely manner with proof of service.
Make sure you tell your lender you need your certificate of eligibility early in the process so they can help you get it while you go through the process of finding a home or going through underwriting.
Get Approved
When you go through the process of getting a home or refinancing, you want to make sure you get approved early on. Particularly when you're buying a home, the approval will give you a baseline for determining how much you can afford.
Not every lender can do VA loans. Quicken Loans can help you with your VA loan and find the right option for you! Because the process will be easier if you know what you can afford up front, apply when you're ready.
Shop For A House
Finding a house with a VA loan should be just like finding a house with any other loan option. However, in certain states or areas within states, a pest inspection may be required. In others, a pest inspection will only be required if the appraiser sees evidence of a pest problem.
Whether you can pay for it or the seller has to pay depends on the state. Additionally, the VA has the same types of requirements as are associated with FHA loans around lead paint. There are instances in which paint remediation will have to be done.
The only other thing to be aware of outside of health and safety concerns is that you have to occupy the property as your primary property. That means that with certain exceptions like active duty, you have to occupy the property within 60 days of closing. You can't use a VA loan for a vacation or investment property.
Make A Purchase Offer
Once you find a home you like that's in your price range, put in an offer to buy the home. The seller may accept your offer, reject the offer or counteroffer. Once you and the seller agree on a price, a real estate agent or attorney can help draw up a contract.
Undergo VA Appraisal And Underwriting
Underwriters from your lender assess your finances and make sure you qualify for a VA loan. The VA will also require an appraisal before they approve the loan.
VA loan appraisals are slightly different from standard mortgage-required appraisals. When you buy a home with a private loan, the lender requires an appraisal because they need to know that they aren't loaning you too much money for the property.
VA appraisals are stricter than conventional loans. During a VA appraisal, the appraiser will check to make sure that the home is sanitary, structurally sound and move-in ready with minimal repairs.
Close On Your New Home
Once the VA appraiser says that your new home is safe and sound, it's time for you to sign on your new home, get your loan, and receive the keys to your new property.
Get approved to buy a home.
Rocket Mortgage® lets you get to house hunting sooner.
Is A VA Loan Right For You?
In this article, we discussed what the VA loan is and some of its key features. We've talked about who's eligible as a veteran, active-duty servicemember or surviving spouse, how you go about getting your certificate of eligibility and other requirements associated with the VA loan.
We've also compared a VA loan to a standard conventional loan and talked about how most of the time, if you qualify a VA loan is likely the best option. Finally, we've gone through the basic steps of applying for financing and getting a home with a VA loan.
If you feel like you're ready, apply for a VA loan with Quicken Loans today!