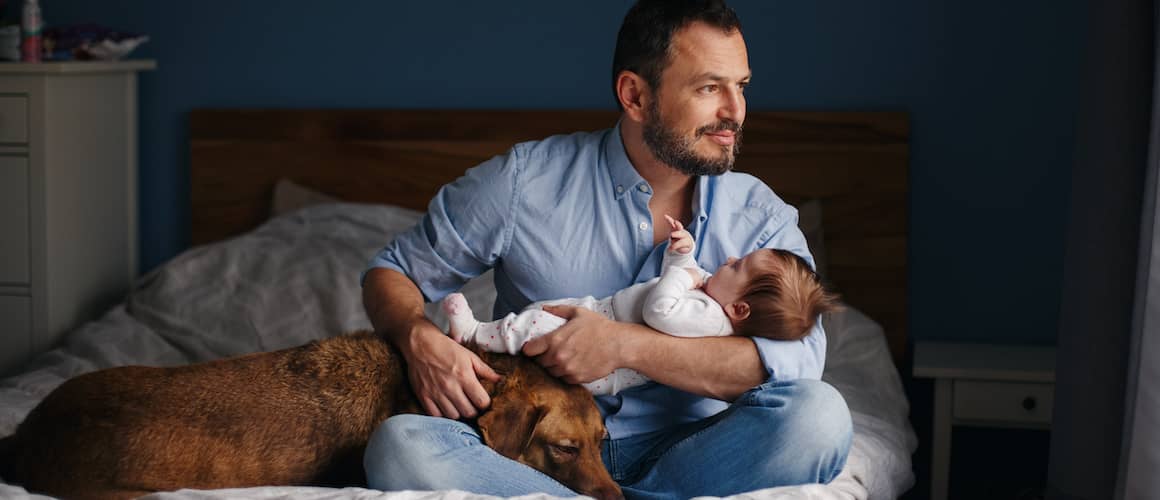 VA Loan Occupancy Requirements
Ashley Kilroy4-minute read
April 28, 2023
Share:
Department of Veterans Affairs (VA) loans are available for qualifying veterans, prior service members, those currently serving in the military and eligible spouses. VA loans offer many mortgage benefits, such as low or no down payments, limited closing costs and no private mortgage insurance requirement.
While there are many more benefits to enjoy, you'll want to make sure you understand and meet the VA loan occupancy requirements. The requirements are in place to ensure the residence is being used for the right purpose. To verify that you will qualify, check the VA loan occupancy requirements.
Residence Occupancy Requirements
The property you purchase with a VA loan must be a primary residence. Second homes and investment properties don't qualify for a VA home loan. And you must move into the new home within a reasonable time frame, typically within 60 days of closing on the house.
If you're having work done to your property that could delay your move-in day, you will be deemed "delayed" on your occupancy requirement. If your renovations or repairs push your move-in date, your mortgage lender may require additional paperwork.
See What You Qualify For
Congratulations! Based on the information you have provided, you are eligible to continue your home loan process online with Rocket Mortgage.
If a sign-in page does not automatically pop up in a new tab, click here
Occupancy Requirements For Families
If you are on duty or away from your permanent location, your spouse can occupy the home.
Additionally, you can have a child and other dependents living in the home while you're on active duty or away. However, you'll need additional paperwork to satisfy the occupancy requirement. To satisfy the VA occupancy rule, your attorney or the dependent's legal guardian must certify that the occupancy requirement has been met. If you can meet the requirement via a spouse or dependent, you and your family won't need to worry about residency being an issue while you're on duty.
Keep in mind, though, some lenders may not allow you to use a dependent's occupancy to meet the requirements.
Today's Purchase Rates
VA 30-Year Fixed *
6.49 Rate / 7.027 APR
Legal Disclosures
30-year Fixed-Rate VA Loan:

An interest rate of 6.49% (7.027% APR) is for a cost of 2.00 Point(s) ($5,107.50) paid at closing. On a $255,375 mortgage, you would make monthly payments of $1,612.47. Monthly payment does not include taxes and insurance premiums. The actual payment amount will be greater. Payment assumes a loan-to-value (LTV) of 61.29%.

VA loans do not require PMI. The VA loan is a benefit of military service and only offered to veterans, surviving spouses and active duty military.
Assumptions
Listed rates are offered exclusively through Rocket Mortgage.
Mortgage rates could change daily.
Actual payments will vary based on your individual situation and current rates.
Some products may not be available in all states.
Some jumbo products may not be available to first time home buyers.
Lending services may not be available in all areas.
Some restrictions may apply.
Based on the purchase/refinance of a primary residence with no cash out at closing.
We assumed (unless otherwise noted) that: closing costs are paid out of pocket; this is your primary residence and is a single family home; debt-to-income ratio is less than 30%; and credit score is over 720; or in the case of certain Jumbo products we assume a credit score over 740; and an escrow account for the payment of taxes and insurance.
The lock period for your rate is 45 days.
If LTV > 80%, PMI will be added to your monthy mortgage payment, with the exception of Military/VA loans. Military/VA loans do not require PMI.
Please remember that we don't have all your information. Therefore, the rate and payment results you see from this calculator may not reflect your actual situation. Rocket Mortgage offers a wide variety of loan options. You may still qualify for a loan even in your situation doesn't match our assumptions. To get more accurate and personalized results, please call to talk to one of our mortgage experts.
View Rates
VA Loan Occupancy Requirements For Refinance Loans
The VA occupancy rules apply for certain refinance loans, but not all. A VA cash-out refinance mortgage requires a new appraisal and credit check and requires the borrower to certify occupancy for the new loan.
A VA Interest Rate Reduction Refinance Loan (or VA Streamline Refinance) only requires the borrower to certify that the home was their primary residence during the original VA mortgage. The VA Streamline Refinance can help borrowers get lower interest rates, lower their mortgage payments and enjoy other advantages.
Sometimes a VA Streamline Refinance loan can be used to get out of the VA occupancy rules so you can rent a property.
Occupancy Requirements For Deployed Active-Duty Service Members
Service members deployed away from home or overseas can fulfill the VA loan occupancy requirement even if they are single and have no spouse or dependents living in the home.
That said, lenders may require additional paperwork. Here are some things lenders may ask you to verify:
That you use the home as your primary address
That prior to deployment, you maintained continuous occupancy of the home
That you have not moved and don't currently intend to move
If you're away from home because you're serving on active duty, check with your lender to see if they need any additional information.
How Can You Buy A New Primary Residence And Rent Out Your Existing Home With A VA loan?
If you have lived in your home for at least 12 months or occupied it for less than 12 months but received orders to a new duty station, you can rent the property to a tenant. The tenant doesn't need to be employed by the military. While the VA home loan program is for veterans and active-duty military, in this scenario, you can rent out property secured with a VA loan because you've already met the VA's occupancy requirements.
Renting Your Home Through An IRRRL While Buying A New Home
You may be eligible to apply for an Interest Rate Reduction Refinance Loan (IRRRL) on your existing property after making at least 6 consecutive monthly mortgage payments. Although you're not required to refinance your mortgage to purchase another home with a VA loan, refinancing allows you to keep your existing property as a rental while you work on purchasing a new home.
Once you contact your lender about purchasing a new home with your VA benefits, they'll let you know how much entitlement you have left and if a down payment is required. Even if you're earning rental income from your previous property, you meet your lender's financial requirements to ensure you can afford both homes.
VA Loan Occupancy Requirements FAQs
If you've got questions about the ins and outs of VA loan occupancy requirements, you're not alone. You'll find the answers to some frequently asked questions below.
Is there a required time of occupancy?
There is no set required time for occupancy, but the paperwork will state that the borrower must live in the residence for at least 12 months. Special circumstances can be negotiated with your VA lender.
What are the occupancy requirements if I'm retiring from the military soon?
If you're retiring in the next 12 months and want a loan to purchase a home, you must fulfill a few additional requirements. You must provide a copy of your retirement application from military service and verify your ability to make the mortgage payments. While VA loans usually require borrowers to move in right away, retirees get some leniency. You can usually apply for an occupancy delay lasting up to 12 months.
Does the VA check occupancy?
VA lenders will use their best judgment to ensure the loan borrower meets the VA loan occupancy requirements. However, if there is reason to question occupancy, it is up to the lender to determine whether the VA occupancy rule has been satisfied or violated.
The Bottom Line
VA loans help eligible veterans, those currently serving in the military and eligible spouses purchase homes. There are many benefits, but there are also many stipulations to follow and facts you need to know before getting a loan.
You need to know all VA loan occupancy requirements, such as the date you must move into your home, how long you must live there and how to fulfill your VA loan occupancy requirements if you're deployed or travel away from home for work.
Are you in the market to refinance your current loan or buy a new home? Apply for a mortgage online with Rocket Mortgage® today.
See what you're eligible for.
Rocket Mortgage® uses information about your income, assets and credit to show you which mortgage options make sense for you.
Related Resources
Viewing 1 - 3 of 3