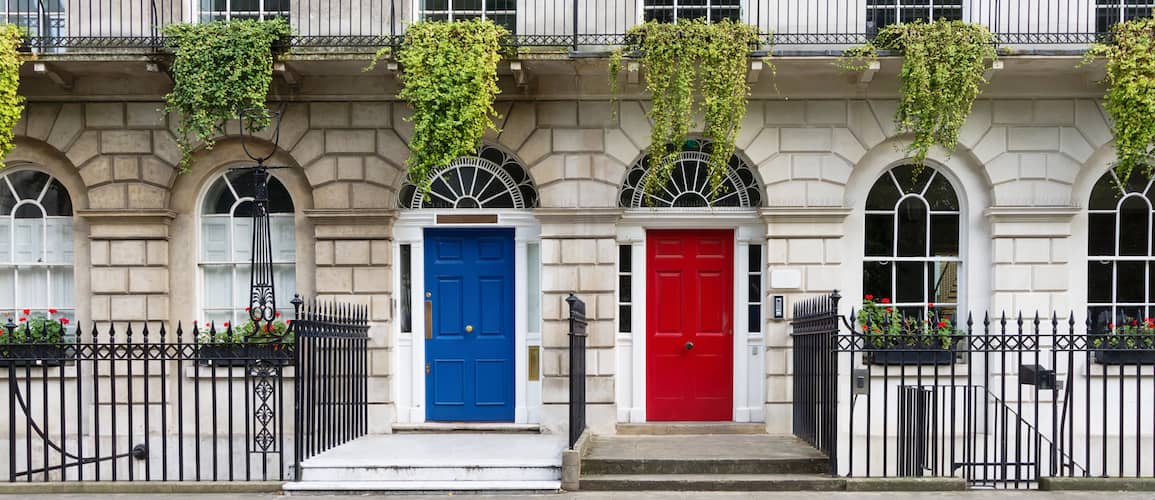 VA Streamline Refinance (VA IRRRL): What Is It And How Does It Work?
Hanna Kielar9-minute read
March 28, 2023
Share:
The VA loan program allows eligible veterans, active-duty service members, reservists, National Guard personnel and qualifying surviving spouses access to mortgage options without a down payment or private mortgage insurance. Millions of military veterans and active personnel have taken advantage of this unique housing benefit from the Department of Veterans Affairs (VA). But what happens if you have a VA loan and you're having trouble making your monthly payments? A VA Interest Rate Reduction Refinance Loan (IRRRL, pronounced "earl") may help you refinance to a lower interest rate.
Let's take a look at what a VA IRRRL is, the pros and cons of a VA IRRRL loan and whether it's a good choice for your situation.
What Is A VA IRRRL?
A VA IRRRL is also referred to as a VA Streamline, and the terms are often used interchangeably. Lenders use the term "streamline" to imply that the IRRRL process is simpler and faster than other types of refinancing options.
VA Streamlines can help you switch from an adjustable-rate mortgage (ARM) to a fixed-rate mortgage, lower your monthly interest rate or change your repayment term. You must have an existing VA loan to undergo a VA Streamline.
If you wish to convert your home equity to cash, you must undergo the full VA cash-out refinance process.
See What You Qualify For
Congratulations! Based on the information you have provided, you are eligible to continue your home loan process online with Rocket Mortgage.
If a sign-in page does not automatically pop up in a new tab, click here
How Does A VA Streamline Refinance Work?
The word "streamline" is lender-speak for a simplified and less expensive refinance process. Remember, when you apply for a full refinance, you're essentially undertaking the same process you went through when you bought the home. That includes a new appraisal, new title search and new recording fees.
With a streamlined process, there's often no new appraisal and underwriting is often simplified. Your lender may require a minimum credit score and employment verification, but the VA doesn't. As long as you're up to date on your mortgage payments, you should be approved for a streamline loan.
You will need to get a new title search performed, and purchase a new title insurance policy for the lender. The streamlined process moves quickly, and the closing costs can typically be rolled into the new loan.
The VA will only allow you to take advantage of a VA Streamline refinance of your loan if the new terms provide you with an immediate financial benefit, such as a lower interest rate or a lower monthly payment. You can't refinance your loan just because you don't like your current lender or for any reason that doesn't directly relate to your finances.
Take the first step toward the right mortgage.
Apply online for expert recommendations with real interest rates and payments.
VA IRRRL Advantages And Disadvantages
If you secure an IRRRL, you'll likely be securing one of the lowest interest rates out there. While you'll want to research current mortgage rates and consider a few different lenders in order to find the best IRRRL rate available, you'll also want to understand the advantages and disadvantages when it comes to securing a VA IRRRL.
VA IRRRL Streamline Refinance Pros
The VA Streamline refinance program offers many benefits over other refinance options.
Lower Interest Rate
The most common reason why veterans and their family members refinance their VA loans is that they'd like to secure a lower interest rate. The VA strongly prefers that borrowers seeking a VA IRRRL secure a lower interest rate than their original mortgage loan has, unless the loan they are refinancing is an ARM.
Lower Monthly Payments
When it comes to how refinancing works with a VA Streamline, your monthly payments often decrease. Lower monthly payments may result from an extended term on the loan, which allows more time to pay on your mortgage. A lower interest rate could also result in a lower monthly payment if the length of the loan is held equal.
Lower Funding Fee
The VA loan program requires borrowers to pay an upfront funding fee that can either be paid at closing, offset with a lender-paid credit, covered by the seller as a concession (where a seller agrees to pay partial closing costs) or rolled into the loan balance.
The amount of the funding fee on a regular VA loan is anywhere between 1.25% and 3.3% of the loan amount depending on service status, down payment amount, if it's your first time using a VA loan and whether it's a purchase or refinance. For a VA Streamline, the funding fee is 0.5% of the loan amount in all circumstances.
Potential Change In Mortgage Structure
As a reminder, refinancing with a VA Streamline could allow you to move from an adjustable-rate mortgage to a fixed-rate loan. ARMs change over time, depending on rate fluctuations. Fixed-rate mortgages lock in a single interest rate until you pay off your loan.
VA IRRRL Streamline Refinance Cons
There are some costs and limits to a VA Streamline to consider.
You Must Be Current On Your Mortgage
You must be current on your mortgage payments. This means that you can't be more than 30 days late on a payment in the last 6 or 12 months depending on how you qualify.
It's Only Applicable To Your Current Property
As we discussed above, only service members or qualifying surviving spouses with current VA loans can take advantage of a VA IRRRL and that refinance is only applicable to the loan on your current home. You may change mortgage lenders or your mortgage specifics, not your actual property. This means you can't switch this loan into a new property; it must be refinanced into the property you purchased with the VA loan you're now refinancing.
Strict Eligibility Requirements
To qualify for a VA Streamline, you must have a VA loan to begin with. You'll need to be in good standing with your lender, current on your mortgage payments and be able to prove that the refinance will lower your interest rate. Some borrowers may not be able to meet these requirements.
Closing Costs
With closing costs also comes VA IRRRL funding fees. A borrower can choose to roll over these costs into their new loan balance, which means they'll still be paying for them with interest on top.
Mortgage Length
VA loan refinances are flexible, and there's no rule that says you must extend your mortgage. Depending on the situation, you might have a longer mortgage length – and it might take a longer time to pay off. This could be a negative for some borrowers.
Seasoning Required
It's important to note that you must wait 270 days from the closing of your original mortgage to apply for the VA Streamline. You must also have made six consecutive monthly payments on your loan, and there must be 210 days between your first mortgage payment and the closing on the VA Streamline.
VA IRRRL, At A Glance
| | |
| --- | --- |
| Pros | Cons |
| Lower interest rates strongly preferred | Must be current on your loan |
| Lower monthly payments | Limited eligibility |
| Lower funding fee | Reduced closing costs |
| Mortgage structure change allowed | Longer repayment terms mean higher costs |
Who's Eligible For A VA IRRRL Refinance?
To be eligible for a VA IRRRL, you must meet the following requirements.
Refinance A VA Loan
VA Streamline refinance candidates must currently have an outstanding VA loan. VA loan stipulations dictate that you can't take advantage of the VA Streamline process if you don't have a current VA loan.
Some qualified veterans and service members may qualify for a regular VA refinance if they currently have a conventional or FHA loan, but these loans require appraisals and aren't eligible for a VA Streamline.
Refinance Your Current VA Loan Only
While you can roll your closing costs in your VA IRRRL, other liens on the property – including delinquent home equity loans – cannot be resolved by rolling them into the loan amount. These could also include mechanics or homeowners association (HOA) fee liens.
Must Have Met Any Owner Occupancy Requirements
The VA may allow qualification for a Streamline refinance for a rental home, if you previously lived in the residence. If you're trying to refinance your investment property, you must prove that you resided in the home as your primary residence at some point in the past and can meet the VA owner occupancy requirement.
Proof of residence may include bank statements and bills with your name and address printed on them, utility bills or pay stubs that include your name and address.
Must Also Benefit Financially From The Refinance
Your lender will have to certify that you're benefiting financially from refinancing your VA loan. That means that the savings you're getting – either through a lower interest rate or a more manageable monthly payment – justifies the closing costs you'll pay. This requirement protects VA borrowers from unscrupulous lenders who make their money through various mortgage scams.
Who Should Consider A VA IRRRL Loan?
If you want to lower your mortgage payments, or you've got an ARM and want to switch to a new ARM or a fixed-rate mortgage, you might want to see if an IRRRL loan can save you time and money.
Mortgages with adjustable rates often see higher interest rates over time. You can often save more money in the long term by refinancing an ARM, even if you initially take a higher interest rate when you switch from an ARM to a fixed-rate mortgage.
You might also consider this if you want to cut down your payments. A VA Streamline can do multiple things: Lower your rate, give you a more manageable payment, extend the length of your mortgage and find you a lower interest rate. The best VA loan providers work with you to find the solution that's right for you and your family's unique financial situation.
This is also good for you if you can prove a tangible net benefit. As stated earlier, you must show the lender that there's a financial benefit to qualify for a VA Streamline.
Each lender may have their own terms for what qualifies as a tangible net benefit, and the VA has certain minimum standards, so you should ensure you're able to meet these net benefits when you apply. Your application can be denied because of a failure to prove a tangible net benefit.
How To Apply For An IRRRL VA Loan
Applying for a VA Streamline refinance only requires a few steps. You can even apply online and get the information you need from the comfort of your own home.
Step 1: Make Sure You Qualify
Review the qualifications above and make sure you qualify for a VA Streamline. Sit down with your family, look at your finances and determine whether you're able to make payments at your current interest rate.
Step 2: Get Documents Ready
One of the best aspects of the streamlined process is the minimal paperwork required. Throughout the process – from application to closing – you'll need to complete and submit, or sign:
The lender cover letter
VA Form 26-0286, VA Loan Summary Sheet
The borrower's Certificate of Eligibility, or a VA Form 26-1880 to request a duplicate COE
Funding fee receipt
Borrower must sign the lender's statement of tangible net benefit
VA Form 26-8923, IRRRL worksheet
VA Form 26-1820, Report and certification of loan disbursement
VA Form 26-8937, Verification of VA benefits
HUD-1, Settlement Statement
VA Form 26-0503, Federal Collection Policy Notice
Lender's certification that borrower of the current mortgage is up-to-date with their payments
Documentation of energy efficient upgrades, if applicable
Step 3: Contact A Home Loan Expert
It's helpful to talk to an expert if you decide that a VA Streamline is right for you. Rocket Mortgage has Home Loan Experts who are ready to talk you through a VA Streamline with your specific financial profile.
Have you found that you don't qualify for a VA Streamline refinance and want to know your options? A Rocket Mortgage Home Loan Expert can help with that, too.
VA IRRRL FAQs
Can I get money back from a VA IRRRL refinance?
Not usually. There is one other exception. You can get reimbursed for up to $6,000 of the cost of energy home improvements completed within 90 days before closing. In some rare circumstances, the VA may approve other reimbursements.
How much does the VA IRRRL cost?
Because you won't need a new appraisal or extensive, your VA IRRRL is a relatively inexpensive refinance. While you can expect to pay between 2% and 5% in closing costs for a full refinance, a VA IRRRL may be cheaper.
Lenders can choose to charge 1% of the loan amount to cover their costs or itemize for certain allowable fees The only other charge is the 0.5% funding fee. All closing costs can be rolled into the loan itself.
Can I buy discount points to lower my interest rate?
Yes. The VA allows their borrowers to buy up to 2 discount points to reduce their interest payments.
Can I use the VA Streamline Refinance for an investment property?
In general, you can't. The VA guidelines state that you should live in the home for a year.
If you bought a property with a VA loan and met that requirement, and have since moved into a different home, you can refinance what was once your primary residence but is now an investment property.
The Bottom Line
If you want to lower your monthly payments, or if you need more time paying your mortgage, it's a good idea to speak with a Home Loan Expert soon to discuss the possibility of a VA IRRRL.
A VA IRRRL, also known as a VA Streamline, may help you refinance to a lower interest rate or lower monthly payment through the VA.
You might even be surprised to learn that you can also get a VA IRRRL on a home you're renting out, if you have proof that you once lived in the home.
Ready to apply for a VA IRRRL? Apply online now, or speak to one of our Home Loan Experts at (833) 326-6018 to discuss whether a VA IRRRL is the best fit for you.
Get approved to refinance.
See expert-recommended refinance options and customize them to fit your budget.
Related Resources
Viewing 1 - 3 of 3