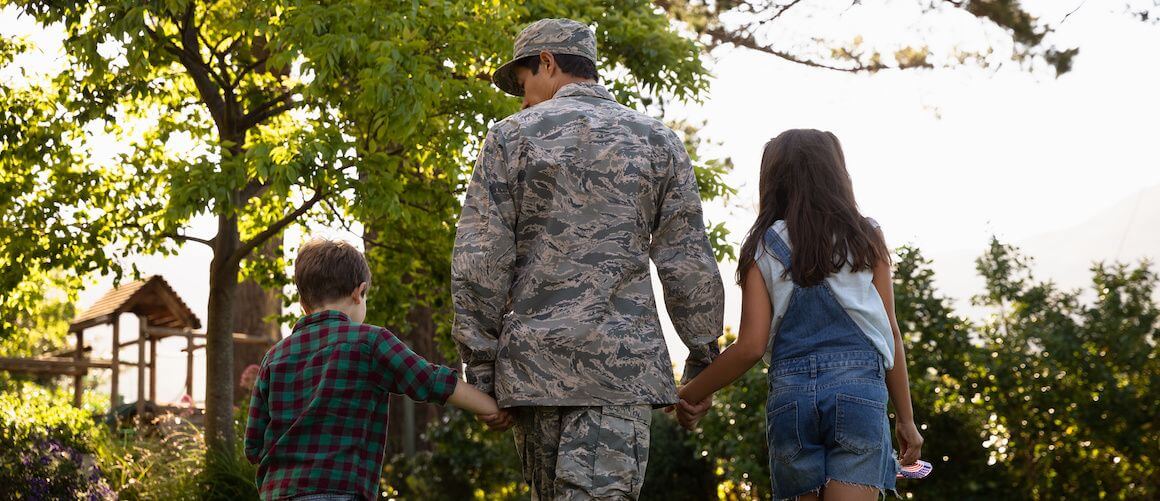 VA Funding Fee: Your Questions Answered
Kevin Graham5-minute read
March 20, 2023
Share:
For eligible veterans, active-duty service members and surviving spouses who are hoping to become homeowners, the VA loan program can be a difference-maker. VA loans are a type of government loan, which is any loan insured or backed by the U.S. federal government. A VA home loan offers good interest rates, low- or no-down-payment options and no monthly mortgage insurance requirement, making it a great mortgage choice for those who are eligible.
Though getting a VA loan has many upsides, all these benefits do come at a price – or rather, a fee. While it's only a small percentage of the loan amount, the VA funding fee can be a significant cost for borrowers. So, what exactly is the VA funding fee, how does it work and how much can home buyers expect to pay? Let's take a look.
What Is A VA Funding Fee?
The VA funding fee is a one-time fee paid to the Department of Veterans Affairs, and it supports the VA home loan program. Veterans who put down less than 5% on their home purchase will pay 2.15% of the loan amount when buying a home for the first time, and they'll pay a funding fee of 3.3% on subsequent loans. VA borrowers can pay less on the funding fee by putting down more money on the home.
This governmental fee changes periodically based on legislative action by Congress.
See What You Qualify For
Congratulations! Based on the information you have provided, you are eligible to continue your home loan process online with Rocket Mortgage.
If a sign-in page does not automatically pop up in a new tab, click here
How Does The VA Funding Fee Differ From Mortgage Insurance?
The VA funding fee is also sometimes referred to as VA loan private mortgage insurance (PMI) or VA loan mortgage insurance. The funding fee is the VA's version of mortgage insurance – but unlike traditional mortgage insurance, it's usually a single payment.
The terms funding fee, VA loan PMI and VA loan mortgage insurance are used interchangeably, and for the most part, they are very similar and go toward the same cause: partially protecting the lender and the VA in the event of a home buyer's mortgage default.
Here are mortgage insurance expectations for some different types of home loans:
While these terms have specific meanings within their bureaucracies, they're all pretty similar if you're looking to buy a home.
Why Is The VA Loan Funding Fee Assessed?
VA loans are guaranteed by the Department of Veterans Affairs. This means that if a borrower defaults on the loan, the lender is partially protected from the loss because the government insures the loan. The funding fee helps with this cost and others related to the VA home loan program, and it ensures that the program remains sustainable.
How Much Is The VA Funding Fee?
One of the big benefits of a VA home loan is that borrowers can get a mortgage with 0% down. However, the advantage of putting down a larger down payment is that the percentage you put down is directly related to how much you'll pay for your funding fee. A larger down payment means a smaller funding fee.
Our VA funding chart for 2022 specifies what you'll pay based on how much you put down and whether you've used the program before.
2022 VA Funding Fees For Purchase And New Construction Loans
| | | |
| --- | --- | --- |
| Down Payment | First-Time VA Borrower | Subsequent VA Borrower |
| Less than 5% | 2.15% | 3.3% |
| 5%-9.99% | 1.5% | 1.5% |
| 10% or more | 1.25% | 1.25% |
For a cash-out or standard mortgage refinance, first-time borrowers will pay a 2.15% funding fee, while subsequent borrowers pay 3.3%. For an Interest Rate Reduction Refinance Loan, also known as a VA Streamline Refinance (where you're refinancing one VA loan into another VA loan), the funding fee is 0.5% for all borrowers.
How Is The Fee Paid?
The VA funding fee is due at the time of closing and is included as one of the closing costs a borrower must pay. Your lender sends the paid fee to the VA on your behalf.
The funding fee can be a significant and expensive closing cost for VA loan borrowers. Fortunately, you don't necessarily have to pay it all out of pocket in one lump sum. You have a few options for how this fee gets paid. These include:
Paying

upfront as a closing cost

Financing

as part of the loan

Asking the seller to pay it
While rolling the fee into your mortgage loan will increase the size of your loan and your monthly payments, it can make the fee easier to pay since you aren't paying several thousand dollars upfront.
You can also have the seller pay the fee as a seller concession. According to VA rules, sellers can pay certain costs on behalf of the buyer, as long as these concessions don't exceed 4% of the loan. However, certain costs – such as payment of the funding fee – aren't subject to this limit.
Save money on a VA loan today!
Lock in your low interest rate with a fast, online approval.
Are There Any VA Funding Fee Exemptions?
Not every borrower has to pay the VA funding fee. Be sure to find out if you're eligible for an exemption, since changes made to VA funding fee exemption rules in 2020 allow certain Purple Heart recipients to receive an exemption. The following types of people are typically eligible for a funding-fee exemption:
Individuals who receive compensation for a service-related disability

Individuals who are eligible for a service-related disability pay but receive retirement pay or active service pay

Surviving spouses who meet the eligibility requirements for the VA home loan program

Active-duty service members who have been awarded a Purple Heart
To find out if you're eligible for an exemption to the VA funding fee, check your VA loan certificate of eligibility (COE). It will say whether you're exempt or nonexempt. If you don't yet have a COE, you can learn how to apply on the VA website.
Is Anyone Eligible For A VA Funding Fee Refund?
If you paid the funding fee but believe you were eligible for an exemption at the time you paid it, you may be eligible for a refund. For example, during the home-buying process, you might have had a pending disability claim that was approved after closing.
If the effective date of your compensation is prior to the date you closed on your home, you may be able to get a refund on your funding fee.
If you believe you're entitled to a refund, reach out to your lender or call your VA Regional Loan Center at (877) 827-3702.
The Bottom Line: Despite VA Funding Fees, Eligible Homeowners Can Benefit From VA Loans
The VA mortgage program is a popular and valuable benefit of military service. Even with the added expense of the funding fee, VA home loans can be a great option for those who qualify for the program, whether you're purchasing a new home or refinancing your home loan.
Are you ready to start your VA loan application? You can apply online or contact one of our Home Loan Experts today at (833) 326-6018.
Save money on a VA loan today!
Lock in your low interest rate with a fast, online approval.
Related Resources
Viewing 1 - 3 of 3