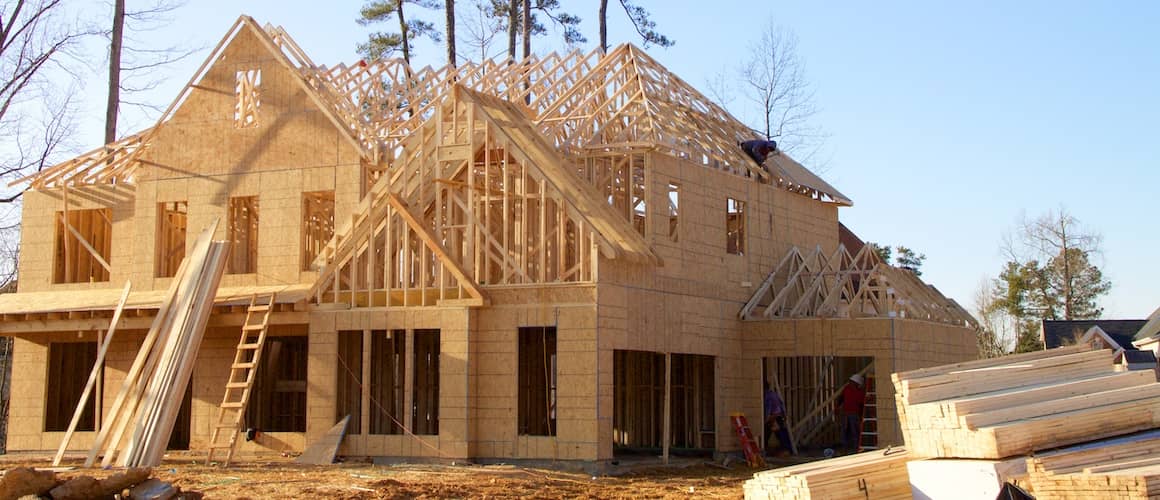 Construction Loans: Everything You Need To Know
Miranda Crace9-minute read
March 31, 2023
Share:
Disclosure: This post contains affiliate links, which means we receive a commission if you click a link and purchase something that we have recommended. Please check out our disclosure policy for more details.
Rocket Mortgage® doesn't offer construction loans at this time. However, we can help you when the time comes to get a permanent end loan.
Finding the perfect house can be a fun yet challenging endeavor. With so many factors to consider while house hunting – including house style, size and location, just to name a few – sometimes people don't know where to even start.
Oftentimes, buyers find that some houses meet most of their needs, some meet a few and some meet none, but rarely does one meet them all. This creates the need to compromise and move some of your "must-haves" to "nice-to-haves," but not deal-breakers.
Don't feel like giving an inch on your wants and needs? Fear not, because if your perfect home isn't available (or doesn't even exist), you can build a new one that will check all your boxes. However, to finance this build, you'll need to know about construction loans.
What Is A Construction Loan?
A construction loan is a short-term loan that covers only the costs of custom home building. This is different from a mortgage, and it's considered specialty financing. Once the home is built, the prospective occupant must apply for a mortgage to pay for the completed home. While we don't finance construction loans, we can help you when it comes time to convert this to a permanent mortgage.
Construction Loans Vs. Traditional Mortgages
There are several key differences between a construction loan and a traditional mortgage. As mentioned, construction loans are short-term loans, usually no longer than a year in length. On the other hand, traditional mortgages are long-term loans, with terms typically ranging from 15 – 30 years. With a mortgage, the borrower receives the money in one lump sum. Upon closing on the loan, the payments start immediately and consist of both principal and interest.
When you take out a construction loan, you'll usually make interest-only payments while the construction is being completed. Construction loans also tend to have higher interest rates than most home loans because they are considered to be more risky for lenders.
See What You Qualify For
Congratulations! Based on the information you have provided, you are eligible to continue your home loan process online with Rocket Mortgage.
If a sign-in page does not automatically pop up in a new tab, click here
How Do Construction Loans Work?
You can use a construction loan to cover the total cost of building a home, including the land, labor, materials and permits. The approval process for a construction loan is similar to that of a typical mortgage in that you'll need to apply and submit documentation to your lender.
Once approved, you'll be able to start accessing the funds in conjunction with each phase of construction. An appraiser or inspector will check in on the build throughout the construction process so that the borrower can continue to have access to funds.
After the home's construction is complete, you'll be issued a certificate of occupancy. Then, your construction loan will likely be converted to a traditional mortgage, and you'll begin to make payments on the principal and interest.
Types Of House Building Loans
However, there are several other loans available when it comes to home building, from ground-up building to a complete remodel of the entire house. There's likely a loan out there that's right for you, whether you're starting from scratch with a land loan or completely renovating a home.
While we'll go over several types of financing for building your home, we offer end loans, which are the permanent financing after the home is built.
Construction-Only Loan
This type of loan is short-term and is usually issued for a year. It's meant to cover only the actual construction period. Why don't we offer this type of loan? With so many variables like the builder's cooperation, getting approvals from local municipalities and more, these are considered higher-risk loans.
This means they're harder to qualify for, and the interest rate will likely be higher than a traditional loan. In addition, if you decide to go this route, you'll have to pay a second set of loan fees when you apply for a traditional mortgage.
Construction-To-Permanent Loan
Construction-to-permanent loans are a financing option that prospective custom home builders can apply for. Like construction-only, construction-to-permanent financing are one-time loans that fund construction and then convert into a permanent mortgage. During the construction phase, borrowers make interest-only payments.
These types of loans can be much more expensive than traditional mortgages, so if you decide to go in this direction, shop around, compare rates and find the best deal before you pull the trigger. If you're an active-duty service member or veteran, you may even qualify for a VA construction loan from the Department of Veterans Affairs (VA).
Renovation Loan
Renovation loans, also known as FHA 203(k) loans, can be used for home renovation and are insured by the Federal Housing Administration (FHA). This allows borrowers to both purchase and renovate their new home while still making one monthly payment to cover both costs. Conventional loan borrowers may qualify for these loans through Fannie Mae (HomeStyle Renovation) and Freddie Mac (CHOICE Renovation).
Rocket Mortgage® doesn't offer this type of loan. However, Rocket Mortgage does offer a cash-out refinance, which can be a different path to getting home renovations done. With a cash-out refinance, you take a portion of your equity and add what you've taken out onto your new mortgage principal.
Other options include a home equity loan or a home equity line of credit (HELOC). No matter what you want to change about your home, there are plenty of options to get the financing you need to start swinging that sledgehammer. Rocket Mortgage has Home Equity Loan options. 1
Owner-Builder Loan
Usually when you build a home, there's a general contractor who essentially acts as head of the whole operation. They make sure the framing people, the tile people, the wood floor people, the painters and so on all work in coordination to get your home completed (ideally on time and within your budget).
However, some prospective home builders wish to act as their own general contractor, and some banks offer owner-builder loans just for this purpose. These types of loans generally require the borrower to demonstrate through experience, education and licensing that they have the needed expertise to oversee the home's construction.
End Loan
An end loan is a traditional mortgage loan that a home buyer or home builder (if you're building your own home) can apply for after the new home is constructed. Unlike the other construction loans previously discussed, these are offered by Rocket Mortgage.
You can get an end loan if construction is complete on the home. One good aspect of an end loan is that the mortgage application for a newly constructed home is the same as it is for any other home. Less complicated is always appreciated when it comes to financing applications.
Construction Loan Rates
Construction loans usually have variable interest rates, meaning the rate will go up and down with the prime rate (or whatever other index they're tied to) over the life of the loan. The specific introductory interest rate you're offered for a construction loan depends on factors like your credit score and financial history.
As mentioned, because they aren't secured by a completed house, construction loans tend to have higher interest rates.
Construction Loan Requirements
Like with a regular mortgage, construction loan lenders have requirements that borrowers will need to meet in order to qualify for the loan. Construction loan lenders typically have qualifications that need to be met regarding your:
Credit score: Most lenders will require you to have a minimum credit score of 620 or higher in order to qualify for a construction loan.
Debt-to-income (DTI) ratio: Your lender will also look at your DTI ratio, which compares your recurring monthly debts to your gross monthly income.
Down payment: You'll likely be required to come up with a down payment of 20% when taking out a construction loan.
Choice of builder: In addition to examining your financial history, your lender will also want to approve the builder that will be constructing your new home to ensure they are licensed and insured.
Construction plan: In addition to your choice of builder, your lender will also need to approve your construction plan before. Generally speaking, the more information that you're able to provide your lender, the better. A signed contract, blueprints, a line-item budget and a payment schedule are all examples of documentation your lender may want to see.
How To Get A Construction Loan
Wondering how the process of getting a construction loan works? Let's break it down step-by-step.
1. Choose A Builder
Before you begin to search for a lender, you'll want to choose an experienced builder for your new home. Be sure to thoroughly vet any contractor you're considering working with. Friends and neighbors may have recommendations of companies they've worked with in the past, and the National Association Of Home Builders (NAHB) has an online directory that can help you find builders in your area. Read online reviews, ask about their credentials and look at examples of previous builds they've done to get an idea of if they're the right choice to meet your needs.
2. Gather Your Paperwork And Choose A Lender
Just like with a traditional mortgage, you'll want to shop around for a lender that will give you the most favorable terms for your construction loan. As you're comparing lenders, make sure you have all your paperwork ready to go, including the contract with your lender and detailed plans for your home's budget and construction.
3. Start The Approval Process
Once you've found your builder and your lender, you can start the approval process for your construction loan. Getting your preapproval is an important step in ensuring that you'll be able to afford the amount needed to build your dream home. You'll need to provide the same types of financial documents as you'd need when applying for a traditional mortgage, including your tax returns, W-2s and bank statements.
4. Purchase Homeowners Insurance
Even though you won't be living in your home while it's being built, your lender will probably require you to have homeowners insurance with builder's risk coverage as a condition of your loan approval. This will protect you should anything happen during construction.
Construction Loan FAQs
Hopefully you have a nice base of knowledge about home construction loans after reading this far, but there are likely a few queries still on your mind. Here are some frequently asked questions when it comes to construction loans.
Are there higher qualification requirements for construction loans?
Yes, construction loans often come with higher qualifying standards in terms of credit score requirements and down payment amounts. Usually, a minimum 20% down payment is required, and a 25% down payment requirement is not uncommon. In addition, most construction loans require a minimum credit rating of 620, if not higher.
Can I use any excess funds for home furnishings?
Borrowers never actually touch the funds made available through construction loans because they're paid directly to the builder.
The contractor only receives payment for the work performed, and the borrower only pays interest on what's paid out. You do save money if construction costs come in below the original amount of the loan, but you'll have to find some other source of funds for that flat screen.
Do construction loans cover the design phase of home construction?
No. Prospective custom home builders have to self-finance the design phase of the home building contract. In addition, before you can take out a construction loan, you'll need to produce a builder's contract, construction timetable, designs and a realistic budget. All this needs to be done even before beginning the loan application process.
The Bottom Line: Construction Loans Can Make Your Dream A Reality
If it doesn't look like your ideal home is available while you peruse the listings in your preferred market, the dream doesn't have to end. Envisioning the perfect mix of location, style and usability in a home is one of the most fun parts of the home buying process and it doesn't have to be just a vision. You can design, build and furnish the exact home you want with a variety of financial support paths to help get you there.
Whether it's a construction loan, a renovation loan, a home equity loan or any other number of options, finding the right way to borrow money for your next home doesn't have to be too hard. Research all the options, figure out the best type of loan for your specific needs and shop around for the best price.
If you're looking to remodel your current home but don't think that a renovation loan is the best option for you, or you finished construction on your new home and need permanent financing, the Home Loan Experts at Rocket Mortgage offer home equity loans that can help you achieve your goals. Apply online today and start exploring your options. You can also give us a call at (833) 326-6018.
1 Home Equity Loan product requires full documentation of income and assets, credit score and Max LTV/CLTV/HCLTV. Requirements are tiered as follows: 680 minimum FICO with a max LTV/CLTV/HCLTV of 75%, 700 minimum FICO with a max LTV/CLTV/HCLTV of 85%, and 760 minimum FICO with a max LTV/CLTV/HCLTV of 90%. Your debt-to-income ratio (DTI) must be 45% or below. Valid for loan amounts between $45,000.00 and $350,000.00 (minimum loan amount for properties located in Iowa is $61,000). Product is a second standalone lien and may not be used for piggyback transactions. To qualify for these loan programs, you must be the age of majority in your state with a valid U.S. residency. Product not available on Schwab products. Guidelines may vary for self-employed individuals. Some mortgages may be considered "Higher Priced" based on the APOR spread test. Higher Priced loans are not allowed on properties located in New York. Formal approval will be subject to satisfactory verification of income, assets, credit, property condition and value. Additional restrictions apply. Not available in Texas.
Get approved to buy a home.
Rocket Mortgage® lets you get to house hunting sooner.
Related Resources
Viewing 1 - 3 of 3