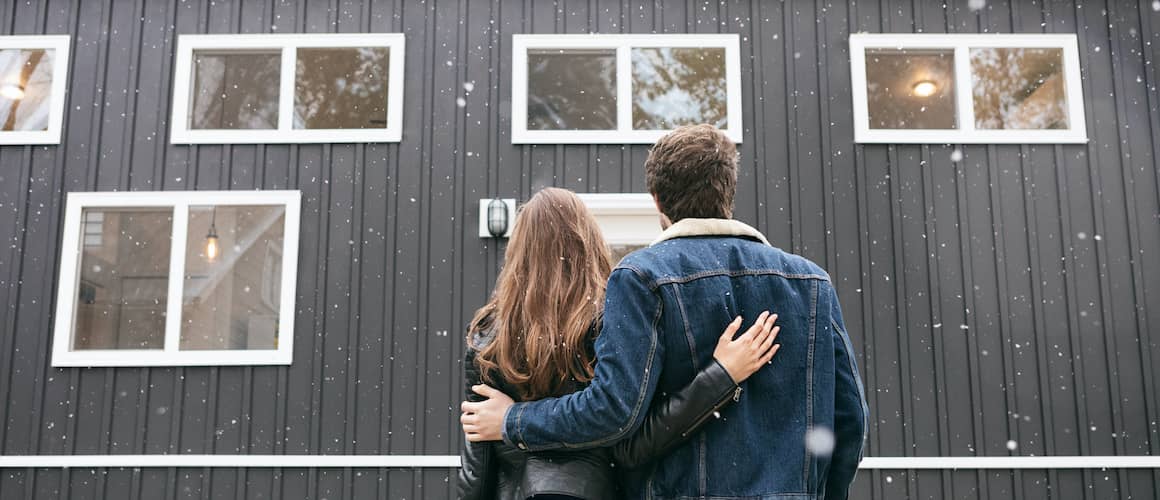 Kit Homes: What You Should Know Before Buying
Victoria Araj4-minute read
November 11, 2020
Share:
Rocket Mortgage® does not currently offer financing for kit homes.
Nontraditional homes have become all the rage as millennials get creative on their paths to homeownership. The innovation of alternatives to traditional stick-built construction has made homes more affordable, energy efficient, customizable and accessible to more people. Today, you can order a kit home from Amazon and have all the materials needed to build a house delivered to you.
As innovative and exciting as a kit home sounds, home building kits have been around for well over a hundred years. Here's what you need to know before you buy into their newfound momentum.
What Is A Kit Home?
Kit homes are essentially mail-order homes, delivered in parts by a manufacturer and stick-built on your property either by you or by contractors. House kits are far more affordable than hiring contractors to source all the materials themselves. You can order a kit home to build anything from a work studio to a bungalow to a three-bedroom contemporary home.
While Amazon has revived interest in kit homes, they were extremely popular in the first half of the 20th century. In fact, over 100,000 kit homes were built between 1908 – 1940, according to a University of Maryland archivist. Sears is still the most well-known kit home manufacturer from that era, which came to a close after the stock market crash of 1929.
Get approved to buy a home.
Rocket Mortgage® lets you get to house hunting sooner.
How Much Do Kit Homes Cost To Build?
Like any other stick-built home, kit homes vary in floor plans and pricing. Still, they can be considerably cheaper to build than traditional houses. Many manufacturers of kit homes have business models that are similar to those of modular and manufactured homes. In fact, many home building kit suppliers will also offer modular options (built off-site and delivered in sections). Building or assembling kits in a climate-controlled environment exponentially shortens the build time and, therefore, the labor costs.
Because the construction materials are purchased in bulk and delivered to a factory, the cost for the materials is often lower. This business model also helps reduce transportation costs, both financial and environmental.
The most bare-bones house kit floor plans can come as cheap as $10 per square foot. You may find that the kits don't come with drywall or even any interior elements. More typically, the cost of an average home kit may be closer to $40 – $60 per square foot, according to HomeAdvisor. It's a good idea to talk with a general contractor before committing to a house kit to get a more realistic estimate.
One home kit manufacturer estimates that the kit amounts to just 25% of the total cost of the home once you include construction labor costs (generally $130 per square foot). If the house kit is $15,000, but you still need to furnish it with appliances, drywall, flooring, etc., it can quickly double in cost in materials alone. Meet with a general contractor before making a big purchase like the bones to a house.
Pros And Cons Of Kit Home Builds
As with any other financial decision you'll make in your life, there is no one right answer for everyone. A kit home may ultimately not be much cheaper if you live in a low-cost area. Here are some important factors to consider when making your decision.
Pros Of House Kits
Cost:

Kit homes are typically cheaper than general contractor traditional home builds, for a number of reasons.

Quick delivery:

Kit home manufacturers can typically get the entire kit organized and delivered to you within weeks.

Rapid construction:

Because every piece is pre-cut and labeled with directions on how to assemble the house, it can be built significantly more quickly and accurately.

Customization:

The biggest benefit to building any home from the ground up is bringing a homeowner's customized dream home to life.

New home:

Kit homes are just as durable as any other stick-built home and can easily last 50+ years. Plus, you get to be the first inhabitants.
Cons Of House Kits
Delivery limits:

Most manufacturers have a delivery limit of 750 miles, give or take. If you prefer the floor plans offered at a manufacturer in Utah but you live in Texas, you'll have to pay expensive delivery fees to receive the kit.

Location:

Kit homes may not be cheaper than contractor-produced homes if you live in rural or less expensive areas of the country. If you live in a metropolitan area, a kit home will be unquestionably cheaper.

Lack of standards: The industry is in a new boom, which means nothing has been standardized industry-wide or regulated by HUD. A full kit may include a foundation and interior design for one company, while for another, it won't even include drywall. Expect to do research.
How To Finance A Kit Home
Getting a mortgage on a kit home is no different than building any other house. Most manufacturers don't offer financing options. If you can't pay cash, then you're looking at a short-term home construction loan. Once your home is built, you can go ahead and apply for a traditional mortgage.
While Rocket Mortgage® doesn't offer construction financing, including kit home financing, we're here to help you understand your options.
Take the first step toward the right mortgage.
Apply online for expert recommendations with real interest rates and payments.