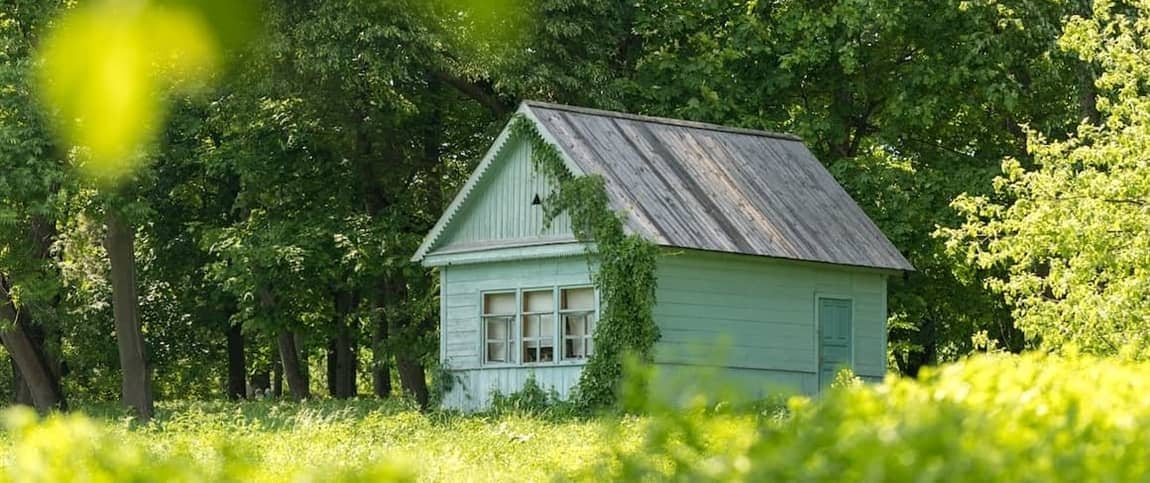 How Much Tiny Homes Really Cost: A Complete Guide
Katie Ziraldo6-minute read
July 19, 2021
Share:
Tiny houses have been growing in popularity for years. Part of the minimalist lifestyle, the tiny house movement is a social trend based on simplifying your lifestyle by downsizing your living accommodations, which ultimately leads to more financial freedom. For young adults balancing high student loan debt and an increasing sense of wanderlust, this lifestyle is particularly appealing due its lower costs and flexibility in location. Many believe that living with less will also bring more happiness and a stronger connection to the environment, as most tiny homes are greener than traditional ones.
But how much does a tiny house really cost? It's true that these houses make it possible to achieve the dream of homeownership at a much lower cost than buying a traditional home, but with houses ranging between 100 – 400 square feet, there are several factors to consider when calculating your potential costs. In this article, we'll explore the different types of tiny homes available as well as the costs associated with building and buying them to help you determine if this lifestyle is right for you.
Affording A Tiny Home
If you're considering joining the movement, there are several types of tiny homes you can explore. From manufactured homes, to modular homes, to kit homes and stick-built tiny homes, there are options available for every type of person based on their individual taste.
How Much Does A Tiny House Cost, On Average?
While the nationwide average cost of a tiny home is $300 per square foot compared to a traditional home's $150 per square foot, tiny homes are overall cheaper to build or purchase. The average cost of a tiny house is a reasonable $30,000 – $60,000, although they can cost as little as $8,000 or up to $150,000 depending on the amenities you choose to include.
It's typically cheaper to build a tiny house than to buy one pre-built, but don't get so caught up in the savings that you underestimate the job you're taking on by choosing to build yourself, as one small mistake can end up costing extra time and money to fix.
Beyond the decision to buy or build, other factors that will affect your overall cost include the size of the house, whether you're building on wheels or a foundation, the type of building materials used, building permit costs in your area, access to utilities and the type of amenities you choose to include. Because tiny homes are highly customizable, you will have more control over keeping costs low than you would when buying or building a traditional home.
The Cost To Build A Tiny House
Although building your tiny house is the cheapest option, you will still have significant upfront costs to manage. If you decide to build your tiny house, it's important to mentally, physically and financially prepare for the journey ahead of you.
The reality is most tiny home builders spend $14,050 – $54,800 on materials alone. Building permits average around $1,350 nationally, although larger floor plans and more custom materials will raise that price.
Tiny houses on wheels tend to be cheaper as well, as the foundation alone costs $4 – $7 per square foot, easily adding $5,0000 – $8,000 onto the overall project price.
The Cost Of A Pre-Built Tiny House
If building isn't for you, there are also pre-built tiny homes available for purchase. There are prefabricated tiny-home providers located across the country, many of which offer free shipping to your location. Although you're saving significant time and effort by buying over building, it is not uncommon for these pre-built homes to cost $75,000 or more depending on the level of luxury included.
A cheaper option is to buy a pre-owned tiny house, as it's not uncommon for these homes to cost as little as $30,000. But like with anything else, buying pre-owned means sacrificing the level of control you have on how your space is set up. Tiny homes are often highly customized, so there may be additional expenses to adapt the space to your needs.
You can find tiny homes for sale in your area by searching local listings and national sites such like TinyHouseListings.com. Keep in mind most tiny homes will not qualify for a traditional mortgage, so owners often pay cash or take out a personal loan for additional funding.
Take the first step toward the right mortgage.
Apply online for expert recommendations with real interest rates and payments.
Unforeseen Costs Of Tiny Homes
In addition to obvious expenses such as purchasing land and building materials, there are some potential hidden costs in your tiny home you should prepare for.
Zoning laws:

Depending on where you live, these laws may affect how your house is built as well as where it is located. For example, it is illegal for your tiny house to be placed on a friend or family member's land for free.

Utilities:

Your tiny home will require access to water and electricity. Depending on the location, you may be able to easily hook up to local utilities. But if your house is located off-grid, you may need to consider renewable energy sources like solar panels and install a septic system.

Furniture and appliances:

If the stuff you have in your full-sized home will not fit in your tiny home, you may need to buy new stuff.

Storage:

If your belongings will not fit in the much smaller space, you may need to rent a storage unit to hold them.

Home insurance:

Getting tiny home insurance can be difficult and costly.

Resale value:

Tiny houses are not guaranteed to appreciate in value in the same way a traditional home does. Tiny homes can actually depreciate in value, especially if it is highly customized. These homes also fall into a niche market, so it may be more difficult to sell your home down the line.
The Financial Step-By-Step: Building Your Tiny Home
From finding the right piece of land to building or buying your house, there are many steps involved in creating your ideal tiny home.
1. Finding The Right Land
If you're targeting a more permanent tiny home, meaning it is not placed on wheels, the first step will be finding and purchasing your land. Leasing land for a manufactured home is an easier option, but it is an investment that will depreciate in value overtime. It's important to find land in the area you want to live, while also considering local zoning laws and other restrictions that may affect your ability to build.
2. Taking Out A Land Loan
You can't purchase a tiny house with a traditional mortgage, but there are other financing options for tiny homes. One common alternative is the land loan. Although Rocket Mortgage® does not offer land loans, we understand the importance of educating our clients on all their options.
Land loans are obtained in the same way a buyer would obtain a mortgage loan, but while a house for sale has a dollar amount assigned to it, it can be harder to determine the value of land when there is no property collateral. This makes land loans a higher risk for lenders, which leads to larger down payments and higher interest rates than a typical home loan.
Land loans are used to finance the purchase of a plot of land to either build a home or utilize for business purposes. Types of land loans include raw land, unimproved land, and improved land loans. The type of land loan you need will depend on where the land is located and what you intend to use it for.
In order to qualify for a land loan, you will need a significant down payment and good credit score. It can be challenging to get approved for these loans due to the lender's potential risk, so it is crucially important that you create a solid, detailed plan for how you want to develop the land that you can show lenders, as your commitment to this plan may convince lenders that you pose a lesser risk.
3. Tiny House Price Shopping
Stick built tiny homes, which are built on a foundation and most similar to traditional houses, are easily the most expensive. But if you want to build without starting from scratch, you also have the option to purchase a tiny house shell, which is a finished exterior with an unfinished interior, allowing you to personalize the space for your needs. A standard shell ranges from $17,000 – $37,000, not including add-ons like electrical and plumbing.
There are also kit homes available that typically cost less than $10,000. These kits come with blueprints, a customized trailer to build upon and a list of needed supplies. Although this is a great idea for some people, we typically do not recommend DIY'ing your home without some sort of advanced construction experience.
4. Financing Your Tiny House Construction
If you're building your tiny home, a construction loan can help you get started. A construction loan is a short-term loan that covers the costs of custom home building. Once the home is built, the borrower must then apply for a mortgage to play for the completed home.
There are several different types of construction loans, and which loan is right for you will depend on the amount of financing needed as well as the project planned. Rocket Mortgage® does not offer most construction loans, although for current homeowners a cash-out refinance could be an option to access equity in your home and free up funds. There are also additional ways to save if you're building a house on a budget.
The Bottom Line
Tiny homes aren't for everyone. Despite their many benefits, the simple fact is that these homes are not easy to build despite their smaller size. If you're ready to take the leap into a simpler lifestyle, be sure to consider all of the financial responsibilities involved to set yourself and your new home up for success.
Interested in learning more? Talk with a Home Loan Expert today!
Get approved to buy a home.
Rocket Mortgage® lets you get to house hunting sooner.