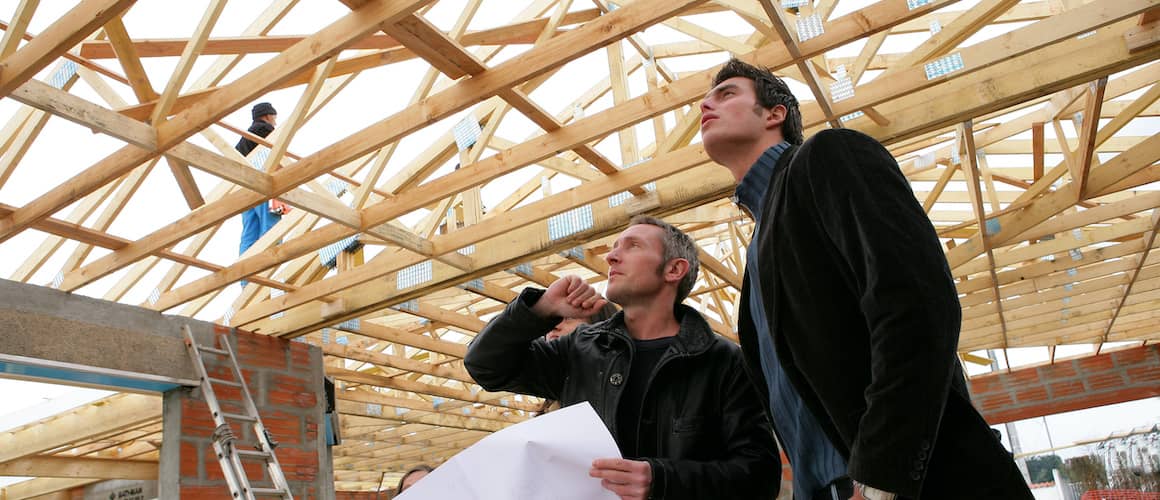 Builder's Risk Insurance: What Is It, What Does It Cover And Should You Get It?
Carla Ayers5-minute read
March 01, 2022
Share:
Builder's risk insurance is a unique insurance policy that provides another layer of protection for buildings under construction. In some cases it will be required and it's not always clear who needs to purchase what. We'll dig in and learn more about builder's risk insurance.
What Is Builder's Risk Insurance?
If you're thinking about building a house it might seem overwhelming and a bit scary. There are some great ways to put your mind at ease. Builder's risk insurance will likely be one of those things. Builder's risk insurance covers the policyholder against damage or loss to buildings during construction or renovation in the event of a fire, storms, high winds, vandalism, theft, contamination, or collision.
Builders risk insurance or contractor's all-risk insurance, as it's also referred to, isn't a standard policy, so the coverage can vary greatly. Some policies will extend to the materials used in construction, documents and data, temporary structures, and other soft costs depending on the provider and the type of coverage you need.
Who Should Carry Builder's Risk Insurance?
Builders risk insurance is a great idea for anyone with a financial interest in the property that is being built or renovated. In some situations, a builder's risk policy may be required to gain a building permit or approval.
You'll need to reference the purchase agreement between you and the contractor. Many contractors purchase the policy to ensure the project has adequate risk coverage, some purchase agreements require the buyer to purchase the policy. You may also be required to include the other people who have a financial interest in the project. The following parties could benefit from being included in a builder's risk policy:
Building owners
Architects or engineers involved with the project
Contractors or subcontractors
Property owners
Home builders
Development or investment companies
Local municipalities
Lenders
What Does Builder's Risk Insurance Cover?
A builder's risk insurance policy will protect a construction project from a variety of unique types of property damage.
Many builder's risk insurance providers cover the direct effects, like damaged construction materials, and indirect effects, like loss of revenue, caused by property-related damages during construction. Below are some examples of risks that can be covered:
Damages
Lost sales
Rental income
Additional interest on loans
Real estate taxes
Vandalism
Vehicle collisions
Fire
Lightning
Explosions
Smoke
Theft
Loss of sales or rental income
Hail
Acts of God such as hurricanes
Materials
Construction materials - Materials damaged or lost in transit to a construction site. Even supplies stored off site can be covered.
Documents and Data - Blueprints or project plans that are destroyed, damaged, or lost.
Temporary Structures - Things like scaffolding, signage, trailers, etc.
The property itself
Projects
Below are some of the most common projects that could require or benefit from a builder's risk policy:
New residential construction
New commercial construction
Remodels
Installations
What Does A Builder's Risk Policy Not Cover?
Be aware that there are exclusions in builder's risk policies that may require you to purchase an extension or additional policy to ensure adequate coverage. Below are the most common exclusions:
Damages caused by warfare
Workers' compensation claims
Accidents (which are more likely covered by construction liability insurance)
Any damages that occur outside of normal construction operations
Wear and tear
Acts of terrorism and war
Employee theft
Rust and corrosion
Mechanical breakdowns
Damage due to faulty design
Planning
Workmanship and materials
Engineers
Coverage Add-Ons
There is additional coverage that property owners can consider when selecting an insurance provider. Because every project and every policy is different, some companies allow you to customize your policy to fit your needs. Common add-ons and extensions include protection for:
Flood damage
Wind and storm
Construction forms
Temporary structures
Debris removal and disposal in the event of a loss
Pollutant cleanup
Sewer backup
How Much Does Builder's Risk Insurance Cost?
The cost of the builder's risk insurance typically accounts for 1% — 5% of a business's total construction budget. For example, if the construction budget is $200,000, you will likely end up spending $600 – $3,300 depending on the scope of work and construction budget.
You could potentially save yourself some money by building a house cheaply and lowering your construction budget.
The following factors can affect the cost of your builder's risk insurance policy:
Cost of the project
Location of the project
Timeline of the project
Square footage of the construction site
Expertise and experience of the contractors and subcontractors who will be handling the project
Amount of coverage
Quality of materials used in the construction
Logistics of the project, such as where construction materials are stored
Get approved to buy a home.
Rocket Mortgage® lets you get to house hunting sooner.
Homeowners Insurance Vs. Builder's Risk Insurance
Homeowners insurance and builder's risk insurance are similar, but they don't provide the same coverage. Builder's risk insurance covers the contractor's equipment and property during the construction or renovation process. General liability covers claims related to third party bodily injury or damages from accidents that have occurred on the construction site. Many builders will recommend or require both.
How To Get Coverage
It's ideal to speak with an experienced insurance broker about your project. Many insurance brokers will see areas where coverage is lacking. An insurance broker will evaluate the project from the location to type of transit used to move materials and give you a tailored policy based on all contributing factors.
Determine The Scope Of Your Project
It's incredibly important to ask questions and be involved in the building of your dream home. You'll want to discuss the size and general course of construction before purchasing a plan. Understanding the cost of your home build can save you a lot of time and money.
Buy From An Agent, Broker Or Insurance Provider
Insurance brokers and agents are a great resource to begin your search for a builder's risk insurance policy. Brokers and agents connect you to the right insurance policy based on your needs. The brokers aren't the actual companies that are financially backing or underwriting the policy. Brokers have relationships with several insurance providers which gives them flexibility in matching you with the right policy at a good price. Insurance brokers can save you a lot of time and energy. They can save you money but beware that when working with a broker they will have their own fees on top of the policy costs.
You can also choose to purchase a policy directly from an insurance company. You are limited to the policy that one company can write but it will likely be tailored to your project. Most insurer's write builder's risk insurance policies on an inland marine form rather than a standard property insurance form. This allows for broader coverage that is tailored to the specific needs of a project. Working with an experienced builder's risk policy provider will ensure adequate risk coverage.
Builder's risk insurance is highly specialized. When shopping for a policy we recommend working with companies that are A-rated or higher by AM Best, a global credit rating firm that ranks insurance companies based on their financial stability.
Understand The Terms Of Your Plan
Before you sign on the dotted line, review the policy and be sure to discuss any areas that aren't clear prior to purchase. Remember we discussed policies that may have exclusions, these exclusions can be covered but they'll need to be addressed before construction begins.
Knowing when your coverage begins and ends is important. Some policies won't have specific coverage dates, the coverage may begin or end with certain approvals or permits. So, understanding which milestones in the construction process can trigger a change in your policy coverage is important.
The Bottom Line: Is Builder's Risk Coverage Worth It?
When building your dream home or adding an addition for your growing family, you'll want to ensure the construction process is insured from top to bottom. Partnering with an experienced insurance broker or company will give you an added sense of security that could make your home vision a reality.
Click here to learn more about construction loans.
Get approved to refinance.
See expert-recommended refinance options and customize them to fit your budget.
Related Resources
Viewing 1 - 3 of 3