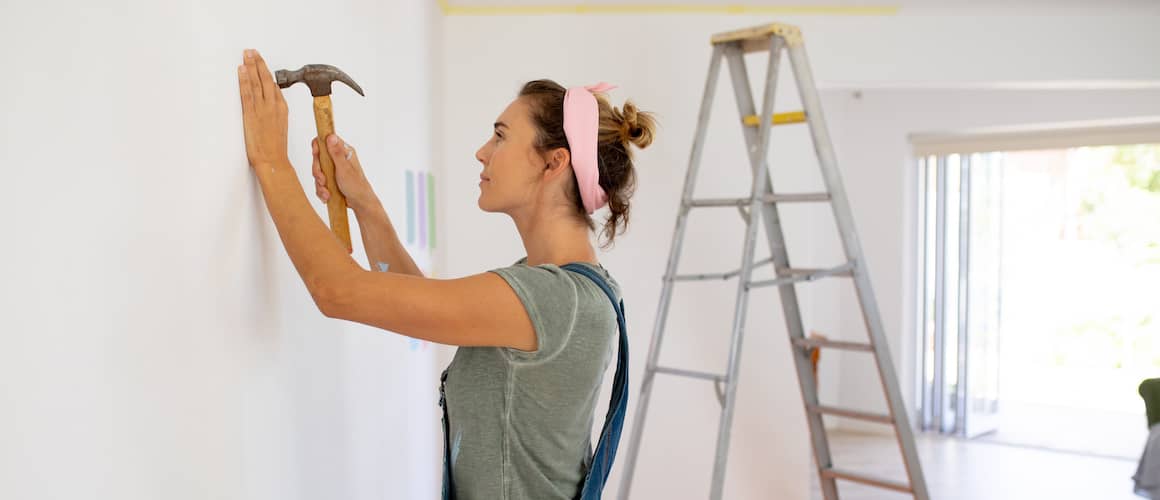 Cheapest Ways To Build A House: 10 Tips For Building A House On A Budget
Erica Gellerman5-minute read
October 30, 2020
Share:
In many parts of the country, the lack of affordable housing is frustrating home buyers. If that's your situation, instead of trying to compete in red-hot housing markets, you may be looking for the cheapest way to build a house. There are a lot of different options available to take advantage of and building a budget-friendly home may be a doable project you want to take on.
Here are some tips to help you build your budget-friendly home:
Simplify Your Home's Design
The cheapest way to build a home is to design a simple box. Sticking to a square or rectangle makes the building and design simple. Generally speaking, building up is cheaper than building a sprawling one-story home, so you may want to consider planning for a multiple-story home if you need more space.
If you're worried a box-style home isn't going to be attractive, consider that you can make the exterior more interesting with landscaping, shutters, lighting and other decor options that don't cost a lot.
Build Smaller
There's a reason tiny houses are increasing in popularity: they cost less to build and can be built on wheels for people who may wish to move in the future. You don't necessarily need to buy a tiny home to get the cost benefits of a smaller home.
Many of your materials and labor is going to be priced per square foot. Build a 2,000-square-foot home rather than a 3,000-square-foot home, and you're going to save yourself money. Think about what you can cut from your planned floorplan. Are there areas you can trim the size and save yourself a lot of money?
Take the first step toward the right mortgage.
Apply online for expert recommendations with real interest rates and payments.
Hire An Experienced Home Builder
If you're working with a home builder, hire an experienced one. While an experienced home builder might cost more than one with little to no experience, you'll likely make up the cost during the building process. An experienced builder can help you figure out where to spend and where to save. They'll probably have creative money-saving ideas. And they can help you avoid problems before they arise since they've likely had a lot of experience navigating problems in their career.
Save Costs By Becoming A General Contractor
If you have building experience or a large network of skilled labor, you may decide to act as your own contractor and manage the home building process yourself. You may still want to work with an architect or download plans for a home from the internet.
Acting as your own contractor is one way that you can save on costs. If you're able to do a lot of the work yourself, this can be one of the cheapest ways to build a house.
That said, some of the work should still be done by subcontractors if this is your first time building a house. Correcting your mistakes can be costly and time-consuming, so if you're not sure of your skills, hiring a professional can save more money in the long run.
Get Your Design Plans Approved
Waiting and redesigning your home can cost a lot. For example, if you don't get all of the necessary permits in time, you will spend a lot of time (and money) waiting for permits to be approved. Any changes that you make to your building plan during the construction process can also add significantly to the total cost of the build. That's why it's important to get your plans approved early in the planning process before you start building.
Plus, if you start work without getting them approved first by your city our county, you risk being charged a hefty fine (or worse, having to redo some of your already completed work).
Price Out All Items And Building Materials
Don't wait until the end to be surprised by the cost. Create a budget and price out everything that you expect to spend on the home. While you may not have a perfect estimate right from the beginning, starting to get a handle on the costs can help you throughout the entire building process.
Whenever prices change or a cost gets added, make sure you add it to your budget. It should be a live document that changes as your plans change, so you always know where you are in your spending and you don't run the risk of running out of money.
Use Reclaimed Materials
While using reclaimed materials like old barn doors or wood in your home build is trendy, there's a practical reason it's so popular: it saves money. Look for reclaimed doors, wood floors, windows and decorative items.
Not sure where to find reclaimed materials? Check Craigslist, Planet Reuse, a salvage store, or find a home that is currently being torn down and see if you can salvage any of its old materials.
Take the first step toward the right mortgage.
Apply online for expert recommendations with real interest rates and payments.
Buy Materials At A Discount
Materials are going to be one of your biggest costs (if not the biggest cost) of the job. So if you can cut your materials budget, you'll significantly cut into the cost to build your home. When you begin shopping, ask each supplier if they offer a builder's discount. Yes, it's OK to ask. You may not be purchasing materials in a large enough quantity to qualify, but it doesn't hurt to ask.
If you can't qualify for a discount on your materials, you might ask your contractor to purchase the items for you using their discount. Depending on your relationship, they may not charge a markup to do that for you.
Add Energy-Efficient Home Features For Rebates And Taxes
Everyone seems to be going green when building and there's a cost-saving reason for that. Using energy-efficient materials, including better insulation and high-efficiency windows, may cost more upfront, but can ultimately save money for homeowners over the years. Consider solar or wind energy as a power source, but check to make sure that these are available in your area and right for your particular piece of land.
You might also be able to qualify for rebates and tax breaks for building certain energy-efficient elements into your home. Check with EnergyStar.gov to search for local, state, and federal rebates for your energy projects.
DIY As Much As You Can
Are there certain finishes in your home you'd love to have, but you can't afford? It's time to watch some videos and give it a try yourself. Going the DIY route can save you money, especially when it comes to things like painting or laying flooring.
But not all work that you DIY will be a money saver. If you don't know how to do some of the big jobs, like plumbing or electrical, it may cost you more to have someone fix your mistakes down the road.
Conclusion
If you're looking for the cheapest way to build a house, you have a lot of options. Explore home buying and building tips in the Learning Center for more help.
Take the first step toward the right mortgage.
Apply online for expert recommendations with real interest rates and payments.