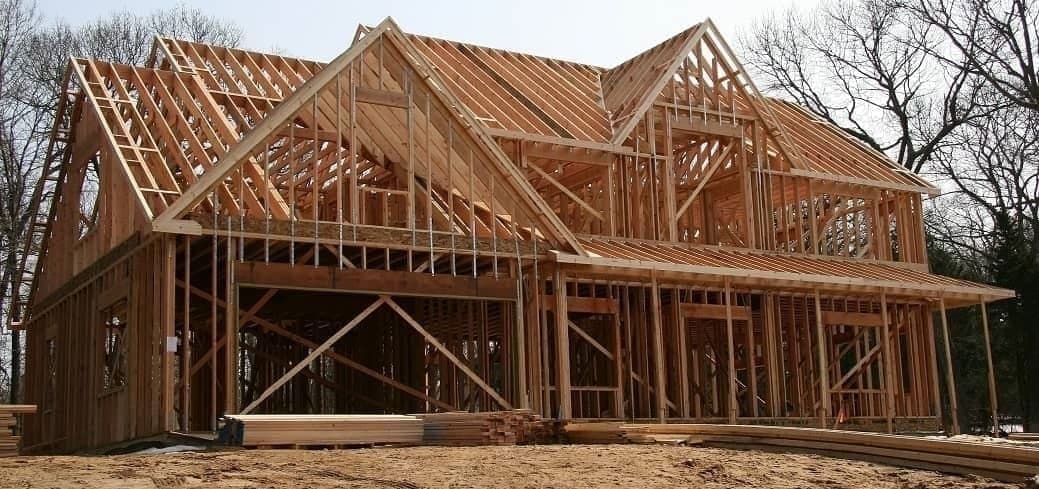 Building A House Vs Buying: Is It Cheaper To Buy Or Build A House?
Victoria Araj9-minute read
April 24, 2023
Share:
You're ready to purchase a home, but you're on the fence between building a house and buying an existing house. In a seller's market, it's reasonable to consider building your own house, rather than fighting for an existing home. That said, if time is a factor, you may be better off buying an existing house.
Another major factor to consider is the cost of building a house versus buying a home. So, is it cheaper to build or buy a house? Let's break down the costs of building a house and buying a house, as well as the advantages and drawbacks, to help you decide which option makes more sense for you.
Is It Cheaper To Buy Or Build A House?
The median sales price of new houses sold – houses built for the home owner and then financed through a mortgage – in January 2023 was $427,500 and the average sales price was $474,400, according to U.S. Census Bureau figures.
The average sales price of an existing home as of January 2023 was $359,000. That's a 1.3% increase since January 2022. While the cost of a house is still on the rise, the rate at which prices are increasing seems to be slowing. Of course, to fairly compare the cost of an existing home versus building your own, you'd need to consider the cost of renovations needed to make those homes livable, and the higher costs of maintenance in existing homes.
There was also an increase in inventory of houses for sale, up 1.6 months from January 2022. The increase in inventory is likely contributing to the smaller increase in housing prices from 2022 to 2023, as compared to 2021 to 2022.
Cost of Building A House Vs. Buying
Is it cheaper to buy land and build a house rather than buying an existing one? With so much uncertainty, it's a bit of a toss-up on which option is actually more budget-friendly. The actual cost could look very different for you depending on your location and the type of build you want to complete. If you're looking to buy a home, there are some costs of homeownership that will stand out. Let's take a closer look at the costs involved with both options.
Costs Of Buying
If you're looking to buy an existing home, there are some costs to consider:
Maintenance of older elements: With older elements in your home, like an older roof or gutters, or you should expect more maintenance and repairs. Building materials will lose their strength with time.

Less-efficient major appliances: Older appliances are typically less energy efficient. Plus, you may not have a home warranty that covers these older items.

HOA fees: An existing home may come with a homeowners association (HOA) and the attendant fees.
Costs Of Building A New Home
If you're considering building a new home, you're probably wondering if building a house is cheaper than buying. The answer to that question depends on factors that are unique to your specific home. The bulk of the cost to build a home are likely tied to the following:
Building materials and construction costs: With a new construction home, the basic materials you need to build a home will add up quickly.

Multiple loans: You may need to take out two separate loans to fund the construction of your new home: a construction loan and a land loan.

New major appliances: You won't have older appliances to live with for now. Instead, you'll have to purchase new appliances when you move in.

Permits and utilities: It can be expensive to add connections for basic utilities. Plus, the permitting process for new builds can be expensive.

Excavation: The land you buy may have land issues such as drainage along with foundation issues that can be costly to resolve before building.

Preparing the landscape: You may have purchased an idyllic site for your dream home, but preparing a lot for building is an expensive proposition. You won't know what lies beneath the earth until your contractor starts to dig. You'll also need to install hook-ups to utilities or an on-site alternative, like a septic system instead of connecting to a sewer system. Construction will also require removal of a great deal of the existing landscape and you'll need to consider the cost of planting trees later on your currently wooded lot.
Get approved for a cash-out refinance.
See expert-recommended options and customize them to fit your budget.
Buying An Existing Home, At A Glance
Now that we've covered the cost of building a house versus buying, let's take a closer look at each of these options individually to help you get a better sense of whether building or buying is right for you.
| | |
| --- | --- |
| Pros | Cons |
| It's usually move-in ready | A seller's market can make home buying stressful |
| Generally less costly | Compromise on home style might be necessary |
| Home renovation options | Possible maintenance issues |
| Established landscaping | It could be less energy efficient than a newer home |
| | Potentially contains hazardous materials |
Building Vs. Buying A Home: Is Buying Better?
When looking to move into a new home, many consider the option of buying a home first. Of course, there are some advantages and disadvantages when it comes to buying an existing house.
We'll lay out the facts so that you can come to a decision on what matters most to you.
Pros Of Buying An Existing Home
Here are the pros you should be aware of when buying an existing home:
Move-In Condition
If you are hoping to move quickly, buying an existing home is probably your best option. Construction projects will require some time to complete, and that's the same whether you're building a home or buying a fixer-upper.
Less Costly
In general, you'll likely find it cheaper overall to buy an existing home, but that also depends on the market. A home loan is less risky than a land loan, and typically comes with a lower down payment and better interest rate.
Home Renovation Options
Purchasing an existing home rather than buying a new one doesn't mean you're stuck with an aspect of it that's not meeting your needs. You can make upgrades to the home when you have the time and money available, customizing your house and making it more of your own.
Established Landscaping
An existing home will likely have some landscaping, eliminating that expense. If you like mature shade trees and rhododendrons for days, you might want to stick to buying a home over building one. It could take years for new landscaping to match the beauty of mature plantings.
Cons Of Buying
Of course, there are also drawbacks to buying a home. Consider the following:
House Buying Stress
Searching for the right home can be time-consuming and stressful. Depending on when you buy, the real estate market could belong to the sellers, who could field multiple clean offers above asking price within days of listing their homes. In that case, buyers could face high prices, bidding wars, and multiple rejected offers. It's not necessarily going to be easier to buy than to build. If you do choose to buy an existing home, working with a good real estate agent can help make the process easier and quicker.
Compromise On Home Style
Finding a home you like and that reflects your taste is tough even when you have a wide variety of choices. With few homes for sale versus the demand for homes, you're unlikely to find many choices available that meet all of your desires.
Possible Maintenance Issues
With older appliances, plumbing and electrical systems, you may run into major maintenance issues sooner rather than later. One possible solution? Consider a home warranty. With a home warranty, you know exactly how much to budget for home repairs and who to call if a problem arises.
Less Energy Efficient
Older homes are more likely to be less energy efficient, which can lead to higher energy costs. You'll likely not be able to achieve the same energy efficiency you could get with a new, sustainable home, but there are many steps you can take to reduce your older home's carbon footprint.
Potentially Contains Hazardous Materials
Older homes may present health hazards from years back that the previous owner might be completely unaware of. Homes built prior to the 1970s might contain lead paint. If you have children, you'll want to take that into consideration when buying an existing home.
Building A New Home, At A Glance
| | |
| --- | --- |
| Pros | Cons |
| Complete customization | More expensive financing |
| Less competition | Unexpected costs and delays |
| Less ongoing maintenance | Build time |
| Newer materials | More effort |
| Better energy-efficiency | Potentially further from urban areas |
Building Vs. Buying A House: Is Building Better?
As with buying a home, building a home will come with advantages and disadvantages. We'll lay out the facts so that you can come to a decision on what matters most to you.
Pros Of Building
Here are the pros of building a home:
Complete Customization
If you have a dream floor plan in mind in a particular location, then building a home will give you the control you're seeking. You can make the decisions when building the home, so it will reflect your tastes accordingly.
Less Competition
Once you buy the land, you won't have to deal with any competition for your dream home. However, you'll be competing against other home builders – and paying more – for limited construction supplies and labor.
Less Ongoing Maintenance
A newer home can mean fewer maintenance costs on the horizon. Generally, new home construction comes with a builder's warranty for major systems. New appliances will likewise come with guarantees.
Newer Materials
When you have a new house built, you'll be getting modern materials for your home. You won't have to worry about potentially dangerous materials such as asbestos or lead paint in a brand-new home.
Better Energy-Efficiency
Newer homes are built with energy-efficiency in mind. If you are concerned about your environmental impact, you can make choices throughout the build to prioritize green architecture and sustainability in your home.
Get approved to see what you can afford.
Rocket Mortgage® lets you do it all online.
Cons Of Building
More Expensive Financing
Because of the lack of collateral, land loans may be harder to obtain, and they often come with a higher down payment and a higher interest rate to offset the risk to the lender. Next, you'll need a construction loan to finance the actual building. Finally, you'll get a traditional mortgage on the house once construction is complete, using the house as security for the loan.
Unexpected Costs And Delays
While there are some ways to make building a house more affordable, the costs can add up quickly. Although you may receive an estimate of the costs upfront, it is not unusual for unexpected costs to crop up throughout the project. Delays and cost overruns are typically expected. Be prepared to pay more for almost everything, starting with lumber. Labor shortages will likely also make wages go up, so expect that to be reflected in your costs.
Build Time
Building a home will not happen quickly. It will typically be a much longer process than buying a home and moving in. In the end, you should have exactly the home you specified but the process could be very time consuming and stressful.
More Effort
Building a home requires a more hands-on approach. You'll have to work with a variety of people to create the home of your dreams and make countless decisions along the way. You'll have to approve all specifications, and review contracts on top of managing the financial aspects of the build.
Potentially Further From Urban Areas
If you want to be close to downtown, it may be difficult to find a lot to build on. In some areas, all the suitable lots have already been turned into homes. You may have to be a further distance away from built-up, urban areas if you choose to build your own home, which could be a negative for some.
The Bottom Line: Should You Build Or Buy A House?
Is it cheaper to buy land and build a house? It depends on factors like the cost of material and the customizations you choose for your new home. Building a new construction home may be the only way to realize your dreams for custom features and unique satisfaction, but it involves a more expensive and time-consuming process.
Buying a home can help you move forward quickly, which can come in handy if you are pressed for time, but you won't have the option to customize every component of your new home.
Interested in buying, or still undecided? Start your mortgage application online to see what you can afford and the kind of loans you might qualify for.
Get approved to buy a home.
Rocket Mortgage® lets you get to house hunting sooner.
Related Resources
Viewing 1 - 3 of 3