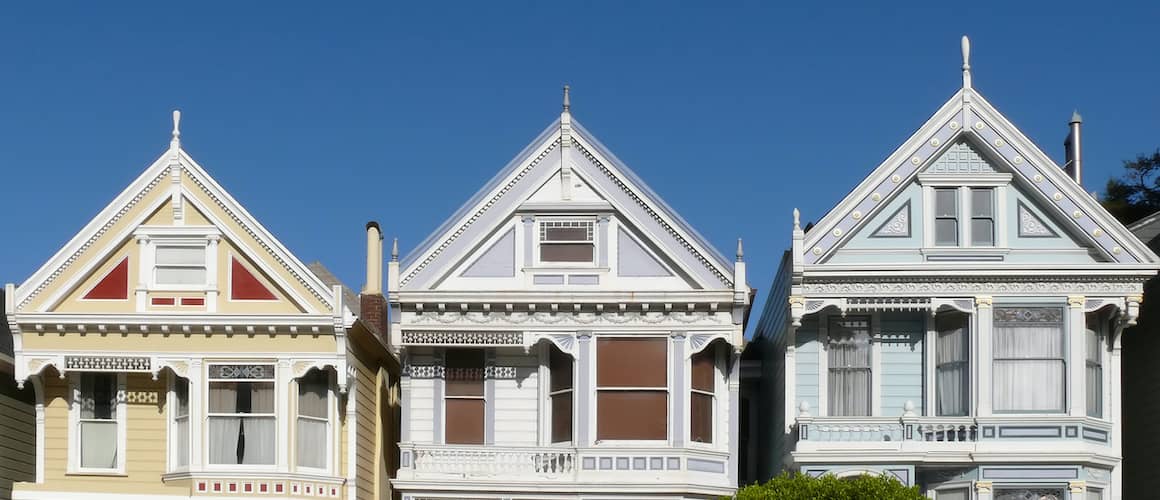 Buying An Old House Vs. A New House: The Pros And Cons
Katie Ziraldo7-minute read
March 31, 2023
Share:
When you decide to buy a home, there are many questions you must ask yourself regarding the size, location and amenities you're looking for. Detailing what you want and need from a home is an important step in the home buying process, as it will aid you in choosing the right house for you.
On top of any must-haves, there are also probably some nice-to-haves on your list. Balancing these wishes is no easy feat – but analyzing all the potential pros and cons of a property can help you protect your investment and ensure there are no costly surprises down the road.
The age of the home is just one factor to consider, but it can be a rather important one, as there are a few distinct differences between old and new homes when it comes to their cost, safety and upkeep.
Defining New Homes Vs. Old Homes
The quality of home construction has evolved and improved over the years, partly due to the ever-changing availability of building materials and partly due to updated building codes. For example, in 1978, the federal government banned the use of lead-based paint, which was previously used regularly during construction. Further developments in the form of updated technology, modern insulation and more affordable materials have permanently altered the way homes are built today as compared to 100 or even 50 years ago.
At the extreme end of the scale are historical homes, which are recognized and monitored by the National Park Service. Buying a historic home comes with its own unique advantages and disadvantages – but just because the home was built a long time ago doesn't necessarily mean its historic. For a property to be considered a historic home, it must meet specific criteria relating to its connection to historical people or events. This means there are many older homes available that provide a sense of old-world comfort without the strings attached to owning historical property.
On the opposite side of the spectrum, there are newly built houses. These new homes are typically larger and provide all the benefits of modern convenience. But with such a wide range of homes available – what defines an old house vs. a new house? In this article, we consider homes to be old when they are at least 50 years but no more than 100 years of age, while new homes have been constructed within the last few years.
See What You Qualify For
Congratulations! Based on the information you have provided, you are eligible to continue your home loan process online with Rocket Mortgage.
If a sign-in page does not automatically pop up in a new tab, click here
Pros Of Buying An Old House
Despite the progress in home construction over the last few decades, there are many homeowners who continue to prefer old houses for their charm and personality. But there are several other advantages to homes that were built 50-100 years ago, including the following:
Architecture
With cookie-cutter homes popping up across the nation, old houses stand out for their commitment to architectural individuality. Victorians, Colonials and Tudors are just three of the many architectural styles that are not often replicated today. The craftsmanship and attention to detail that went into building these structures can be hard to find in modern homes, so if architectural character is near the top of your list, an older home might be a good fit.
Mature Landscaping
Because land used to be more affordable, older homes frequently come with larger yards. This land was often filled with extravagant landscaping, including trees and bushes that have now been cared for over several generations. This type of mature landscaping has been proven to raise the value of a home and can make its homeowners more comfortable due to the emotional benefits of being in a home with more surrounding greenery.
Long Purchase History
There's also great power in knowing your home's purchase history, which can indicate the property's appreciation value over time. Although the past doesn't guarantee the future, this paper trail can indicate whether the home you're purchasing is a good long-term investment. With newer homes, there is little to no information to use to make an educated decision.
Established Neighborhood
Looking beyond the home itself, buying property also involves considering the surrounding neighborhood. Older homes tend to be more centrally located, closer to downtown and in stronger communities, making them less likely to undergo zoning changes.
Lower Cost
Although you may pay for their charm and individuality, these old homes still cost significantly less upfront than their newer counterparts. The price of a newly built home is often higher than that of an older home by a staggering 30% or more.
Cons Of Buying An Old House
Buying any property, old or new, is a big decision. With every benefit, there's also a potential drawback that must be considered. This means when you're analyzing your home options, it's important to remember that there's no right answer – only what is right for you. If you think an old house might be a good fit, be sure to consider the following downsides.
Maintenance Costs
Older homes are made of older materials, so it follows that the aging construction in these homes would come with a need for frequent maintenance. From faulty plumbing to sloping floors, there's no shortage of projects to do in existing homes – and these projects don't come cheap.
But smart home buyers can capitalize on the lower upfront costs of these homes to supplement future maintenance costs. With less money needed for a down payment, staggering savings can help you to cover many of these costs down the road.
Smaller Floor Plan
Modern society supersizes everything. This means modern homes will often come with larger, open floor plans, while older homes feature smaller, separate spaces.
It's important to remember the differences in day-to-day life between now and when these homes were constructed. In earlier times, people didn't have nearly as many physical possessions as they do now – so you can expect smaller closets, lower ceilings and less room for appliances in old homes.
Utility Costs
As building codes have improved, so have the materials used during home construction. Newer homes benefit from these changes, as increased insulation has allowed the homes to better retain heat or air depending on the season.
The same cannot be said with older homes. According to the U.S. Census Bureau's American Housing Survey, homeowners in old homes spend 17% more on electricity and 38% more on gas per year.
Fewer Safety Regulations
Construction standards have changed over time, which means older homes may not be built to code to withstand natural disasters, prioritize electrical safety and protect from the dangers of plumbing failures. The lack of inherent safety in these homes makes the home inspection that much more important.
Get approved to buy a home.
Rocket Mortgage® lets you get to house hunting sooner.
Pros Of Buying A New House
Fresh paint, modern floor plans and updated appliances: These are just a few of the benefits of buying a new house. But there's also something to be said for the emotional perks of stepping into a brand-new home. When you're the first person to live in a residence, the home is what you make it – so let's take a look at some of the advantages of new construction.
Delayed Major Maintenance Costs
New homes are built to last, so homeowners who purchase newly built properties often face lower monthly maintenance costs. Based on the American Housing Survey, 26% of homeowners spent $100 or more per month on maintenance costs. But that number is significantly lower in homeowners who purchased homes built within the last 4 years. In fact, 73% of these homeowners spent less than $25 per month on these costs. This lower need for upkeep also makes it easier for new homeowners to get a home warranty.
Energy Efficiency
Energy efficiency has become increasingly important over the years, so in most cases, the newer the home, the easier it is on the environment. New homes better retain heat in the winter and air in the summer due to their thicker, dual-pane windows and insulated walls, ceilings and floors.
Depending on the home design, there's also potential for an even stronger focus on efficiency, as some modern homes come with built-in home solar panel system and other renewable energy sources.
Safety Stamp Of Approval
Homes that are up to code come with many benefits on top of the physical safety of your family. Because new construction requires compliance with stricter safety regulations, newer homes require less maintenance and receive the safety stamp of approval – which typically results in lower insurance costs and higher resale value.
Larger Living Spaces
New homes aren't always larger than old homes – but as flowing, open floor plans have grown in popularity, we've seen these trends reflected in newer home construction. This has led to a greater average square footage, more storage space and plenty of open spaces for entertaining.
Cons Of Buying A New House
Unwrapping a brand-new house is exciting for many reasons, but compared to existing homes, there are also a few drawbacks. Whether the home is new within the last few years or a freshly constructed residence, you must remember that nothing stays brand new for very long. With that in mind, consider the following disadvantages to buying new property.
Likely Less Centralized
City centers tend to be filled with older properties, so newer homes are often less centralized and frequently located in the suburbs. This distance from the downtown area often means longer commutes for both work and play and may be less than ideal for some prospective home buyers.
Smaller Outdoor Spaces
As land grows scarce, home builders have learned to sacrifice yard space to maximize the square footage of the house, which has led to close quarter living.
These smaller outdoor spaces also feature less mature vegetation. While the landscaping surrounding older homes has had decades to grow, the vegetation near newer homes has had significantly less time, which means new homes often feature basic landscaping. Immature landscaping can ultimately lead to less curb appeal, which may make it more difficult to sell the property in the future.
Higher Upfront Costs
As previously mentioned, newly built homes cost on average 30% more than existing homes. Paying more upfront may be worth it for the lower maintenance and utility costs these homes incur over time – but if high upfront costs won't work in your financial situation, you may be better suited for an older house, as they usually require less money upfront and will allow you to stagger home maintenance costs throughout the life of the property.
The Bottom Line: Age Is Just A Number
Deciding which home is right for you is a long process of give and take. Home buyers must have a clear understanding of what they want and need out of a home – and the age of the property is just one variable to consider.
For homeowners who put heavy stock in individuality – and are willing to put forth the necessary time, energy and money to maintain and protect that uniqueness – older homes may be a great fit. With the right care, these old houses can age gracefully and remind their owners of a simpler time. But if modern convenience is your top priority, you may be better suited for a newer home.
If you're ready to pursue your dream home, a good starting point is finding out how much to spend on a house. Compile a list of your hopes and dreams and don't compromise on your deal breakers – because rest assured, there is a home out there for every buyer.
Take the first step toward the right mortgage.
Apply online for expert recommendations with real interest rates and payments.
Related Resources
Viewing 1 - 3 of 3