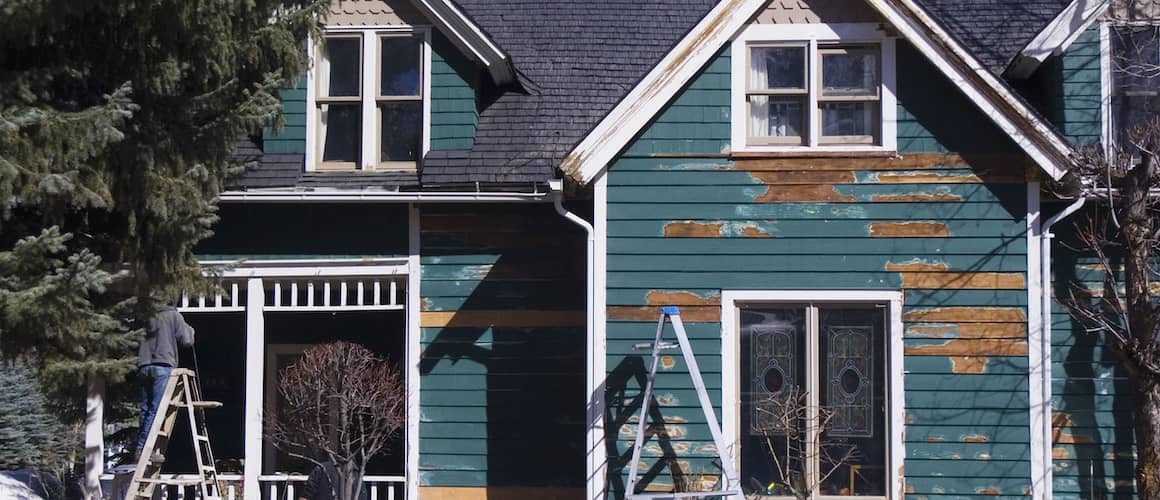 How To Find Fixer-Upper Homes: Everything You Need To Know
Dan Rafter8-minute read
August 31, 2023
Share:
Buying a fixer-upper can come with risks: You might find that the work involved in rehabbing type of home can be overwhelming and expensive. But if you find the right home, you might enjoy some advantages, too – like being able to buy into a neighborhood that you otherwise couldn't afford. To enjoy the benefits of these houses, you first need to know how to find fixer upper homes.
How To Find Fixer-Upper Homes
There are several ways to find fixer-upper homes, from searching for them online to working with a real estate agent or attending auctions. No one way to find these homes is best. But relying on a combination of these methods might boost your odds of finding the right fixer-upper in the perfect neighborhood.
See What You Qualify For
Congratulations! Based on the information you have provided, you are eligible to continue your home loan process online with Rocket Mortgage.
If a sign-in page does not automatically pop up in a new tab, click here
MLS
The multiple listing service (MLS) is an online database that contains homes listed for sale by real estate agents across the country. Some homes listed on the MLS will be ones in need of repair and renovations. And these homes might come with a lower price tag.
Licensed real estate agents are the only individuals allowed to have access to the MLS. However, you can search the MLS listings by logging onto sites such as Rocket HomesSM.
If you want to search for homes not listed by real estate agents but instead sold directly by their owners, you can visit ForSaleByOwner.com. These for-sale-by-owner homes are not typically listed on the MLS because real estate agents do not handle their sales.
Real Estate Agent
You can also work with a real estate agent to find fixer-upper homes in your neighborhood. The benefit here is that agents often find out about homes hitting the market before they are listed on the MLS. This can give you the chance to make an offer before competing buyers even know the property is for sale.
Agents also know the neighborhoods in which they work. They can tell you if a home is being listed at a price that is below market value. They'll know, too, if a seller is expecting too big of a price tag for a fixer-upper home.
Be sure to ask any agents you interview if they have experience helping buyers purchase fixer-upper homes or properties that are in the foreclosure process.
Auctions
You might also consider buying a house at an auction. Homes end up at auctions in two ways. Their owners might have stopped making mortgage payments, forcing their lender to foreclose on the property, evict them and take ownership of the home. The lender or bank is now selling the home at auction.
Homes can also end up at auction if their owners fail to pay their property taxes. If this happens, the county government can seize the home. Often, the government will then sell its seized real estate at auction.
You can find online auctions by doing an online search for "real estate auction" and including the county in which you want to buy. You can also search the U.S. Treasury Department's list of auctions, the U.S. Department of Housing and Urban Development's list of homes for sale or sites such as Auction.com.
What To Look For When Buying A Fixer-Upper
You'll have to consider several factors when looking for a fixer-upper – everything from the neighborhood in which it sits on to its price, size and how much work it will take to renovate.
Here are some of the most important factors that can help you find the right fixer-upper at a fair price.
Location
The location of a home is a key factor. Ideally, you'll find a fixer-upper in a neighborhood in which demand is just starting to increase. That way, you can still find a home that needs repairs or renovations for a lower price, before increasing demand boosts sales prices in the area.
It's important, too, to consider other factors that are ideal for your lifestyle. You may want to buy in a neighborhood with strong public schools. Good schools will increase a home's value. It might be important, too, to buy in a walkable neighborhood near public transportation, stores, restaurants and entertainment options.
A low crime rate is important, especially if you are moving into a fixer-upper with your family. And buying near your job will eliminate the stress of a long commute to work.
Again, working with a real estate agent can help you find the right location in which to search for fixer-uppers. Agents will know which neighborhoods are on the rise when it comes to housing demand.
Layout And Size
Does a fixer-upper have an old-fashioned layout featuring cramped rooms? Or does it have a more open floor plan? That could matter to you. Trying to transform an outdated floor plan into a modern space can be expensive, eating away at any savings you might get from buying a fixer-upper. And what if you want to renovate your fixer-upper and sell it? The cost of reworking an outdated floor plan could cut into your profits.
A home's size is another important factor. If a fixer-upper is too small for your family, the cost of adding to it could easily outweigh any savings you'd gain. If you're an investor hoping to sell your fixer-upper, you might spend so much adding extra space to a tiny home that you'll struggle to earn a profit when you sell.
Condition
Buying a home for a low price won't matter if you need to spend tens of thousands of dollars repairing major features, like the foundation. It's important, then, to consider the condition of any fixer-upper that you're buying. The more work it requires to be livable, or the more you'll need to spend to be able to flip it to a new buyer, the less you'll save or earn.
It's important to understand the differences between cosmetic issues and serious flaws. Cosmetic issues such as an outdated kitchen, untended front yard, old appliances and unattractive flooring can all be fixed or tweaked without spending a fortune.
But structural flaws such as a sagging foundation, leaking roof, basement that floods, cracked ceilings or uneven floors are bigger problems and are often more expensive to fix. Consider whether the savings you'll gain from buying your fixer-upper at a lower price are worth the expense and time you'll spend on repairing any of these structural issues.
Take the first step toward buying a house.
Get approved to see what you qualify for.
How To Buy A Fixer-Upper Home
Ready to invest in a fixer-upper? Here are some steps to take, whether you are buying a home to live in or you plan on renovating it and selling it for a higher price.
1. Set Your Budget
First, determine how much you want to spend on a home. And don't be tempted to go over this limit. You'll need to include the estimated costs of any repairs or renovations.
2. Consider Working With A Contractor
You might hire a contractor to help you determine how much you'll need to spend to renovate a home or make needed repairs. These professionals can help you determine what changes or additions to a home will net you the highest return on investment (ROI) when you're ready to sell.
When interviewing a contractor, look for one who has experience renovating older homes. Also look for negative reviews on the Better Business Bureau or Google the contractor's name to find out if past customers had positive or negative experiences. Ask any contractor you are interested in working with for the names and contact information of past clients. Contact those clients and ask if the contractor was easy to reach, performed the necessary work on time and charged reasonable rates.
3. Get A Home Inspection
When buying a fixer-upper, a home inspection is crucial. An inspector will tour the home looking for problems both big and small. There are plenty of pitfalls to investing in properties that need repairs or when buying a distressed property that has gone through the foreclosure process. An inspector will find any major issues, such as sinking foundations, mold-infested basements or aging roofs. You can then determine if the cost of addressing these problems is too high.
4. Apply For A Loan
If you can't afford to purchase your fixer-upper with cash, you'll need to apply for a mortgage loan to finance your real estate buy.
When applying for a mortgage, lenders will look at your three-digit credit score and your credit report to make sure that you are in a position to repay your mortgage on time. They'll also need to verify your monthly income. To do this, they'll ask for copies of such documents as your last two paycheck stubs, last 2 months of bank-account statements, last 2 years of personal income tax returns and last 2 years of W-2 forms.
Financing Options For a Fixer-Upper Home
A mortgage will cover the purchase of the home, but if you need to finance the renovations as well, there are a couple options. Keep in mind, Rocket Mortgage® doesn't currently offer renovation/rehab loans.
Standard FHA 203(k) Loan
You can use a standard FHA 203(k) loan to finance both the purchase of your home and the renovations needed for it, all in one mortgage. You can take out an FHA 203(k) loan as a 15-year or 30-year fixed-rate mortgage or as an adjustable-rate loan.
There are some requirements, though: You must use this loan to improve a home. You could use an FHA 203(k) loan to replace your fixer-upper's roof, update its plumbing, rewire its electrical systems, redo its landscaping or make it more energy-efficient. You can't, though, use this loan for luxuries or cosmetic improvements, such as adding a swimming pool, hot tub or outdoor fireplace.
You'll also need a FICO® credit score of at least 500 and can only use this loan on a primary residence. If you want to buy a fixer-upper to flip that you won't be living in, you can't use this loan. And the repairs to your home must be performed by a contractor, not by you yourself.
Streamline FHA 203(k) Loan
A streamline FHA 203(k) loan, also known as a limited 203(k), is a good choice for homes that require less renovation or repair work. With this loan, you can add up to $35,000 for renovations into your original purchase mortgage.
Because streamline loans require a lower amount, it could take less time for your FHA streamline 203(k) loan to earn approval from a lender.
You'll have to meet the same requirements, though, of the standard 203(k) loan.
HomeStyle Loan
The Fannie Mae HomeStyle ® loan is a renovation loan that allows you to wrap both the purchase price and the renovation costs of the home you are buying into one mortgage. It's a bit like the FHA 203(k) loan but for conventional mortgages; loans not insured by a government agency.
You can use this loan to renovate pretty much any property type, including single-family homes, townhomes, condominiums, investment properties, manufactured homes and multifamily properties.
If you are using this loan to purchase an investment property, though, you'll need a down payment of at least 15% of the home's final purchase price. You can also use the loan to fund any renovation project, as long as it is permanent and boosts the value of the property.
CHOICERenovation
The CHOICERenovation ® loan is the Freddie Mac version of Fannie Mae's HomeStyle loan. Like that mortgage, the CHOICERenovation loan lets you combine the cost of buying a home with the estimated expenses of renovating it. And like the HomeStyle loan, you'll need to apply with a mortgage lender to get the CHOICERenovation loan.
The CHOICERenovation loan lets you finance renovations that cost up to 75% of the home's estimated value after the improvements have been made. You'll need a down payment of at least 5% of your home's final purchase price if you are buying a single-family home, 15% down if you are buying a two-unit primary residence and 20% if you are purchasing a three- to four-unit primary residence.
A one-unit second home will require a down payment of 10%, while a one-unit investment property requires a down payment of 15% and a manufactured home 5%.
The Bottom Line
Buying a lower-cost fixer-upper could help you move into a neighborhood that you otherwise couldn't afford. If you buy a fixer-upper as an investment, you can purchase it for a low price, renovate it and sell it for a profit. Just be prepared for the challenges of what could be a large renovation project. Ready to buy your home? You can start a mortgage application today with us.
Get approved to buy a home.
Rocket Mortgage® lets you get to house hunting sooner.
Related Resources
Viewing 1 - 3 of 3