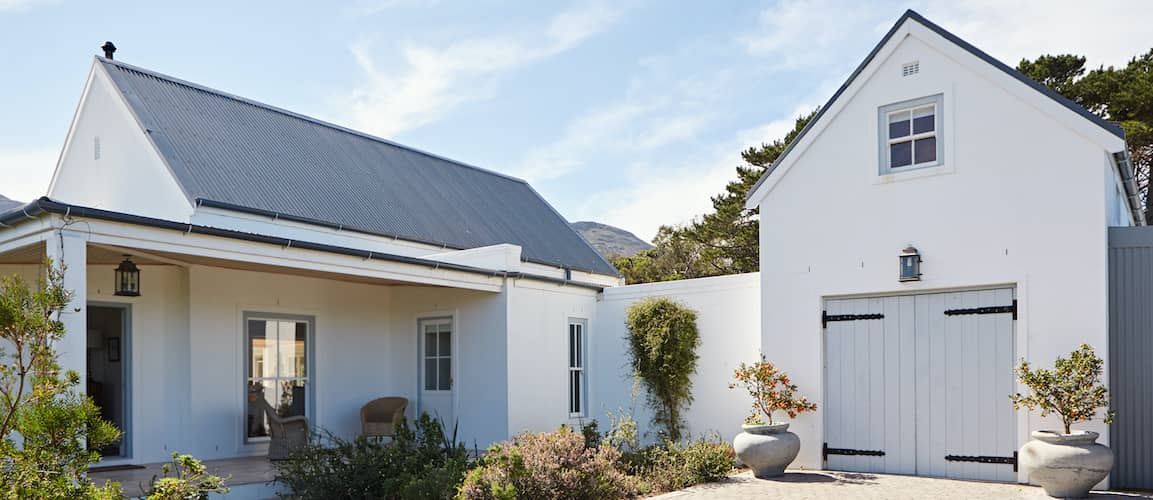 FHA 203(k) Loans: A Complete Guide
Scott Steinberg7-minute read
March 29, 2023
Share:
A boon to DIYers and home project enthusiasts, an FHA 203(k) loan – also known as a mortgage rehab loan, renovation loan, or Section 203(k) loan – can be used to fund both a home's purchase and renovations under a single mortgage. In effect, it allows home buyers who are considering purchasing a fixer-upper that requires multiple repairs and significant rehabilitation efforts to roll the cost of both the property and these projects into one loan. In addition, current homeowners can also apply for an FHA 203(k) loan and use it as a means through which to refinance their property and fund the costs of an upcoming renovation through a single mortgage as well. While Rocket Mortgage® does not offer FHA 203(k) loans, read on to find out more about how a 203(k) loan can help you buy and renovate your dream home.
What Is An FHA 203(k) Rehab Loan?
What is a rehab loan? In practical terms, it's a form of home financing or refinancing that enables home buyers and homeowners to combine both costs associated with real estate itself and expenses due to be incurred through renovation into a single mortgage. If you find that a property that you are wishing to purchase or refinance may require significant repairs and enhancements, it could be a good choice for you.
How An FHA 203(k) Loan Works
An FHA 203(k) loan is backed by the Federal Housing Administration (FHA). It provides a vehicle through which home buyers or homeowners can borrow sufficient funds to address both the cost of any given property and subsequent repairs. Funds obtained through an FHA 203(k) loan, which can take the form of a 15- or 30-year fixed-rate mortgage, or adjustable-rate mortgage (ARM), can be applied to expenses associated with both materials and labor as well. Because these mortgages are insured by the government, it also bears noting that a 203(k) loan may come with more flexible qualification terms and requirements than a conventional home loan.
Put simply, an FHA 203(k) loan makes it possible to purchase or refinance a home that needs significant care and improvement. The expenses associated with these efforts are added to the total that you elect to borrow and can be paid off over a period of years as you pay off the monthly premiums associated with your mortgage as well. Noting this, FHA 203(k) loan offerings can provide a cost-effective way to pay for many home improvements (especially large home improvements). As with any mortgage though, you'll need to qualify to obtain one based on your income, credit history, credit score, debt-to-income ratio and other factors.
Bear in mind too: Work covered under an FHA 203(k) loan must start within 30 days of closing, and projects must be completed within a maximum of 6 months' time as well.
Streamline 203(k) Loan
A streamline 203(k) loan, or limited loan, is frequently utilized for homes that require fewer repairs. It provides home buyers or homeowners seeking to purchase or refinance a property with a maximum of $35,000 for renovations. No minimum cost requirement is attached, and applications may be simpler to process due to the lower sums borrowed under the terms of these loans. However, bear in mind that you won't be able to roll major structural repairs into the sums that you wish to borrow.
Standard 203(k) Loan
On the flip side, a standard 203(k) loan, which is typically used for larger jobs (exceeding $35,000), can be used to cover major structural repairs. Renovations must cost a minimum of $5,000 though, and a U.S. Department of Housing and Urban Development (HUD) consultant must be hired to oversee the project and renovation process. Select rules and guidelines must also be followed to ensure compliance with government code.
A conventional mortgage may be a better fit.
Get approved online with Rocket Mortgage® and get to house hunting sooner.
What Can An FHA 203(k) Loan Be Used For?
Proceeds from an FHA 203(k) loan and mortgage can be utilized to fund a variety of projects, including, but not limited to:
Improving a home's curb appeal
Installing or repairing roofing and flooring
Making a home more energy-efficient
Fixing any health or safety hazards
Enhancing a home's accessibility or functionality
Overhauling plumbing and waste systems
Redoing landscaping and groundwork
Repairing or renovating gutters and downspouts
Making changes that improve or modernize a home's appearance
Note that luxuries such as a swimming pool, hot tub, outdoor fireplace, satellite dish, or BBQ pit are not deemed eligible expenses by the FHA under the terms of a 203(k) loan. As a general rule, any upgrade or enhancement that doesn't improve the actual functioning or attractiveness of the property won't be covered under an FHA 203(k) loan. Certain types of properties may also be prohibited from application, such as mixed-used properties (which combine residential and commercial space) and co-ops. Be sure to do your research before applying for an FHA 203(k) loan.
FHA 203(k) Loan Qualifications
As with any personal loan or mortgage, home buyers or homeowners must meet certain minimum requirements in order to qualify for an FHA 203(k) loan. These requirements are similar to normal FHA loan requirements. Among them, you'll find that:
Lenders require applicants to possess a credit score of at least 500.
An FHA 203(k) loan requires a minimum down payment of 3.5% for those who possess a credit score of 580 or above, and 10% for those with a lower score.
A 203(k) loan can only be used if the property is to be the borrower's primary residence.
Repairs and renovations must be performed by a contractor and not by the borrowers themselves.
In order to apply for an FHA 203(k) loan, note that you'll also need to work with an FHA-approved lender. Be prepared to furnish documentation that confirms your identity, verifies your income and debts, and confirms your credit score as part of the application process.
Using An FHA 203(k) Loan To Refinance Your Home
Per earlier discussion, FHA 203(k) loans aren't just for prospective home buyers. They can also be obtained by current property owners hoping to rehabilitate a piece of real estate that they hold within their portfolio. You'll find that the actual mechanics of refinancing a current mortgage into a 203(k) loan are similar to those associated with a typical refinancing, but may come with additional requirements attached, as described above.
Should you qualify for and elect to proceed with an FHA 203(k) loan, you'll also find that a portion of sums borrowed will go towards paying off the outstanding balance on your existing mortgage. Any remaining funds will be held in escrow until repairs are complete and they're applied to paying off these bills. Likewise, if you already have a preexisting FHA 203(k) mortgage, you can refinance it under the terms of the FHA streamline program as well. Doing so may help you obtain a lower interest rate that leads to lower monthly payments.
Pros And Cons Of 203(k) Home Rehab Loans
For all their inherent benefits, like most mortgages and home loans, FHA 203(k) loans come with their fair share of pros and cons attached as well. As ever, it's important to do your homework before deciding if an FHA 203(k) loan or conventional mortgage and/or personal loan is right for you. Advantages and disadvantages include as follows:
Pros
Lower credit score and down payment requirements
Can provide temporary housing while a home is being repaired
Smaller interest rates than other loan types
Ability to combine home purchase and renovations into single loan
Low down payment and credit score requirements
Cons
Requires an upfront mortgage insurance premium (MIP)
Application process can take a lot of time and paperwork to complete
FHA 203(k) loans cannot be used for investment properties
Mortgage insurance is required
Projects may require you to hire and work with a HUD consultant
Note that you'll find that closing costs associated with FHA 203(k) loans are in line with those associated with alternate types of mortgages and refinancing. These expenses go to cover standard fees such as those for appraisals, inspections, lender origination, title search and insurance, credit reporting, property surveys and more. Select lenders may apply additional fees for extending these loan packages, though.
Conventional Home Rehab Loans Vs. FHA 203(k) Loans
Conventional home loans require borrowers to possess higher credit scores and make larger down payments, but also allow applicants to implement more "luxurious" constructions and updates than the FHA would otherwise approve. At the same time, they may also come with more stringent application requirements and higher interest rates attached as well. You'll want to research potential lending options up-front and make a point to shop around and compare rates and terms before committing to an offer from any lender. Doing some basic financial groundwork here may ultimately help you realize significant financial savings in the end.
Does An FHA 203(k) Loan Sound Right For You?
At their most basic level, FHA 203(k) loans provide a handy vehicle for homebuyers or homeowners looking to purchase a fixer-upper property or give a currently-owned property a much-needed refinancing and rehabilitation. The ability to combine costs associated with both a property itself, and any subsequent repairing or rehabs, into a single loan can often prove highly advantageous – especially for those seeking a way to pay off these expenses over time.
Noting this, if you're considering purchasing a home that needs significant tender love and care or conducting home improvements on a property that you already own, an FHA 203(k) loan may be a good fit. However, at the same time, a 203(k) loan or refinancing comes with specific minimum requirements and rules attached, as mandated by the Federal Housing Administration, which may prohibit certain types of home enhancements and upgrades. It's important to consider both your household's individual needs and the advantages and disadvantages associated with this type of home loan before committing to obtain one.
Keeping these points in mind, whether you're looking for an affordable way to refinance or remodel your home, an FHA 203(k) loan may present you with an excellent option. Before moving forward with the application process though, you'll wish to compare lenders, research FHA project rules and terms, and consider whether or not this financing vehicle makes sense for your fixer-upper. As part of your decision-making process, we highly recommend reading more about the myriad other types of loans that are available to you – among many solutions available to those looking to finance an impending home purchase or upgrade.
Apply for a conventional mortgage now.
Rocket Mortgage® lets you do it all online and provides expert recommendations.
Related Resources
Viewing 1 - 3 of 3