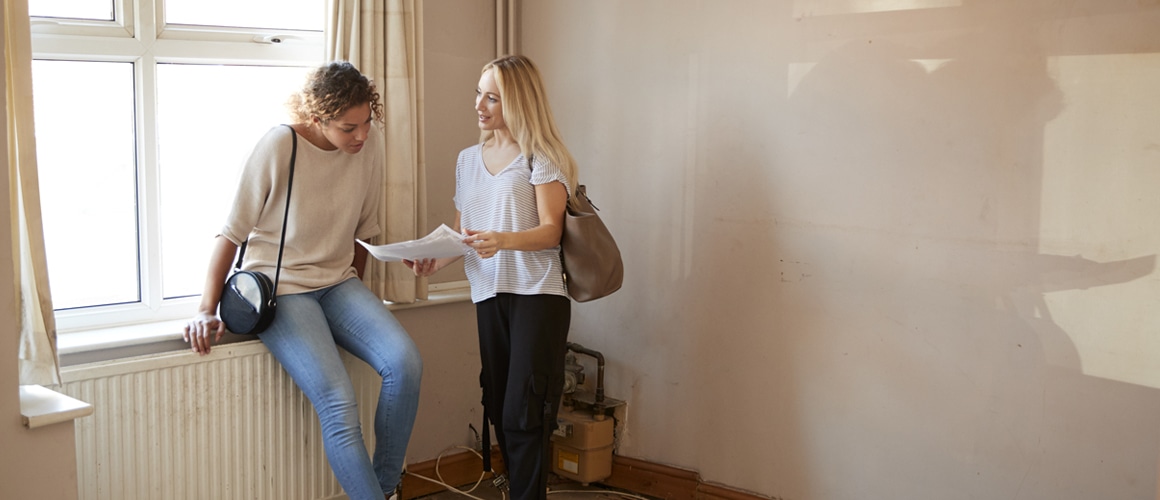 Home Inspection: Costs And A Checklist
5-minute read
September 17, 2020
Share:
A home inspection can reveal a lot about the home you're thinking of buying, including if there are any major problems or, conversely, if the home is in great shape. Read on to discover more information about what a home inspection is and what to expect.
What Is A Home Inspection?
A home inspection is a noninvasive, visual examination of the physical structure and systems of a home. If an inspection unearths problems, you can negotiate with the seller to lower the home's price or arrange for repairs before closing. You may even decide to cancel the sale if there's a big problem with the home and you can't negotiate a lower purchase price or otherwise reach an agreement with the seller.
A home inspection is different from a home appraisal. An appraisal is an estimate of how much your property is worth. Mortgage lenders use appraisals to make sure the home is worth the amount they're lending. An appraiser doesn't go over the fine details of the home, but rather looks at local property values and the home's overall condition.
A home inspection usually takes place right after the seller accepts an offer from the buyer. After both parties sign the purchase agreement, the home goes into escrow. This process happens before the appraisal. It's important to note, the home buyer is typically responsible for paying for the inspection because it protects them from purchasing a home with significant issues.
Find out what you can afford.
Use Rocket Mortgage® to see your maximum home price and get an online approval decision.
What Does A Home Inspection Cost?
Home inspections average $270–$400. This price is contingent upon the size of the home, where it's located, additions to the property such as sheds or in-law units, and the person who performs the inspection.
How Long Does A Home Inspection Take?
Home inspections typically take 2 – 4 hours. The amount of time can vary for several reasons. The size of the home is the one contributing factor, but buyers may elect to have the home evaluated beyond what's covered in a typical home inspection. The buyer should be present for the home inspection, so be sure to schedule enough time to go through the house with the inspector.
What Do Home Inspectors Look For? A Checklist
Home inspectorswill look for any problems your home may have. They will examine it inside and out. They will also inspect installed systems, your utilities and more. After they inspect the home, they will then report any discrepancies with you so you can decide what you're comfortable accepting, and what you can ask the seller to fix. Here are a few of the standard elements a home inspector will look at:
Outside Structure
A home inspector usually takes a walk around the outside of the home to look for structural damage. They check for things that could be problematic in the future, like a cracked foundation. An inspector should also check the sidewalk and driveway, as well as the window insulation and drainage around the home.
Roof And Attic
Roofing and attic damage can turn into expensive issues, so your home inspector should check the uppermost area of the home. They should search for problems with the roof's tiling, like missing or broken shingles, and look at the rain gutters and runoff system to make sure water is draining properly. The inspector should also enter the attic and look for structural problems on the inside.
Interior Structure
Before your inspector takes a detailed look at each room in the house, they'll need to do a once-over to spot problems with the home's interior structure. The inspector should look at all the home's floors, walls and ceilings, and search for water damage, ceiling cracks and foundation damage. They do not move furniture, so be sure that all walls, utility boxes, etc. are easily accessible.
Basement
If the home has a basement, the inspector should look for signs of water or structural damage. The inspector should also test support beams and check for cracks in the foundation.
It's important to note that this evaluation of the foundation is different from, and less comprehensive than, a separate foundation inspection. You may want to have a person who specializes in foundation inspections come in as well.
Electrical System
Your inspector should first make sure that the electrical system is safe before testing it. They should check the capacity of the electrical system and make sure the wiring is in good order. Then, the inspector should go through the home and check the lights and outlets in each room.
Plumbing System
Your inspector should also check for any plumbing or sewage issues. First, they should test the water shut-off valve. Then, they should go through the home and make sure the toilets, sinks, showers and hoses are working and draining properly.
Like the foundation inspection, this evaluation of plumbing is different from, and less comprehensive than, a separate sewer or septic system inspection. You may want to have someone who specializes in sewer inspections come to take a look as well.
HVAC System
Your inspector should examine and run the heating and cooling systems. They should look at the wiring and ventilation to make sure there are no fire hazards. If the home has sprinklers or a fireplace, your inspector should check them, too, and make sure they work.
Keep in mind your inspector will probably only examine central heating and cooling systems, because sellers usually take space heaters and window air conditioning units with them after the sale. If you want to keep any temperature-controlling systems, be sure to negotiate this with the seller.
Built-In Appliances
Your inspector will need to make sure all appliances work. They should test the stovetop, washing machine, garbage disposal, smoke detectors and any other appliances in the home. The inspector should also look at the wiring for each one to ensure there are no fire hazards.
Garage
The inspector should look for signs of structural decay and damage in the garage. They should specifically check the walls, ceiling, and flooring for water stains or damage. If the garage has an electric garage door opener, the inspector should see if it opens, closes, and locks correctly.
Find out what you can afford.
Use Rocket Mortgage® to see your maximum home price and get an online approval decision.
What Don't Home Inspectors Look For?
There are many important factors that home inspectors don't necessarily consider part of their typical inspection process. You can ask your inspector if they cover these tests, or if they can do these tests while they are on your property so you don't have to hire more than one professional. Read on for a few examples.
Lead Paint
Lead-based paint is often found in older homes. If you're buying one built before 1979, it's important to schedule a test for lead-based paint. Experts have linked lead paint to permanent health problems, so it's crucial to know if and where there's lead in the home, which may require your inspector to schedule a separate lead paint check.
The cost of a lead paint inspection will vary depending on the size of your home. The average cost for a three-bedroom home is $350, but may be higher or lower in your area.
Radon
Radon is a naturally occurring gas. It's commonly found in soil and may seep into the home if you live over a radon deposit. Experts at the Environmental Protection Agency have linked radon exposure to lung cancer. The EPA recommends that you schedule a radon test before buying any home, especially if the home has never had one.
You can schedule a radon test for $150 – $300. The size of your home and where it is located will affect the cost.
Chimney
If the home has a chimney, make sure your inspector doesn't skip over it. Your inspector should look at the interior and exterior structure and check for issues such as cement problems. The inspector should also check the flue, connectors and interior walls for fire hazards.
Not all inspectors can do chimney inspections. If your inspection doesn't include this option, you can hire a chimney inspector to handle it for an additional fee.
A chimney inspection will typically cost $100 – $250.
Pests
In some states, you'll need a pest inspection before you can close on your new home. During this procedure, a special inspector should walk around the home and look for signs of insect and rodent infestation. The inspector should examine walls, floors and support beams for bite marks, droppings and other common signs of pests. The inspector should also look at wooden structures for signs of termites.
A pest inspection will typically cost about $100. Most home inspection services offer pest inspections as part of a home purchase service and will add $75 – $125 to the total cost.
Foundation
If you're buying a very old home or have concerns about the home's foundation, you might want a separate foundation inspection. During this process, a structural engineer will assess the home's foundation and make safety notes.
Standard home inspection processes include basic foundation inspections, so you usually won't need a special additional procedure. However, if your inspector finds a problem with the foundation, it may be worth the extra cost to have a structural engineer take a more in-depth look.
Foundation inspections can vary in cost from $300 – $1,000. This is a large expense, but it can deliver long-term value. Foundations can be very costly to repair, so you should be aware of the health of your home's foundation before you purchase it.
Asbestos And Mold
Asbestos is a fungus that can cause lung tissues to scar if inhaled. Many homes built before 1980 contain asbestos in floor tiles, ceiling tiles and roof shingles, and in the insulation around boilers, ducts, pipes and more. Some newer houses can contain asbestos, but it's less common.
Asbestos inspections cost $400 – $800, and if it needs to be removed, will have a follow-up inspection that adds another $200 – $400. Removal costs will vary depending on the extent of the work that needs to be done.
Well Water And Septic System
If the home's water supply comes from a well, you should get it tested. During a water test, an EPA-certified technician will take a sample of water and send it to a laboratory, where it will be checked for common metals, including lead, cadmium and arsenic. If the home has a septic tank, it'll also need an inspection to check for contamination.
These inspections cost around $600, but can vary depending on the extent of your needs. The cost to pump a septic tank is typically around $350, and repairs can vary in cost.
Sewer
Many things can cause issues with a sewer. From aging pipes to tree roots, sewers can become backed up, cracked or damaged in other ways. Depending on where the injured line is may affect the cost to fix a sewer, but it can add up to be thousands of dollars. For this reason, it's wise to have your sewer inspected before finalizing your home purchase.
A typical sewer inspection will cost $250 – $500, depending on how accessible the lines are and the extent to which it is inspected. Some inspectors will use more technology, such as a camera fed through the sewer line, which can affect the cost.
How To Choose The Right Home Inspector
Choosing an inspector can seem like a daunting task, but most real estate agents have relationships with inspectors and can recommend one they trust. You'll want to be sure the person is bonded and insured, and that the company only does inspections rather than repairs and renovations. This will help to ensure that they do not try to coerce you into making costly repairs for their own benefit.
When you call to make an appointment, you should ask them what the inspection includes and how long it takes and be sure to understand everything that they will inspect. This is also the right time to discuss what additional inspections you may need and ask if they can do all of them. You should also agree on a price.
Understanding Your Home Inspection Report
After the home inspection, you will receive a home inspection report that covers the home's major features and notes any problematic issues that may need attention.
A good inspector will take the time to walk you through the report and their findings. This may include any damage or wear that they found in the home, no matter how minor. It's their job to make note of every flaw, so your report will likely have a lot of issues listed on it. This does not mean that everything is something that should cause concern, and they will be able to help you discern what may be hazardous or a red flag.
Get approved to buy a home.
Rocket Mortgage® lets you get to house hunting sooner.
The Importance Of Home Inspections
Home inspections are important because they can uncover issues in your future home. During an inspection, a trained professional should look at the home's systems, interior and exterior structures, electrical system, plumbing, HVAC system, basement, attic and more. You can also schedule some extra tests for radon, lead paint, chimney safety, foundation stability, pests and water safety.
When purchasing a new home, you want to be sure you avoid any surprises. This is why an inspection is a great investment when buying a new home. You can protect yourself by hiring a licensed and bonded inspector who can tell you the details of what may be of issue in the future. Now that you're armed with all the information you need to have a successful inspection, you can move forward in the home buying process.