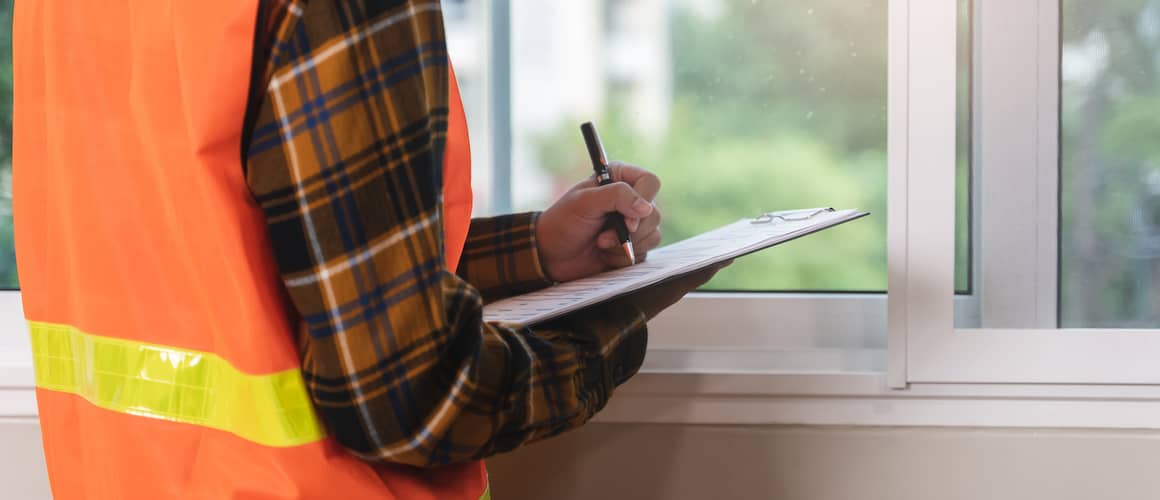 What Does A Home Inspector Do?
Andrew Dehan5-minute read
April 26, 2023
Share:
A home inspector is a valuable asset in the home buying process. Their job is to survey the property and make sure you're aware of any defects in your new home before you decide to purchase. Not only does this give you peace of mind but it can protect you from having to make costly repairs down the road related to an issue you might not have noticed.
Let's dive in to get an understanding of what an inspector's responsibilities are..
What Is A Home Inspector?
A home inspector is a licensed and trained professional who is hired to come into a home and surrounding property to inspect it. They look at a variety of things inside and out and compile a home inspection report that will be handed over to you at the end. This report will show and explain any issues that the inspector found on the property – big or small. A qualified and experienced inspector should show you the issues they found, explain how they can be fixed and also give you their professional opinion on the problems.
Since you as the home buyer will most likely be responsible for the cost of a home inspection, it's important to take the time to find the right home inspector for the job. Consult with your real estate agent to see if they have any inspectors they recommend. You can also ask family and friends or do research on your own to find someone who you think would perform a thorough inspection on your home.
See What You Qualify For
Congratulations! Based on the information you have provided, you are eligible to continue your home loan process online with Rocket Mortgage.
If a sign-in page does not automatically pop up in a new tab, click here
What Do Home Inspectors Do?
Home inspectors are going to walk around your home and carefully assess every part of it for issues they find concerning. Here are some areas they are going to investigate and review:
Check Out The Basement And Attic
Since basements and attics aren't frequently used in the home, they could be harboring some major issues. Basements should always be checked for moisture, cracks, leaks or other warning signs of foundation issues. Attics should be inspected to ensure all vents and structural items look good and work properly.
Inspect The Electrical System
As with any electrical system, there are many wires and cables to inspect. Your inspector should be double checking that all wiring looks safe and was installed and set up correctly. They should also be on the lookout for any wiring that looks problematic and could cause disruption down the road.
Inspect The Plumbing
Home inspectors should also carefully examine the plumbing in the home. They should notice if there are any cracks, leaks or other problems with the water heater or plumbing system. Since water is consistently pushed through the house to the kitchen and every bathroom, it's important that the plumbing is working properly.
Check Out The Bedrooms
While bedrooms tend to have less to inspect than other rooms, they still should be inspected thoroughly. Inspectors should make sure all windows and doors are working how they should be. They'll also be on the lookout for any uneven floors or ceilings that have any exposed cracks or stains that could signal a bigger issue.
Check Out The Bathrooms
Since bathrooms harbor some of the major plumbing in the home, it's important for the inspector to take their time inspecting each bathroom. They should be checking to make sure sinks, toilets and showers are all working and draining properly. Inspectors will also be on high alert for signs of water damage or any visible water leaks.
Check Out The Kitchen
When inspecting the kitchen, the home inspector will be checking that all appliances are working as intended. This includes testing ovens, sinks, garbage disposals, etc. They will also be on the lookout for proper ventilation and for any signs of damage whether that be water or other suspicious cracks or stains.
Inspect The HVAC System
As any homeowner would agree, having a functioning HVAC system is important no matter the season. You're either looking for heat or air conditioning on any given day so it's important the HVAC system is inspected in order to detect any potential problems. Inspectors should make sure the HVAC installment looks well done and ensures there aren't any suspicious smells or cracks.
Inspect The Exterior Of The Home
While the home inspector does spend a lot of time inside the home, they'll also inspect the exterior of the home as well (sheds, garages, gutters, etc.) This includes checking for anything that looks suspicious or concerning around the ground level of the home. Inspectors will also be assessing any and all cracks, damage and rotting wood if any should be spotted.
Get approved to buy a home.
Rocket Mortgage® lets you get to house hunting sooner.
What Don't Home Inspectors Look Into?
While the above list may look like a home inspector checks every part of the home, there are some things they don't take too much time to inspect. The following items below are not usually thoroughly inspected by home inspectors:
Pools
Hot tubs
Solar panels
Fireplaces (Inspectors will briefly look at fireplaces but might not perform an in-depth inspection.)
Ground under the home (Inspectors will briefly look at the foundation but might not perform an in-depth foundation inspection.)
The list above doesn't mean your home inspector won't look at any of these things, but they might not be knowledgeable enough to deem them safe in a home inspection. A more custom inspection should be performed by a professional who is well versed in each specific area.
It's also important to note that home inspectors might not be able to immediately detect if toxic materials like asbestos are present in the home. Inspectors may be able to give you a general idea of whether it's possible, but more testing would need to be done to determine if harmful materials are actually present.
You should also be aware of special home inspections. In this type of inspection, qualified professionals will be looking more thoroughly for signs of termites, mold, and radon. These special inspections could find issues early on and save you a lot of money in the long run.
How To Prepare For Home Inspectors
Since home inspectors are checking so many things in the house, it's essential that you feel prepared and ready for them to perform an inspection and do what they need to do.
As A Home Buyer:
Compile any questions you have regarding things you've seen in the house that are concerning you.
Be present for the inspection if you're interested in hearing what the inspector has to say about the home.
Provide the inspector with any other important information about the home (past issues, age/condition of the home, etc.)
As A Home Seller:
Move things out of the way so the inspector has a clear path to everything in the home (basement, attic, bedrooms, etc.).
Clean the home so the inspector can examine everything they need to.
Provide any keys or codes the inspector will need to access various things in and outside of the home.
The Bottom Line
Before fully committing to purchasing a home, it's wisel to get a home inspector to check it out and provide you with an inspection report that can give you a better idea of its condition. As mentioned above, inspectors don't cover everything, but they can provide you with peace of mind as you move into homeownership.
Ready to finance your dream home? Start the mortgage process today.
Get approved to see what you can afford.
Rocket Mortgage® lets you do it all online.
Related Resources
Viewing 1 - 3 of 3