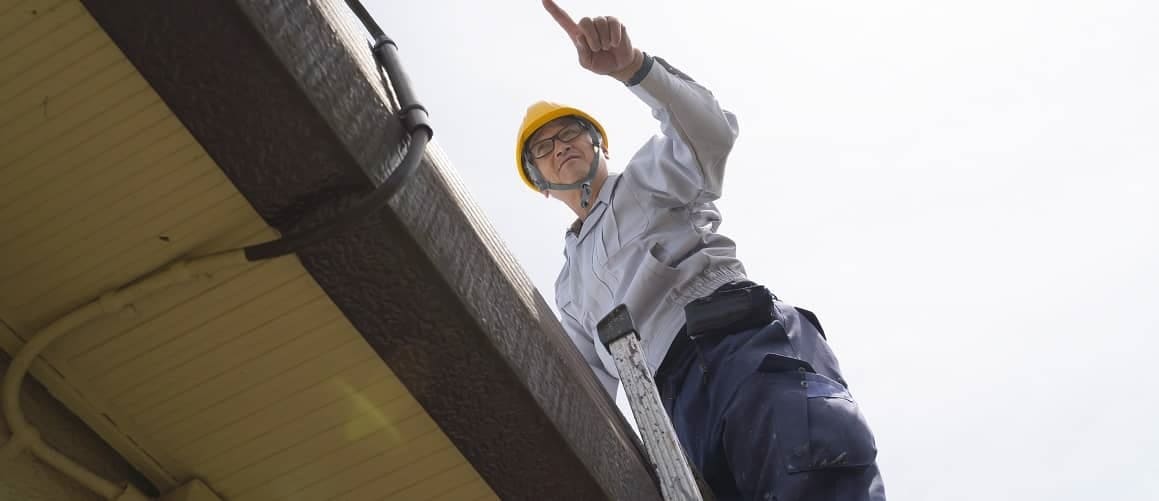 How To Choose A Home Inspector
Lauren Nowacki5-minute read
July 07, 2023
Share:
Disclosure: This post contains affiliate links, which means we receive a commission if you click a link and purchase something that we have recommended. Please check out our disclosure policy for more details.
A home inspection is a vital part of the home buying process. It ensures you're making a good investment, that the home is safe and there aren't any hidden issues that could cost you later on when you're the legal homeowner.
When it comes to having a thorough home inspection, real estate home buyers should be vigilant when finding the right inspector for the job. Finding someone on a whim won't cut it – as there are inspectors out there without the proper certification or work ethic. Knowing how to find a home inspector will help you avoid making a costly mistake.
What Is A Certified Home Inspector?
A certified home inspector is a professional who has met the necessary training, education and certification requirements to become a home inspector in their state. Each state sets regulations regarding certification or licensing for inspectors in their jurisdiction. To be licensed often means the inspector went through proper, accredited training, gained a certain amount of experience and passed an exam to demonstrate their knowledge. In most states, inspectors are legally required to be licensed or certified.
See What You Qualify For
Congratulations! Based on the information you have provided, you are eligible to continue your home loan process online with Rocket Mortgage.
If a sign-in page does not automatically pop up in a new tab, click here
What Makes A Good Home Inspector?
Home inspections cost money and take time to complete, so you'll only want to get a home inspection on a property you would like to purchase. You'll want to get a home inspection after your offer has been accepted. If you're a proactive home seller, get an inspection on your home before you list it so you can talk to your real estate agent about how to best approach any issues or complete the repairs.
Before hiring an inspector, you'll want to know what makes a good home inspector. Here are a few things you want to look for:
Current Certification And Licensing
You'll want to make sure that your home inspector's licensing and certification is current. This can usually be verified by checking with your state or searching the International Association of Certified Home Inspectors® (InterNACHI) database.
Membership To A Professional Home Inspection Association
Membership to a professional association, like the American Society of Home Inspectors (ASHI) and the International Association of Certified Home Inspectors (InterNACHI), shows that the inspector has met certain criteria, like agreeing to follow a code of ethics and standard of practice. These associations provide access to ongoing training and may also require inspectors to complete certification requirements. Certain associations, including ASHI, also run background checks on all new applicants.
Access To Advanced Technology
A home inspector with advanced technology will have even more insight into your home since certain tools can detect issues invisible to the naked eye or undetectable to other senses.
Infrared technology can help detect overheating electrical systems, air leaks, rodents and other pests, and electronic radon monitors will detect radon in the home. Gas leak detection technology can help find any gas leaks, while water pressure gauges, moisture meters or water test strips uncover such issues as excess water pressure, hard or soft water, plumbing leaks and moisture problems in walls and structural features.
While inspectors with this type of technology will provide a more detailed inspection, they may also charge more for their services, but it's likely worth the extra cost to know what you're getting into with your home. If the inspection report uncovers something that's a deal breaker and you have an inspection contingency in your contract, you'll have the ability to walk away from the sale and start the home buying process over. In this case, you may need to get a new mortgage approval before you can start house hunting again.
Take the first step toward buying a house.
Get approved to see what you qualify for.
Detailed Quote
Speaking of costs for inspection services, make sure you get a detailed quote from a few inspectors. While the average cost of a home inspection is $281 – $402, according to HomeAdvisor, you'll need to consider your location and the size of the home. Your detailed quote should include the cost of the inspection and a list of additional services and their costs. They may also include referrals for specialized services. You shouldn't expect a list of common repairs or issues and their costs.
Specialties
Choosing an inspector that can perform more than one type of inspection may get you a more detailed report so you can gain a clearer understanding of the true condition of the home. For example, if you suspect that something is wrong with a home's HVAC system after you tour the property, you may want to look for a general home inspector who's also trained to inspect HVAC systems. The more areas the inspector specializes in, the more thoroughly they can inspect the home. This can help you save time since you won't have to schedule additional inspections before moving forward in the buying process.
Professional Network
Your home inspector should be familiar with the local area and qualified to inspect the home. They should also be able to refer you to local repair services and specialized inspection services for things like the foundation, chimney, crawl space, pool, HVAC or anywhere there's mold.
How To Find A Home Inspector: 6 Tips
Now that you know what makes a good home inspector, you'll need to know how to find them to put your new standards to work.
1. Ask Friends And Family
First, ask any loved ones who recently purchased a home if they have any recommendations. The good thing is you'll be able to get a firsthand account from someone you know, which beats home inspector reviews from strangers, who may not be providing the full story. And because you know the person, you'll also be able to ask them questions, including:
What did you like about your home inspector?
Was there anything you didn't like?
What was your experience like working with them? Did they show up on time? Were they good at communicating?
How much did they cost?
Did you attend the inspection? If so, was it thorough and did they answer your questions and explain things well? Did they use any technology or go the extra mile?
Did you find any issues in the home after you moved in? Did your appraisal find any issues that your home inspector missed?
2. Ask Your Real Estate Agent
It's also a good idea to ask your real estate agent for a recommendation. Remember, they've worked with many buyers in the past and may be able to recommend a reliable and trustworthy inspector based on their previous clients' experiences. Just make sure to ask if your agent gets any kind of compensation for their referrals. Ideally, you want to work with an inspector your real estate agent truly trusts, not one they recommend because they're getting paid to do so.
3. Read Home Inspector Reviews
Online home inspector reviews can also be helpful when finding the right inspector. While you may not be able to ask follow-up questions or get the full story of the situation from each reviewer, you may be able to see a pattern in the type of service the inspector provides and the experience their clients have.
You can typically find home inspector reviews on such sites as NextDoor, Patch, Yelp, Angi, HomeAdvisor and the inspector's business page on Facebook.
4. Eliminate Uninsured Inspectors
If an inspector is uninsured and gets injured while inspecting your home, they could hold you liable. Make sure they hold personal liability insurance.
You'll also want them to have professional liability insurance, known as errors and omissions insurance (E&O insurance). This protects them from claims that they've made mistakes or overlooked an issue during their inspection. If they're sued and the court finds them to be at fault, E&O insurance can help cover their legal costs and compensation paid to you, the home buyer. If they don't have E&O insurance, you may be held liable and may have to pay for correcting the issue.
5. Review Sample Reports
You can ask potential inspectors for sample reports, along with any expert advice to see the quality of their work – how thorough they are in their inspection, how detailed their reports are and how in-depth they explain things to the real estate home buyer or homeowner.
6. Interview Inspectors
To help you feel more comfortable in your decision, consider interviewing any potential inspectors to get more information and a better feel for how they work with clients. Here are a few questions to ask:
Are you certified or licensed?
Are you bonded and insured?
Are you a member of a professional association, like ASHI or InterNACHI?
Are you a full-time home inspector?
How long have you been a home inspector?
Do you go have ongoing training and stay updated on new policies, trends, etc.?
Can you take me through a typical inspection? How long does it usually take and what can I expect?
Do you use any special technology or are you specialized in any type of additional inspection?
What does your report include? Do you have a sample I can review?
Can I get contact information for some references?
FAQs About Home Inspectors
Before you begin to search for one, explore some frequently asked questions about home inspectors below.
Is an appraiser the same thing as a home inspector?
A home inspector and appraiser aren't the same thing. A home inspector inspects the home and provides a report of any issues, while an appraiser determines the property's current value.
How do I make sure I get a good home inspector?
You'll want to do research and properly vet any potential home inspectors to ensure you hire a good one. Look for an inspector that is certified, insured and has good reviews before you consider choosing them.
Is waiving my home inspection a mistake?
While it can be tempting to waive your right to a home inspection when buying a home to avoid the expense, doing so could have even more costly consequences. A home inspection gives you peace of mind that there's nothing major wrong with the home you're buying, and gives you the opportunity to ask the seller for repairs before the sale is complete. If you waive the inspection and uncover issues in your new home after you're officially the homeowner, the repairs will be your responsibility.
The Bottom Line: Inspect The Home Inspector
Use these tips to ensure you have a thorough inspection and don't wind up paying even more for your home than planned because of repairs and renovations. Finding a home inspector is an important step in the home buying process, but there are other things you'll need to do first. If you're just beginning your search for a home, start your mortgage application with Rocket Mortgage® so that you're ready to make an offer and find a home inspector when the right house comes along.
Related Resources
Viewing 1 - 3 of 3