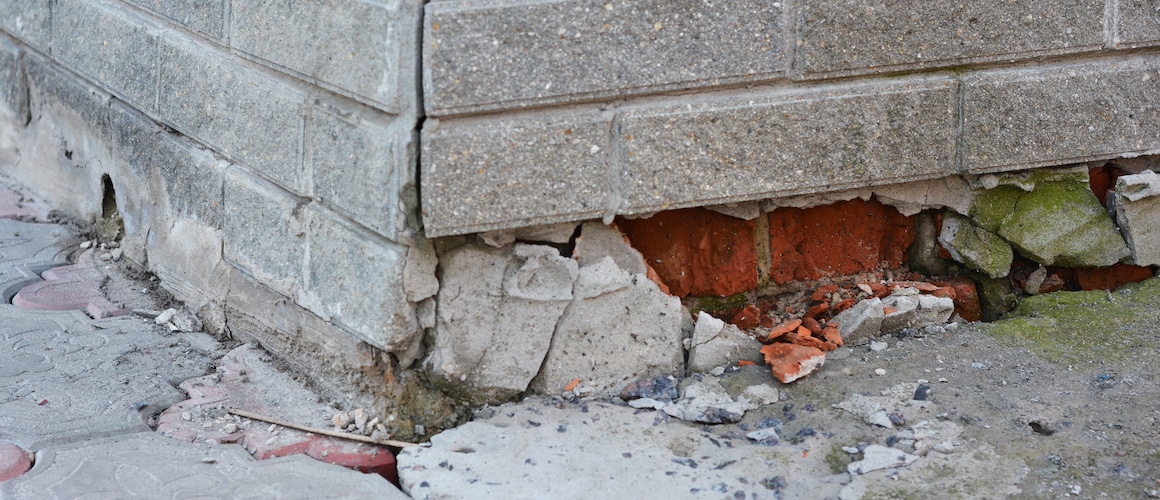 Foundation Inspections: Defined And Explained
Miranda Crace5-minute read
June 09, 2023
Share:
When buying a home, it's essential to take the necessary steps to make sure it's in good livable condition right down to the ground it's built on. A home's foundation is incredibly important, as its job is to support the entire structure. That means a problem with your foundation could slowly start to bring down your house.
In this article, we'll discuss what a foundation inspection is, the cost associated with this inspection and why getting one is a good idea.
What Is A Foundation Inspection?
A foundation inspection is when a structural or foundation engineer inspects your home's foundation. They will walk around your home, checking out key areas that may be showing signs of foundation issues. The goal of this inspection is for the inspector to make you aware of any foundation damage they are seeing in the home, how it could affect your safety and what can be done to rectify the situation. Inspectors will also be aware of any relevant building codes and if the home's foundation is properly up to code.
This is also the perfect time to point out any concerns you have about the foundation of the home. The inspecting engineer should be able to answer those questions and give you more insight into any potential problems.
How Much Does A Foundation Inspection Cost?
As with any home-related expense, the cost for a foundation inspection can vary depending on several factors, from the age of the home to its size. On average, homeowners can expect to pay between $350 and $750 as of February 13, 2023, for a foundation inspection performed by a structural engineer. This cost includes the report the homeowners will receive once the inspection and assessment are complete. The inspection report will explain the problems in detail, as well as the steps needed to conduct the foundation repairs.
When Should I Get A Foundation Inspection?
There are a couple of different times when you might want to get your home's foundation inspected. Whether you live in a townhouse, a single-family home or a manufactured home, a home will not function as well without a solid and safe foundation.
When selling a home:

One of those times is when you're selling a home – especially if it's an older home. Not only does this ensure you're selling a safe house, but it will draw in buyers if you can say the home's foundation has been recently inspected and currently has no issues.

When buying a house:

It could also be beneficial to get your foundation inspected when you buy a house – especially if you're not familiar with the history of the home. If your home inspector finds something concerning when doing their inspection, it might be time to call in a structural engineer to assess the foundation of the home. Foundation issues can easily be missed if you aren't actively searching for them or looking in the right places. A foundation inspection could give you peace of mind, as you'll know the home is safe and sound.

When you notice issues:

Another time it's crucial to get a foundation inspection is if you start to notice some issues with the structural integrity of the home you're already living in. This could include anything from uneven floors, doors and walls, to water damage or even foundation cracks. Once these issues are found, you should immediately get in touch with a structural engineer to visit your home and perform an inspection in order to understand what's going on with the foundation.
Foundation Inspections For Manufactured Homes
Manufactured homes are built in factories in accordance with building codes set by the U.S. Department of Housing and Urban Development (HUD). These homes are transported to the property site and may be installed on either a temporary or permanent foundation.
A foundation inspection is important for manufactured homes, as the buyer's lender or bank will request a report confirming that the home meets HUD standards before it is brought to the final property location. Once the home is installed on the desired property, the lender will require another foundation inspection to prove that the manufactured home's foundation meets the necessary requirements. Lenders, including Rocket Mortgage®, will require that this is a permanent foundation. This ensures that the homeowners living here will be in a home on a solid foundation that has been thoroughly inspected and approved.
How Long Does A Foundation Inspection Take?
The time it takes to complete a foundation inspection on a home can vary depending on what the inspector finds. Homeowners can expect the inspection to at least take a couple of hours. If the inspector finds something concerning with the foundation, they might take a little more time to explain the issue in full detail for you to understand. It could also take some time to discuss the history of the home with the inspector if there's a lot to inform them about regarding the foundation or any other relevant past issues with the home.
What Do Foundation Inspectors Look For?
Foundation inspectors are going to be walking around your house and property looking for a variety of things that could indicate foundation damage or problems. Inspectors will examine the interior and exterior of the home for any cracks, water damage, or other issues with the foundation or surrounding area. They will also take some time to examine all of the walls, floors and doorways for anything that seems unstable or troubling. Basements and any crawl spaces will also be inspected as they are two places that will often show signs of foundation damage since they are located under the house.
Home Foundation Inspection FAQs
Let's discuss some of the most frequently asked questions regarding foundation inspections.
Who will conduct a home foundation inspection?
A home foundation inspection is performed by a structural or foundation engineer. These types of engineers are professionals in this field and know what they are doing when it comes to inspecting foundations and structural issues in homes. Keep in mind that these specialists are not the ones making foundation repairs, but instead are diagnosing it with whatever issues they find.
Is a home inspection the same as a foundation inspection?
The difference between a home inspection and a foundation inspection is that a home inspector is focused on inspecting the entire house, while a foundation inspector is only focusing on the structure of the home as it relates to the foundation.
Where can I find a foundation inspector?
Foundation inspectors can be found by doing independent research online. As with anything you're hiring for, it's important to read reviews, check out their licenses and certifications and compare quotes from multiple companies to find the best price for your budget.
Do I need a foundation inspection if I live in a manufactured home?
If the manufactured home is a brand-new build, the foundation should've already been inspected by a trusted and licensed structural engineer once when the home was built and another time once it was installed in the desired location. If you're purchasing a used manufactured home and you don't know the structural history of the home, you should look into getting a foundation inspection or making a deal with the home seller.
The Bottom Line: Foundation Inspections Can Save Your Home From Serious Damage
Conducting a foundation inspection can provide answers and a sense of relief for home buyers, sellers and homeowners. Without a stable foundation, your home could slowly deteriorate even more, leaving you to pay for the expensive repair costs – which is why it's important to catch these problems before they get worse. Make sure to keep foundation inspections top of mind before you buy a home.
Are you ready to buy a house and become a homeowner? Start the mortgage process today. You can also give us a call at (833) 326-6018.
Calculate how much house you can afford.
Use our quick and easy Home Affordability Calculator.
Related Resources
Viewing 1 - 3 of 3