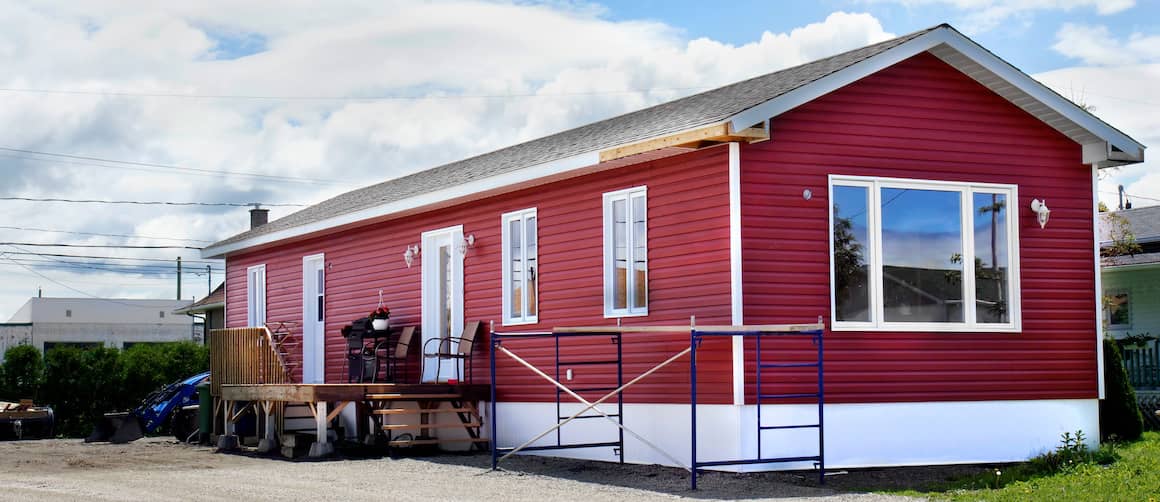 A Guide To Mobile Home Foundations: Types And Requirements
Scott Steinberg6-minute read
July 24, 2023
Share:
Picking a mobile home foundation for your manufactured home doesn't have to be difficult. But from pier and beam foundations to slabs, basements, pits and crawl spaces, you'll inevitably have no shortage of different options to choose from.
As you consider which permanent foundation for mobile homes to select, it helps to remember that all come with pros and cons. Let's take a closer look at mobile home permanent foundations and how they work, as well as the upsides and downsides associated with different manufactured home foundation types.
What Is A Mobile Home Foundation?
Manufactured homes assembled in a factory such as prebuilt mobile homes (which can be transported to distant locales) come preconstructed and ready for delivery. However, a foundation still needs to be put in place beneath these properties to support the structure and provide stability. Different mobile home foundation types are designed to keep your residence secure, hold up and evenly distribute its weight, and keep out environmental elements and moisture as well.
Bearing this in mind, permanent and non-permanent foundations for mobile homes come in different types and configurations – all of which come with differing benefits and trade-offs, as well as varying costs. Note that different cities and towns also have different regulations concerning mobile home permanent foundations that you'll want to be aware of – and that different types of mobile home foundation may impact your home financing potential. Given all of these factors, it helps to do your research as you consider which particular variety of manufactured home foundation types may be right for you.
Permanent Vs. Non-Permanent Foundation
Mobile home permanent foundations are generally fixed and meant to stay in place in perpetuity – meaning you cannot move them. However, what constitutes a "permanent" foundation in the eye of the beholder may be defined differently by state, local building codes and government agencies.
For example: The United States Department of Housing and Urban Development (HUD) suggests that permanent foundations are meant to be site-built and constructed of durable materials such as concrete, treated wood or mortared masonry. They're likewise expected to be attached to points that stabilize and anchor the manufactured home to the soil or rock which rests beneath it. Nonetheless, other housing agencies may differ in their own definition.
Again: It's important to do your research depending on where you're considering locating your property as you consider manufactured home foundation types and which foundation for mobile homes is right for you.
Mobile And Manufactured Home Foundations: At A Glance
Cost, installation, and performance differs by mobile home permanent foundation type. Following, we've put together a chart that can help you better understand the differences with a quick peek.
| | | | | | |
| --- | --- | --- | --- | --- | --- |
| Foundation Type | Average Cost | Real Property Foundation | Use In Flood Hazard Areas | Use In Frost Heavy Areas | Use In Seismic Areas |
| Pier-And-Beam Foundation | $1,000 – $2,000 | Yes | Yes | Yes | Yes |
| Slab Foundation | $4,000 – $9,000 | Yes | Yes | Yes (if insulated) | Yes |
| Basement Foundation | $12,000 – $25,000 | Yes | No | Yes | Yes |
| Crawl Space Foundation | $6,000 – $15,000 | Yes | No | Yes | Yes |
| Pit Foundation | $2,000 – $6,000 | Yes | No | Yes | Yes |
Looking for the right place to build?
Find the perfect plot for your new house on Rocket Homes.
Mobile And Manufactured Home Types
As noted above, several options are available in terms of manufactured home foundation types. Below, you'll find a breakdown of several of the most common, and potential benefits and drawbacks unique to each.
Pier-And-Beam Foundation
One of the most popular kinds of manufactured home foundations. Anchors hold your home down and steel straps connect them to the beam of its frame. Relatively easy to install and affordable compared with other mobile home foundation types.
Pros
Among most affordable options.
Less time intensive to build and deploy.
Good weather resistance.
Cons
May cause your home to become less well-leveled over time.
Not the most attractive visual option.
Don't generally function as a permanent foundation.
Slab Foundation
A large slab of poured concrete which has anchors embedded in it. Insulation around the edges helps to keep the underlying ground warmer and maintain a comfortable temperature in your home. Your home rests upon the slab using piers.
Pros
Simplest foundation type to construct and install.
Cheap to build and put in.
Allows for the introduction of a crawl space.
Cons
Won't work if your lot slopes.
If uninsulated, won't meet all real-estate requirements.
Movement of the slab can cause plumbing and piping damage.
Basement Foundation
Allows you to put in extra livable space and add greater structural support. Offers the most financing options and greatest resale value. But a basement foundation involves a long and often comprehensive installation process that must adhere to strict building codes and is the most expensive foundation choice.
Pros
Creates more livable space in the manufactured home.
Is usable on sloping lots.
Resistant to earthquakes and tremors.
Cons
Most expensive mobile home foundation type to put in.
May be prone to flooding.
Needs to meet exact measurements and building codes.
Pit Foundation
Work somewhat like basement foundations but involve digging a pit out of the ground and soil beneath your mobile home to create a crawl space. That said, while less expensive than basement foundations, pit foundations don't allow for additional living space. They're also still relatively pricey to put in.
Pros
Allows your home to qualify for more or better real estate financing options.
Lets you put in a crawl space for extra storage or utilities.
Generally costs less than a basement.
Cons
Doesn't offer added living space, as would a basement.
Though cheaper than a basement, still pricey and involves a long installation process.
Flooding and standing water in the crawl space are potential concerns.
Runner Foundation
Differs in configuration and shape. However, runner foundations are generally comprised of concrete blocks, steel frames, or some hybrid configuration thereof.
Pros
Typically, the least expensive option.
Won't damage your plumbing or pipes.
Option for a crawl space.
Cons
Highest possibly of damage and weathering.
Won't work on a sloping lot.
Among least popular options.
Mobile Home Foundation Requirements
To qualify for financing, your mobile home foundation must meet certain eligibility requirements. Several of the most common are outlined here:
The foundation must meet the guidelines described in HUD's Permanent Foundations Guide for Manufactured Housing.
The foundation must be certified by a professional engineer to meet the standards set by HUD, or the Federal Housing Administration (FHA) or US Department of Veterans Affairs (VA).
Factors To Consider When Choosing A Permanent Foundation For Your Mobile Home
Of course, you shouldn't pick a mobile home foundation based on price alone. In fact, there are many different variables to consider as you compare manufactured home foundation types. For example, you'll wish to take the following considerations into account:
Flood resistance
Frost protection
Seismic load resistance
Gravity load resistance
Wind load resistance
Installation time
Complexity of buildout
Explore your mortgage options.
Apply online for expert recommendations and to see what you can get approved for.
How To Choose The Best Mobile Home Foundation
Determine the size of your home: Consider how much support and weight balancing that you may need, as well as if your land is level or sloped. Determine if additional living or storage space is desired or possible in your area.
Pick a type of loan: Decide if you'll be applying for an FHA, VA, or conventional loan. Determine what, if any, housing or loan assistance is available to you based on local or federal government programs, and which you may be applying for.
Research requirements: Look into specific state, local and agency eligibility requirements. Find out whether your preferred mobile home foundation type is compatible with them. Determine which construction professionals in your area are qualified and capable of your desired specifications.
Compare costs: Draw up a budget and price out different manufactured home foundation types. Weigh the pros and cons of each and consider which makes the most financial sense based on your home, location, individual needs, and financial situation. Don't forget to factor in installation time and cost as you perform these calculations.
The Bottom Line
As you can see, there are many different mobile home foundation types to select from. Each comes with upsides and downsides attached – including varying costs, installation times, features, and practical benefits or drawbacks.
On the bright side, no matter if you're considering a slab, basement, crawl space, pit, or pier and beam foundation, many potential mobile home foundation options are available. Noting this, largely, the choice of permanent foundation for mobile homes comes down to your individual time, budget and living situation.
Interested in learning more about mobile home loans and living setups? Drop us a line today to see if financing with Rocket Mortgage® is right for you!
Related Resources
Viewing 1 - 3 of 3