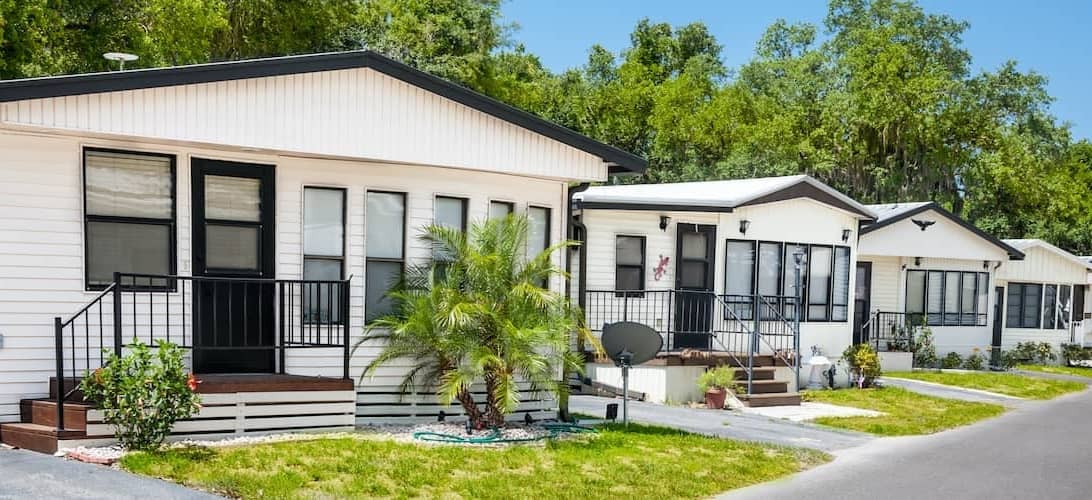 What Is A Manufactured Home And Is It The House For You?
Victoria Araj5-minute read
November 13, 2020
Share:
If you've been on the house hunt for a while now, you've more than likely heard the term "manufactured home." But what is a manufactured home, exactly? If someone told you it's simply a mobile home, then we must inform you that times have changed.
For many home buyers, manufactured homes are an affordable alternative to more traditional, expensive real estate. Despite their lower costs, the modern manufactured home can feature the same desired amenities as pricier housing.
While Rocket Mortgage® does not currently offer financing for manufactured housing, we feel the need to keep our readers informed on their housing options to help them choose the best home for their needs.
Get approved to buy a home.
Rocket Mortgage® lets you get to house hunting sooner.
Manufactured Home Definition
Manufactured homes are, as their name suggests, "manufactured" in factories piece by piece in accordance with building codes set by the U.S. Department of Housing and Urban Development (HUD). The homes are affixed to a permanent chassis with wheels and transported to the home site, either in sections or as a whole, and installed on either a temporary or permanent foundation.
Modern manufactured homes can come in three general floor plans:
Single-wide:

A home built in one long section.

Double-wide:

Two sections joined to make a larger home. This model is popular with first-time home buyers.

Triple-wide:

A less common model with three sections joined together for a larger, more spacious home.
A newer model of manufactured homes, dubbed the CrossMod™ by the Manufactured Housing Institute, can include features similar to traditional site-built homes like garages, covered porches and interior drywall. A CrossMod™ can also be financed and appraised similarly to traditional housing.
What Is A Mobile Home?
While the terms "mobile home" and "manufactured home" are often used interchangeably, the former term has been technically obsolete since 1976, when the National Manufactured Housing Construction and Safety Standards Act by HUD went into effect.
So, in essence, "mobile home" refers to any manufactured home made before June 15, 1976. Manufactured homes these days feature more solid structures and greater amenities than their predecessors.
Modular Homes
Modular homes and manufactured homes are similar in that the former are also built in factories. Modular homes differ in the following ways, though:
Unlike manufactured homes, modular homes are delivered in sections and built on-site, almost always on permanent foundations.

They are generally governed by local state building codes rather than the HUD Code, though the federal code is sometimes adopted by the state.

Modular homes are subject to the same zoning laws as site-built homes.
Additionally, modular homes feature entirely customizable floor plans, whereas a manufactured home has more rigid restrictions with its layout.
Buying A Manufactured Home
Many home buyers eye a manufactured home as a more affordable option than a traditional site-built home. Existing homes can be found on listing websites or through a real estate agent, but manufactured homes are typically sold through retailers. Home models can be viewed on a sales lot, where you can also choose customized features and even apply for a home loan. The retailer will even arrange the home's delivery and installation.
Many manufacturers include home warranties that cover features like plumbing, heat, electric and even certain appliances.
Manufactured homes are often significantly less expensive than building a house because:
Manufacturers purchase building materials in bulk and at lower costs.

Indoor factory construction allows for more controlled costs and an efficient construction schedule.

Construction time isn't hindered by weather conditions or other delays.
Manufactured Home Loans
The following home loans are available for manufactured homes from lenders:
Government-backed mortgages:

HUD-approved loans like FHA and VA loans are available to those who qualify.

Conventional loans:

Freddie Mac and Fannie Mae both offer conventional mortgages designed specifically for manufactured homes.
Chattel loans: Secured loans that put up your movable property, or "chattel," as collateral. Loan terms commonly range between 10-20 years as opposed to a typical 30-year mortgage.
Get approved to buy a home.
Rocket Mortgage® lets you get to house hunting sooner.
Average Cost Of Manufactured Homes
According to the U.S. Census Bureau's Manufactured Housing Survey, the average selling price for a manufactured house in 2019 was approximately $81,900. Regionally this type of home is most popular in the Pacific states (Alaska, California, Oregon and Washington), where the regional average selling price went for around $104,700.
As with more traditional housing, many different factors contribute to the total cost of a manufactured home. In addition to the unit price, the items below also influence the overall cost of the home.
Square Footage
Size plays perhaps the biggest role in determining your home's cost. The cost per square foot of a manufactured home, on average, can be between $40 – $80, significantly lower than that of a site-built home.
Buying Land
With a manufactured home you have two options: Lease a spot in a manufactured home community or homeowners association (HOA), or purchase a piece of land on which to install your house. The price of land varies between the states, and as a rule, rural land is generally more affordable than in urban or suburban areas. A land loan can be used to purchase the land for your home.
Foundation
If the land you've built upon is yours to own, you may want to invest in a permanent foundation, as opposed to a temporary one. This can include having a basement, crawl space or other additions. The most expensive option is a slab foundation.
Taxes
Tax expenses can differ depending on the state in which you live. Whereas most states regard manufactured homes as property and charge a property tax, other states like Florida charge a licensing tax, similar to owning a vehicle.
Delivery And Installation
Delivery and assembly fees will depend on the manufacturer from which you buy your home. Delivery may be included in the price if the home's location is within a certain radius of the facility, otherwise an additional fee may apply.
Utilities
As with any type of home, configuring utilities like water, plumbing, heat, electricity, internet and cable add additional costs to the overall price of your home.
Pros And Cons Of A Manufactured Home
If you've read this far in the article, you've seen a lot of positive factors in buying a manufactured home. While there are numerous benefits, no one type of home is right for everybody. Decide for yourself if the following pluses outweigh the minuses.
Pros
Manufactured homes are much more affordable than site-built housing, as covered above in the "Cost" section of this article.

The homes are reasonably customizable with various upgrades, features and amenities. Homeowners can also make improvements as with any type of home.

Manufactured homes are known for their energy efficiency and durability, as they are built to meet the HUD Code.
Cons
Some areas still carry biases against manufactured housing, viewing them as they would the outdated "mobile homes."

Loans for manufactured housing typically include higher interest rates than traditional mortgages.

Zoning restrictions in cities may limit your location choices to more rural areas.
Bottom Line
If affordable housing and a speedy construction are what you desire, a manufactured home might be just the ticket for you. If you're still on the fence because of the financing and zoning issues, there are various other types of houses you can consider. In the end, the choice is completely up to you.
Interested in a more traditional style of housing? Apply for a mortgage today with Rocket Mortgage®.
Get approved to buy a home.
Rocket Mortgage® lets you get to house hunting sooner.