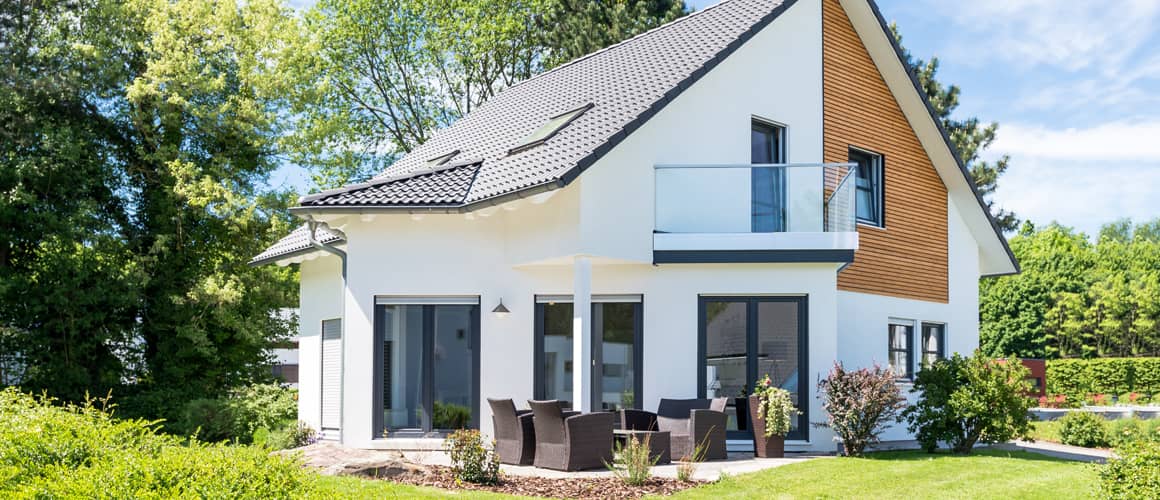 USDA Loans: What They Are And Their Eligibility Requirements
Victoria Araj6-minute read
April 04, 2023
Share:
*As of July 6, 2020, Rocket Mortgage® is no longer accepting USDA loan applications.
You probably associate the United States Department of Agriculture, or USDA, with things like the food pyramid, food safety and plant inspections. But did you know the USDA is also involved in rural development?
The USDA believes that helping families in rural areas become homeowners creates strong communities and a better quality of life. It does this through its Single-Family Housing Guaranteed Loan Program for low- to moderate-income families. Although Rocket Mortgage® doesn't offer USDA loans at this time, here's what you should know if you're considering one.
What Is A USDA Loan?
A USDA home loan is a competitively priced mortgage option that helps to make purchasing a home more affordable for low-income individuals living in designated rural areas. The U.S. Department of Agriculture backs USDA loans in the same way the Department of Veterans Affairs backs VA loans for eligible individuals such as veterans and their families.
This government backing means compared to conventional loans, mortgage lenders can offer lower interest rates in many cases. If you qualify, you can buy a home with no down payment, although you'll still need to pay closing costs.
See What You Qualify For
Congratulations! Based on the information you have provided, you are eligible to continue your home loan process online with Rocket Mortgage.
If a sign-in page does not automatically pop up in a new tab, click here
Types Of USDA Loans
The USDA offers three main mortgage programs:
USDA Direct loans: These loans are issued for qualifying low-income borrowers with interest rates as low as 1%.
USDA Loan guarantees: These loans are issued by participating lenders and offer low interest rates and minimal down payments as low as 0%.
USDA Home improvement loans: These loans are given to qualified homeowners to make repairs or improvements on their homes.
USDA Loan Eligibility Requirements 
Home buyers need to meet certain USDA eligibility requirements to be considered for a USDA construction loan or qualify for a USDA loan to buy a home. For example, you must live in the home, and it must be your primary residence. Here's an overview of the other requirements.
Residency
You must be a U.S. resident, noncitizen national or permanent resident alien.
Location
Homes financed by USDA loans must be in eligible rural areas. You can see if a home is eligible by visiting the USDA's eligibility site to look over a loan eligibility map. This interactive map will allow you to search for a specific property to see if it's located within a geographic location deemed eligible by the USDA for this type of government-backed financing.
After you accept the disclaimer, select the "Single Family Housing Guaranteed" option (don't choose "Single Family Housing Direct"; that's a different kind of loan). Then just type in the address. Know that you should consult an official USDA representative directly to guarantee that the information you find on the eligibility map is accurate.
Income
USDA loans are for families who demonstrate economic need, so your adjusted gross income can't be more than 115% of the median income in the area. You can find out if your income is eligible in the same place you check property eligibility. Just follow the same link to the USDA's eligibility site, except choose "Income Eligibility" from the menu.
In addition, you must show that you have a stable income and can make your mortgage payments without incident for at least 12 months based on your assets, savings and current income.
Your mortgage lender will also look at your debt-to-income (DTI) ratio when they consider you for a USDA loan. To give yourself the best chance of qualification, we generally recommend a DTI of 43% or lower.
You can calculate your DTI ratio by dividing all of your monthly recurring debts by your gross monthly income. Your monthly expenses should include rent, student and auto loan payments, and credit card payments; you don't need to include expenses for food and utilities.
Credit Score
Most lenders require a credit score of 640 or better. If your score is close to that or below, you may still qualify. Talk to a lender to discuss your options.
Apply for a conventional mortgage now.
Rocket Mortgage® lets you do it all online and provides expert recommendations.
How Do USDA Loans Compare To Conventional Loans?
A USDA loan and a conventional loan are both a kind of mortgage you get to finance a home. "Conventional" just means a type of mortgage that isn't backed by the government as opposed to other nonconforming loans such as FHA and VA loans.
You pay them all back the same way – in monthly payments with interest. But USDA loans, like other government loans, are different in a few ways.
Down Payment
Coming up with enough cash to close on a home – your down payment and closing costs – is one of the biggest hurdles many people face. It's possible to get a conventional loan with much less than the traditional 20% down payment.
But there are only two major types of home loans that offer zero-down financing to those who qualify: USDA and VA loans. If you don't meet the VA's military service guidelines, a USDA loan may be an option for you. Then you'll only need to save for closing costs.
Guarantee Fee
All USDA loans come with upfront and annual guarantee fees. Guarantee fees are similar to mortgage insurance and go toward funding the USDA loan program. The annual fee is added to your monthly payment and lasts for the life of the loan.
When you put more than 20% down on a conventional loan, you don't have to pay private mortgage insurance (PMI). Mortgage insurance makes up for a smaller down payment. It's added to your monthly mortgage payment until you've paid off a certain amount of your loan, typically 20%.
Appraisals
Both USDA loans and conventional loans require an appraisal by an independent third-party before approving the loan, but they have slightly different purposes.
For a conventional loan, the appraisal makes sure the loan amount is appropriate for the home's value. If a conventional lender issues you a loan that's greater than the property value, they can't recoup their losses from the price of the physical property. If you want a report on the condition of the home and potential issues like the condition of the roof, appliances, etc., you hire a home inspector.
An appraisal for a USDA loan does the following:
Like an appraisal for a conventional loan, it checks to see that the value of the home is appropriate for the loan amount.
It makes sure the condition of the home meets USDA standards. That means it must be in basic livable condition to qualify. Things like the roof and heating systems must work and be up to code. It can't have broken windows. The appraiser will look for insect damage, and check that the well and septic systems meet USDA guidelines.
If you want a more in-depth report on what you're buying, you should still hire a home inspector.
The Bottom Line On USDA Loans 
USDA loans help make purchasing a home more affordable for those living in qualifying rural areas. Though you'll still pay closing costs, if you qualify, you'll likely get a lower interest rate and won't be required to make a down payment. You can do a preliminary check on the USDA eligibility site to see if the address of a home you're interested in and your income qualifies, but it's always best to let an expert help you understand your mortgage options.
While we don't offer USDA loans, Rocket Mortgage can help you find the best option to fit your situation. Whether you're looking for a mortgage or searching for other loan options, start your approval to find the right financing for your new home.
Take the first step toward the right mortgage.
Apply online for expert recommendations with real interest rates and payments.
Related Resources
Viewing 1 - 3 of 3