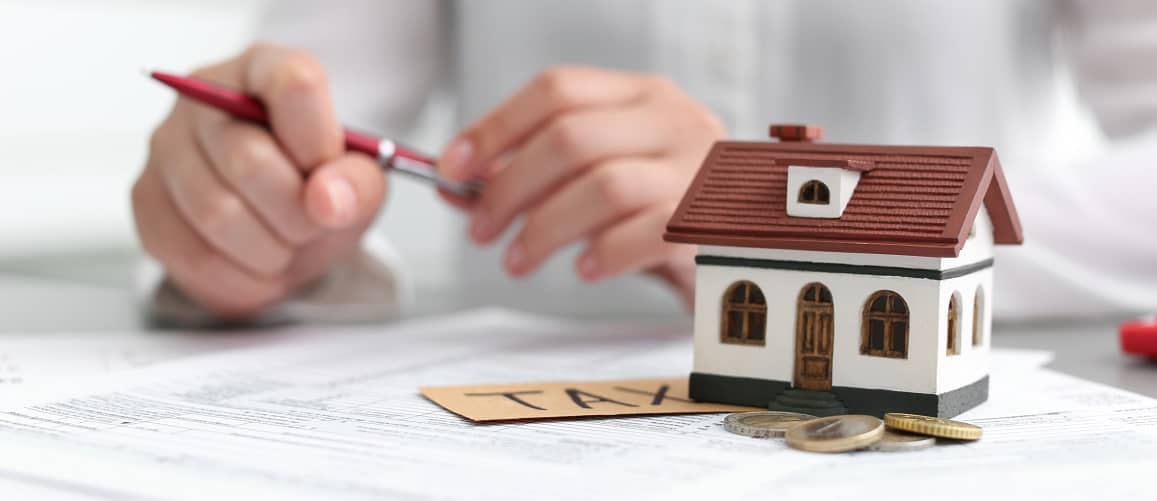 Property Taxes: What They Are and How They're Calculated
Katie Ziraldo5-minute read
January 26, 2021
Share:
When someone takes on the subject of homeownership, they have to think about a variety of expenses. Sure, mortgage payments are one of the first things that come to mind, but there are other expenses as well. One of the major ones that comes along with your mortgage is the maintenance of an escrow account for the payment of homeowners insurance and property taxes.
Homeowners insurance cost doesn't change much from year to year unless your level of coverage changes, but one of the biggest fluctuating expenses for homeowners comes in the form of property taxes. This article will go over understanding your real estate taxes as well as how they are used and calculated. Then we'll go into covering why you pay them and when there are exemptions.
What Is A Property Tax?
Property taxes are fees paid to a county or other local authority based on the assessed value of your property. They're paid by real estate owners. If you have an existing mortgage, your assessed property taxes are split into monthly increments and added to your mortgage payment. If you own your house free and clear, you get a tax bill from local officials periodically throughout the year.
Real Estate Tax Vs Property Tax: Is There A Difference?
The term "real estate tax" is regularly used by the IRS, but most people call it property tax, which is a tax on the value of a property. Typically, the tax is calculated by the local government where the property is located.
Great news! Rates are still low to start 2021.
Missed your chance for historically low mortgage rates in 2020? Act now!
What Are Property Taxes Used For?
Your real estate taxes are used to fund a variety of items within the community. These could include infrastructure items like roads, water and sewers. They also pay for public services like police, fire, EMS and garbage collection. Finally, a major part of your property taxes is used to fund public school systems.
How Are Property Taxes Calculated?
The exact way property taxes work and how they are calculated can vary. However, regardless of the exact parameters, real estate taxes are generally considered an ad valorem tax, which is just fancy Latin speak for being based on the value of something – in this case your home and property. The assessed value of your home for property tax purposes could match your home's actual value, but that isn't necessarily the case. Many states employ a lower assessment ratio when calculating tax assessments. For example, a state might only tax your property based on 50% of its actual value.
Another thing that impacts property taxes is the frequency of the assessments. Some states do property tax assessments every year, while others do it every number of years. Still others, like California, typically assess property values only when a property is sold or under other special circumstances. In those years when home values aren't assessed, the assessed value is adjusted for inflation.
Higher taxes may also have a correlation to higher spending on public services and better local schools, according to a joint study by the Lincoln Institute of Land Policy and the Minnesota Center for Fiscal Excellence.
If you're scoping out areas to live, you can get an idea of the property tax situation by looking at how much homeowners pay per thousand dollars of home value. This measurement is referred to as a mill. If there are special assessments for property taxes to pay for education or infrastructure funding like roads, cities will hold a millage to vote on whether residents should spend a certain amount of money per thousand dollars in home value in order to fund it.
Property tax rates can fluctuate, and home values may go up or down. This impacts the amount you pay in taxes, so it's important to be aware that this isn't a constant number.
Understanding what your property taxes might be is imperative because it has a major impact on your monthly mortgage payment. Although several factors impact property taxes, you can get an idea of what you might be able to expect using our mortgage calculator.
Why Do I Have To Pay Property Taxes?
All 50 U.S. states have the majority of property owners pay real estate taxes. There are some notable exceptions that we'll get into. However, these property taxes are vital to making sure that local government can provide the infrastructure and public services the community needs. Most citizens in the community rely on the government to provide at least one important public service. Additionally, in many areas of the country, local property taxes make up the lion's share of funding for public schools.
In other areas, a lot of this funding is apportioned by the state which is why schools play such importance on count days where student enrollment is measured.
Additionally, even though you have to pay property taxes, you may be able to deduct some or all of these taxes on your federal return. You can deduct up to $10,000 worth of state and local property taxes. There's legislation working its way through Congress to eliminate the limit, but nothing has been passed at this time. Additionally, this applies to people who itemize rather than taking the standard deduction.
Are There Property Tax Exemptions?
The short answer is that yes, there are certain property tax exemptions that exist, and some may be exempted from paying real estate taxes entirely. However, the vast majority of people end up paying for real estate taxes.
Exemptions for homestead taxes:

In participating states, you pay less in property taxes on a primary home that you live in the majority of the year than you would a vacation home or investment property.

Exemptions for religious and nonprofit organizations:

Churches and other religious institutions are exempt from having to pay federal, state and local taxes. Land occupied by charitable institutions are also exempt, although the value of the exemption depends on both the size and nature of the real estate held by the nonprofit.

Exemptions for people with disabilities and/or veterans with disabilities:

You may pay reduced rates or nothing at all depending on the law in your area. It can be expensive for disabled people to pay for the level of care and other services they need to live independently and function within the community. In some cases, this particular exemption may be tied to specific qualifications. For example, your level of tax exemption as a disabled veteran may be tied to your disability rating from the VA.

Exemptions for senior citizens:

The theory behind this exemption is that senior citizens are often on a fixed income.
You should always make sure you're claiming any exemptions you qualify for so you don't end up paying more taxes than you have to. If you're unsure of your qualification for a particular exemption, you should speak with a financial advisor or tax professional.
While no one likes paying taxes, these dollars end up funding key services for the community, as well as infrastructure, like roads and water pipes. School funding also tends to come from these dollars. As it'll be part of the cost of homeownership, it's important to understand what the real estate taxes are in the area you're looking to move to. This will make it easier to factor the cost into your monthly mortgage payment or budget for the cost if you own the home outright. Maintenance cost is also something to think about.
If you're ready to get going on your homeownership journey, you can get started online through Rocket Mortgage®.
Low rates were a big story in 2020. It was a great year to refinance!
Great news about 2021 so far: Rates are still relatively low.