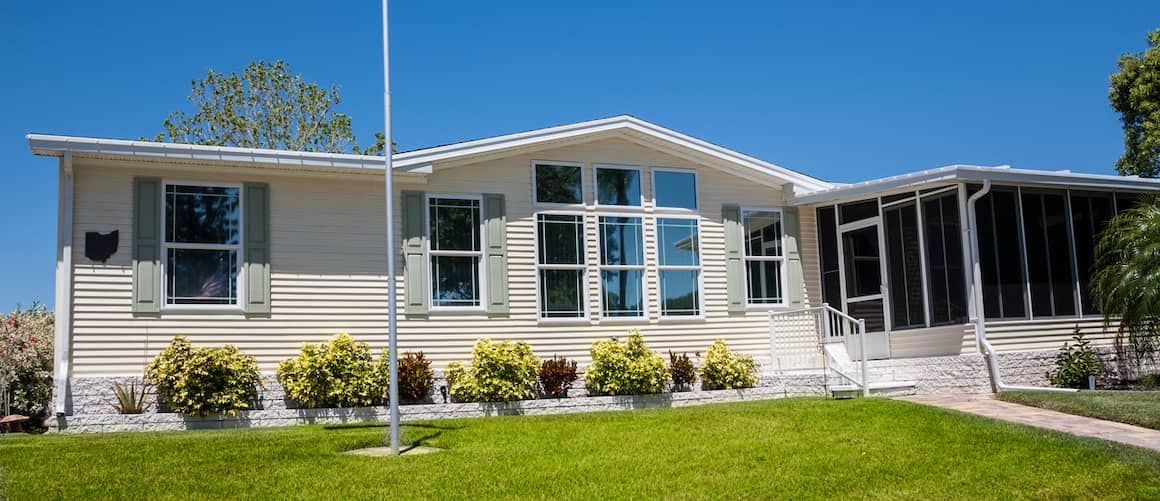 What Do Manufactured Homes Cost?
Kevin Graham8-minute read
July 24, 2023
Share:
The primary appeal of manufactured and other prefabricated housing is that it's more affordable than a traditional stick-built home. In general, that holds true, but there are other factors to consider. This article will break down manufactured home costs so you can understand what to expect along with broader range of factors to consider.
How Much Does A Mobile Or Manufactured Home Cost?
The terms mobile and manufactured home are typically used synonymously, but if you're looking into a mobile or manufactured home, you need to know that lenders view these structures very differently. Why? This is the only housing with manufacturing standards enforced by the Department of Housing and Urban Development (HUD).
If the structure was built prior to June 15, 1976, it's a mobile home. That's because there were no standardized safety or construction standards in place at that time. After that date, HUD established a code of minimum standards that all manufacturers must live up to. Therefore, homes built after that date are considered manufactured homes. It's very hard to find traditional mortgage financing for a mobile home that existed before the middle of 1976.
The latest available data from the U.S. Census Bureau regarding the average cost of a manufactured home in the U.S. is from August 2022. At the time, the average cost of a home was $125,700 across all available widths. There are many additional factors that influence the cost of a manufactured home, though.
See What You Qualify For
Congratulations! Based on the information you have provided, you are eligible to continue your home loan process online with Rocket Mortgage.
If a sign-in page does not automatically pop up in a new tab, click here
What Influences Manufactured Home Prices?
Manufactured home prices are determined by many of the same factors that would impact the price of a stick-built or modular home.
Home Size
As with homes constructed on-site, manufactured homes come in a variety of shapes and sizes. The bigger the home, the more you can expect to pay. Most people are familiar with single- or double-wide homes in concept – if not in practice. However, you can get triple- or even quadruple-wides.
The difference in these has to do with the manufacturing. For example, double-wide homes are two sections joined together, triple-wides have three and so on. The table below shows the latest average prices for single and double-wide homes because those are the ones that get reported by the Census Bureau, but you'll pay more for more space.
We looked at the models for a Florida home manufacturer, Prestige Home Centers, and triple-wide homes were going in the range of $164,000 – $172,000. For quadruple-wides, they were pricing up to around $218,400 at the time of this writing. Of course, this will vary by manufacturer.
| | | |
| --- | --- | --- |
| Home Type | Square Footage | Average Cost |
| Single-wide | 400 – 1,200 | $86,500 |
| Double-wide | 700 – 2200 | $158,800 |
Add-Ons And Customizations
The homes may or may not be as spacious depending on the size you get, but they can be every bit as customizable as any home built on-site. Here are a few of the customizations to consider:
Think of the interior as well as the floor plan and exterior materials. This could be everything from cabinets and countertops to molding and doorknobs. This is what really goes into finishing the home.


When it comes to flooring, do you want carpet, wood, composite or vinyl?


Just like a traditional stick-built home, you'll have many options for choices of siding.


What kind of material do you want to use for the roof?


Will there be a deck or patio?



Will you have a fireplace?
Land
Of course, after buying a manufactured home, you need somewhere to put it. You have the option of buying land on which to place your home or leasing from a mobile home park. If you choose to purchase a parcel of land from somewhere, you'll need to know that there is a higher upfront cost and you may want to look at land loans.
Another factor to consider is the tax implications. If you buy land and place your home on it, it will be considered real property and subject to local property taxes. For homes on leased land, these are often taxed in the way personal property would be, often at a lower rate.
However, the value in real estate is really in the land itself because it's something you can't make more of. Therefore, if you purchase the land with the home, it's likely to retain and increase in value over time, subject to the same ups and downs of any house in the local market.
Manufactured homes without the land tend to depreciate in value over time in the same way that something like a car would. Without the land, it's just an object that gets older. We'll get into the process a bit later, but this is why it's easier to get a mortgage when the home is titled with the land.
Looking for the right place to build?
Find the perfect plot for your new house on Rocket Homes.
Foundation
When manufactured homes are delivered to the site, they are transported on a permanent chassis and wheels. To get a traditional mortgage and take advantage of lower rates, lenders will likely require the home be attached to a permanent foundation instead.
As of this writing, Home Advisor lists the cost of a foundation at an average of $9,046. Within that, there is a broad range between $4,062 and $14,287. It varies quite a bit based on the material being used.
Delivery And Assembly
Getting your mobile home to the site is a project unto itself. According to Forbes, the average cost is $9,000, although it could be as low as $5,000 or as high as $13,000. There are several factors that go into this.
For starters, there's the size and weight of the home. Depending on how that breaks down, you could need multiple semitrucks. There are also escorts that may be needed because it's an oversized load along with permits to be pulled. Finally, if sections need to be transported separately, they'll need to be reassembled on-site.
Utility Hookups
Of course, you'll also need electricity, water and other services once you get there. According to Move.org, you can expect to pay between $538 and about $613 total per month for all utilities. That's the U.S. average and, of course, it can vary widely depending on where you're living.
It's important to note that the above estimate assumes you pay separately for trash services and it includes internet and phone along with streaming services, but not cable. Additionally, if you're buying land where a house has never been before, you may have to pay additional charges to have them install and turn on service for your address.
Taxes
Taxes are another key component to consider when purchasing a manufactured home. If you don't have it titled with the land, it may be considered and taxed as personal property, which could make your tax bill less expensive, but there are also the problems of value if you don't own the home with the land itself.
When getting a mortgage, most lenders, including Rocket Mortgage®, are going to require that the home be titled with the land. This could very well result in a higher tax rate, but you'll be able to get a mortgage in many cases and the home will better store value.
Mobile Home Insurance
For a variety of reasons, it can be hard to find insurance for your mobile or manufactured home. However, homeowners insurance is also necessary if you want access to traditional mortgage lending options.
We have a sister company, CoverTree, that specializes in homeowners insurance for manufactured homes. They offer all the traditional homeowners insurance coverage factors including repair and rebuild coverage for your home and other structures on your property. You can also get protection for the stuff inside your home as well as coverage for personal liability and loss of use.
If you're interested, you can get a quote online and save up to 40% in 3 minutes. If you ever need to file a claim, you'll work with their U.S.-based support team.
Factors To Consider Before Buying A Manufactured Home
Before moving forward with a manufactured home purchase, there are several factors to consider in determining whether it's right for you.
Manufactured homes may be more affordable than other

types of homes. According to data from the Manufactured Housing Institute in August 2022, the average cost per square foot for manufactured housing was just $72.21 compared to $143.83 for a stick-built home.



Financing options may be more limited.

Rocket Mortgage does offer conventional manufactured home financing at traditional mortgage rates as long as the home is attached to a permanent foundation and titled as real property with the land it rests on. It also must be at least 400 square feet. Finally, the home must have been built after June 15, 1976. If you don't qualify for this option, you may be able to get a chattel mortgage or personal loan as an alternative.



Manufactured homes require a different purchase process.

When you initially buy the home, new homes are purchased based on a floor plan or photographs rather than touring a home yourself. Then you have to wait for it to be manufactured while finding land you can either buy or lease to put it on.



Manufactured homes may be more vulnerable in extreme weather.

There are HUD codes around basic safety and special precautions manufacturers can take. However, it's still worth noting that part of the reason these homes are affordable is that they are often smaller than a stick-built home. That means they may be more prone to damage.
FAQs About The Cost Of Manufactured Homes
Now that we've gone over the basics on the cost of manufactured homes, let's touch on a few of the most common questions that come up.
Why are manufactured homes less expensive than other types of homes?
As we've gone over, you can customize an awful lot about a manufactured home, but one thing that doesn't really change is the floor plan. The limited models offered by manufacturers enable them to take advantage of an assembly line-like environment inside a factory. Time is money and they can also get built faster because the weather isn't a concern.
Can I finance a manufactured home?
Yes. You may have one or several traditional mortgage financing options if your home is attached to the land as real property sitting on a permanent foundation if it was built after June 15, 1976. Rocket Mortgage currently offers conventional financing. If that doesn't work in your case, chattel or personal loans may be good alternative options.
Do manufactured homes depreciate in value?
The answer to this is probably going to depend on whether you own the land on which your manufactured homes sits. If you don't own the land, your home just sits there getting older and depreciates similarly to the way a car would. However, land is a scarce resource. If you own the land, your home value will follow that of the overall housing market, generally rising over time.
The Bottom Line
Manufactured homes are generally considered much more affordable than stick-built homes, a major reason for their appeal. However, the cost of a manufactured home can also vary greatly depending on the size you're looking for and what you need in terms of add-ons. In order to get a mortgage, it's also generally important to own the land and pour a foundation.
Delivery and assembly shouldn't be overlooked. Be prepared to do utility hookups. Be aware of how local rules and how your home is titled impact your tax bill. You'll also want to start shopping early for home insurance because not every company covers manufactured homes.
While manufactured homes are generally more affordable, financing options can be more limited. Conventional financing is available if the home is compliant with current HUD structure and safety regulations, attached to a permanent foundation and titled with the land. Despite these standards, you may want to evacuate your manufactured home in the event of extreme weather.
If you're thinking a manufactured home is right for you, you can apply online through Rocket Mortgage for conventional financing. Also feel free to give one of our Home Loan Experts a call at (833) 326-6018.
A conventional loan may be a better option.
Apply online for expert recommendations with real interest rates and payments.
Related Resources
Viewing 1 - 3 of 3