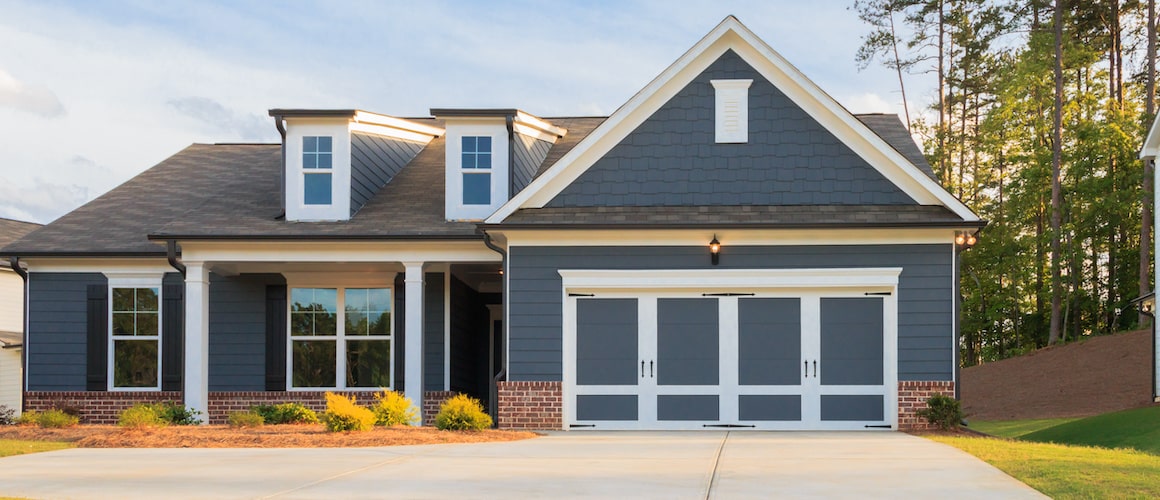 20 Popular Types Of Houses And Home Styles
Erica Gellerman10-minute read
August 07, 2023
Share:
Whether you're looking for a home to call your own or a new investment property, you've probably noticed a lot of terminology surrounding house styles and their structures. Understanding this terminology can help you learn the benefits associated with certain home types and find the best type of home to meet your needs.
It's important to note the two main parameters that classify a home: the structure type and the style of the home. The structure refers to the type of building, like a single-family home or a condo. The style refers to the architectural features and design, like Craftsman or contemporary.
We collected the most popular structures and styles of homes so you can narrow down your preferences and better search for your ideal home.
See What You Qualify For
Congratulations! Based on the information you have provided, you are eligible to continue your home loan process online with Rocket Mortgage.
If a sign-in page does not automatically pop up in a new tab, click here
Types Of Houses: Structures
Regardless of if you're house hunting for your first home, forever home or buying a rental property, the first thing you should do to narrow your search is figure out what type of home structure you're looking for. Below are the most typical types you'll see when searching for your new place.
1. Apartment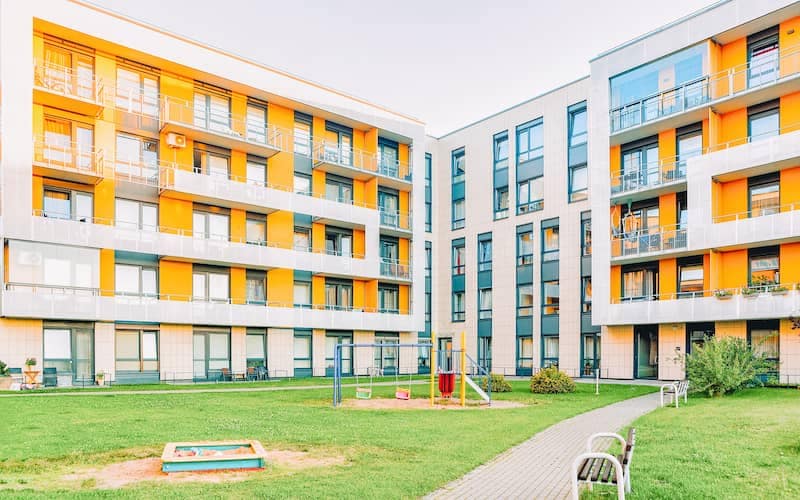 An apartment is part of a collection of similar units in one building structure. An important feature is that you have to rent the place from a landlord. Oftentimes, apartments and apartment buildings have convenience factors like an on-site repair worker, laundry room, gym facilities or a pool.
Though you don't get as much privacy – and you won't be building equity in your residence – you'll have many additional pros and cons to weigh when deciding whether to buy or rent.
Pros
Apartments cost less money upfront to move into.

Repairs and maintenance are the responsibility of the landlord.

It's easier to relocate at the end of your lease.
Cons
There's no option to purchase, leading to less flexibility and freedom.

You're not building equity.
There may be limitations on how you can decorate.
2. Condo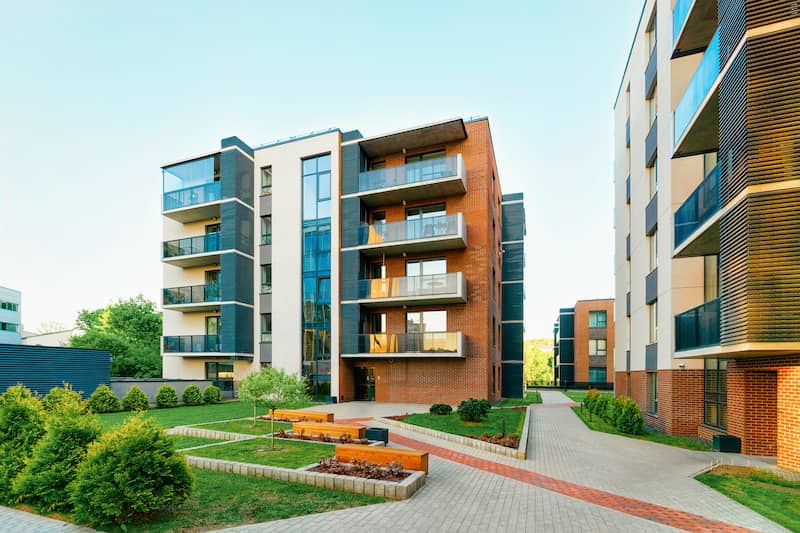 If you like the conveniences that come with an apartment but are looking to own rather than rent, a condo might be a great fit for you. Instead of having a building manager or landlord oversee your unit, you're in charge of all the repairs and the upkeep inside the home.
Condominiums are a great option for city living and for older adults who want to own and have a mortgage but don't want to deal with the upkeep of a single-family home.
Pros
There's less upkeep than a single-family home.

You can build equity.
Exterior maintenance might be taken care of by a homeowners association (HOA).
You could enjoy access to community amenities.
Cons
There's less privacy and free agency.

You'll likely have to obey the rules of an HOA.
It's more difficult to move if you want to relocate.
3. Co-Op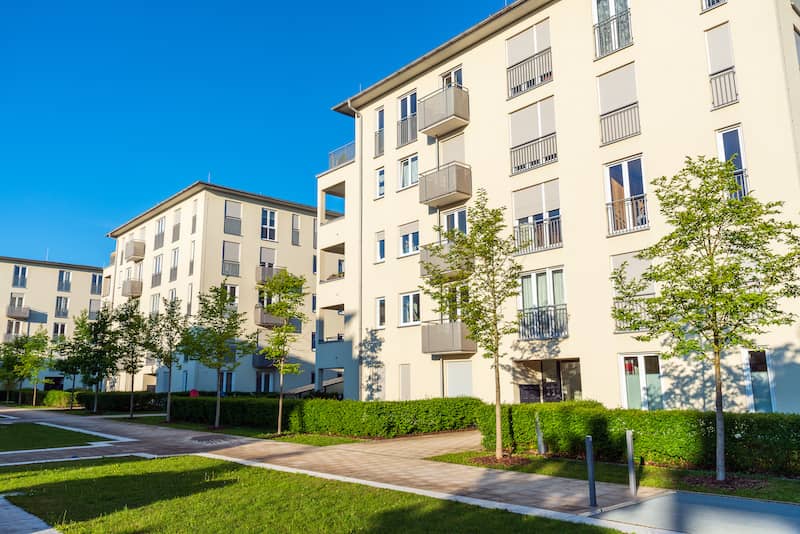 A co-op is also known as a housing cooperative. This type of housing is quite different from the others on this list. When you buy into a co-op, you're buying a share of the company that owns the building rather than purchasing the actual property.
The number of shares you own typically correlates to how much space you're afforded in the co-op. Once accepted into a co-op and after purchasing shares, you'll have a vote on common spaces, and you'll split maintenance costs and other fees.
Pros
Co-ops provide a great sense of

They are

less expensive than a traditional home or condo.

There's a financial and character screening process for applicants.
Cons
There is less freedom and decisions must get group approval.

There are higher monthly fees to cover expenses like utilities and parking.
At this time, Rocket Mortgage® only offers co-op loans in the state of New York and only in areas where co-ops are common.
4. Single-Family (Detached)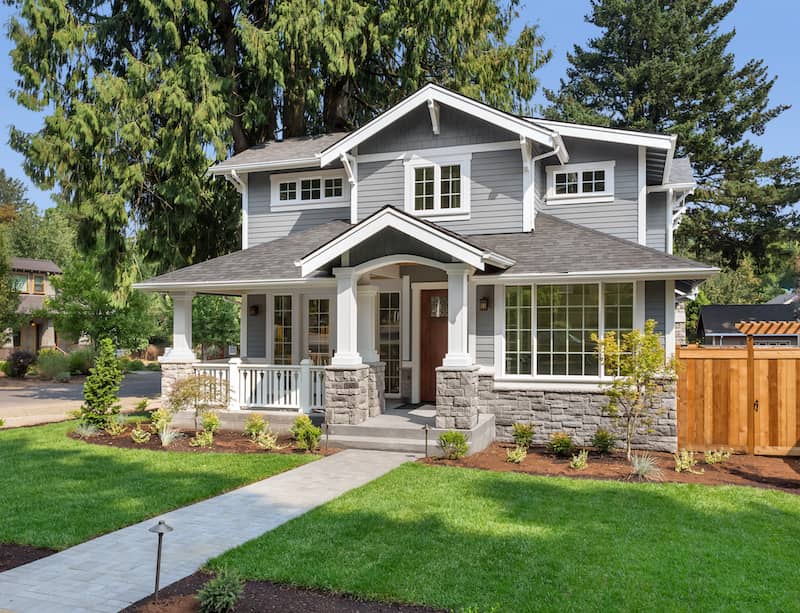 The key feature of a single-family home is that it's completely detached from other housing units, unlike condos, apartments or townhomes. The majority of homes in the U.S. are single-family homes.
They're less common in highly populated areas and are typically found in suburbs. Single-family homes are usually more private and offer more options for personalization (barring any homeowners association requirements).
Pros
Single-family homes have greater privacy.

You'll enjoy more space than with other types of homes.
There's more freedom than most other homes.
Cons
You have the sole responsibility to maintain the property.
They come at a higher purchase price.
You'll need money for a down payment and closing costs.
5. Tiny Home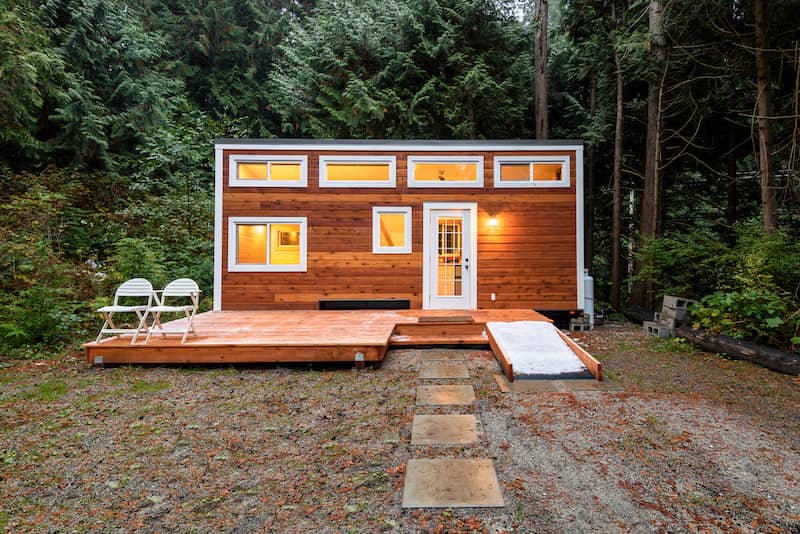 Tiny home popularity has boomed in recent years, spurring what's known as the "tiny home movement." These small abodes usually fall in the range of 60 – 600 square feet. Some tiny homes are prefabricated, and some are complete custom builds.
They've become popular among single adults and couples who want more financial and physical freedom, as some tiny houses are mobile and can be moved to new locations.
Pros
Tiny homes are more affordable.
They

provide greater physical freedom since they can be relocated.
Cons
They have significantly smaller space, with less room for family growth.

They usually have a lower resale value.
You'll need to own or rent land to place your tiny home on.
Since tiny home prices typically fall below mortgage minimums, it can be tricky to get started. Rocket Mortgage doesn't offer loans for tiny homes directly, but we can help you understand your tiny home financing options.
6. Townhome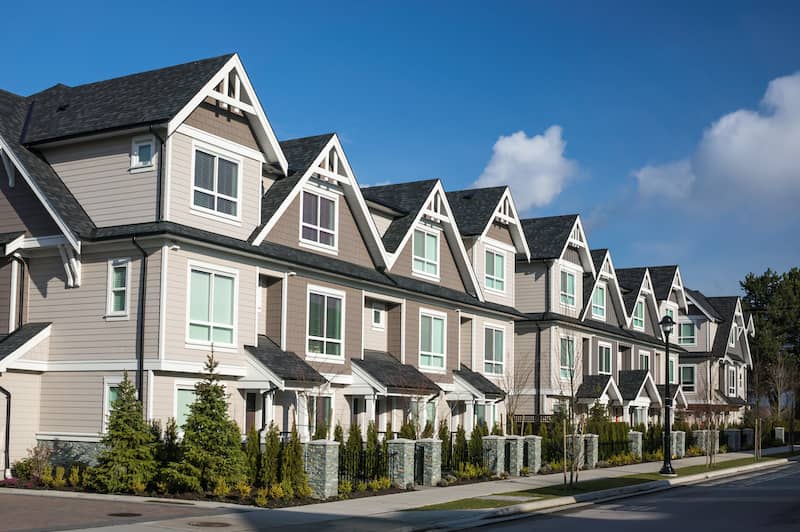 A townhouse or townhome is an individually owned dwelling that shares at least one wall with another unit and has its own entrance from the street. They're most popular in big cities where space is limited.
Townhomes typically make use of vertical space with multiple stories but save horizontal space by sitting side by side with other homes. Sometimes there are shared amenities among a collection of townhouses.
Pros
They're typically more affordable than single-family homes.

Exterior maintenance may be covered by the HOA.
You'll have access to the amenities in the community.
Cons
There's less

You have less

freedom to change the exterior.

You could have less living space than with a single-family home.
Think a townhouse is the right structure type to best fit your homeownership needs? See how much you qualify for so you and your REALTOR® can build an effective offer on your ideal home.
Get approved to see what you can afford.
Rocket Mortgage® lets you do it all online.
Types Of Houses: Architectural House Styles
Your home's architectural style will heavily influence the type of interior design that will fit. These styles of houses span across decades – not only do people put a lot of effort into restoring them, but they are also re-created in some new builds.
Aside from the aesthetics, knowing a home's time period can help you prepare for common issues that affect certain styles. Ask the seller about these common issues and pay close attention during your final walk-through.
Browse the house styles below to see which option is the best fit for your preferences and your family's lifestyle.
7. Cape Cod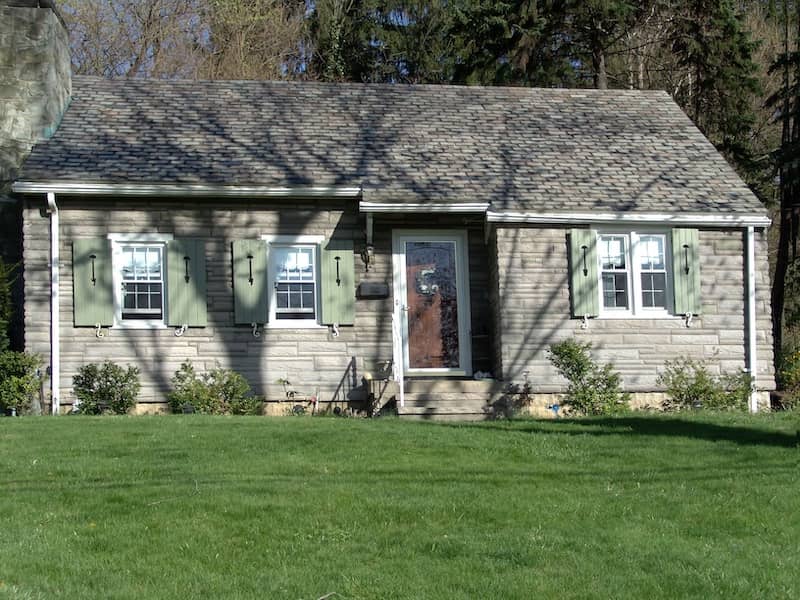 The Cape Cod style originated in the 1700s in its namesake city in Massachusetts. These houses are charming but hardy – built to withstand the rough New England winters.
Original Cape Cod homes were simple with wood siding, roof shingles and a central door with a window on either side. Today, these same elements are incorporated, but the homes are built with more space and, therefore, more windows.
Key Features
Shingles
Wood siding
Central

door with flanking windows
8. Colonial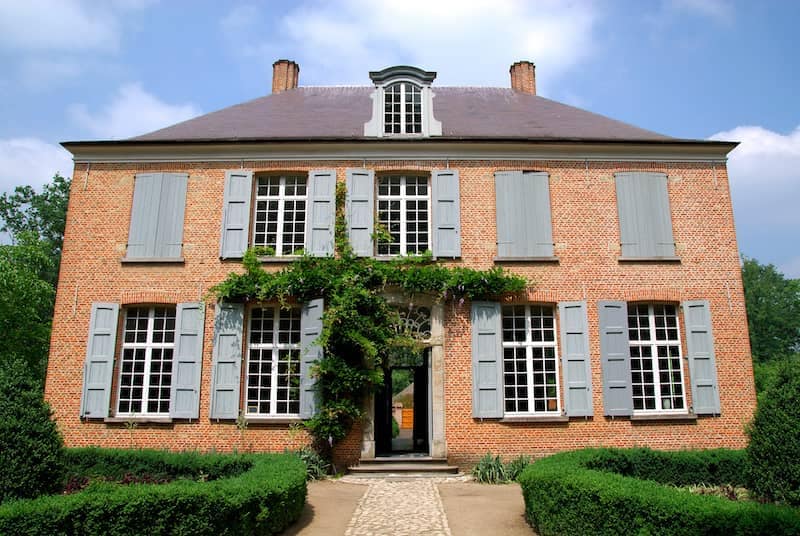 Colonial homes share a lot of similarities with the Cape Cod style. They have a simple, rectangular, symmetrical structure that dates back to the 1600s.
The colonial style has a variety of different influences, identified by the country that occupied the region at the time that they were built. These different types include English, French, Dutch, Georgian, Spanish and American (which closely resembles English) colonials.
Colonial homes are almost always at least two stories tall and feature a central staircase and grand entryway.
Key Features
Two-plus stories tall

Symmetrical
Central stairway
Formal

look
9. Contemporary
The contemporary style is often confused with modern, but the two should not be used interchangeably. The term "contemporary" refers to the present, and "modern" refers to a time period that has already passed (for example, midcentury modern).
Contemporary homes today often incorporate elements from modernist styles. Many boast eco-friendly materials and design with a focus on clean lines and natural textures. The color palettes are usually more neutral with pops of color added in the interior.
Key Features
Clean and simple lines

Neutral colors
Natural

textures
10. Federal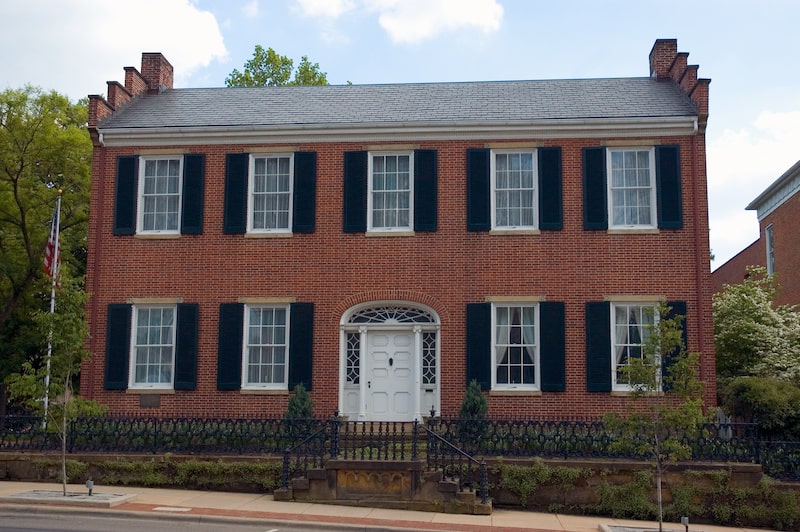 Federal-style homes are similar to colonial homes, but they have several distinctions that make them unique and worth mentioning. Their style is inspired by Greek and Roman architecture. They feature a square or rectangular shape and have Palladian windows and columns.
If you've ever seen a photo of the oval office in the White House, you've seen an example of the federal style.
Key Features
Brick exterior
Ornamental features
Fanlight doors
11. Craftsman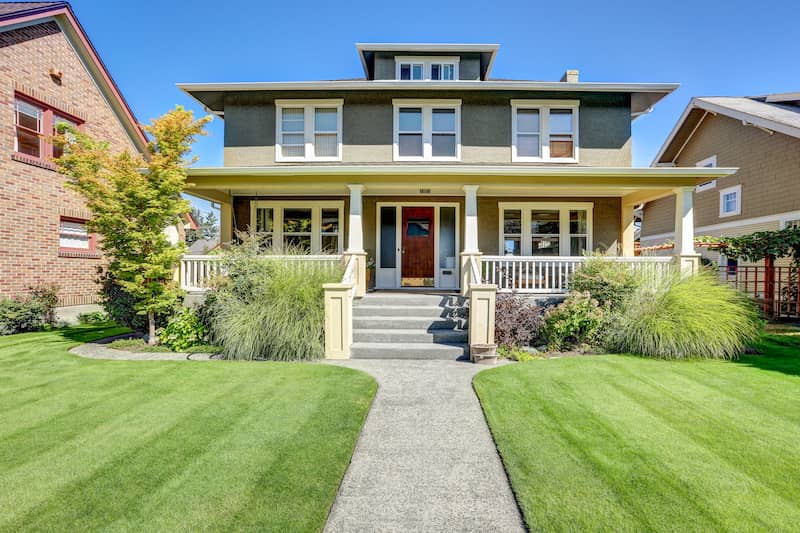 The Craftsman style focuses on the value of handmade, well-constructed architecture. Craftsman houses go against the mass-produced or cookie-cutter home developments – they're typically a horizontal, sturdy build.
They feature beautiful hand-worked materials, exposed beams, low-pitched gable roofs and tapered columns on their porches. Inside you may find custom elements like built-in bookshelves and a hand-laid fireplace.
Key Features
Hand-crafted wood features

Exposed beams
Large

columns
12. Greek Revival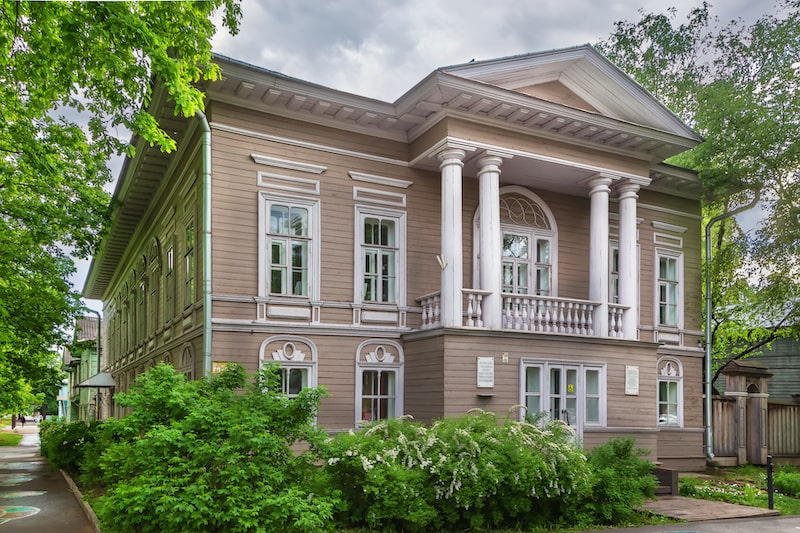 Greek revival-style homes are some of the easiest to point out due to their impressive columns that emulate those found on the Parthenon and other famous Greek buildings. Inspired by Greek democracy, philosophy and culture, this style emerged in the U.S. in the 1830s. These houses have large columns with Greek-style embellishments, white or subdued colors, and a grand front door and entrance.
Key Features
Large white columns

Greek-style embellishments

Grand

entrance
13. Farmhouse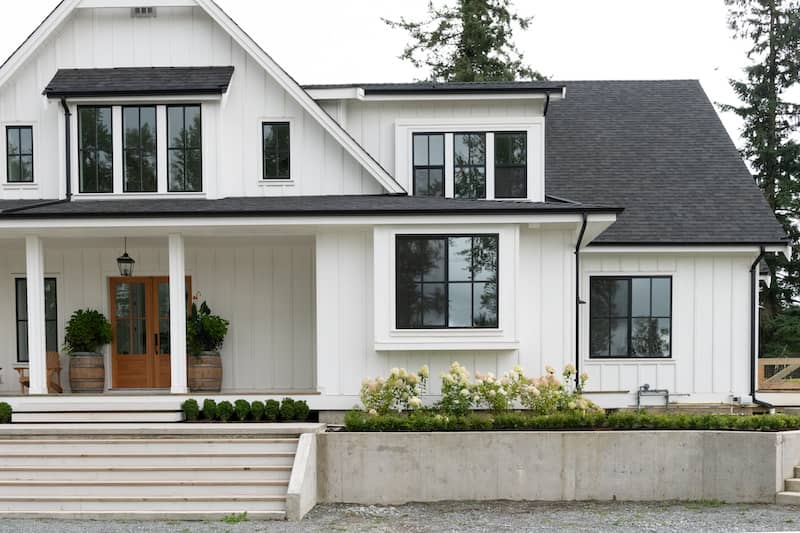 Put simply, farmhouse-style homes pull inspiration from their namesake buildings for the interior and exterior of the home. They often feature tall ceilings, exposed beams, a large front porch, a rectangular layout and a central fireplace.
Some farmhouse-style homes have barn-shaped roofs while others aren't as on the nose. The details are typically rustic, often featuring exposed brick and stone. Modern farmhouse style takes this rustic look and combines it with more clean lines and other updated features.
Key Features
Rustic
Rectangular

floor plan

Large porch
Barn

-inspired roofs and features
14. French Country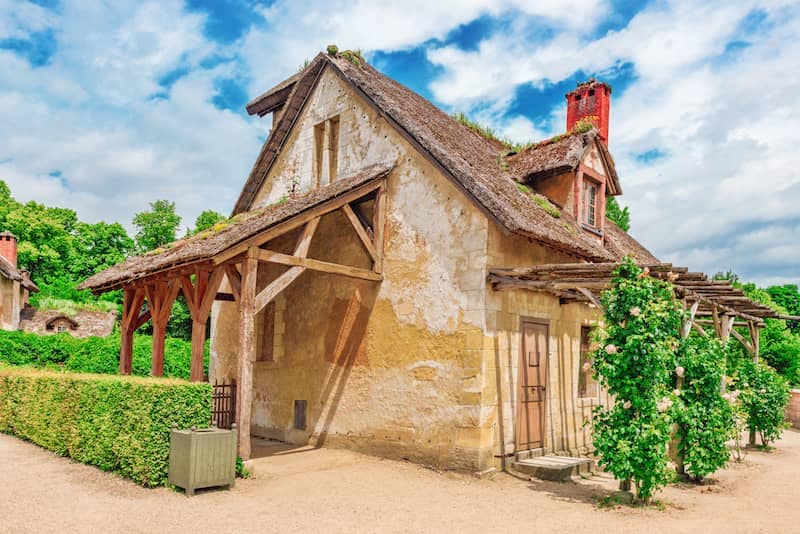 French country-style homes are inspired by the abodes found in the countryside of France, in areas like Provence. They share some similar features with farmhouse-style houses, but it's definitely a style all its own. French country homes have pointed roofs and shutters and are typically made from stone. Inside you'll find a stone fireplace, distressed wood and subdued palettes with pastels or worn colors worked in.
Key Features
Provencal influences

Stone exterior
Weathered

look
15. Mediterranean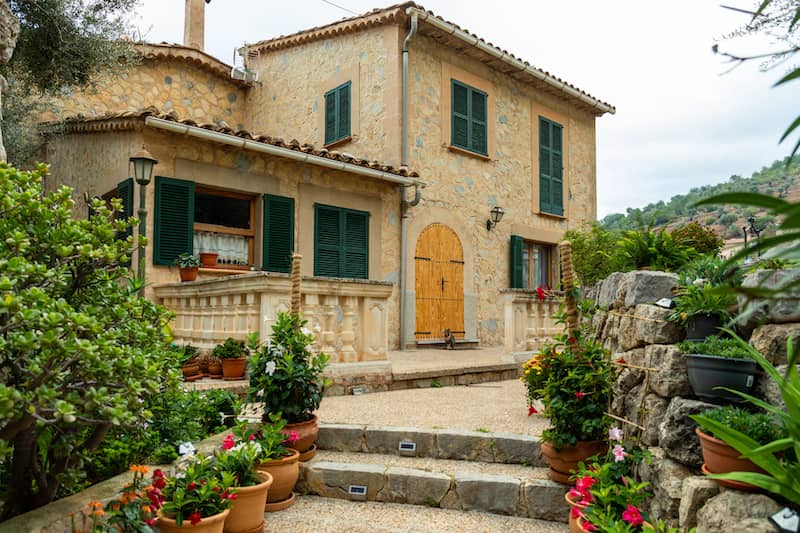 Mediterranean-style homes feature elements from Spanish and Italian villas. A big focus is on indoor-outdoor living, so they're most popular in areas with temperate weather like California and Florida.
These homes feature tiled roofs, white stucco walls, warm stone and wood as well as metal work on balconies and windows. Even though most Mediterranean-style houses have an understated look, you'll often see splashes of color through gorgeous tile work.
Key Features
White stucco

Warm

wood and stone

Tiled

roofs
16. Midcentury Modern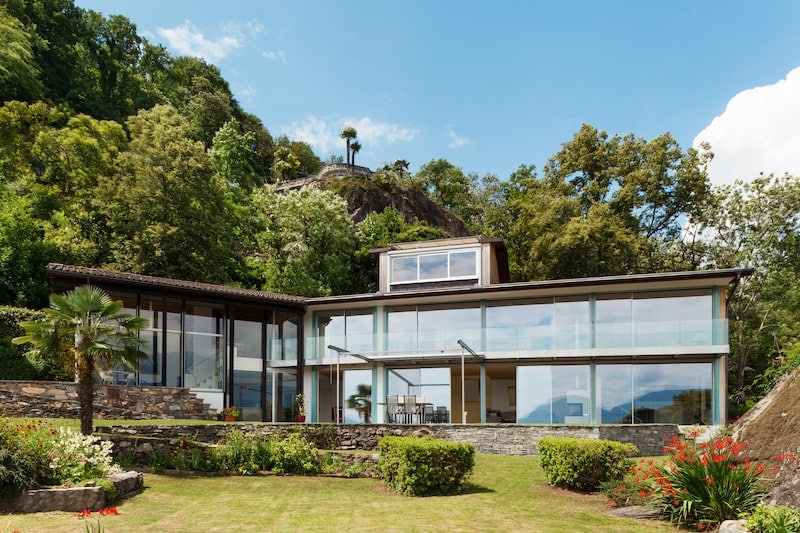 Midcentury modern design emerged after WWII from the Bauhaus movement. Midcentury modern homes possess a sleek, uncluttered design that meets an appreciation for nature through large windows along with a mix of natural and man-made materials. These homes feature well-thought-out architectural design that allows function to inspire form.
Key Features
Mix of organic and geometric

Sleek
Uncluttered
Large

windows
17. Ranch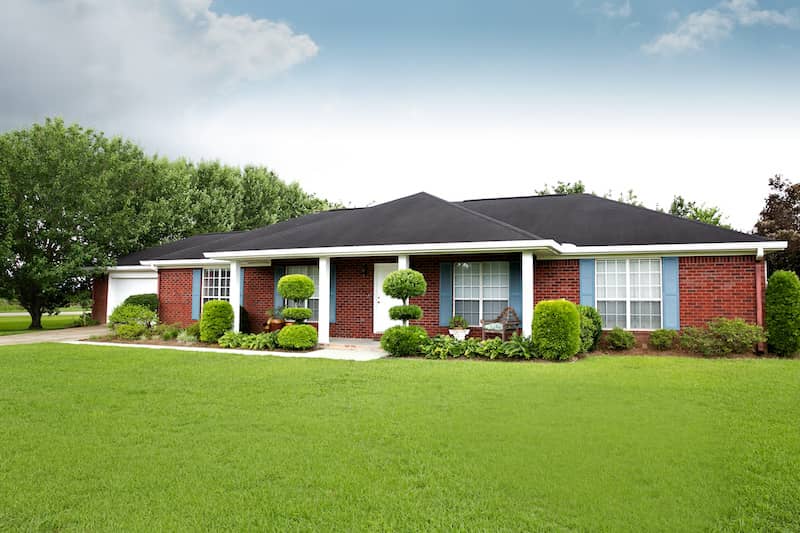 Ranch-style houses appeared in the 1930s, but their popularity boomed in the 1950s. These homes are typically one story and feature low-pitched roofs, large windows, sliding glass doors, large backyards, open living spaces and attached garages.
Ranch homes also come in a variety of iterations like split-level, storybook, California and raised ranch. For example, California ranch homes are shaped in an "L" or "U," with a backyard to encourage outdoor living.
Key Features
Single story

Low

-pitched roof

Open

living spaces and floor plans

Backyard
18. Split-Level
Split-level homes emerged from the ranch-style home design and became popular in the 1950s and '60s. What sets a split-level home apart is how the living spaces of the home are separated. Split-level homes have multiple floors that are connected with short flights of stairs (unlike regular two or three-story homes with long flights of stairs). Some love the unique separation of space while others find the numerous short flights of stairs to be cumbersome.
Key Features
Living spaces segmented by short flights of stairs

Low-pitched roofs
Integrated garages
19. Tudor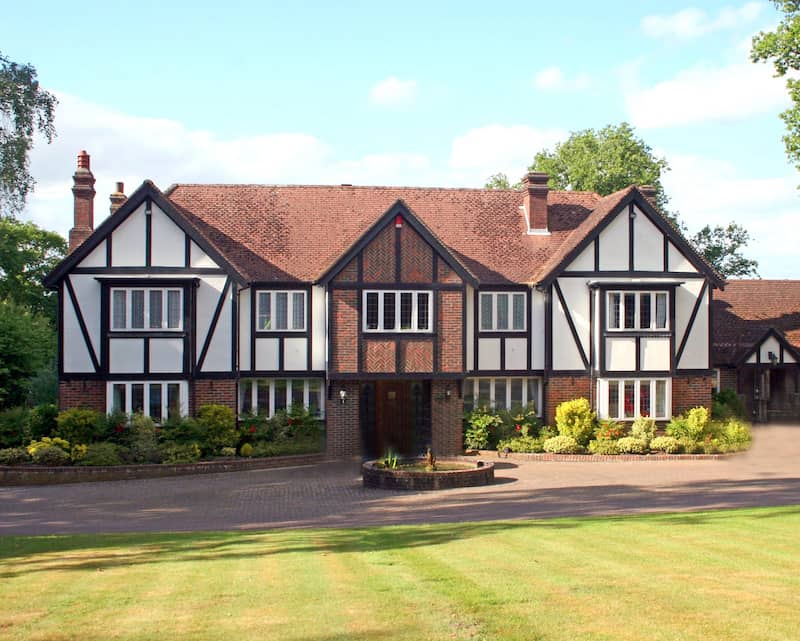 The Tudor home style was brought to the U.S. by European-trained architects in the late 1800s and gained popularity in the 1920s. Late Medieval and early Renaissance architectural elements inspired the Tudor style's stone masonry, timber framing, steep gable roofs and classic leaded windows. These homes are usually asymmetrical and look like something out of a storybook.
Key Features
Timber framing

Stonework
Asymmetrical
Steep gable roofs
20. Victorian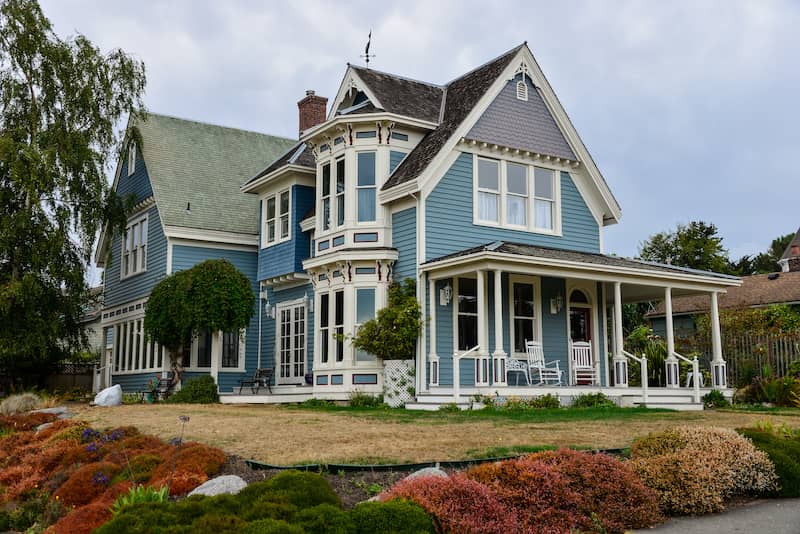 Named after Queen Victoria, Victorian homes emerged in the 1830s and were popular through the early 1900s. They are typically two to three stories and include ornate elements, bay windows, small towers, porches, steep gable roofs and brightly colored facades. A variety of different designs play off these core elements, including more ornate styles like gothic revival and Queen Anne, or less ornate, like the folk style.
Key Features
Two- to three-plus stories

Ornate
Steep

gable roofs

Small towers
Bright

facades
The Bottom Line
Landing the home of your dreams can be difficult. Knowing what home style fits you best before you start your search can help you and your real estate agent narrow your options.
Sellers typically want to know you'll be able to make good on your offer, so getting approved for a mortgage before you begin house hunting can also help smooth out the process. Start your mortgage application online today so that once you spot a house you love, you can make a move right away.
Take the first step toward buying a house.
Get approved to see what you qualify for.
Related Resources
Viewing 1 - 3 of 3