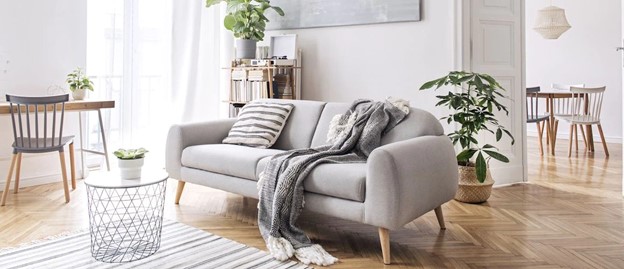 Condos: Everything You Need To Know
Miranda Crace9-minute read
December 29, 2022
Share:
Disclosure: This post contains affiliate links, which means we receive a commission if you click a link and purchase something that we have recommended. Please check out our disclosure policy for more details.
Condo life comes with its perks. From community living to walkable urban areas, condominiums are a great option for first-time home buyers and people looking to enjoy homeownership without extensive upkeep.
In this article, we'll explore the pros and cons of buying a condo, the different types of condos you may come across and the key differences between a condominium, an apartment, a townhome and a single-family home.
What Is A Condo?
A condo, also known as a condominium, is a housing or residential complex in which there are separate units, with each unit being owned by an individual. When someone rents a condo, they're renting directly from the condominium owner.
Condo owners are responsible for what goes on within their individual units, including maintenance and repairs. Beyond that, they're required to pay regular fees to a condo association. Those fees contribute to the maintenance of the shared common areas, building amenities and the exterior of the complex.
Should You Buy A Condominium?
Those who are looking to buy a condo will want to consider all relevant factors in the purchase, including whether you plan to use the condo as your primary residence or if you intend to use it as an investment property.
Buying A Condo For Your Primary Residence
If you've determined that a condo is the right type of home for you, you have two options: rent or buy. Determining your budget and finances will help you decide whether renting or buying is the better option for you, but there are other aspects to consider too. When you buy, you get the benefit of earning equity, and you may find that you enjoy living in a place that is truly yours. However, if you decide to become a homeowner, be prepared for unexpected costs and the added responsibility of keeping up with home maintenance.
Buying A Condo As An Investment Property
Real estate investors sometimes purchase condos to use as rental properties. Condos can be a good investment for those looking to enter the investment space because they tend to be a more affordable purchase. However, those considering buying a condo as an investment property should carefully consider the drawbacks and benefits of investing in real estate before moving forward.
Get approved to see what you can afford.
Rocket Mortgage® lets you do it all online.
Pros Of Buying A Condo
The benefits of purchasing a condo versus renting or owning a single-family home include property ownership with added amenities, less upkeep and affordability. Condominiums are great choices for many people.
Empty nesters looking to downsize and seniors who prefer less maintenance could be looking for a condo. Condos can also be a solution for first-time home buyers looking for a starter home in an urban area where real estate prices for stand-alone homes may be too high.
Let's take a closer look at the pros:
Added amenities:

Depending on the complex, you may have access to amenities like a pool, dog park or parking garages. These shared amenities are typically maintained by the homeowners association (HOA), so you enjoy them without having to maintain them on your own.

Less maintenance:

Condos are popular for people who want the freedom of owning their residence but don't want the upkeep that comes with having a single-family home. If you like the idea of owning your own place while not having to mow a lawn, shovel snow or repair a roof, a condo might be a great fit for you.

More affordable:

Typically, condos are less expensive than traditional homes and are great for first-time home buyers with modest salaries. While you do have to factor in condo association fees, a condo can be more affordable than a freestanding house. If you've previously disregarded homeownership because of the high cost of entry, a condo might be closer to your price range.
Cons Of Buying A Condo
Like any home purchase, there are considerations to keep in mind when you're looking to buy a condo. If you don't want to pay additional costs on top of your mortgage or abide by community rules, condo living may not be right for you.
Let's further define the cons:
HOA restrictions and fees: When you buy into a complex development, you also buy into rules set by the HOA. These rules can include rental limitations and pet restrictions. Additionally, you'll pay the monthly HOA fee for the upkeep of the common areas and building. These fees can vary widely depending on the location and size of the condo.

Less

square footage: Large families or people whose well-being at home comes from outdoor space might feel cramped in a condo. Most of the time, condo units don't have private outdoor space, and you may have to walk a fair distance to find a park or playground.

Less privacy:

Condos share common areas and walls. With this shared space comes the feeling of community, but also a lack of privacy. Shared space can have noise problems, and your HOA may restrict how long guests can stay.
The pros and cons of buying a condo will vary depending on the type of condominium and its location, the size of the complex and the type of tenant.
You may think of condos and apartments as interchangeable residences. However, there's quite a bit of difference between the two. Essentially, you rent an apartment and buy a condo – which you can also rent.
Ownership

Costs

Maintenance

Condo

Unit

HOA, mortgage, taxes

In-unit

Apartment

None

Monthly rent

None

House

House

Property

Mortgage, taxes, (possibly HOA depending on the neighborhood)

Interior, exterior, property

Townhouse

Unit

Property

HOA, mortgage, taxes

Interior, exterior, property
Condo Vs. Apartment
Condos and apartments are similar in structure, but there are many key differences you should be aware of. Let's take a closer look at all the ways in which they differ.
Difference Between Condo And Apartment
The main differences between a condo and an apartment include who owns them, how they're run and governed and the costs involved:
Ownership
Typically, apartment buildings are owned by a property management company, while condos are individually owned units. Instead of answering to a property manager, condo dwellers make up a condo association that collects dues to cover maintenance costs for common areas of the condominium complex.
Rules And Responsibilities
Rules for apartments are set by the property manager and tend to be the same for every tenant. This is not necessarily so with a condo, where rules are set by the condo association, the governing board made up of people who own units within the complex.
Costs
Condo owners must worry about costs like the mortgage payment, condo fees or HOA fees and property taxes. If you're renting, you might not notice much of a price difference between rent for an apartment and rent for a condo. However, the makeup of your payments may be different if you're renting a condo. Your landlord may have it written in your lease that you're responsible for association fees and utilities, or they may adjust your rent to cover the cost.
Amenities
Condos and apartments both may provide certain community amenities. What you get generally depends on where you are and how much you pay to live there. Many condo or apartment complexes offer features like gym access, a pool or extra security.
Maintenance
Condo owners are responsible for any maintenance or repairs needed within their unit. This is true not only if they're living there themselves, but also if they're renting out the unit to a tenant. An apartment will likely have a maintenance staff that is knowledgeable about how to deal with most problems. With a condo, there may not be a maintenance staff. The owner must solve the problem.
Condo Vs. House
Single-family homes are often purchased outside of city centers because they generally cost more than their condominium counterparts. Typically, the decision to buy a condo versus a house is based on your desire to live in an urban neighborhood or have more square footage.
Difference Between Condo And House
Let's look at the ways in which houses are often favored over condos, as well as some key differences that separate the two:
Ownership
A house is a free-standing structure and does not share any walls with other residential or commercial buildings. Homeowners own both the property itself and the land it sits on. The land may include a front yard, backyard and garage.
Rules And Responsibilities
Homeowners are generally more attracted to these types of residences because of the autonomy of the purchase. As an owner of a house, you might not encounter HOA regulations that limit home modifications you can make.
Costs
Generally speaking, detached single-family homes cost more than a condo. They typically have more square footage. When you purchase a home, you own both the property and the land it sits on. However, as a prospective home buyer, you should consider additional costs like yard maintenance and property taxes.
Amenities
Single-family, free-standing homes don't generally come with any additional amenities. By contrast, when you own a condo, you also pay the condo association fees – these can include utilities, exterior maintenance, gyms and pools.
Maintenance
The maintenance of a home is significantly more work than a condo, since you're responsible for the house and the lot. While renovations may increase the value of a home with sweat equity, it's important to consider the initial investment of time and money.
Condo Vs. Townhouse
A townhome (or townhouse) is where a condo and a single-family home intersect. Typically, townhomes are a type of house that has multiple stories and may share walls, though not above or below the unit.
Difference Between Condo And Townhouse
Here's how townhomes stack up against condos:
Ownership
Townhomes have two primary types of owners: condominium ownership and fee-simple ownership. With condominium ownership in a townhome, your unit responsibilities are structured similarly to condo units. Namely, you own the inside of your unit, and HOA fees cover common areas and the exterior. With fee-simple townhome ownership, you're responsible for the property itself and the land it sits on.
Rules And Responsibilities
Generally, condo associations have stricter rules than townhome HOAs because townhomes require less maintenance. When you own a fee-simple townhome, you're in charge of the upkeep for the interior, the exterior and the lot itself.
Costs
Townhomes tend to be less expensive than condos because the size of the lot is typically bigger than a condo. You'll also tend to pay less in overall HOA fees, but you should consider the costs associated with maintenance on the house and property.
Amenities
There are usually fewer amenities offered in townhomes compared to condos, though newer build townhome communities may include resort-style living offerings, like pools and playgrounds.
Maintenance
As mentioned, you're not paying as many HOA fees with a townhome compared to a condo, but you're responsible for more upkeep. When you own a condo, you're only responsible for the interior, but when you own a townhome, you'll be paying to maintain the interior, roof, exterior and property.
Get approved to buy a home.
Rocket Mortgage® lets you get to house hunting sooner.
Freehold Vs. Leasehold Condos
There are two primary kinds of condos: freehold and leasehold. With freehold condos, the unit is owned by the tenant outright. Leasehold condos have tenants with contracts with their landlord instead of owning the unit.
Typically, individual condo units make up one building or a complex of several buildings in a condo community. However, you may also come across detached condos, where owners live in their own freestanding house unit – more like a single-family residence – but pay into a condo association that takes care of the shared space within the community.
Types Of Condos
Below we'll explore six different types of condos, and how ownership varies.
Condo Home
A standard condo home is a residential property where the owner only owns the portion of the building that consists of the interior of their home. This is in contrast to a single-family residence, or what you might traditionally think of as a "house," where the owner owns both the dwelling and the property it's located on.
Condo Share
A timeshare condo, or condo share, is typically used as a second home or vacation home. Its tenants are allocated use of the condo for a certain time and number of days each year.
Condo shares generally have fees like maintenance and property taxes, and aren't considered investment properties. These types of units can be difficult to sell, but offer the property in desired locations for a fraction of the price of resorts or hotels during vacation.
Detached Condo
Detached condos come with the advantages of condominium living with minimal upkeep and planned communities within an HOA. The major difference between these types of condos and condo homes is the lack of shared walls. Instead, a detached condo community is near cities, and units are often found clustered together.
Private Condo Or Private-Owned Apartment
A private condo, or a private-owned apartment, is owned by its respective unit's landlord. Typically, these types of condos are rented out to tenants, but they differ from standard apartments. The application process, criteria and deposits may vary with these types of rental condos.
Condo Building
The condo building refers to a complex made up of individually owned units. Ownership is typically controlled by an HOA or community property management that maintains the property upkeep and some maintenance.
Condominium Developments
Freehold condominium developments indicate that the developer owns the land the units are on. Once a tenant buys the condo, ownership is transferred to the buyer. The key difference between freehold condo developments and traditional condo buildings is that owners are responsible for their own upkeep and maintenance on their unit, including exterior walls, while management maintains common areas.
The Bottom Line On Condominiums
Once you decide whether a condo or a house is right for you, the next step is to start your mortgage approval online. Shopping with a preapproval in hand will give you confidence. It's also often a priority for sellers to know you have the money you're offering, so if you want to be able to make an offer on an attractive property quickly, it's probably a good move.
If you're ready to buy a condo, start your mortgage application online today with the Home Loan Experts at Rocket Mortgage®.
Related Resources
Viewing 1 - 3 of 3