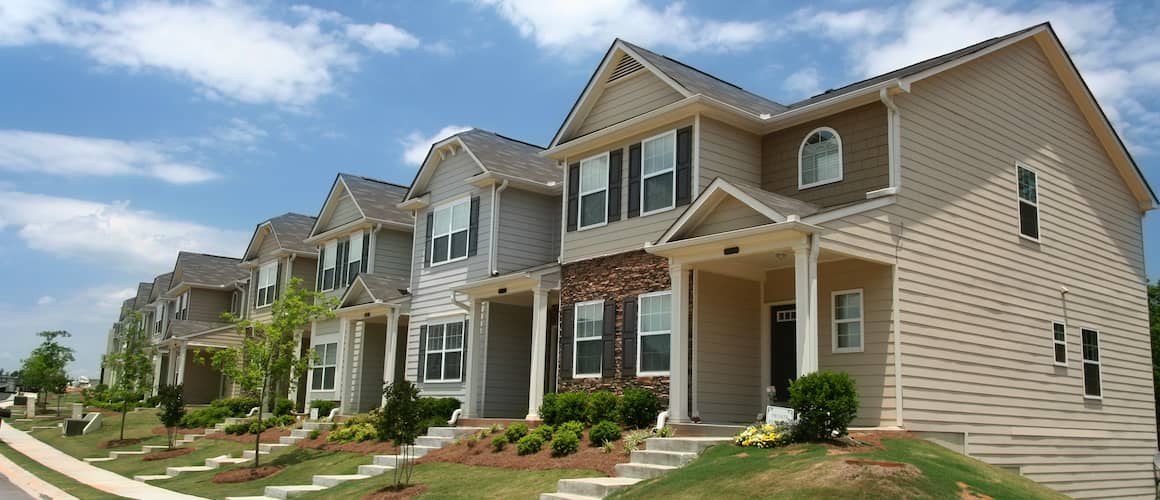 What To Know About Buying A Condo With A VA Loan
Michelle Giorlando6-minute read
February 16, 2023
Share:
VA loans, backed by the Department of Veterans Affairs (VA), are designed to extend affordable mortgages and housing options to eligible veterans, active-duty service members and qualifying spouses. They require no down payment and have lower interest rates than other loan options. For those who qualify for a VA home loan, buying a condo can be a great choice. You'll just need to ensure that the condominium is approved by the VA.

We'll look at the advantages of buying a condo and how you can buy one with a VA loan. We'll also look at what makes a condo eligible for a VA loan, and what you can do if you want to buy a non-eligible condo.
Why Condos Can Be Great For Military Personnel
Before we dig in, let's define a condo in the VA's terms. The VA defines a condo complex or planned unit development as a common interest community. This means that all those who live there share land and common areas like playgrounds and parking lots.
There are many factors to consider when figuring out if a condo is a good investment for you. Besides generally being more affordable than single-family homes and often located in desirable spots, there are other advantages.
Condos typically have amenities that appeal to a wide range of military folks and their families, including fitness centers, pools, community spaces and sports areas. Whether you've got a robust social life or are looking to retire in comfort, a condo can offer the conveniences you need.
Service members who are younger or live alone may prefer condo living. The proximity to neighbors and not being responsible for upkeep and maintenance can be attractive if you don't want to deal with these tasks. The same idea applies to those who are older and possibly not up for the physical tasks of outdoor maintenance that single-family homes generally require.
Condo complexes often have a homeowners association (HOA) to handle much of the maintenance, which appeals to some home buyers, since single-family homes often have a larger time commitment.
Think of paying the HOA fee as funding the benefits of having a landlord who takes care of your broken faucet, all the while building equity in your own home. While on the subject of equity, one factor to keep in mind is that HOA fees don't add to your equity. Again, though, the tradeoff is that you won't have to do your condo maintenance yourself, and the fee often covers other utilities and services as well.
HOAs also come with rules and regulations set out in their bylaws. They're designed to promote uniformity and order. HOA rules and regulations can be an obstacle for some homeowners. The rules may feel restricting, and can cover regulations on home repairs or upgrades, noise levels and pets. However, the other side of HOA rules means there's consistency and standards for all in the community to uphold.
See What You Qualify For
Congratulations! Based on the information you have provided, you are eligible to continue your home loan process online with Rocket Mortgage.
If a sign-in page does not automatically pop up in a new tab, click here
Can You Buy A Condo With A VA Loan?
The short answer: Yes!

The longer answer: Buying a condo with a VA loan isn't much different from buying any other home, but the condo complex does have to be VA-approved. The purpose of this approval is to ensure that those who are eligible for a VA loan aren't overly burdened by the HOA in any way. Townhouses are also covered by the VA approval rules.
If you're considering a particular condo, make sure that the condo complex or development's HOA has applied for and received VA approval. This is to protect the interests of both the VA loan holders and the government, which backs the VA loans. Any complex you're considering will have to meet the requirements set by the VA - you can see the full list of requirements for VA-approved condos by downloading Chapter 16 of the Department of Veterans Affairs Lenders Handbook. You can also check for approval on the VA website.
The Federal Housing Administration (FHA) has a similar approved list for FHA loans. In the past, VA and FHA approvals were reciprocal, meaning if the VA approved a condo complex, then the FHA would automatically approve it as well, but this is no longer the case.
Your real estate agent will be a good resource for assistance in navigating the VA condo HOA approvals.
What Can Make A Condo HOA Ineligible for VA Approval?
The VA ensures a condo complex is a good fit for those eligible for VA loans by holding the complexes to high standards. There are several reasons why a condo complex's HOA might not be approved by the VA.
If an HOA's bylaws give the HOA authority over who you can sell the condo to and when (also known as Right of First Refusal), it will not meet VA approval. Let's look at what a Right of First Refusal entails in this particular area:
A Right of First Refusal is a bylaw that would allow the HOA to purchase a property if the VA loan holder decided to sell it, before anyone else would be allowed to buy it.

This rule would allow the HOA an opportunity to buy the unit for the same price and terms of the prospective buyer.

This can allow an HOA to purchase a unit to make it a guest unit, community area or property manager's living quarters.

The Right of First Refusal might be invoked to prevent a below-market sale that could affect the appraisal value of other units in the development.
If a condo complex or development has low owner occupancy rates, the VA may withhold their approval. The general rule is that 50% of the units must be owner-occupied, meaning they're not rentals or owned by investors. This rule is in place due to the high rental rate of condos.
In addition to the 50% owner occupancy rule, the VA also requires that at least 75% of the people who own the units remain current on their HOA fee payments. The VA may also have a cap on the amount of fees an HOA can charge.
If a development is new, the VA will simply wait to approve it until at least 75% of the units are sold. And, no more than 10% of a development's units may be owned by a single entity, whether that's an individual person, investor or company.
What If I Want A Non-VA Loan-Approved Condo?
You have a few options if you want to buy a condo that's not on the VA-approved condo list. The simplest is to work with your real estate agent to look at only approved properties!
But, if a nonapproved condo complex is your desired one, there are ways to petition for approval from the VA. They both involve working with other entities in the transaction: the HOA itself and the mortgage lender.
Borrowers can ask the HOA to apply for VA approval. This approval process is complicated with a lot of paperwork involved, and it can last for months, so it could extend your transaction time. You can decide if it's worth it. Note that HOAs have to pay for this, since it often involves an attorney. The VA will often expedite requests that are accompanied by an attorney opinion letter, which is a formal letter of judgement from a law professional, based on their expertise.
You can also check with your mortgage lender to see if they can get the condo project on the VA-approved list. They'll likely have experience doing so, and your real estate agent can be of help here, too.
The Bottom Line: VA Loans And Condos Can Be A Great Fit
A condo or townhouse might be the perfect choice for you if you're looking to live in a community with shared amenities like gyms and pools and spaces like playgrounds and community centers. Perhaps you don't want to deal with the maintenance that comes with owning a single-family home. Or, you might like the idea of having a community close by to keep an eye on things while you're deployed. Condo developments are often found in desirable living spots and tend to be more affordable than single family homes. Plus, the HOA often takes care of many things like maintenance and lawn care for you, freeing up your time and energy.

Whatever the reason, a condo might be the right fit for you, your family and your situation. The VA has your best interests in mind, so they vet out condo developments to make sure they're a good investment for you by keeping an eye on the HOA fees, who owns the other properties, and if the other units are occupied.
To prepare, make sure you have your Certificate of Eligibility (COE), which verifies your status as a qualifying service member or surviving spouse. Your mortgage lender can assist you in getting this. You'll also need to know your VA entitlement, which is the maximum amount of money the VA is willing to guarantee that they'll pay your lender if you end up defaulting on your loan.
If you decide that a condo is right for you, get preapproved so you can find your perfect community quickly and begin your life there!
Consolidate debt with a cash-out refinance.
Your home equity could help you save money.
Related Resources
Viewing 1 - 3 of 3