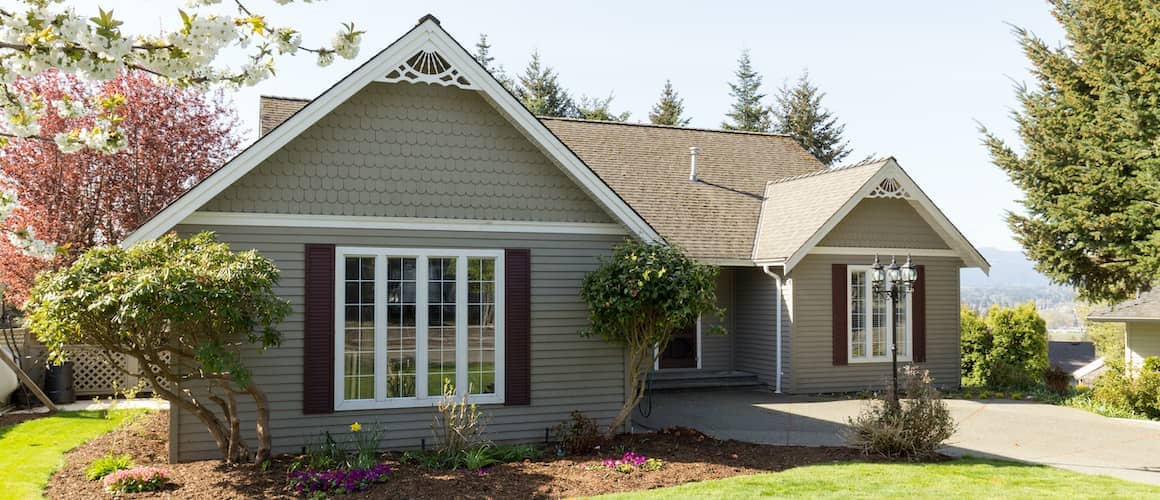 Buying A Second Home With A VA Loan
Kevin Graham9-minute read
September 27, 2021
Share:
VA loans, offered through the Department of Veterans Affairs, have several benefits for qualifying clients to purchase a home, including the ability to buy without a down payment and more flexible credit score and debt requirements.
Life in the military sometimes means a lot of moving around. For this reason, the ability to use your VA loan to purchase multiple homes over the course of a lifetime is ideal. However, what happens if you want to purchase a new residence with a VA loan while keeping your old one? Using a VA loan for a second home is possible, but there are some things you should know.
Can A VA Loan Be Used For A Second Home?
In lending and in life, the main definition of second home is a vacation home that serves as a getaway from the everyday hustle and bustle. Because VA loans are intended to help people purchase or refinance a primary residence, you cannot legally purchase a home with a VA loan that you don't intend to occupy for the majority of the year.
Purchasing a primary residence means you have to move in within 60 days, with a few possible exceptions that we'll touch on later.
The easiest scenario to discuss is what happens if you've already paid off your original VA loan and want to keep the property that was originally secured by the VA backing. If this fits you, you should know that you can get a one-time restoration of your full VA entitlement in order to get another VA loan.
If your home isn't paid off and you are intending to keep it permanently or even while you're looking to sell, your original property backed by a VA loan can be transitioned into a second home. However, you do have to qualify with both payments.
If you plan to keep the property permanently, you should know that your ability to get another VA loan may be impacted by whether you have any remaining entitlement dollars left. We'll get into how this works from a technical perspective later on.
If you sell the property, you should know that a VA loan is an assumable mortgage. This means that the person buying the house from you can assume the terms of your loan and pick up the payments without paying it off.
If you sell to someone who isn't VA eligible under an assumption, your VA entitlement is lost because it's still tied to the old house. On the other hand, if you sell to another person with a VA approval with an assumption, their entitlement is substituted for yours. You can then buy a new house with a full VA entitlement.
We've talked about entitlements a bit, so we'll get into this a bit more later on, but a VA entitlement is the amount that the VA will pay the lender in the event that you default on your loan and the mortgage lender has to make investors whole.
You'll also occasionally hear the concepts of basic and bonus entitlements talked about. Every veteran is entitled to a basic entitlement of $36,000. This shows on your Certificate of Eligibility as whole entitlement. However, that $36,000 figure is based on the average home price being $144,000, which is rarely the case anymore. That's where bonus entitlement comes in.
In addition to the basic entitlement, the VA will cover 25% of the purchase price above $144,000. This is your bonus entitlement. It's worth noting that things work a little differently if you only have partial entitlement left. This situation occurs when you get a new VA loan without paying off your old one. We'll have more on bonus entitlement below.
Investment Property
Because VA loans are intended for the purchase of primary residences, you cannot buy a property for the express purpose of having it be a rental property. However, you can convert that property into an investment property if you move at some point. If the property is being converted, it's a good idea to talk to your lender.
They may ask you for lease agreements and do an appraisal to make sure proposed rents are supported if you plan on making future payments with rental income. Once converted, you can use this income to help buy your new home, after 25% is subtracted as a vacancy factor in case you have to find new tenants.
The far more common way to generate rental income is not by having it be a rental property at all, but rather buying a multiunit primary property. You live in one unit and rent out the others. This is more of a standard VA transaction.
Lenders will have different policies, but at Rocket Mortgage®, in order to qualify with proposed rental income, you need to have 6 months' worth of reserves, meaning you could make the payment for 6 months if there was a loss of income. Lease agreements must also be in place.
Great news! Rates are still low in 2021.
Missed your chance for historically low mortgage rates in 2020? Act now!
Vacation Home
A VA loan can only be used to purchase a primary home. However, there are a couple of scenarios in which a vacation home can be purchased while still following the rules.
As noted before, you might move to a new service station with a new primary residence, but choose to keep your other home as a vacation destination. Similar to investment properties, you can convert a primary home and drew a second home as long as you can afford to make both mortgage payments.
Secondly, you might purchase a second home with the intention of moving there after you retire. Ordinarily, you have to occupy a primary residence within 60 days of purchasing a property. However, if you're an active duty and will retire within a year, you can give a date when you anticipate moving into the property. Your spouse is also able to stand in as an occupant if you're on active duty.
Understanding Bonus Entitlements
VA home loans are different in that in most cases, you're not going to be required to come up with a down payment. However, it's also a government loan program with its bill paid by the American taxpayer. If a client defaults, a minimum of 25% of the loan amount is guaranteed by the federal government, assuming that the client had full entitlement.
One of the cost mitigations is the funding fee required of most clients, which is either paid at closing or over the life of the loan. The other mechanism is the entitlement limit. The VA doesn't have traditional loan limits for people who are using their VA loan on one house, so with the first house, the guarantee is just 25% of the loan amount.
If a veteran wants to use a VA loan to purchase a second primary property with no down payment, you typically have to have enough entitlement left over to cover 25% of the overall loan amount because that's what the VA would guarantee on the first loan.
However, since the VA will only give whatever remaining entitlement you have left, the lender may require you to have a down payment that covers the difference between the amount of entitlement you have left and 25% of the loan amount.
Calculating the maximum amount guaranteed by the VA can be complicated because it's based not only on the amount that has been used previously, but also local conforming loan limits. However, it's also important because it affects any potential down payment you might have. When a client has partial entitlement left, the VA guarantees the lower of 25% of the loan amount or 25% of the county loan limits minus the client's used entitlement.
As an example, let's say Joan wants to buy a $300,000 house in an area with $548,250 conforming loan limits. She's used $80,000 worth of VA entitlement in the past that hasn't been restored. Here's what the math looks like.
For the first equation, let's take a look at 25% of the local loan limit minus the remaining entitlement:
548,250 × 0.25 - 80,000 = 57,062.50
Now let's take a look at the other option, which is strictly 25% of the loan amount.
300,000 × 0.25 = 75,000
The VA takes the lower number from these two equations, so they'll guarantee $57,062.50. Because most lenders including Rocket Mortgage require a down payment and guarantee combination that's at least 25% of the loan amount, Joan will have to bring at least $17,937.50 to the closing table of the down payment (75,000 - 57,062.50).
Because of this rule, it's extremely important that you make sure your entitlement is restored if you sell your previous property. However, you should know that the process isn't automatic. You have to apply for restoration after selling your property.
The easiest way to know for sure if you have full entitlement is if the basic entitlement on your certificate of eligibility says you have $36,000 available. If you have anything less than that, the above equations come into play and you might need to plan for a down payment.
Loan Limits
As mentioned above, loan limits don't come into play with VA loans unless you're trying to buy a second property on a VA loan. In the case of the highest-cost counties, loan limits are set at the county level. They can go as high as $822,375 for a 1-unit property.
Let's take a look at what something like that might look like for Joan if she wants to buy a $600,000 home in an area with $822,375 loan limits and $80,000 in previously used entitlement.
Remember, the first equation is 25% of the county loan limit minus any existing used entitlement:
822,375 × 0.25 - 80,000 = 125,593.75
The second equation is the loan amount times 25%:
600,000 × 0.25 = 150,000
Because the VA covers the lower amount of the two equations, she would have to come up with a $24,407.25 down payment under the policies of most lenders.
Loan limits don't have any impact on a VA loan for someone who's just trying to buy one house from meet VA policy standpoint. However, lenders can set their own policies and most have some special requirements if the loan amounts get high enough. Rocket Mortgage will do VA jumbo loans up to $1.5 million without a down payment if you have a median FICO® Score of at least 640. You can get a VA jumbo loan as high as $2 million with a 10% down payment or equity amount.
Restoring Your Entitlement
One of the really cool things about VA loans is that if you fully paid off your previous VA loan, you can get a one-time restoration of your VA entitlement in order to buy another primary residence with a VA home loan.
In order to do this, you just have to fill out a Form 26-1880 with the VA, which is a request for a VA Certificate of Eligibility. Your lender should also be able to help you with this.
The only real downside here is that you can only do it once, so you can't continually pay off VA loans and use that as a vehicle to convert them to investment properties when you want to move.
The Bottom Line: Yes, You Can Buy Two Homes With A VA Loan
VA loans are intended to help eligible clients get primary properties that serve as their principal residence. As such, buying a home with a VA loan for the purpose of making it a second home or investment property is allowed, but you can convert the property after you've lived there. You can also make rental income by living in one unit and renting out the others.
If you do plan to buy a second home with remaining VA entitlement. It's very important to make sure you understand how your remaining entitlement and local conforming loan limits interact. If you have any doubt, you can always speak to us.
If you're ready to get started, you can apply online or give us a call at (833) 326-6018. You can also check out more information on VA mortgage rates.
Get approved to refinance.
See expert-recommended refinance options and customize them to fit your budget.