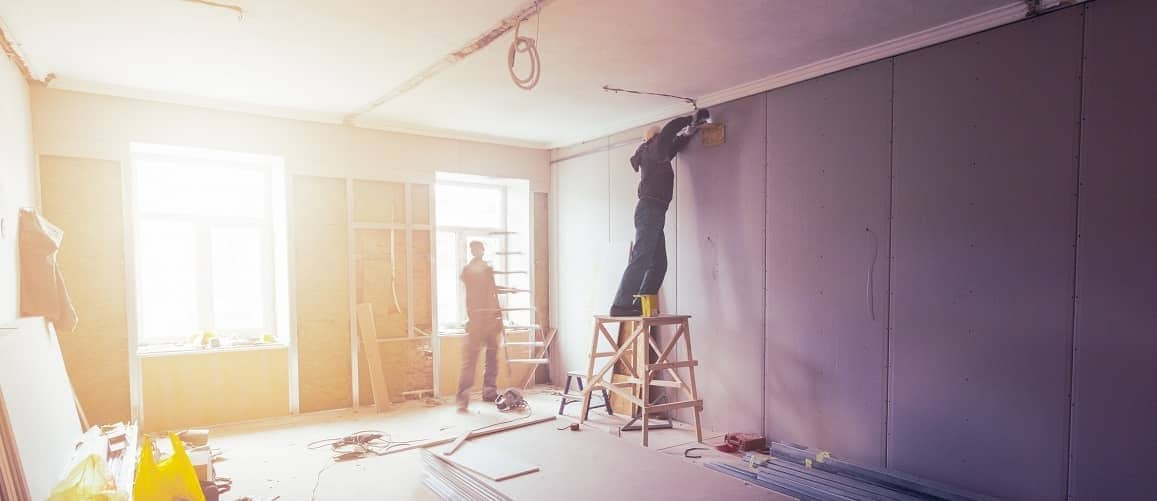 VA Renovation Loan: The Home Improvement Loan For Veterans
Molly Grace8-minute read
March 14, 2023
Share:
Rocket Mortgage® does not offer VA renovation loans or Home Equity Lines Of Credit (HELOCs) at this time.
If you've been trying to buy a home, and are having trouble getting your offers accepted, you might be looking for alternatives to buying a move-in ready, single-family home. One route you might be considering is buying a fixer-upper and renovating into a like-new home that meets your and your family's needs.
Home buyers who qualify for a Department of Veterans Affairs (VA) loan can also qualify for a VA renovation loan, which can be a useful option for those looking to purchase a property that isn't quite move-in ready. These loans allow those who are eligible for a VA loan to use their mortgage loan proceeds to pay for repairs or improvements to the home, rolling both the purchase price and renovation costs into a single, affordable loan.
Let's go over the basics of VA renovation loans, their pros and cons, and what other types of home improvement financing is available for those who aren't able to secure a VA renovation loan.
What Is A VA Renovation Loan?
A VA renovation loan, sometimes called a VA rehab or reno loan, is a home loan that allows borrowers to include the cost of certain repairs or improvements in their loan amount.
This makes it possible for VA loan borrowers to purchase a home in need of repairs or upgrades without having to get a separate loan; rather, the repair costs and purchase price are rolled into a single loan with one monthly payment. These loans can also be used to refinance your current home loan.
How Is A VA Renovation Loan Different From A VA Loan?
VA renovation loans are VA loans and come with all of the same benefits and requirements that a standard VA loan does.
As with a normal, purchase-only VA loan, VA renovation loans allow borrowers to purchase a home with 0% down. There is a one-time-only funding fee that can be rolled into the loan along with closing costs and relatively low interest rates compared to other mortgage types.
But, because you're also getting funds to pay for repairs, you'll have to jump through some additional hoops to get approval for your proposed improvements. This will include getting quotes from contractors registered or willing to register with the VA and having a VA appraiser determine what the value of the property will be once the work is completed.
See What You Qualify For
Congratulations! Based on the information you have provided, you are eligible to continue your home loan process online with Rocket Mortgage.
If a sign-in page does not automatically pop up in a new tab, click here
Who Qualifies For A VA Rehab Loan?
To get a VA renovation loan, you'll need to be eligible for a VA loan.
Minimum Service Requirements
First and foremost, this means that you'll need a certificate of eligibility (COE), which certifies that you meet the minimum service requirements for a VA loan.
Veterans or active duty servicemembers are generally eligible for a VA loan if they've served 90 consecutive days of active service during wartime or 181 days during peacetime. The minimum service requirement for National Guard or Reserve members is 6 years.
Qualifying surviving spouses are also eligible for a VA loan.
Lender Credit Standards
In addition to meeting basic service requirements, you'll also need to meet your lender's credit standards.
The VA doesn't set a minimum credit score for the loans it guarantees. However, lenders can and usually do have their own requirements. You'll likely need a credit score of at least 620 to get a VA renovation loan – though some lenders might ask for higher scores than that.
You'll also need to be able to show a reliable source of income and meet the lender's debt-to-income ratio standards.
Eligible Property
VA loans are designed to be used to purchase a primary residence. However, there are strategies that can help eligible service members use these loans to purchase a second home.
You can also use your VA loan to purchase a multiunit property with up to four units. You'd be required to make the home your primary residence for a year. After that, you'd be free to purchase another multiunit home and repeat the process again.
Allowed Improvements
VA renovation loans can only be used for repairs or upgrades that improve the safety or livability of the property. Luxury upgrades aren't allowed, so you can't use the funds to install a pool, for example.
Improvements that are typically allowed include things like repairing or replacing heating and cooling systems, fixing walkways, making the home more accessible for those with disabilities, replacing old appliances, or any other changes that make the property safer, healthier or more habitable.
Additionally, VA renovation loans can't be used for major structural changes to the home. If parts of the home need to be torn down and rebuilt or major work needs to be done on, say, the foundation, you won't be able to use this type of loan to do that.
Your lender will be able to give you more information on what they consider to be a qualifying improvement or repair.
All work needs to be completed within 120 days of closing. Renovations must be completed by a VA-approved contractor.
Maximum Renovation Cost
VA renovation loan lenders typically have a limit on how much they'll lend for repairs and improvements. This maximum renovation amount is often capped at $50,000, but it depends on the lender.
So, if you wanted to buy a house for $150,000 and your lender has a limit of $50,000 for repairs, the most you'd be able to borrow is $200,000.
The exact total amount you'll be able to borrow will depend on the home's sale price plus the cost of your proposed renovations, or the estimated value of the home once those renovations have been completed – you'll be able to borrow the lesser of these two amounts.
Consolidate debt with a cash-out refinance.
Your home equity could help you save money.
What Are The Pros Of The VA Renovation Loan?
On top of the great benefits that come with a standard VA loan, there are some additional potential benefits that come with a VA renovation loan.
Borrow 100% Of The As-Completed Value
Most mortgage loan amounts are based on the current value of the property in question. With VA renovation loans, loan amounts are based on what the value of the property will be after improvements have been completed.
A VA appraiser will determine the property's as-completed value.
More Home Options
If you're struggling to find a move-in ready home that fits your budget, a VA renovation loan might be a helpful option, since it allows you to purchase a home in need of a little TLC and gives you the funds to make necessary renovations.
Potentially A Better Option Than Other Home Improvement Loans
VA renovation loans can prove to be a relatively affordable way to increase the value of your current or future home.
Because they're VA loans, VA renovation loans come with more benefits than what you might get with other loan options, including low rates, 0% down and no mortgage insurance.
You'll also have the benefit of only having one monthly mortgage payment and won't have to worry about dealing with a second loan.
What Are The Cons Of The VA Renovation Loan?
On the other hand, these loan types aren't for everyone. Here are some reasons you might not want – or might not be able to get – a VA renovation loan.
Difficult To Secure
As we've already mentioned, it can be hard to find a lender that offers these types of loans.
Maximum Repair Limits
If you're looking at buying a house in need of expensive repairs, you might not be able to find a lender who will lend you enough to cover the cost of those repairs.
Limited Allowable Improvements
VA renovation loans can only be used for repairs and upgrades that improve the safety and livability of the home. They can't be used for luxury improvements.
Additionally, these loans can't be used for major structural changes.
Repairs Can't Exceed As-Completed Value
Any repairs or improvements you make aren't necessarily going to give you a dollar-for-dollar return on investment.
If the total cost to purchase and repair the home exceeds the property's as-completed value, you would need to bring cash to closing to cover the difference.
How To Get A VA Renovation Loan
Let's go over the process of getting a VA renovation loan, step by step.
1. Get A Certificate of Eligibility (COE)
You'll first need to ensure that you're eligible for a VA loan. To get your COE, can apply online using the VA's eBenefits portal or work with your lender to obtain one.
2. Find A Lender And Get Preapproved
Once you've found a lender that offers VA renovation loans, you'll work with them to get preapproved for a loan.
3. Get Quotes From A VA-Registered Contractor
The VA doesn't approve contractors, but it does require your contractor to register with their nearest VA Regional Center to obtain a VA builder ID number. You can get information on VA registered contractors in your area. To get that number, your contractor will have to submit:
Builder information and certification on builder's letterhead
VA Form 26-421 (Equal Employment Opportunity Certification)
VA Form 8791 (VA Affirmative Marketing Certification)
A copy of the builder's license, if required by a state or local authority
The contractor will determine how much your proposed repairs and improvements will cost.
The VA doesn't permit home buyers to complete the renovations themselves.
4. Have A VA Appraisal Completed
Your lender will work with you to schedule a VA home appraisal, which will be completed by a VA-certified appraiser. This appraiser will determine the as-completed value, or what the value of the property will be after all repairs and improvements are completed.
This number is important. You can only borrow the lesser of the as-completed value and the acquisition cost (the sale price plus the total cost of repairs).
5. Close The VA Rehab Loan
Once everything has been approved, from the repairs to your loan details, you'll close on the loan. After closing, the renovations will begin.
6. Repairs And Alterations Are Completed
You'll ensure that the renovations are being completed by the contractor. Your lender will be responsible for managing and disbursing the repair funds.
7. Final Inspection
A VA appraiser will inspect the home to confirm that the project has been completed and that the home conforms to all of the VA's minimum property requirements.
Are There Other Home Improvement Loans For Veterans?
Because they can be difficult to find and aren't always the best fit for home buyers and owners – especially those looking to make significant repairs – it might make sense to consider some of these alternatives to a VA renovation loan.
VA Cash-Out Refinance Loan
If you're in need of cash to fund an improvement project on your current home, you might consider a VA cash-out refinance, which allows you to tap into the equity you have in your home.
VA Energy Efficient Mortgage
If you want a mortgage that specifically enables you to make energy efficient updates to your current or future home, a VA energy efficient mortgage might be a good fit for you.
FHA 203(k) Loan
FHA 203(k) loans are a lot like VA renovation loans, but they're backed by the Federal Housing Administration instead of the VA.
The offerings with this loan type are similar to its VA counterpart. It may be slightly easier to find a lender that offers these compared to VA renovation loans, though not all FHA lenders offer 203(k) loans.
FHA 203(k) loans require a minimum down payment of 3.5% and come with mortgage insurance.
Fannie Mae HomeStyle® Renovation Mortgage
The HomeStyle® Renovation Mortgage is the conventional loan version of the VA renovation loan or the FHA 203(k) loan. Borrowers can put down as little as 3% on these types of loans.
Home Equity Loan Or Home Equity Line Of Credit
These loans, sometimes referred to as second mortgages, allow you to borrow against the equity you have in your home.
Home equity loans are installment loans, meaning you'll receive your funds in one lump sum and pay it back over time. Home equity lines of credit (HELOCs) are lines of credit, meaning you'll borrow what you need as you go, much like you'd do with a credit card.
Personal Loan
If none of these other options work for you, you might find a personal loan useful in helping to pay for any repair projects you want to complete on your home.
The Bottom Line: VA Renovation Loans Can Be A Useful Option, But Are Often Difficult To Obtain
VA loans come with many great benefits, and a VA renovation loan can be extremely useful to veterans or current service members looking to make repairs on their current or future home. However, it can be tricky to find a lender that offers them.
Ready to proceed with a home equity loan? Apply online now and see what you can borrow to transform your future home.
Get approved to refinance.
See expert-recommended refinance options and customize them to fit your budget.
Related Resources
Viewing 1 - 3 of 3