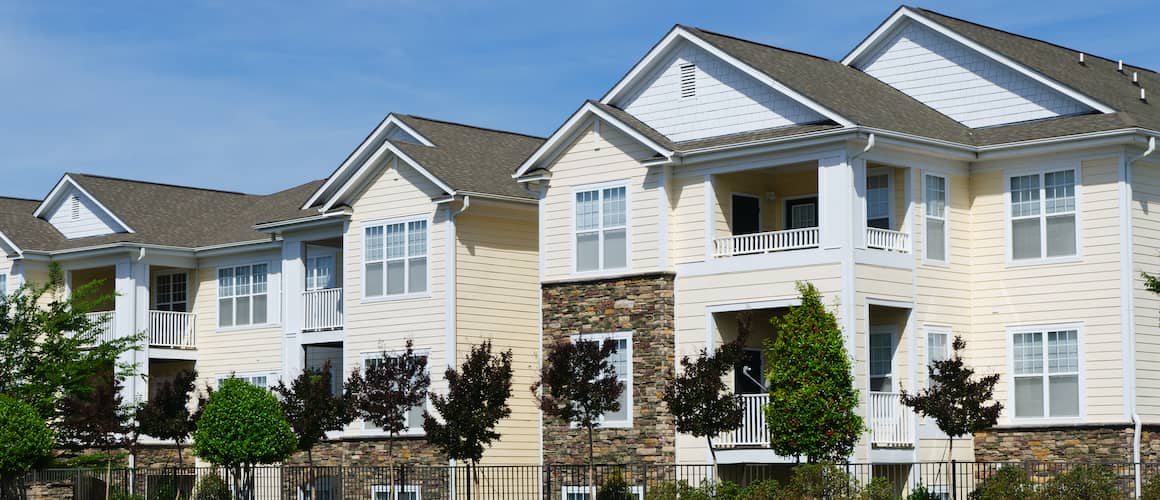 Condo Loans: Defined And Explained
Scott Steinberg6-minute read
August 29, 2021
Share:
A condominium, or condo, is one of the most popular forms of residence, especially among working professionals located in urban areas and young couples embracing the joy of first-time homeownership. But while they are a frequent choice for new and veteran homeowners and appear to function similarly to apartments at a glance, it also bears reminding that there are many key differences for prospective condo loan applicants to be aware of.
What Is A Condo?
Condos are buildings that are divided into and made up of individually owned units. Although similar in nature to apartment buildings, each residence inside them is the property of a specific owner as opposed to a landlord or property management firm. In effect, condo owners own only the portion of the structure in which they reside – specifically, the interior of their residence, as external and shared areas of the building are typically owned and managed by a condo or homeowners association (HOA).
For clarity's sake, note that a condo association or HOA is effectively a group of owners who collectively work together to set and enforce building rules and guidelines … and shoulder the burden for any shared expenses. Put simply: A condo owner is responsible for everything that goes on inside their unit, including maintenance and repairs, and will pay regular fees to the condo association for upkeep of shared areas, which are instead the HOA's responsibility to maintain.
Condos are often confused with co-ops, but they are not one and the same. Case in point: Although co-ops are also comprised of multi-unit buildings, these structures differ from condos in that co-op owners instead possess an interest or share in the entire building. (To go alongside a contract that allows them to inhabit any given unit.) In other words, condo owners own the individual unit that they occupy. Co-op owners do not.
Condos are a popular choice for first-time home buyers as they're often smaller, more affordable, and less demanding or time-consuming to maintain than single-family residences. Note that (as above) purchasing a condo means buying into the building's homeowners association and agreeing to abide by its guidelines.
Take the first step toward the right mortgage.
Apply online for expert recommendations with real interest rates and payments.
How Do Condo Loans Work?
In general, condo owners are responsible for abiding by the HOA's rules, being respectful to their neighbors, and maintaining their own individual residence. By way of contrast, homeowners associations are responsible for maintaining common areas such as hallways, yards, recreational facilities, and courtyards, and providing upkeep of grounds (shoveling snow or trimming trees as needed).
Condo loans are designed to help home buyers finance the purchase of condominiums, which can be used as primary residences, vacation homes, or investment properties. How you intend to use the real estate in question can also influence how much you can expect to make in a down payment to procure a condo loan – and what kind of financing that you may be able to obtain. As a general rule of thumb, those seeking to purchase a condo as an investment property or vacation/second home should expect to put a larger initial payment down on the acquisition.
Lenders will consider a variety of factors as they evaluate whether or not to extend condo loan financing, ranging from any given building's occupancy to its financial health. These factors can include, but are not limited to, the property's age, structural integrity, amenities, grounds, and even the current finances of the building, as homeowners associations are tasked with maintaining annual budgets and reserves. (Funds set aside for ongoing maintenance or any one-time and recurring expenses that may arise.)
For example, a bank determining whether or not to extend a condo loan to an applicant may wish to see the building's proof of insurance, HOA meeting notes and budgets, and information regarding any current or future proposed special assessments (aka pending bills that will be levied against owners). That said, borrowers can apply for condo loans through the same programs as any other type of home.
Warrantable Vs. Nonwarrantable Condos
A warrantable condo is one that potential home buyers can finance and underwrite using a conventional mortgage. In order to do so, the condo must first meet certain minimum guidelines laid out by government entities Freddie Mac and Fannie Mae. For example, to meet these requirements, sample guidelines include stipulations such as:
No single entity can own more than two units in projects consisting of five to 20 units, or 20% of units in projects consisting of 21 or more units
The unit is a detached condo (in other words, shares no walls with other units)
At least 50% of the units are owner-occupied or second homes for investment properties
Less than 15% of total units are 60 days or more in arrears on association dues
The homeowners association (HOA) is not named in any lawsuits
Commercial space accounts for 35% or less of the total building square footage
Nonwarrantable condos are more difficult to buy and sell, as Freddie Mac and Fannie Mae have (for whatever reason) determined them to be too risky an acquisition, making them more difficult to acquire financing for. To obtain a nonwarrantable condo, you may have to seek outside financial assistance beyond that which could typically be obtained through a conventional mortgage or traditional lender.
What Types Of Condo Loans Are Available?
The type of condo that you wish to obtain and the intended uses that you have for the property will help you determine the type of residential financing that you need. Once you've narrowed the choice down, there are several different types of loans that can help you with your purchase.
Conventional loan: A traditional fixed-rate or adjustable-rate mortgage (ARM) with assigned monthly payments and term periods. To qualify, you'll need to establish a certain minimum credit score and debt-to-income ratio, and provide a down payment and select personal details.
FHA loan: Short for Federal Housing Authority (FHA) loans, refers to a type of federally backed loan product with less stringent credit requirements and lower down payments attached. Be advised, though: FHA condo rules are stricter than the rules that this government agency applies to single-family homes.
VA loan: Veterans Administration (VA) loans are reserved for members of the military, veterans, and eligible surviving spouses. Individuals who qualify for these financial products will find their applications backed by the federal government, allowing them to obtain more favorable terms from lenders.
USDA loan: A U.S. Department of Agriculture (USDA) loan is offered to property owners in select rural areas. These loans are typically designed for low-income Americans with poor credit and may come with low-interest mortgages and zero down payments attached. Rocket Mortgage® does not offer USDA loans at this time.
The Pros And Cons Of Buying A Condo
Purchasing a condominium using a condo loan is often a good bet for families just starting out or individuals who wish to put minimum maintenance and upkeep into their residence.
Pros
No exterior property maintenance or need to upkeep grounds
Access to building amenities
Shared cost of select building expenses
Less stressful to leave unoccupied for frequent travelers
Cons
Higher monthly fees and HOA dues, plus occasional special assessments
Close proximity to neighbors
More rules and restrictions on occupants and guests
More difficult to resell than a single-family home
Typically smaller in size than standalone residence
Things To Consider About Condo Loans
While often generally comparable to loans extended on single or multifamily houses, it's not uncommon for condo loans to be more expensive. That's because these loans may be considered riskier to lenders, as condominiums introduce more quirks and restrictions as related to shared and/or jointly owned building spaces. Other home buying costs may also prove higher for condo loan applicants, including private mortgage insurance and home appraisals, given larger down payment costs and more potential hidden hazards.
Prospective condo owners should ask homeowners associations and seller's agents to provide a full overview of building rules (and finances) before applying for a condo loan. That may mean asking to see important clauses and covenants, pet regulations, information on annual dues and planned expenses, and more. Note that some condo associations may also wish to conduct an introductory interview with you as well.
The Bottom Line
Condo loans are specifically designed to help potential home buyers facilitate the purchase of condominium units. While they may come at higher interest rates (given added risk factors), they're also available in many familiar forms from the same lenders who may extend mortgage loans on single- or multifamily residences. Potential buyers on the market for a new condominium may wish to consider other similar home options such as apartments as well. In any event, first-time home buyers are encouraged to review our guide to the many types of mortgages available as they go about picking the perfect residence.