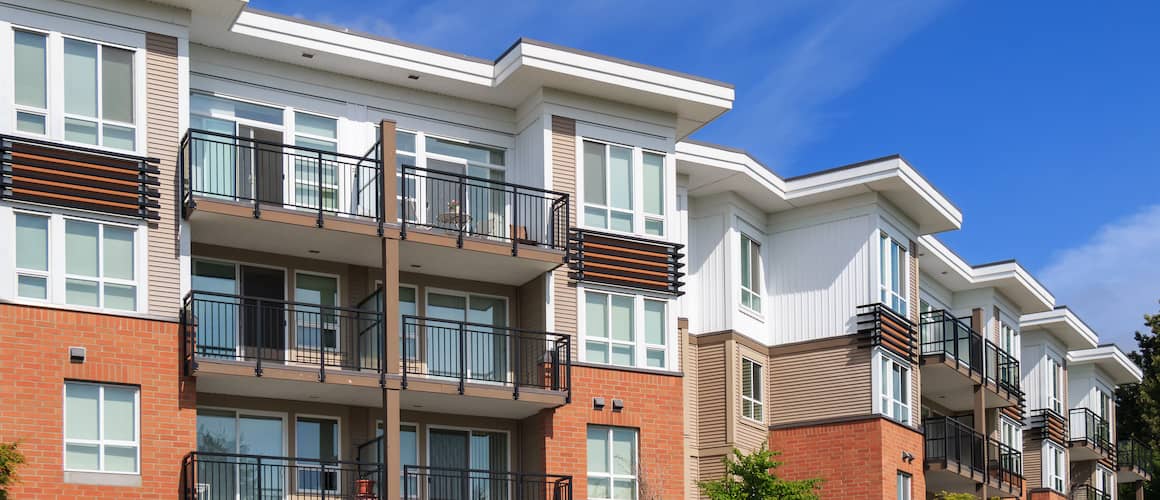 Condo Vs. Apartment: Which Is Right For You?
Kara Porter 7-minute read
September 19, 2023
Share:
While a condo and an apartment may share some similarities they are different structures in terms of ownership, responsibilities and property features. A condo is a residential complex comprised of separate units, with each of these units being individually owned. On the other hand, an apartment refers to a set of rooms that are typically equipped with housekeeping facilities and are leased out as a dwelling. When considering the right property for you, it's important to understand these differences and how each one can meet your needs.
The Differences Between Condos And Apartments
As stated above, the main difference between condos and apartments is that condos are owned by individual owners who are usually the occupants of the unit while apartments are owned by a property management company or landlord and rented out to tenants.
See What You Qualify For
Congratulations! Based on the information you have provided, you are eligible to continue your home loan process online with Rocket Mortgage.
If a sign-in page does not automatically pop up in a new tab, click here
Who Owns The Units
While apartment tenants rent the property from a landlord and pay a monthly rent to that person or business, a condo owner purchases the property directly from a developer or a previous owner. They may even use a mortgage to purchase the property.
It's important to note that these varying ownership structures can significantly impact your experience as a resident. This is because apartments are subject to specific rules and regulations that are set by the landlord or property management company. At the same time, condos may have different rules and regulations set by the individual owners and the homeowners' association. Therefore, it's crucial to carefully consider these ownership differences when deciding which type of residence is right for you.
Who Lives In The Units
Landlords or property management companies typically lease out apartments and don't typically live in the complex, though sometimes landlords will. The management company may have an office on site. On the other hand, condos are commonly owned and occupied by their owners. However, it's worth mentioning that condo owners may be able to rent out their units, depending on cooperative or homeowners association (HOA) guidelines. This means that if you're in the market for a rental property, you may have more options available to you if you focus your search on condos rather than apartments. That said, it's always important to carefully review any lease agreements or rental contracts before signing on the dotted line, regardless of whether you're renting an apartment or buying a condo.
Who Is Responsible For Maintenance
When it comes to maintenance, specifically for apartments and condos, certain parties are responsible for ensuring that the necessary repairs and upkeep are carried out. Since landlords own the property and it's systems and appliances, it's their duty to shoulder the costs associated with repairing and maintaining their rental properties. This includes everything from heating and plumbing systems to electrical systems, appliances and roofing. These systems are integral to the property's functionality and also to the safety and comfort of the tenants. As such, landlords must ensure that they are always in good working condition.
A condo owner's association is the governing board composed of all residents who own units within the building, complex, neighborhood or other planned development. The condo association is responsible for overseeing the maintenance of the property and ensuring that all necessary repairs are carried out promptly and efficiently. By doing so, they are able to maintain the value of the property and provide a safe and comfortable living environment for the residents. There are several types of maintenance, including:
Interior maintenance

Exterior maintenance

Common areas

Landscaping
Depending on how your condo association is structured, you may be responsible for some home maintenance and repair if rthey are needed for just your single unit and not the complex as a whole.
The Types Of Fees Owed
Living in an apartment or owning a condo comes with a set of financial responsibilities that must be taken into account. Among these obligations are various fees that need to be paid regularly, depending on the property. Condos may require such fees as HOA fees and condo association fees. HOA fees, specifically, pertain to a specific amount of money that residential property owners are required to pay every month to their association. The purpose of these fees is to ensure that the building and its common areas, like gyms and pools, are well-maintained and in good condition. Usually, these fees are divided among the tenants or owners of the property. Being aware of the different fees and their respective amounts is crucial since they can accumulate and affect one's overall budget and financial planning. So, it is important to consider these fees carefully when deciding to live in an apartment or own a condo.
The Similarities Between Condos And Apartments
While condos and apartments are different types of properties, they are numerous similarities that these two types of residences share.
The Amenities Offered
Condos and apartments offer a variety of amenities to enhance the living experience. Among the most popular amenities are fitness centers, which offer exercise equipment and fitness classes to help you stay fit and healthy. With a fitness center right in your building, you won't have to worry about going to a gym and paying membership fees.
Another common amenity is a swimming pool, providing you with a refreshing spot to cool off during hot summer days. Additionally, many condos and apartments offer on-site laundry facilities, making it convenient for you to do your laundry without the hassle of going to a laundromat.
Another sought-after amenity is a community room or clubhouse, where you can socialize with your neighbors and host gatherings. These spaces often have comfortable seating, pool tables, and other games, making them great for casual get-togethers or larger events.
Lastly, some condos and apartments provide secure parking options, ensuring the safety of your vehicle. Whether you have a car, truck or motorcycle, you can rest assured that your vehicle will be better protected from theft, vandalism and environmental threats. This is especially important if you live in a busy metro area or a location that gets severe weather or have a vehicle that is valuable to you.
The Multi-Unit Living Style
Both apartments and condo buildings are popular housing options that offer multiple units, making their living styles quite similar. In both cases, you may have several units housed within a single building, which means you'll be sharing space with other residents. Whether you choose an apartment or a condo, you'll likely have neighbors living nearby, which can lead to a sense of community or the occasional noise concern. Another similarity is the presence of shared amenities. For instance, both apartments and condo buildings often offer communal areas such as gyms, swimming pools, or parking lots, providing residents with convenient access to these facilities. Additionally, both apartments and condos typically require you to pay monthly fees or rent, which covers maintenance costs and shared services. Overall, the multiple units in apartments and condo buildings create a similar living style, where residents coexist and enjoy shared amenities while maintaining their personal space and privacy.
Get approved to buy a home.
Rocket Mortgage® lets you get to house hunting sooner.
How To Decide Which Is Right For You
With a comprehensive understanding of the distinct features of a condo and an apartment, you can better evaluate which living space aligns with your preferences and priorities. This will enable you to make an informed decision and select the ideal home that caters to your needs.
Consider Your Long-Term Plans
Owning a condo typically requires a long-term commitment, both financially and in terms of location. If you plan to move often or aren't sure about settling down in one area, buying a condo may not be an ideal option for you. When you buy a condo, you become tied to that specific property, making it challenging to move frequently without the hassle of selling or renting it out. On the other hand, renting offers more flexibility regarding moving. With a rental, you have more freedom to relocate, without the burden of having to find a buyer or deal with the responsibilities of being a landlord. Leases are typically only a year, whereas a mortgage can be up to 30 years. However, renting does come with its own limitations. While you have the freedom to move, you may have to pay a fee to break your lease or pay through your lease term.
In most cases, landlords have restrictions on modifications or enhancements to the rented space. This means you may not be able to paint the walls, install permanent fixtures or make other significant alterations to make the place feel like your own. Ultimately, the decision between buying a condo and renting depends on your individual circumstances and preferences. If you value flexibility and the ability to move frequently, renting may be your better choice. However, buying a condo might be worth considering if you're looking for a long-term investment and the opportunity to customize your living space.
Look At Your Finances
Before deciding between renting an apartment or buying a condo, you should assess your finances. Keep in mind that purchasing a condo typically requires a down payment, unlike apartment rentals. However, as a condo owner, you have the opportunity to build valuable home equity over time. Consider your long-term financial goals and whether you're comfortable with the financial responsibilities that come with owning a property. Evaluate your budget, including mortgage payments, property taxes and home maintenance costs. Also, consider the potential for property appreciation and the flexibility of renting versus the stability of homeownership. Understanding your financial situation will help you make an informed choice that aligns with your goals and lifestyle.
Think About Maintenance Costs
When owning a condominium, you'll likely carry the responsibility of maintaining the interior of your unit. Nonetheless, this also gives you more control over its upkeep. It's necessary to consider the amount of money you're willing to invest in ongoing maintenance, as well as what you can realistically afford based on your budget.
The Bottom Line
Condominiums and apartments share some similarities but also possess unique differences. The most notable difference is the ownership of the living space. This factor can significantly impact your decision-making process when considering whether to purchase a unit and maintain it yourself or rent and have the upkeep costs covered. While renting may suit some individuals, buying a condo offers several distinct advantages that renting cannot match. If you are interested in purchasing a condo, you can apply for a mortgage with Rocket Mortgage® today.
Get approved to buy a home.
Rocket Mortgage® lets you get to house hunting sooner.
Related Resources
Viewing 1 - 3 of 3