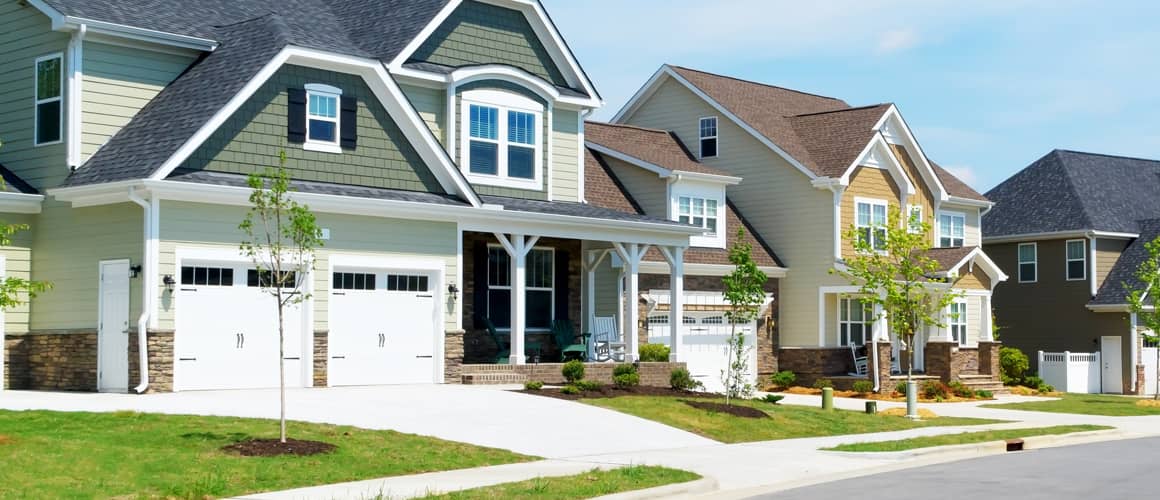 Homeowners Insurance: Cost and Coverage
Victoria Araj10-minute read
March 05, 2021
Share:
When disaster strikes, it's crucial that you're protected, especially when it comes to your largest investment. Before you close on a new home, you'll likely have to buy homeowners insurance to cover your property in the event of potential damages. Homeowners insurance doesn't protect only you – it also protects your mortgage lender. That's why, if you want to get a mortgage, your lender will typically require proof that you've purchased the insurance before they agree to release your funds.
Even if you instinctively understand that homeowners insurance is important, you may still have a lot of questions about what it is and how to get it. This article takes a deeper look at what homeowners insurance covers and how much it costs, so you can gain a better understanding of the kind of protection that's at your disposal.
What Is Homeowners Insurance?
Homeowners insurance covers loss and damage to your house, as well as the assets inside your home. The insurance typically covers the costs that would be needed to restore your home to its original value in the event of damage.
Mortgage lenders require you to get homeowners insurance when you get a loan to ensure that you'll be able to cover any repair bills after a potential incident. Lenders typically have home buyers pay for the insurance through an escrow account. In this way, your insurance premium is added to your monthly mortgage payment, allowing you to pay it monthly instead of in a lump sum every year.
Types Of Damage Covered
Homeowners insurance covers two main types of damages: dwelling and liability.
Dwelling coverage protects you against damage to your home. For example, if your roof is destroyed in a fire, dwelling coverage foots the bill.
Liability coverage protects you against lawsuits brought against you. For example, if someone is injured on your property and sues you, liability insurance would pay for your lawyer and any court-ordered fees.
Policy Types
Homeowners insurance policies are typically either replacement cost policies or actual cash value policies.
Replacement cost policies provide funds to replace what was lost, once you pay the deductible. They don't take depreciation into account.
Actual cost policies take the depreciation of the items you've claimed into account before funding their replacement. This may mean you'll get less money to help you replace items lost or damaged in an event.
Get approved to buy a home.
Rocket Mortgage® lets you get to house hunting sooner.
What Are The Benefits Of Homeowners Insurance?
Even though it may be required, homeowners insurance comes with a number of benefits.
Personal Belonging And Liability Coverage
Not only does homeowners insurance protect your physical home, but also your personal belongings and your liabilities.
Temporary Housing Assistance
If your home becomes uninhabitable due to a covered event, insurance may cover temporary housing expenses, like hotel rooms, rent and storage fees.
A Financial Safety Net
Homeowners insurance can help prevent financial destruction. One incident that causes damage destruction or loss could force you into debt, wipe out your savings and hurt your credit. With homeowners insurance, you only have to pay your deductible and your insurance takes care of the rest – up to the max.
Peace Of Mind
Just knowing that you're covered can offer peace of mind. If something does happen, you can feel better knowing that you'll be able to replace items and find temporary housing solutions without cutting deep into your finances. This can be especially comforting if you also have an emergency fund with at least enough money to cover your deductible.
How Much Does Homeowners Insurance Cost?
It's impossible to say exactly how much you'll pay because every insurance company uses a different formula to calculate premiums. According to data from the Insurance Information Institute, we pay about $1,200 every year for homeowners insurance.
When you close on a house, you'll be able to check the cost of your homeowners insurance premium on your Closing Disclosure. This document lists your mortgage terms and costs in detail, so you know what you're responsible for paying. You'll receive your Closing Disclosure 3 business days before you close on your loan.
How much you pay for insurance depends on a few different factors. Here are just a few of the most common factors that insurance providers use when they calculate your rate.
Condition of your home: Insurance companies may charge higher premiums for older homes or "fixer-upper" homes that haven't been well-maintained.
Location: Insurance premiums vary widely by state. Expect to pay more for homeowners insurance if you live in an area that's prone to wildfires, flooding or other natural disasters. On the other hand, you can expect to pay less if you live close to a police station or fire department.
Credit score: Just like with a loan or credit card, insurance companies offer lower rates to people with high credit scores. By taking some time to raise your credit score, you can actually lower your premium.
Deductible: Your deductible is the amount that you pay when you make a claim before your insurance "kicks in" and covers the rest of the bill. You'll pay more in premiums if you choose a lower deductible.
Extra structures on your property: The more structures you have on your property, the more of a risk you pose to insurance companies. You may pay more for your insurance if you have a fence, tool shed or pool.
Dog breed: Even if your insurance company doesn't ban certain breeds, they may still charge you more if you own an aggressive breed of dog.
Claims history: Your claims history follows you from home to home. If you've made a homeowners insurance claim before, your insurance company may charge you more. This is because homeowners who have made claims in the past are more likely to have more claims in the future.
Ways To Lower Your Home Insurance Cost
Two of the basic ways to lower your home insurance cost include lowering the amount of coverage you have or raising your deductible. Other steps to take to lower your homeowners insurance cost may include:
Taking preventative measures: Mitigate your risk of theft or injury by installing a security system and implementing new safety measures that can help prevent injury. This may include fixing walkways, installing handrails or putting a fence around your pool.
Bundling your insurance: If you own a car or motorcycle (or both), you may be able to save money by bundling your home, auto or motorcycle insurance with one provider. Insurance companies typically offer a discount when you do this. If you have separate providers, call both and see what kind of deals they offer for bundling your insurance.
Removing land coverage: Since your land will always be there, no matter what happens to the home, you typically won't need land coverage included in your insurance policy. Removing land coverage may help you save money.
Get approved to refinance.
See expert-recommended refinance options and customize them to fit your budget.
What Does Homeowners Insurance Cover?
When you sign up for insurance, your provider will give you a list of situations you're covered under, known as perils. Although standard policies cover the same basic perils, some companies offer more supplemental coverage than others. There can also be variation in coverage from one policy to another. While named peril policies only include coverage for the types of damages explicitly mentioned, open peril policies include all types of damages, unless stated otherwise.
Here are four different types of coverage and the perils commonly included within them.
Dwelling Coverage
Remember, dwelling coverage is a portion of homeowners insurance that protects you against physical harm to your home. Since dwelling coverage provides you with the funds to repair or rebuild your property in the event that it's damaged or destroyed, you should buy enough to cover the cost of building your home from the ground up. This portion of your homeowners insurance will usually include the following:
Natural disasters: Your homeowners insurance policy protects you against damage from most types of natural disasters, like wind, hail, sleet and electrical storms. However, there are a few types of natural acts that aren't covered, like floods and earthquakes.
Fires: House fires are common, which is why standard policies cover any damage caused by them. If a fire renders your home uninhabitable, your homeowners insurance will usually cover the cost to rebuild your home as well as the cost of your living expenses – e.g., hotel bills.
Theft and vandalism: If someone breaks into your home, your insurance may pay to repair enough of the damage to the windows and doors to make your home secure again. Additional damage to other elements of your home may also be covered, depending on the circumstances.
Other Structures Coverage
Although your garage, pool, shed, gazebo and fence may not be physically attached to your house, that doesn't mean you don't want to protect them against damage or theft. Other structures coverage allows you to protect those unattached features of your home from the same perils for a percentage of your dwelling coverage.
Personal Property Coverage
Homeowners insurance covers your clothing, furniture, appliances, electronics and other personal property. Your insurance will offer you a payout if any of these items are stolen or destroyed during a natural disaster.
Homeowners insurance policies often limit personal property protections on high-value items. For example, you might have a policy that has $100,000 worth of personal property coverage, but it may also include a caveat that says you can only get up to $1,000 for broken or stolen jewelry. If you have something valuable you want to protect, you can add a rider to your policy. A rider is a policy extension that gives you more coverage for high-value items.
Your personal property protection also extends outside of your home. For example, your homeowners insurance will still cover you if someone steals your laptop at work. If you have any children under the age of 26 who live away from home, they are covered under your policy as well. However, you should keep in mind that insurance companies may put limits on personal property protection for individuals who don't live in your home.
Liability Coverage
Homeowners insurance also comes with liability coverage, which protects you in the case that someone is injured while on your property. Most policies will require that you have at least $100,000 in liability coverage. However, medical bills and legal fees can be very pricey, which is why it's often recommended that you buy somewhere between $300,000 – $500,000 worth of coverage.
Lawsuits and claims against your property: Liability insurance protects you from financial loss after a lawsuit. Your homeowners insurance will cover you if someone injures themselves and sues you for the cost of their medical bills. If your lawsuit goes in front of a judge, homeowners insurance will also cover the cost of your lawyer or other legal representation.
Your homeowners liability insurance also protects you against damage to your neighbor's property. For example, if a tree in your yard falls and damages your neighbor's roof, your homeowners insurance will cover their repair bills.
Losses due to pet bites: Liability insurance doesn't only protect against accidental trips and falls. Dog bites are some of the most common insurance claims. Most homeowners insurance policies classify pets as your property. This means that dog bite protection is free with most policies. This caveat can save you thousands of dollars if a guest or contractor is bitten by your dog. Dog bite claims average around $37,000, according to the Insurance Information Institute.
Keep in mind that homeowners insurance policies can limit dog bite protections. Breed restrictions are the most common limitation. Your homeowners insurance may not insure certain dog breeds or may restrict your coverage if you have a breed that's deemed more aggressive. Some of the most restricted breeds include Rottweilers, pit bulls and German Shepherds. Other insurance companies go on a case-by-case basis. If your dog bites someone, you can probably expect to see your premium increase.
You may be able to lower your premium by taking steps to show that your dog isn't a danger to the insurer. Some insurance companies will loosen their breed restrictions if your dog completes obedience school. You can also get a certificate from your dog's veterinarian confirming your dog's unlikeliness to bite.
What Isn't Covered By Homeowners Insurance?
Not every item, nor every event, will be covered by homeowners insurance. There are typically a few common types of damage not covered by standard policies.
Earth Movements
Natural movements, like sinkholes, landslides and earthquakes, are not usually covered by standard homeowners insurance. Instead, they may require their own insurance, like earthquake insurance.
Water Damage
Sump pump or sewer backups are not covered – but could be with additional coverage, or add-ons. Flood damage is also not covered, so if you live in a flood zone, you may want to get separate flood insurance.
Neglect
If your home or personal property is damaged due to your own neglect or failure to maintain your property, it will not be covered.
When reviewing your policy, make sure you read the fine print and always ask questions. If there are items that are not covered by your homeowners insurance – like systems and appliances – you may want to consider a home warranty for extra protection.
How To Find The Right Homeowners Insurance Policy For You
Everyone needs to get homeowners insurance, but don't forget that not every policy is built the same. Before picking an insurer, do some research to find the plan that makes the most sense for you and your home.
Shop Around
To determine which home insurance policies or companies will best fit your needs, it's important to shop around for the best prices and coverage. Along with researching policies offered, make sure you research the company as well. Do they have good reviews? Do clients complain about lack of help, difficulty filing claims or other customer service issues?
Get All The Details
You probably don't usually read the terms and conditions when you sign up for online services, but perusing the fine details is a must when it comes to homeowners insurance. Make sure you understand what's covered and what isn't, especially if you live in a location where floods, earthquakes or hurricanes are common. Many policies don't cover these damages, so make sure you know what you're getting.
Take Inventory
Finally, take inventory of your personal belongings, so you'll know how much it will cost to replace them. This will help you get an idea for how much coverage you actually need, and it may also come in handy should you need to file a claim.
The Bottom Line
Homeowners insurance isn't required by law like car insurance. However, your mortgage lender will more than likely require you buy insurance before they agree to give you a loan. Homeowners insurance is a type of safety net that covers you and your lender against financial loss.
While it may be a drag to add another payment to your monthly expenses, it's crucial to keep in mind that your home is a significant investment that must be protected if you are to maintain your financial security.
For more tips and information about buying a home, check out the Rocket Mortgage® Learning Center.
See what you're eligible for.
Rocket Mortgage® uses information about your income, assets and credit to show you which mortgage options make sense for you.