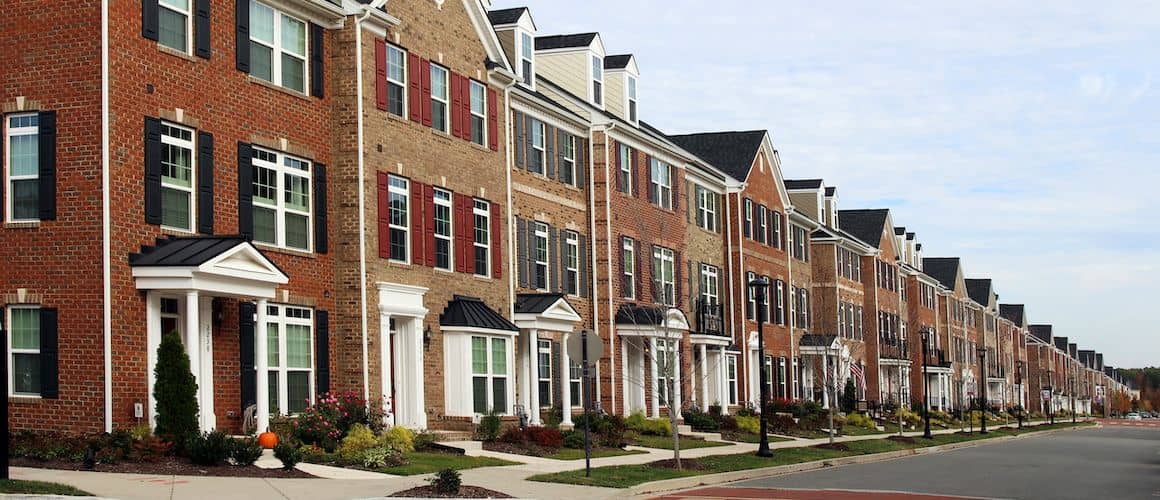 What Is A Townhouse? Everything You Need To Know
Kaitlin Davis9-minute read
December 05, 2023
Share:
If you're on the journey to homeownership, you have many housing options to choose from – including townhouses. A townhome is often more affordable than a detached single-family home. If you don't mind sharing walls with your neighbors, it could be the right choice for you and your family.
Let's take a look at what a townhouse is, how it compares to other types of homes and their pros and cons.
What Is A Townhouse?
A townhouse, also called a townhome, is a type of house that has multiple floors with at least one shared wall between residences. These buildings are often tall and thin, and attached to other townhomes in a long row. They're most popular in urban and suburban areas.
Townhomes can be rented or individually owned, have their own entrances and may include some outdoor space as well. This type of home may also be part of a homeowners association (HOA), a private organization that oversees the management of some residential communities. Complexes with an HOA usually have additional fees, which can potentially range between $100 and $1,000 per month.
Despite the potential fees and living in close quarters with neighbors, townhomes remain a popular housing choice, especially among first-time home buyers. Townhomes are typically more affordable than detached single-family homes. Homeowners may also have access to amenities like clubhouses, swimming pools, fitness centers and other common areas.
See What You Qualify For
Congratulations! Based on the information you have provided, you are eligible to continue your home loan process online with Rocket Mortgage.
If a sign-in page does not automatically pop up in a new tab, click here
Townhomes Vs. Other Types Of Homes
When buying a townhouse, many potential home buyers are curious about what differentiates them from a rowhome, apartment, condominium or detached single-family home. Here are some key differences between these types of homes:
Townhouse Vs. Rowhouse
You might hear townhomes sometimes referred to as rowhouses, but there's actually a difference between the two. Using the term "rowhouse" implies the structure is identical to that of its neighbors, while townhomes can vary in design within the same townhouse complex.
Rowhouses are also more likely to be urban residences, whereas townhomes are often in the suburbs. Rowhomes are typically built in long rows that may line an entire street or block. Townhomes can also be built in rows, but they're more likely to be divided into smaller sections or groupings.
Townhouse Vs. Apartment
Townhouses also share key features with apartments. Both housing options are considered individual dwellings that are located within a larger complex. Apartment buildings and townhouse complexes also often provide residents with shared spaces and amenities, like a gym or outdoor area.
An apartment is different from a townhouse in that apartments are usually rented to tenants. Renters typically don't have the option to buy their own apartment. Townhomes, on the other hand, can be purchased like any other type of house. Apartments are also maintained by a landlord or property manager. The owner of a townhouse is in charge of the maintenance and repairs, plus they're responsible for abiding by any HOA guidelines.
Townhouse Vs. Condo
There are a lot of similarities between condominiums (or condos) and townhouses. Like townhouses, condos are often attached via one or two walls to other housing units and are typically governed by an HOA. Additionally, these types of units likely have access to community amenities.
Unlike townhomes, condos are single units that make up a larger complex. This means condo owners are more likely to have neighbors above or below their units. On the other hand, townhomes are defined as single-family dwellings that happen to share walls with another home (or two homes) but are considered more private than condos.
Townhome owners typically enjoy more freedoms as well. A condo's HOA may rule that the exterior of a unit is entirely out of an owner's control. Townhouse owners may have the ability to do whatever they would like with the exterior of their space. Plus, where a condominium complex may handle all yard maintenance, townhouse HOAs may require that owners take care of outdoor tasks themselves.
Townhouse Vs. Detached Single-Family Home
A townhouse and a single-family home are considered single-family dwellings, and owners are typically expected to take care of maintenance indoors and outdoors. A townhouse is a combination of a single-family home and a condo. It's a happy medium for certain people in the housing market.
Townhouse owners may be responsible for less maintenance and upkeep than single-family homeowners. Not every townhouse is part of an HOA, but many are – and some HOAs take care of various responsibilities like snow removal or tending to the landscaping. Owning a townhouse can be a savvy option for someone who wants the convenience of a single-family home without the responsibility of maintenance.
Single-family homes may also be in more rural locations than townhouses. Townhomes are often found in urban or suburban areas and tend to be newer and more recently updated than single-family homes.
Townhomes work well for those eager to live near the city and willing to sacrifice space and privacy. On the other hand, single-family homes may appeal to home buyers who appreciate a little more space between themselves and their neighbors.
Pros And Cons Of Buying A Townhouse
Should you live in a townhouse? These pros and cons can help you decide:
Pros Of Townhomes
Townhome owners enjoy the following benefits:
Accessibility to various amenities:

Similar to an apartment or condo, townhouses often have access to community spaces or amenities connected to a homeowners association, which may include parks, pools and community gyms.

Ability to change the interior and exterior:

Townhomes are like a blend of condos and detached single-family homes. Unless the HOA rules say otherwise, owners have the freedom to change anything they want in the interior or exterior of their homes.

Affordability

:

Townhomes tend to be more affordable than single-family homes since they're attached and often lack the yard space that detached homes tend to include. If you don't mind sharing walls with neighbors, you can potentially get more space for your money this way.

Less work to maintain:

Since they often lack large yards and are attached at the sides to other units, townhouses may require much less exterior upkeep than other homes. If your townhome is part of an HOA, you may not have to do any exterior maintenance.
Cons Of Townhomes
Buying a townhouse can also come with a few drawbacks, including:
Less

privacy:

Since townhomes share walls with the residences next to them, you'll sacrifice a little privacy to live in one. When you live in close quarters, loud neighbors may become an issue.

HOA fees

and restrictions:

While not every townhouse is part of an HOA or subject to HOA fees, many townhouse communities do have them. HOA fees can be a downside for potential home buyers who don't like the idea of being regulated by a homeowners association.

Resale value:

In some areas, townhomes may sell for less than single-family homes or to a smaller pool of potential buyers. Before you buy a townhouse, you may want to look into the market where you live to help determine whether it would be a worthwhile investment for you in the long run.

Smaller living space:

While townhouses typically have multiple floors, they're usually not very large in terms of square footage. Additionally, living in a home split among multiple floors can become a problem for mobility and accessibility, especially for older home buyers.
Calculate how much house you can afford.
Use our quick and easy Home Affordability Calculator.
How To Buy A Townhouse: 5 Steps
The process of buying a townhome is virtually the same as purchasing a traditional house, but there are some additional considerations. Use the following steps to find the perfect townhome for you:
1. Calculate Your Housing Budget
Like any other home, the cost to buy a townhouse will vary depending on several factors, including location, size and amenities. Keep in mind that townhouses are typically managed by a homeowners association, which can cost an extra monthly fee.
Before you start looking for a home, figure out how much you want to spend on the total purchase price and monthly mortgage payment. Don't forget to include additional expenses, like your down payment and closing costs.
For help calculating your potential mortgage payment, use the mortgage calculator from Rocket Mortgage®.
2. Determine Where You Want To Live
Once you have your housing budget, you can use this amount to determine where you can afford to live. Townhomes are typically located in suburban and urban areas, which means the cost of living may be higher than in rural areas.
You should also use this step to determine whether you want to live in a townhome community connected to an HOA. Some buyers may choose to forgo this type of townhouse lifestyle for more freedom and fewer monthly fees.
3. Find A Mortgage Lender
Before you make an offer on a townhouse, you should consider getting preapproved for a mortgage. An approval letter from a mortgage lender can help cement your house budget and show sellers that you have the means to complete the transaction.
You can also compare several types of mortgages to find the best home loan for your needs. For example, if you're a first-time home buyer, you may want to consider an FHA loan, which has less stringent financial requirements than some other mortgages.
If you have a solid credit score, a conventional loan may be a good option. Conventional mortgage loans often require a down payment ranging anywhere from 3% – 20%.
4. Make An Offer
With a mortgage approval letter in hand, you can finally start touring townhomes in your desired neighborhoods. Keep in mind that different communities may offer different amenities. Make sure to compare the costs and benefits of each property before making a home offer.
5. Close On The Home
After the seller accepts your offer, you can relax and let your lender take over. In the coming weeks, the home will be appraised – and if you include a home inspection contingency – it will be inspected.
However, you should stay in contact with your loan officer in case they need you to answer any questions the underwriter may have. From there, your lender will make the final decision on approving the mortgage so you can close on your new home.
Townhouse FAQs
Below are some answers to a few frequently asked questions you may have regarding townhouses.
Should I rent or buy a townhouse?
If you're debating renting or buying a townhouse, consider all the pros and cons as you would if you were purchasing a traditional home. Consider what you can afford, how big of a down payment you can make, how long you want to live there and whether you can afford to take care of potential maintenance concerns yourself.
Your housing needs will ultimately determine whether you should rent or own. Purchasing any type of home is a much larger commitment than renting, so assess your situation carefully.
What are the best areas for a townhouse?
The best area to buy a townhouse depends on the buyer. Consider your own needs in a home. Do you want to be close to lively areas of the city, or would you rather live in a quieter, family-oriented neighborhood?
Consider the growth of an area as well. If a neighborhood is quickly expanding, you may be able to build home equity faster, meaning you can potentially sell your home sooner or for more money than someone who lives in an older neighborhood with no new development.
For help deciding what neighborhood to live in, Rocket Mortgage recommends working with a knowledgeable real estate agent or REALTOR®.
What type of mortgage do I need to buy a townhouse?
There are several types of mortgages available to potential townhouse buyers. In fact, financing a townhome is essentially the same as financing a detached single-family home. Unlike getting financing for a condo, where there may be concerns or restrictions regarding the condo development, getting a mortgage for a townhome is pretty straightforward.
Is a townhouse a single-family home?
According to the Census Bureau, single-family dwellings include fully detached, semi-detached and side-by-side multifamily homes separated by a full wall. That means townhomes, duplexes and quadruplexes are also considered single-family homes.
Is a townhouse a good investment?
Like a detached house, townhomes can appreciate in value, making them a potentially good real estate investment. However, detached houses typically appreciate faster because these properties typically have larger lots, and there are more ways to increase value.
The Bottom Line: Buying A Townhouse Comes With Perks And Pitfalls
A townhouse is a unique type of home that offers many of the benefits of condos and single-family home living. A townhome is a good compromise for potential buyers who want more freedom than they would have with a condo, but don't want to deal with the upkeep of a detached single-family house.
Before buying a home, it's important to consider all your housing needs and do your research to decide what will work best for you. It's always a good idea to consult a real estate agent if you're unsure whether a townhome is the right choice for you.
Ready to buy a home? Get started online today with Rocket Mortgage.
Get approved to buy an investment property.
Rocket Mortgage® lets you get started, sooner.
Related Resources
Viewing 1 - 3 of 3