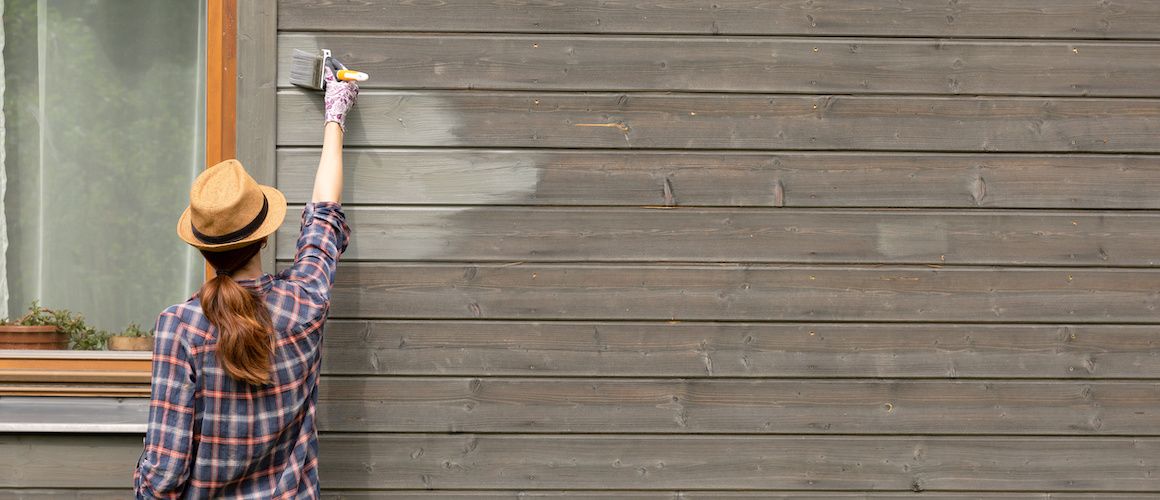 What Is Sweat Equity And How Much Is It Worth?
Cathie Ericson6-minute read
February 26, 2022
Share:
A property's market value is determined by a variety of factors – from its location to its size, features, age, amenities and much more. While there are some factors you can't change (location, we're looking at you), there are a number of ways you can increase the value of your home. Of course you could invest in upgrades, but there's another way: through your own sweat equity – in other words, the hard work you put into the property. Let's look at what sweat equity is and how you can use it to increase real estate values.
Take the first step toward the right mortgage.
Apply online for expert recommendations with real interest rates and payments.
Sweat Equity In Real Estate
Sweat equity can increase the value of your home or form the basis of your contribution to a new real estate investment venture. Known primarily as "hard work," it's the value you add to your home's sales price through your DIY efforts or the expertise you invest to increase your partners' return on their real estate investment dollars.
Whether you want to increase your own home's market value – and make the home more enjoyable for yourself in the process – or seek a greater return on a real estate investment, sweat equity can help get you there without an actual monetary investment.
The sweat equity definition is essentially the work you put into improvements or expansions that increase the value of your home or an investment property that you wish to sell. So rather than spending capital to pay someone to do the renovations or upgrades, you're doing the work yourself.
If you buy an investment property with the intent of fixing it up and renting it or eventually flipping it, the DIY work you put into it constitutes your sweat equity. When you sell the property, the difference between what you sold the property for and what you would have gotten if the improvements hadn't been made represents the value of your sweat equity, as determined by the market.
Sweat Equity For Real Estate Investors
Sweat equity can provide great value in real estate; if you have skills in an area such as DIY construction work, landscaping, plumbing, electrical or any other area that can help improve a property, you can become an integral part of a real estate business even if you don't have available capital to invest.
If you do have those skills, along with the time and an interest in becoming a real estate expert, you may try partnering with investors who have available cash and value sweat equity as much as cash equity and would welcome your skills in order to fix up properties that they have the funds to purchase.
The first step is to identify the skills that you can offer and prepare a short presentation that showcases the value they would provide to improve a property. Then, identify potential investors, such as family members or friends, who have the cash equity that would be needed to buy the property. Make sure you're working with someone who is savvy enough to understand the risks involved in real estate investing and has the money available to make a purchase without putting their financial future at risk. Discuss the value this combination would offer – with them investing the money and you applying your DIY skills to improve the property for future gains.
Of course, in order to keep both parties satisfied, it's important to formalize any arrangement by creating a written agreement that clearly specifies and defines the value of your non-monetary contribution. You may consider structuring it as a percentage of return on investment once the property sells if you intend to flip it, or your share of operational profit if the house will become a rental.
Don't forget to account for any hard costs you might incur as part of the improvement process – for example, if you're going to be buying new appliances that you install or purchasing materials for a fancy outdoor oasis, for which you will then do the physical labor yourself. While your "time," as in sweat equity, will eventually be compensated through this agreement, there may also be upfront expenses that need to be considered and accounted for.
Once you've reached an agreement that works for both parties, it's time to find the right property. You want to look for one with the biggest upside potential – and that might require some creativity. Research existing real estate listings but also make time to attend auctions and keep an ear out for potential new listings. You want to make sure that you're finding properties that are a good bargain "as-is," which many other potential buyers may shy away from, due to the work that's needed.
Also, as you research properties, make sure to take into account your specific skills and how they can help improve the real estate. For example, if a home is on the market at a rock bottom price because it needs a new roof and foundation, but your skills align with creating luxury kitchens and bathrooms, you might not make a sufficient return on investment if you must hire someone to take care of those expensive fixes.
You might also decide to expand your skills through taking classes in real estate topics that interest you to increase your expertise, especially if you notice that there are recurring issues in existing properties that might bring more bang for the buck. For example, if you feel that you could make a higher financial return if you knew more about wiring smart systems, that could be an area of expertise you'd like to explore.
Once you've identified a good fit for a property that needs updating that meshes with your particular skills, work together with your business partners to create a plan for financing, including discussing how a mortgage will be handled; then together draw up and complete the paperwork for closing, and create a timetable for renovations. Be realistic about what your schedule can handle and how long certain projects might realistically take. You want everyone's buy-in on how the sweat equity upgrades will proceed in order to keep peace in your alliance. Often others don't understand how much labor and time must be invested in a specific project, so make sure that you clearly spell out the work you'll be doing and how your time and effort in getting your hands dirty should have a high value for them as the investor and you as the sweat equity partner.
Get approved to refinance.
See expert-recommended refinance options and customize them to fit your budget.
Sweat Equity For Your (Growing) Real Estate Business
Sweat equity also applies to any efforts you make to create a real estate-related business. Once you've acquired several investment properties, you may see the value in professionalizing your efforts and hiring additional employees to help you grow your early-stage business. The efforts you put into this project can also be considered sweat equity.
That's because generally business owners of a start-up will not have enough cash on hand to offer large salaries to compensate the team. Instead, employees often trade a lower salary now for a future stake in the business that they will have earned through their own sweat equity in creating the brand and building the business.
Small-business owners can formalize these agreements with a business plan that explains the terms – such as employee ownership agreements, shares in the company, or arrangements for other compensation payouts that will materialize as the business presumably grows in value. Then if and when the business sells or goes public, those employees share in the proceeds as outlined in the agreement. The value of their sweat equity in time, great ideas, hard work and loyalty now could pay off with a premium if the business succeeds as everyone expects.
Learn The Value Of Your Sweat Equity
Have you always dreamed of being a real estate baron but lacked the capital? The great news is that more than ever a sweat equity partner is an increasingly valuable resource for any start-up real estate business.
That's because many potential home buyers tend to avoid homes that need a lot of work, often making them a bargain to be had. That attractive price can pay off in a huge upside once the sweat equity partner has put in the work to make the property shine – either to resell at a premium or to turn into ongoing value by renting at an exceptional price.
Want to know more about how you can start making money today by investing in properties you can improve through sweat equity? Find out more about refinancing for home improvements to help you get started.
Take the first step toward the right mortgage.
Apply online for expert recommendations with real interest rates and payments.
Related Resources
Viewing 1 - 3 of 3