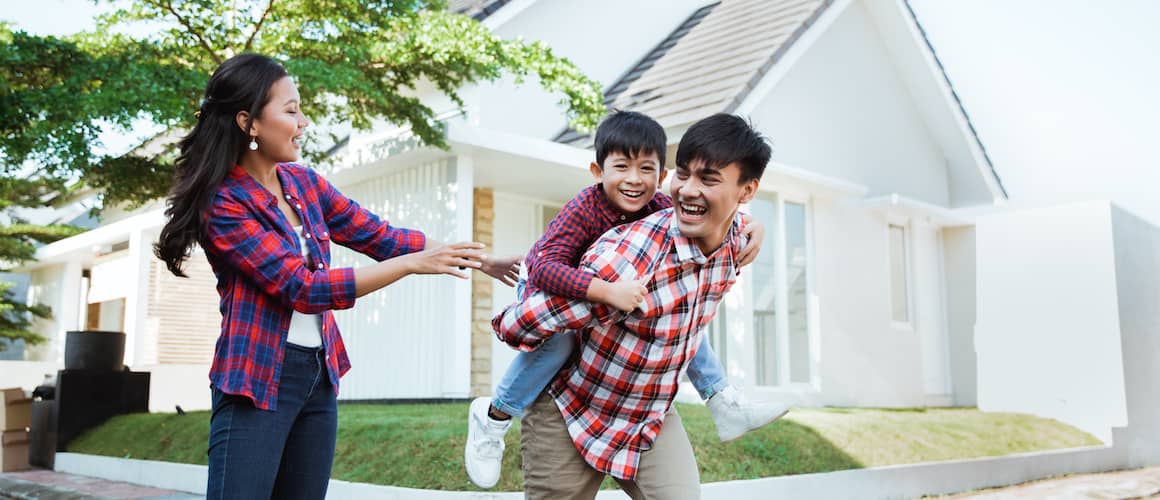 What Is Freddie Mac's Home Possible® And Can It Help You Buy A Home?
Kevin Graham6-minute read
February 15, 2022
Share:
If you have a low income but can afford a monthly mortgage payment and a minimal down payment upfront, Freddie Mac's Home Possible may be a good option for you. We'll go over what it is as well as who it's for. We'll also dive into some benefits and drawbacks before getting into some common questions and potential alternatives.
What Is Freddie Mac's Home Possible Mortgage?
Fannie Mae and Freddie Mac were chartered separately by Congress in 1938 and 1970 before being spun off into shareholder-controlled companies. Currently, they're government-sponsored entities under the Federal Housing Finance Agency. Although founded at different times, they have a shared mission of providing mortgage funds that are affordable for the general public.
Home Possible is an extension of that affordability mission specifically allowing first-time and repeat home buyers who are low income to qualify for a mortgage program with several benefits to make homeownership more attainable.
When you're shopping around, you're likely to come across several different types of mortgages. Two terms you might hear are conforming and nonconforming loans. Loans underwritten to the standards of Fannie Mae and Freddie Mac are considered conforming or conventional loans. Jumbo loans and loans made directly through a government agency like the FHA or VA are nonconforming loans. Home Possible mortgages are conforming loans.
Get approved to buy a home.
Rocket Mortgage® lets you get to house hunting sooner.
Who Are Home Possible Mortgages For?
Promoting affordable housing is a big part of Freddie Mac's mission. That said, this product is targeted at helping a specific segment of the market who could use assistance in home affordability. We'll touch on what you need to know to qualify.
While this program is specifically funded by Freddie Mac, Fannie Mae's HomeReady® program is very similar in terms of both qualifications and who it targets. Your lender will be able to help you decide which is right for you.
Low-Wage Earners
In order to qualify for this particular loan option, the income of all clients on the loan can't be more than 80% of the area median income. This is targeted toward helping those with low incomes who can afford a payment to qualify for home affordability based on a low down payment and more modest fees in many cases.
In order to see if you qualify in your area, check out Freddie Mac's income lookup tool.
First-Time Home Buyers
Although you don't have to be a first-time home buyer to take advantage of this program, it can certainly be a great option for first-time buyers. Because this will come up later, we'll take a moment to say that both Fannie Mae and Freddie Mac consider a first-time home buyer to be anyone who hasn't had ownership in a residential property in the 3 years prior to purchase.
What Are The Benefits Of A Home Possible Mortgage?
There are several advantages to a Home Possible mortgage. Let's run through them.
Low Down Payment
The first major benefit of this loan option is that it only requires a 3% down payment. Comparing that to FHA, the minimum down payment is 3.5%.
Low LTV
LTV, or loan-to-value ratio, compares how much you owe on your loan to the value of your house and expresses this as a percentage. In most cases, you're required to have an LTV somewhere between 80% – 97% depending on the type of mortgage you're getting. With Home Possible, you can finance up to 105% of your home value in total. This is because your down payment can be funded through a second mortgage on it in the Affordable Seconds program where your lender allows it.
It should be noted that Rocket Mortgage® doesn't do purchase loans with second mortgages. You may be able to use other forms of down payment assistance.
Flexible Down Payment Sources
In addition to the second mortgage to fund a down payment, which is unique to this program, you can also receive your down payment from gift funds including from family members. With a 1-unit primary residence, your entire down payment may come from a gift. This provides additional options for those who need it.
Manual Underwriting Available
Manual underwriting means someone goes through and evaluates your income and credit history along with the amount of assets you have and the suitability of the property. This is different from automated underwriting which involves computerized decision-making based on your loan application. For some borrowers, the manual underwriting process may be helpful.
Rocket Mortgage doesn't do manual and rating for Home Possible loans at this time.
Lower Fees
The major mortgage investors like Fannie Mae, Freddie Mac, FHA and VA have specific fees that are charged based on things like loan amounts and different risk factors.
The lowest median FICO® Score among all borrowers on the loan can't be lower than 620. However, if your median score is 680 or better among all borrowers, there are no additional pricing adjustments on the loan. If the score is below 680, there's a maximum price adjustment of 1.5% of the loan amount.
Are There Any Disadvantages To A Freddie Mac Home Possible Mortgage?
There are some disadvantages to the Home Possible program. Let's quickly run through what you need to know.
Small Lending Network
Although many lenders offer Freddie Mac loans, including Rocket Mortgage, this isn't universal. You may have to shop around a bit.
Small Borrower Pool
Because of the income limits associated with this loan option making the potential pool of borrowers smaller than the general market, some lenders may choose not to offer this program because of the hassle.
Primary Residence Only
This option is only available for primary residences. These are homes you live in the majority of the year. It's not available for vacation homes or investment properties. The good news is that you can purchase up to 4 units, so you can live in one and rent out the others.
Does Freddie Mac Home Possible Require Home Buyer Education?
Homeownership education is required when all clients on the loan our first-time home buyers. Clients can get this locally through any homeownership education program that meets the standards of the National Industry Standards for Homeownership Education and Counseling. Alternatively, there are a couple of online homeownership education providers that you can use as well in ReadyNest and CreditSmart.
Are There Other Preferential Government Mortgage Programs?
Home Possible and HomeReady are two options for government-sponsored mortgage programs. However, there are also other options from FHA, USDA and VA.
A major benefit of FHA loans is that they only require a median 580 credit score if you have a sufficiently low debt-to-income ratio (DTI).
USDA loans offer no down payment if you live in a rural area with a household income of under 115% of the area median. This can be very attractive, depending on where you want to live. Rocket Mortgage doesn't offer USDA loans at this time.
Finally, VA loans are available for eligible veterans, reservists, members of the National Guard, active-duty personnel and qualified surviving spouses. This is also a no down payment loan option.
Are There Freddie Mac Programs For Low-Cost Refinances?
Freddie Mac and Fannie Mae have new refinance programs to help low-income borrowers with higher DTIs to refinance and take advantage of lower rates and the opportunity to lower their payment. They're called Refi PossibleSM and RefiNow™ 1, respectively.
There are several requirements:
The investor in your loan has to be Fannie Mae or Freddie Mac.

You can check this by using Fannie Mae's loan lookup tool or this utility from Freddie Mac.

This is for low-income borrowers.

You can't make more than 80% of the area median income.

You need to have made DTI of 65% or less.

This is more flexible than other conventional programs which require no more than a 50% DTI ratio.

You have to be current on your mortgage.

For the purposes of these loan options, that means not having a 30-day late payment in the last 6 months and only one in the last year.

This must be a 1-unit primary residence.

No multiunit, vacation or investment properties are allowed.

Your loan has to be a certain age.

The loan has to be more than a year old but no more than 10 years old.

This can only be used to lower your rate and/or make a term change.

You can't take cash out.
The Bottom Line: A Freddie Mac Mortgage Is A Great Way To Make Homeownership Possible
Freddie Mac's Home Possible is aimed hoping low-income borrowers get a lower-cost mortgage. Fannie Mae's HomeReady program is nearly identical. In order to qualify, you'll need to make no more than 80% of the area median income. There are also similar programs available if you're looking to refinance with a lower income and higher DTI ratio.
If you're ready to look into your loan options, you can apply online or give us a call at (833) 326-6018. Although you don't have to be a first-time home buyer to take advantage of these programs, they can be very beneficial. Check out these first-time home buyer assistance programs.
1 Freddie Mac and Fannie Mae have adopted a new refinance option for loans to borrowers with incomes at or below 80% of area median income, and you may be eligible to take advantage of this program. If your mortgage is owned or guaranteed by either Freddie Mac or Fannie Mae, you may be eligible to refinance your mortgage under this refinance option. You can determine whether your mortgage is owned by either Freddie Mac or Fannie Mae by checking the following websites:
Take the first step toward the right mortgage.
Apply online for expert recommendations with real interest rates and payments.
Related Resources
Viewing 1 - 3 of 3