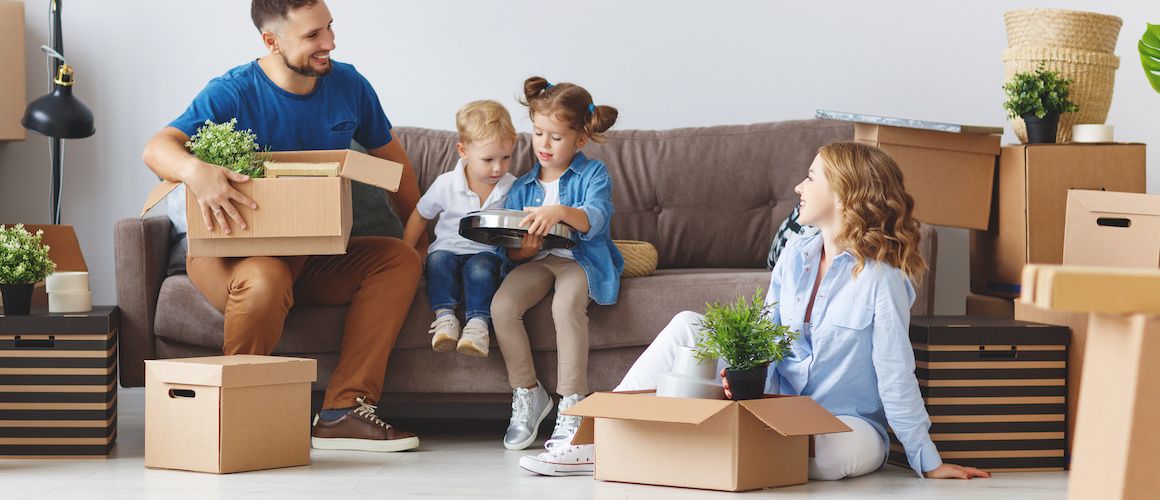 Low Down Payment Options: HomeReady and Home Possible
6-minute read
August 21, 2020
Share:
Finding the right mortgage to finance your home is one of the most important decisions you'll have to make during the home buying process.
We'll walk you through the benefits of low down payment options, explore the requirements and explain all the steps you'll need to be able to apply for this type of mortgage.
What Are The Benefits Of A Low Down Payment Loan?
For the purpose of this post, when we say "low down payment loans," we're talking about conventional loans that offer lower down payment requirements than FHA Loans. These loans also offer lower mortgage insurance requirements, increasing the access for low-income buyers to get approved for a home loan.
A lower down payment also means you can purchase a home without having to save for a large down payment. You can use alternative credit to help you qualify. This is ideal if you don't have the best credit score and need to work to build it.
These mortgage products have several perks designed to assist low-income buyers. For instance, you're allowed to accept gifts from friends and family toward your down payment – an option that could take more steps with other conventional mortgages.
In addition, you're allowed to cancel your mortgage insurance once you've paid down 20% of your home's value.
Low down payment loans of lower down payment requirements than FHA loans.
The Federal National Mortgage Association (Fannie Mae) and the Federal Home Loan Mortgage Corporation (Freddie Mac) provide housing financing to home buyers in the U.S. HomeReady is a program overseen by Fannie Mae. HomeReady makes it easier for low-income and low-credit-score buyers to get approved for a home loan.
Lastly, you can also use a HomeReady loan to refinance your current home loan, but you cannot take cash out of your equity.
Find out what you can afford.
Use Rocket Mortgage® to see your maximum home price and get an online approval decision.
Who Finances Low Down Payment Loans?
The Federal National Mortgage Association (Fannie Mae) and the Federal Home Loan Mortgage Corporation (Freddie Mac) provide housing financing to home buyers in the U.S. They each have their own low down payment loan products.
Fannie Mae's product is called HomeReady and Freddie Mac's is called Home Possible. While there are a couple subtle differences between the two, the main purpose and requirements are the same.
They are both great options geared toward lower-income, lower-credit-score borrowers looking to build wealth through home ownership.
Who Qualifies For A HomeReady or Home Possible Loan?
You'll need to meet certain criteria. Here are the three major requirements:

You'll need a credit score of 620. Your income can be on the low end, but you'll still need to meet a 620 minimum credit score requirement. Other conventional mortgages have higher credit score requirements, so the reduced score minimum helps you secure the financing you need, even if your credit isn't perfect. You may have the option to use alternative credit history to be considered to help meet this qualification. Alternative credit history includes factors like payments on rent and utilities. Check with your lender for more information.
You must not own any additional residences in the country. You don't have to be a first-time homeowner to qualify, but you can't currently own a home with this mortgage type.
You must attend homeownership education courses. Homeownership courses will help prepare you for the financial challenge of owning a home. These courses require participation in 4 – 6 hours of approved courses to help arm you with the education you'll need as a homeowner.
Income Limits
Not everyone who meets the above requirements can qualify for a HomeReady loan – there are also some income criteria you'll have to meet to get approved for this mortgage.
Your income must be equal to or less than 80% of your county's area median income (AMI). Look up your address on the HomeReady or Home Possible eligibility pages to find out about your location's specific limits.
You may not have to worry about income limits if you live in a low-income area. Low-income census areas are zones where the median household income is 20% below the location's average median household. You can make more than the income requirements and still be eligible for a HomeReady mortgage.
How Much Do I Need To Put Down On A HomeReady Or Home Possible Mortgage?
The low down payment requirements are the main reason why you may be attracted to the HomeReady or Home Possible mortgage. These loans allow you to fund up to 97% for a single-family home. That means you need to make a down payment of just 3% of the home's value.
The 3% requirement is even lower than the down payment requirement for FHA loans, which is 3.5%.
HomeReady and Home Possible loans also let you accept large gifts from others to cover the down payment requirement. In fact, you can fund your down payment entirely with gifts.
FHA Loans: A Low Down Payment Alternative
FHA loans could be a great alternative if you need more flexibility to qualify. To begin with, the required down payment is only 3.5%. At the same time, there's real credit flexibility.
To begin with, you'll need a median FICO® of 580 or higher. However, it's worth noting that to qualify with a credit score at this level, you'll need to keep an equally low debt-to-income ratio (DTI) of 45% or less. In addition, no more than 38% of your monthly debt payments can go toward housing.
There's additional good news for those with slightly better credit scores at a median of 620 or higher. Loans are reviewed based on a number of characteristics, but in many cases, you can get approved with a slightly higher DTI than you could on many other loans. This gives you the flexibility of a higher home buying budget.
How Are HomeReady And Home Possible Different From An FHA Loan?
HomeReady and Home Possible loans target the same type of buyers as FHA loans. But they aren't the same product. While the FHA mortgage is backed by the federal government, HomeReady and Home Possible are backed by private lenders Fannie Mae and Freddie Mac.
Since they're conventional mortgages owned by a private lender, there is more flexibility with down payment requirements and credit history.
The HomeReady and Home Possible loans require a 3% down payment that can be funded fully through gifts. The FHA loan requires a 3.5% down payment (10% for lower credit scores) that has limitations on using gifted money. The HomeReady and Home Possible loans also allow for alternate credit reporting, while the FHA does not.
Each of these mortgage products can be purchased through most local, national and online lenders and are ideal for first-time and low-income home buyers.
Are Low Down Payment Mortgages Available On All Homes?
Low down payment mortgages, like HomeReady and Home Possible, are used on single-family, one-unit homes. But they can be applied toward a variety of home types. With HomeReady, you can purchase 2- to 4-unit homes as long as one of the units will be your primary residence.
You can use both HomeReady and Home Possible for a planned unit development, townhouse, condo and more. Talk to your lender about the property types that they will finance. Read more about the full requirements and types of homes that qualify for the HomeReady and Home Possible loans.
What Are The Terms On HomeReady Loans?
Your mortgage term refers to the length of time you pay on your mortgage.
Fixed-rate mortgages are loans that have a set rate you pay off over a predetermined length of time. Typically, the longer your term, the more interest you'll pay. Longer-term mortgages also tend to have smaller monthly payments, since the repayment plan is spread out over a longer period.
Rocket Mortgage® does not allow adjustable rate mortgages with this program and does not offer this program on second homes or investment properties.
How Do I Apply For A HomeReady Or Home Possible Loan?
Think a low down payment loan, like HomeReady or Home Possible, is the right choice for you? If so, you probably have some questions about the application process. We'll walk you through all the steps you need to follow to apply for a loan so you know exactly what to expect.
Step 1: Review And Compare The Loan Benefits
Look before you leap a loan, be sure you've reviewed all the benefits carefully. These low down payment mortgages have higher interest rates than other conventional loans because of their lenient down payment policy.
There might be other mortgage options that will provide you with lower rates if you can afford a larger down payment. Research the options available to you. If you decide that a low down payment mortgage has the most to offer, proceed to Step 2.
Step 2: Review The Requirements
Next, you'll want to make sure you meet the qualifications for a low down payment mortgage, including the income limits, credit score requirements and homeownership education courses. Once you're confident that you meet the requirements, you're ready to find a lender.
Have questions about the requirements? Move on to Step 3 and talk to your Home Loan Expert about your concerns before applying.
Step 3: Find A Mortgage Lender
Home Possible and HomeReady are offered through private lenders, but you'll need to find an outside lender to apply through. Most conventional lenders offer these mortgages, so you'll have plenty of local, national and online lenders to sort through.
These low down payment mortgages are designed for all lenders to use, but a lender can opt out if they aren't interested in servicing this type of loan. These programs are available through Rocket Mortgage®.
Step 4: Apply For A Loan
You're ready to apply once you've found a lender you like. You'll complete an application and provide supplemental documentation to verify your income and provide copies of your taxes. This step can take time if you have to retrieve hard copies or mail documentation. Rocket Mortgage® can share your online bank account and tax information in real time and make this step happen quickly.
Step 5: Wait for Your Approval Decision
Once you've applied, your lender will crunch the numbers and determine if you're approved for a mortgage, set your mortgage rate (which is the rate of interest you'll pay), and decide how much money you're approved for. Then you can start shopping for a home or make an offer if you've already found one.
Don't feel crushed if you aren't approved for a loan – you still have options! Check with Rocket Mortgage® to learn what other mortgage types might be a good fit for your financial situation.
Get approved to buy a home.
Rocket Mortgage® lets you get to house hunting sooner.
Summary
Fannie Mae's HomeReady and Freddie Mac's Home Possible mortgages are great products for low-income applicants who want to put down the minimum down payment for a mortgage.
These mortgages allow you to use gifts toward your down payment. They also offer the option of canceling mortgage insurance once you've paid off 20% of the home's value.
You can begin the process today with Rocket Mortgage® if you're interested in the HomeReady mortgage or would like to explore other loan options.