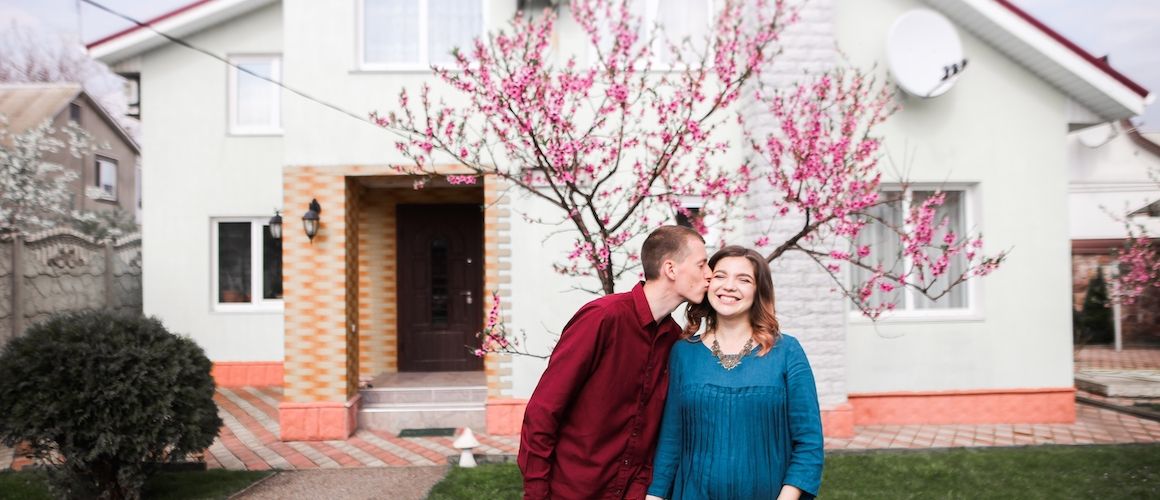 Down Payment Assistance Programs And Grants
Miranda Crace10-minute read
July 08, 2021
Share:
Worried that you can't afford a down payment on a home? Here's some good news: If you're a first-time homebuyer, you might qualify for down payment assistance provided through a government agency or private organization.
Here's a look at what down payment assistance is, how it works, and some different down payment assistance programs to consider when you buy your first home.
What Is Down Payment Assistance?
When you buy a home, you'll usually have to make a down payment – a lump of cash equal to a percentage of your home's final purchase price. The amount you'll need will vary and some mortgage programs require no down payment at all. While there are variations, coming up with this cash is often a difficult hurdle for buyers.
As the name suggests, down payment assistance helps you cover your down payment as a first-time homebuyer.
Who Qualifies As A First-Time Homebuyer?
Most government and charity programs have strict definitions for who qualifies as a first-time homebuyer. If you haven't had any kind of homeownership in the last 3 years, most state, federal and nonprofit programs consider you a first-time buyer, even if you owned a home before that 3-year period.
You cannot own any form of rental or investment property and get first-time homebuyer down payment assistance, even if you don't live in the property.
Get approved to buy a home.
Rocket Mortgage® lets you get to house hunting sooner.
How Does Down Payment Assistance Work?
Down payment assistance comes in the form of grants, loans and other programs. It's typically reserved for first-time homebuyers only. They can be run by a variety of organizations, such as your local or state housing authority or by a nonprofit.
Eligibility is determined by your income and credit history, varying from state-to-state and program-to-program. You must apply and sometimes you're required to attend training on the mortgage process and maintaining finances.
How much you're awarded differs depending on the program. Some programs offer a percentage based on the home's sale price, while others cap assistance at a certain dollar amount. When looking for programs to apply for, research their requirements, whether it's a grant or loan and how much assistance you can receive.
Types Of Down Payment Assistance
Most assistance comes in the form of first-time homebuyer grants and loans offered at the state and local levels. There may even be funds available from the private sector and nonprofits where you live.
Grants
The most valuable form of down payment assistance? That would be grants. That's because grants provide money that homeowners never have to repay – they're a gift of free money.
Forgivable Loans (At 0% Interest)
Forgivable mortgage loans are second mortgages that you won't have to pay back as long as you stay in a home for a set number of years.
These loans come with an interest rate of 0%. Lenders will forgive them, meaning that owners won't have to pay them back, after a certain number of years. Often, lenders will forgive the loan after 5 years, but they do have the option of not forgiving these loans for a longer period, even up to 15 or 20 years.
You will, though, have to repay these loans if you move before the forgiveness period ends. For instance, if your lender says it will forgive your loan after 5 years and you move, refinance your loan or sell your home in 4 years, you'll have to pay back all or a portion of your forgivable loan.
This second mortgage will usually be large enough to cover your entire down payment.
Deferred-Payment Loans (At 0% Interest)
You might also qualify for a second mortgage with a deferred payment. You don't have to repay these second loans, again for an amount large enough to cover your down payment, until you move, sell, refinance your first mortgage or pay down your first loan.
These loans, though, are never forgiven, so you will have to repay them if you ever leave your home. You'll usually do this through the proceeds from selling your residence.
Low-Interest Loans
Your lender or another organization might offer you the opportunity to take out a second mortgage loan at the same time your first mortgage is finalized. You can use the funds from this loan to cover your down payment. You will have to repay this loan each month, usually when you make your payments on your first loan. This means you'll be making two mortgage payments each month.
The goal is to nab a low interest rate on these loans. Some lenders or organizations might offer these second loans with no interest at all.
Matched Savings Programs
Matched savings programs, otherwise known as individual development accounts, are another way for homeowners to help pay for their down payments. In such programs, homebuyers deposit money into an account with a bank, government agency or community organization. That institution agrees to match however much the buyers deposit. Buyers can then use the total amount of funds to help cover their down payments.
For instance, buyers might deposit $5,000 into an account. The bank, government agency or community organization with which they are working will then add $5,000 more into the account. The buyers can use this $10,000 to cover the cost of their down payment.
Get approved to buy a home.
Rocket Mortgage® lets you get to house hunting sooner.
8 Down Payment Assistance Program Options
Here are eight down payment assistance programs that you might be able to use as a first-time homebuyer.
1. Chenoa Fund
One nationwide (except in New York) source of down payment assistance is the Chenoa Fund. The Chenoa Fund is an affordable housing program administered by CBC Mortgage Agency (CBCMA), a federally chartered government entity.
The Chenoa Fund provides up to 3.5% down payment assistance, or DPA. Conveniently enough, that's the down payment you need for an FHA loan. If you have a FICO® Score of 620 or higher and a DTI of 45% or less, you'll get a second mortgage with no interest and no payments. If your income is less than 115% of your area's median income, and you make your mortgage payment on time for 36 months, the mortgage is forgiven. If you make more than 115% of your area's median income, the DPA must be repaid.
If you make a late mortgage payment, you'll be given a second chance at loan forgiveness. You get to reset the period, and the mortgage will still be forgiven if you make timely payments for the next 36 months.
2. Community Seconds
Community Seconds is a Fannie Mae-approved (more on Fannie Mae below) second mortgage that allows homebuyers to use the funds available from state and local governments as well as housing nonprofits to put together a down payment, get help with closing costs and even complete minor renovations. Contact your local HUD office to learn more about the down payment and closing cost assistance available where you live.
3. HUD Home Programs
When it comes to housing matters, the U.S. Department of Housing and Urban Development, or HUD, reigns supreme.
HUD directly assists Americans who need housing help. It encourages responsible homeownership through its programs. HUD sells foreclosed homes and sponsors programs, discussed below, that make it easier for a variety of low- and moderate-income people to buy homes.
HUD houses the Federal Housing Administration, or FHA. The FHA funds mortgages made by private lenders according to its rules. In addition to HUD and the FHA, the Veteran's Administration, or VA, and the US Department of Agriculture, or USDA, offer loan programs that provide guarantees through private lenders.
This option is not a form of down payment assistance per se, but a way to buy a discounted home, with only 3.5% down (if you qualify for an FHA mortgage; more on that below).
If you're looking for a bargain, consider buying a HUD house. HUD houses are homes that were last purchased with an FHA loan. Because of foreclosure, the government now owns these properties, and HUD manages them until they are sold. HUD houses are purchased "as-is." That means that the government makes no warranties and will not undertake repairs.
Potential buyers are strongly encouraged to perform a thorough home inspection so that they know exactly what they are getting into. If you buy a HUD home with an FHA mortgage (below), you may be able to finance renovations with an FHA 203(k) loan and roll both loans into one convenient monthly payment.
HUD also administers special home buying programs that in some cases require no down payment, and in others offers homes at deep discounts, through such programs as The Good Neighbor Next Door, Section 8 Housing Choice Voucher Program and Section 184 Indian Home Loan Guarantee Program. You can learn more about eligibility requirements for each of these programs directly from HUD.
4. Government-Sponsored Entities
Fannie Mae and Freddie Mac are government-sponsored entities that work to purchase loans after origination to keep lenders liquid, and to encourage low- and middle-income families to become homeowners.
Lenders must meet Freddie and Fannie's requirements to be able to sell them their mortgages so that they have the liquidity to issue future mortgages. Fannie Mae's participation in the Community Seconds program helps lenders originate primary mortgages with confidence, because Fannie Mae is promising not to avoid purchasing their loans due to the subordinate mortgage.
Fannie Mae funds the HomeReady® mortgage, while Freddie Mac funds the Home Possible® mortgage program. Their backing makes it possible to get a mortgage loan with as little as 3% down payment.
5. HomePath Homes
If you are a first-time home buyer, you might want to consider a HomePath property. These are Fannie Mae-owned homes offered to the public at a discount after the previous owner defaulted on a Fannie Mae-owned mortgage.
There are lots of great reasons to consider a HomePath Home for your first home purchase, including low down payments and the HomeStyle renovation loan eligibility. But none is more enticing than the closing cost assistance – up to 3% of the home's purchase price – which is available if you take the online HomeReady home ownership course and ultimately buy a HomePath home. This means that if you purchase a HomePath home for $200,000, you will get a credit for up to $6,000 in closing costs.
6. FHA Loans
Loans insured by government agencies – such as VA or FHA loans – aren't technically examples of down payment assistance programs. However, these government-backed loans usually allow buyers to provide lower down payments, even with slightly shaky credit. This can be of help to first-time buyers worried about coming up with thousands of dollars at closing.
FHA loans are insured by the Federal Housing Administration, a division of HUD. With an FHA loan, you can buy a home with as little as 3.5% down if your credit score is 580 or higher. If you have a 10% down payment available, you may be approved with a credit score as low as 500. Rocket Mortgage® requires a minimum score of 580.
7. USDA Loans
USDA loans are for people who are looking to buy homes in rural or suburban areas. To qualify, your home must be in a zone that the USDA deems "adequately rural." You also cannot earn more than 115% of your county's median income, and your property must not be a working farm. With a USDA loan, you can buy a home with no down payment. Rocket Mortgage® does not offer USDA Loans at this time.
8. VA Loans
VA loans are home loans for current members of the Armed Forces, veterans and certain spouses of deceased service members. You must meet service requirements before you can get a VA loan. Like a USDA loan, a VA loan allows you to buy a home with no money down.
Get approved to buy a home.
Rocket Mortgage® lets you get to house hunting sooner.
Down Payment Assistance FAQs
Let's talk about some common questions that come up around down payment assistance.
How Long Does It Take To Get Down Payment Assistance?
How long it takes depends on the program and the type of assistance. Each state offers its own programs, as do different cities and organizations. These programs move at different speeds depending on demand and the size of the program.
It's important to know that, if you apply for down payment assistance, it may take longer to close on your home. The assistance program must work with your lender to secure the loan and the down payment funds. This can add time onto the closing process, depending on how quickly the down payment assistance program acts.
What Do You Need To Qualify?
The two most common requirements you need to meet are a minimum credit score of 620 or higher and income that meets the program's requirements. Many programs also consider your debt-to-income ratio.
Other common requirements vary by program. Some of these requirements include:
The home must be in a specific locale or county
You must be a first-time homebuyer
You must attend a class on homebuying and finances
You must live in the home for a certain number of years (often 3 – 10 years)
How Can You Apply?
Research what programs are available in your area, if any. HUD has a list of local homebuying programs by state. Check with your city and county to see if they offer any loans or grant programs. Search their websites for information on how to apply. Reach out to them via email or phone for specific answers you can't find online. Make sure your mortgage lender works with the program.
Can You Get Down Payment Assistance On A Manufactured Home?
Securing funding for a manufactured home comes with its own set of hurdles. The answer to whether you can get down payment assistance on a manufactured home is "it depends."
FHA, VA and conventional loans require the manufactured home be secured to a base. If the manufactured home is not secured to a base, you will need to apply for what's called a chattel loan. Research your local down payment assistance programs and see what their specific requirements are. From there, contact your lender to see if they work with these programs. Rocket Mortgage® does not offer financing on manufactured homes.
Can You Get Additional Down Payment Assistance With An FHA Loan?
While FHA does not offer its own down payment assistance, you may still be able to get help with your down payment through a program. Take note: assistance for closing costs on FHA loans is capped at 6%. For an FHA loan, you will have to put up some of your own money, but most down payment programs will work with FHA loans.
Final Thoughts On Down Payment Assistance
Don't let worries of coming up with down payment dollars scare you away from buying a home. Today's buyers have more options than ever for putting together these funds.
It's possible to qualify for a mortgage from conventional lenders with a down payment as low as 3% of a home's final purchase price. And if you need help coming up with an even smaller down payment, the down payment assistance programs offered by community organizations, government agencies and local lenders could help you clear this financial hurdle.
Learn more about buying a home in our Learning Center.
Get approved to buy a home.
Rocket Mortgage® lets you get to house hunting sooner.