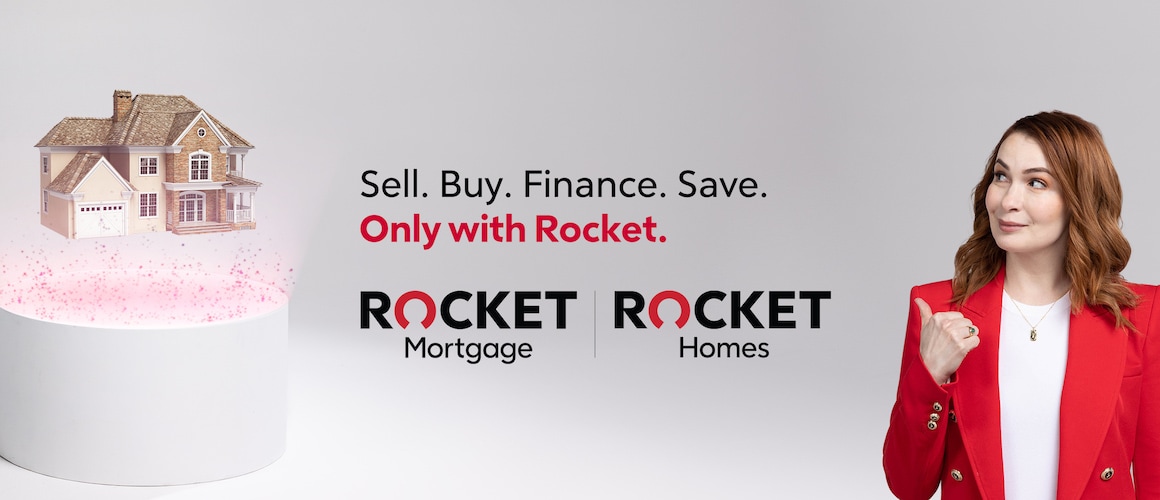 Buy And Sell Your Home With Trusted Partners
Kevin Graham6-minute read
June 01, 2023
Share:
Whether it's your first time buying a home or your fifth, it's a challenging market out there right now. Inventory is tight and it may take you longer to find an affordable home in this market. However, you're not without allies.
With BUY+ and SELL+, only with Rocket Mortgage® and Rocket HomesSM, you can buy a new place and sell your current home with support in your corner .1,2,3,4
State Of Housing
We understand the difficulty that many are facing trying to buy a home in the current market. Interest rates and prices are both pretty high. Higher prices have been a thing since the beginning of the pandemic. People realized their space didn't match their new lifestyle. Dissatisfied with their homes, they looked for new ones, driving up demand.
In addition to a change in demand, higher prices were also supported by relatively cheap borrowing costs because lower rates meant lower monthly payments. However, with demand being so high and inventory being so low, prices generally haven't come down with higher rates, although every market is different.
For the first time in a year, existing home sales picked up in February. What's more, prices were down 0.2% compared to a year ago, although inventory could certainly still be higher. Inventory was 2.6 months relative to the current pace of sales in February. We focus on existing sales, because traditionally, these sales outpace new homes by at least 4:1 and are typically more affordable.
The combination of higher rates with stubbornly high prices can feel like a double whammy. It's hard, but we're here to help with some new options.
See What You Qualify For
Congratulations! Based on the information you have provided, you are eligible to continue your home loan process online with Rocket Mortgage.
If a sign-in page does not automatically pop up in a new tab, click here
BUY+
With BUY+, Rocket Mortgage clients are able to get up to $10,000 toward your closing from Rocket Mortgage when you work with a Rocket Homes partner agent. In addition to the savings, you're teaming up with someone who understands your local area. Rocket Homes Partner Agents are fully vetted and highly rated by previous clients.
You deserve peace of mind in your home buying process. Not having to pay through the roof is a bonus.
SELL+
If you're a repeat home buyer, you're likely not just buying a new (or new to you) home, you're also selling your existing one. You don't want to pay more than you must to do that either.
SELL+ allows you to receive up to $7,000 from Rocket Homes after closing when you work with a Rocket Homes partner agent. The two can also be used in combination. You can save on both the buy and sell side of the transaction.
Bottom Line: Breathe Easy
With BUY+ and SELL+, you can save in the process of buying and selling your home. Moving is hard enough. We want to put a little money back in your pocket.
You could get up to $10,000 toward your closing costs through Rocket Mortgage when you use a Rocket Homes partner agent. In selling your home, you could receive thousands after closing for working with a Rocket Homes partner agent who understands your area and how to make the best deal for you.
The idea here is to create an all-in-one service that allows you to stress less about the process of buying and selling a home. Our dedicated professional partner agents from Rocket Homes will take care of you and you'll save money in the meantime.
Home buying and selling has traditionally been thought of as hard, but it doesn't have to be. You just have to have the right team. We can help! To get started, you can get an approval online or give us a call at (833) 326-6018. You can also get matched with a Rocket Homes partner agent in your area who understands your goals.
1 Rocket Homes® is a registered trademark licensed to Rocket Homes Real Estate LLC. The Rocket HomesSM Logo is a service mark licensed to Rocket Homes Real Estate LLC. Rocket Homes Real Estate LLC fully supports the principles of the Fair Housing Act. For Rocket Homes Real Estate LLC license numbers, visit  RocketHomes.com/license-numbers. California DRE #01804478. Hawaii License # RB-23371. TREC: Information about brokerage services, Consumer protection notice.
2 The following offers are available only to clients who are purchasing a home and financing with Rocket Mortgage: (1) Client purchasing with a Rocket Homes Partner Agent through Rocket Homes will receive a lender paid credit that is 1.5% of their loan amount. For example, a $200,000 home purchase price minus a 5% down payment of $10,000 results in a loan amount of $190,000. Client would receive a credit of 1.5% of the $190,000, for a credit of $2,850 toward closing costs. (2) Client is referred by a real estate agent to buy a new home will receive a lender paid credit that is 0.50% of their loan amount. (3) Client is eligible to receive a 0.50% lender paid credit if they upgrade their pre-qualification letter to an Approved Pending Conditions, Verified Approval or RateShield® letter. These offers may not be combined. Client must lock their rate on or after 3/31/2023 through 8/31/2023. Offer does not apply to new loans submitted through a mortgage broker, through Schwab, or on nonagency jumbo loans, non-QM loans, bank statement loans, second lien products or team member loans. Offer may not be redeemed for cash and is nontransferable. Offer cannot be retroactively applied to loans where the rate has been locked. Conditions and exclusions apply. This is not a commitment to lend and is contingent on qualification per full underwriting guidelines.
3 Qualifying for Rocket Homes rebate requires clients selling their home using a real estate agent that participates in Rocket Homes' Partner Network. Upon closing, the Rocket Homes Network Partner pays a referral fee to Rocket Homes. Rocket Homes will rebate up to 1% of the final sale price to the client. Clients retain the right to negotiate their individual listing agreement. All Agents have been independently vetted by Rocket Homes to meet performance expectations required to participate in the program. If clients are currently working with a real estate agent, this is not a solicitation. Consumers who have engaged an agent not in the Rocket Homes Partner Network are not eligible for Rocket Homes rebate. Rocket Homes rebate is not available in Alabama, Alaska, Iowa, Kansas, Mississippi, Missouri, New Jersey, Oklahoma, Oregon and Tennessee. Rocket Homes rebate checks will be issued within 30 days of Rocket Homes receiving settlement statements and any other documentation reasonably required to calculate the applicable Rebate amount. Rocket Homes rebate is offered by Rocket Homes Real Estate LLC, a licensed real estate broker. Clients must be referred to a Rocket Homes Network Partner on or after 3/31/2023 through 8/31/2023. Rocket Homes rebate is not available when the final sale price of the home is less than $100,000.00. Offer cannot be combined with any other Rocket Homes rebate or incentive. Additional restrictions/conditions may apply. Offer subject to change or cancellation without notice.
4 Rocket Mortgage, LLC; NMLS #3030; www.NMLSConsumerAccess.org. Equal Housing Lender. Licensed in 50 states. AL License No. MC 20979, Control No. 100152352. AR, TX: 1050 Woodward Ave., Detroit, MI 48226-1906, (888) 474-0404; AZ: 1 N. Central Ave., Ste. 2000, Phoenix, AZ 85004, Mortgage Banker License #BK-0902939; CA: Licensed by the Department of Financial Protection and Innovation under the California Residential Mortgage Lending Act; CO: Regulated by the Division of Real Estate; GA: Residential Mortgage Licensee #11704; IL: Residential Mortgage Licensee #4127 – Dept. of Financial and Professional Regulation; KS: Licensed Mortgage Company MC.0025309; MA: Mortgage Lender License #ML 3030; ME: Supervised Lender License; MN: Not an offer for a rate lock agreement; MS: Licensed by the MS Dept. of Banking and Consumer Finance; NH: Licensed by the NH Banking Dept., #6743MB; NV: License #626; NJ: New Jersey – Rocket Mortgage, LLC, 1050 Woodward Ave., Detroit, MI 48226, (888) 474-0404, Licensed by the N.J. Department of Banking and Insurance.; NY: Rocket Mortgage, LLC, 1050 Woodward Ave., Detroit, MI 48226 Licensed Mortgage Banker-NYS Department of Financial Services; OH: MB 850076; OR: License #ML-1387; PA: Licensed by the Dept. of Banking –​ License #21430; RI: Licensed Lender; WA: Consumer Loan Company License CL-3030. ​Conditions may apply.
5 Rocket Mortgage, LLC and Rocket Homes Real Estate LLC are separate operating subsidiaries of Rocket Companies, Inc. (NYSE: RKT). Each company is a separate legal entity operated and managed through its own management and governance structure as required by its state of incorporation and applicable legal and regulatory requirements.
Tested. Trusted. Top-rated.
Visit Rocket HomesSM to get a proven real estate agent that's handpicked just for you.
Related Resources
Viewing 1 - 3 of 3