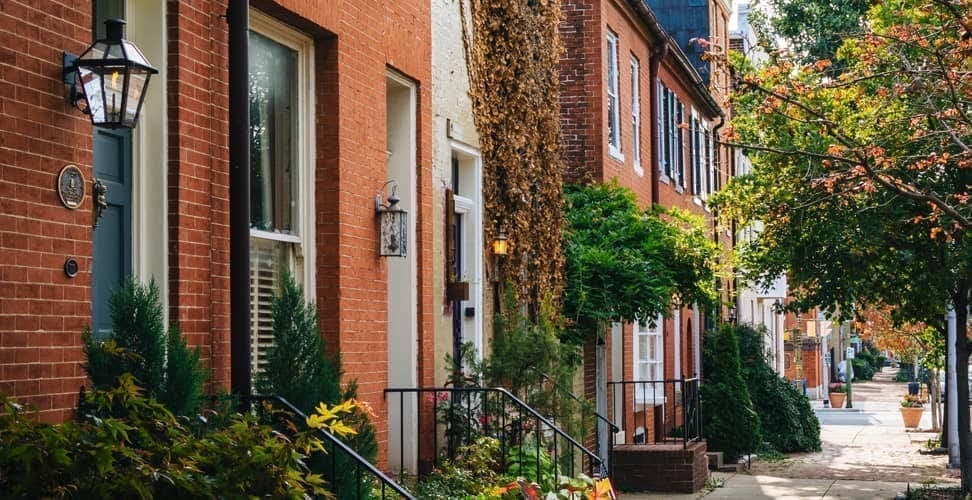 All About Government-Backed Mortgages And Loans
7-minute read
August 05, 2020
Share:
*As of July 6, 2020, Quicken Loans is no longer accepting USDA loan applications.
Government-backed loans are more affordable, usually have lower interest rates and are often easier to qualify for than personal or conventional loans. We've created a short guide to everything you need to know about the most popular government-backed loans available.
What Are Government Loans?
Government loans are loans insured or backed by the federal government. These types of loans protect the lender if you don't pay back the money you borrow. This makes it a lot easier for lenders to offer potential borrowers lower interest rates. There are many types of government loans, including loans for veterans, college education, mortgages, disaster relief and for opening a business.
How Do Government Loans Work?
In some cases, applying for a government loan is as easy as filling out an application online and submitting it to the federal government. For example, to get an education loan, you can simply fill out the Free Application for Federal Student Aid (FAFSA) online.
In other cases, the government works with approved lenders and only insures the loan. For example, the government does not issue VA loans – you must work with a lender to get your loan. Every lender has their own application process that you'll need to follow.
See what you're eligible for.
Rocket Mortgage® uses information about your income, assets and credit to show you which mortgage options make sense for you.
The Different Types Of Federal Government Loans
There are many government loan programs available for everything from attending college to buying a home. Your state might also have its own unique loan options, but we'll cover the major federal loan programs.
Housing Loans
Housing loans are not directly funded by the federal government. To get a government housing loan, you'll need to work with an approved bank or online lending service. Some of the most common government housing loans include FHA loans, USDA loans, VA loans and the Native American Direct Loan.
FHA Loans
Backed by the Federal Housing Administration, FHA loans are mortgage loans that have lower down payment and credit requirements, making them accessible to more people. Depending on where you live, you can get an FHA loan worth up to $726,525 with as little as 3.5% down. To qualify for an FHA loan, you must have a credit score of at least 580 or higher.
USDA Loans
USDA loans are government-backed loans that can help you buy a home in a suburban or rural area. USDA loans don't require a down payment, but you must have a credit score of at least 640 to qualify. The home you want to buy must also be in an eligible rural area; you can check your potential home's eligibility on the USDA website.
VA Loans
The U.S. Department of Veterans Affairs backs VA loans. VA loans are only for current military personnel, veterans and select surviving spouses. Though there are no minimum credit score requirements for a VA loan, most lenders require you to have a score of at least 620 to qualify.
Native American Direct Loan (NADL)
NADLs are for Native American veterans who want to buy, improve or build a home on Federal Trust land. To get a NADL, you must first fill out a certificate of eligibility with your tribal organization and have satisfactory credit.
Veteran Loans
There are a few other loans available for veterans through the Department of Veterans Affairs.
Veterans' Life Insurance Policy Loans
If you're a veteran who served in the Vietnam War, Korean War or World War II, you may have a government-issued permanent life insurance plan. A veterans' life insurance policy loan allows you to borrow up to 94% of your policy's value in cash or surrender your policy for its cash value.
Interest Rate Reduction Refinance Loan (IRRRL)
If you have a VA loan and would like to lower your monthly payments, an IRRRL, also called a VA Streamline refinance, can help you refinance with a lower rate. Depending on your loan's terms, an IRRRL can give you a lower interest rate or a lower monthly premium.
VA Cash-Out Refinance
Cash-out refinance programs allow you to utilize the equity you've built in your home. With a VA Cash-Out Refinance program, you can refinance your current VA or conventional loan into a lower rate while extracting cash from your home's equity. There are no restrictions on how you use your cash, but common uses include removing liens, paying off debt or making home improvements.
Education Loans
The federal government offers many loans and grants that can help you pursue a college degree or research in a needed area. For most types of education loans, you'll start by filling out and submitting the FAFSA online. You can also find a paper copy of the FAFSA at your local library or postsecondary school.
Federal Perkins Loans
Colleges and universities award Federal Perkins loans to low-income undergraduate and graduate students. Financial aid administrators at participating institutions are flexible when determining Perkins loan amounts for students.
Undergraduate students can receive a maximum of $5,500 a year and graduate students can get up to $8,000 per year. If you awarded a Federal Perkins loan, you'll start repaying it at a fixed interest rate of 5% once you leave school.
Direct Subsidized And Unsubsidized Loans
Direct Subsidized and Unsubsidized loans are two different types of low-interest education loans offered through the Department of Education to help cover the cost of college or career school.
Direct Subsidized loans are available for undergraduate students to attend a four-year or two-year college, technical school or trade school. They are only for students who demonstrate financial need. The U.S. Department of Education pays the interest while you're in school at least half-time, for the first six months after you leave school and during a period of deferment. Annual loan limits apply.
Unlike Direct Subsidized loans, Direct Unsubsidized loans are not awarded based on need, but rather the cost of your tuition and other financial aid you need. Direct Unsubsidized loans begin accruing interest as soon as you take out the loan. Annual loan limits apply.
Direct PLUS Loans
Direct PLUS loans are unsubsidized loans lent by the U.S. Department of Education. Interest begins accruing immediately on Direct PLUS loans. Parents of dependent children in college as well as graduate or professional students can take out these types of loans.
You must not have an adverse credit history if you want to take out a Direct PLUS loan. If you have an adverse credit history, you may still be able to receive a PLUS loan if you meet additional requirements. The maximum PLUS loan amount you can receive is the cost of attendance minus any other financial aid received.
Business Loans
If you aspire to be a small business owner, a government loan from the Small Business Administration (SBA) can give you the funds you need to get off the ground. Like housing loans, business loans are not directly issued by the government. Instead, you apply through your bank or lending service and the government guarantees the loan.
7(a) Small Business Loan
A 7(a) loan is the most basic type of small business loan and it can be used for a wide range of purposes. 7(a) loans are designed for small, for-profit businesses that are unable to get loans from other channels. You can receive up to $2 million with a 7(a) loan.
CDC/504 Loan Program
CDC/504 loans are for specialized small business owners who want to purchase or upgrade their commercial facility. Corporate development companies are non-profits that issue and guarantee 40% of your CDC/504 loans. Your bank lends 50% and you must put 10% down. You can get up to $13 million with a CDC/504 loan.
SBA Microloans
SBA Microloans are small business loans with shorter terms and smaller maximums than 7(a) loans. Microloans are only for new startups and small businesses, and you must pay them back in under 6 years. You can get up to $50,000 with an SBA Microloan, and the average loan size is $13,000.
Disaster Relief Loans
If you live in an area that's been declared a disaster zone, you have access to low-interest disaster relief loans from the SBA and FEMA. Disaster relief loans have long loan terms – up to 30 years – and low interest rates.
Home and Property Disaster Loans
Home and property disaster loans can help pay for home damage that insurance doesn't cover after a declared disaster. Homeowners can apply for up to $200,000 to rebuild their homes after a natural disaster and an extra $40,000 to replace lost possessions. However, you can't use these loans to upgrade your home or build more structures that weren't there before the disaster.
Economic Injury Disaster Loans
If you own a small business or non-profit that's in a declared disaster zone, an Economic Injury Disaster loan can help you rebuild. An Economic Injury Disaster loan can give you up to $2 million to repair your business. Similar to a home and property disaster loan, you can't use an Economic Injury Disaster Loan for renovations or upgrades.
Agriculture Loans
Farmers, ranchers and other agricultural experts can get low-interest loans from the federal government. The USDA and the Farm Safety Agency (FSA) fund agriculture loans. You can apply for most agriculture loans at your local USDA service center.
Farm Operating Loans
Farm operating loans are for family farmers or ranchers to build or sustain their farms. The FSA guarantees farm operating loans from commercial lenders and services loans themselves. You can get up to $1,399,000 with a farm operating loan with a repayment term of up to 7 years.
Farm Ownership Loans
If you want to buy a new farm or ranch, a Farm Ownership Loan is the loan for you. You can qualify for up to $1,392,000 with an FSA guaranteed ownership loan or $300,000 with an FSA direct loan. Farm Ownership Loans are long-term loans with a maximum repayment term of 40 years.
Take the first step toward the right mortgage.
Apply online for expert recommendations with real interest rates and payments.
Summary
There are many kinds of government loans available to you, for everything from building a ranch to going to college. The government guarantees federal loans, which means that they present less of a risk to lenders. Know that most government loan programs have strict limitations on who can and cannot use them. Carefully review all loan requirements and the application process before you apply. If you're interested in a home loan, Rocket Mortgage® by Quicken Loans® can help you figure out which loan best fits your situation.