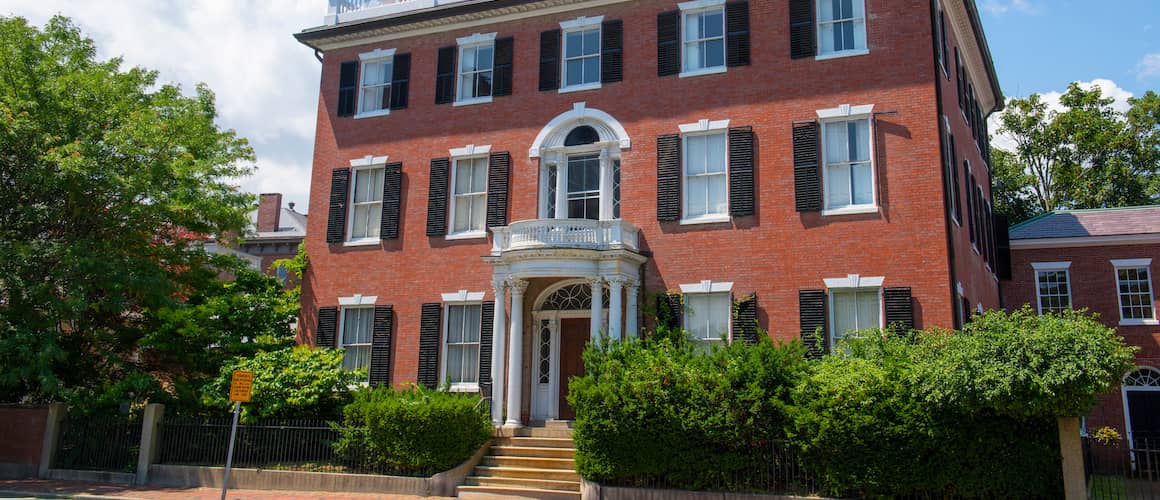 What Is A Federal-Style House, And Should I Buy One?
Katie Ziraldo4-minute read
February 24, 2023
Share:
When you're buying a house, there are a lot of styles to consider. From a Tudor to a craftsman or even a Colonial, each home style has its own distinct look and feel. But one of the most popular and enduring home styles is the federal-style house.
But what defines a federal-style house, and how do you know if it's right for you? We're breaking down everything you need to know.
What Is A Federal-Style House?
A federal-style house is one of several popular types of houses that have stood the test of time. Easily recognized by their shape and façade, federal-style houses utilize some of the same elements and materials used in colonial homes while still having their own unique style.
Drawing inspiration from ancient Roman and Greek architecture, examples of the federal style include the oval office of the White House and the famous Hamilton Hall in Salem, Massachusetts.
See What You Qualify For
Congratulations! Based on the information you have provided, you are eligible to continue your home loan process online with Rocket Mortgage.
If a sign-in page does not automatically pop up in a new tab, click here
What Are The Architectural Elements Of The Federal Housing Style?
Federal-style homes are marked by a few key architectural elements, including a square or rectangular shape and Palladian windows and columns.
But despite these easily identifiable characteristics, the federal style is often confused with the Colonial style – so let's break it down in a little more detail.
Federal-Style House Exteriors
From the outside, federal-style houses are simple in their design, often consisting of a brick face and a basic square or rectangular floorplan. But these homes are often accented by ornamental features – so while there isn't a front porch and the front door itself is simple, the detailed molding and columns surrounding it are grander than what you might encounter with similar architectural styles. Fanlight doors are common as well, which include a small, half oval window above the door.
On the rest of the house, window displays are always linear and often Palladian, meaning they feature a centralized, arched window with smaller square windows situated on either side. All windows, doors and details are symmetrically placed, and geometric shapes are often used.
Federal-Style House Interiors
source: Wirestock - stock.adobe.com

Despite the rectangular exterior, on the inside, the federal-style leans into curved lines and shapes. A common characteristic of federal design is the oval shape, which is frequently used in things like furniture and decor. But quite often, the oval shape also extends to the shape of the room itself, like in the case of the oval office in the White House.
Federal-style interiors also typically utilize simple, muted tones on walls, accented by detailed molding and cornices. Other ornamental details like festoons, wall niches and decorative ceilings are also used.
What Materials Are Used In Building Federal-Style Houses?
Federal-style houses utilize local materials, like clapboard and brick, in their design. This means that the specific materials used in construction vary between locations, leading to regional variations in the style.
The History Of Federal-Style Architecture In The U.S.
Federal-style architecture has been around since 1780, though it draws inspiration from both the classical and colonial styles. Classical style architecture, popularized by Andrea Palladio during the Italian Renaissance, was known for Corinthian columns and an emphasis on symmetrical design. These elements can easily be found within federal design as well, though the federal style wouldn't come to fruition until 1780.
Following the Revolutionary War, many Americans continued to be deeply influenced by British artists and architects like Robert Adam, whose neoclassical style would shape federal design. The federal style was further popularized by architects like Charles Bulfinch and even Thomas Jefferson himself, who suggested using a Roman temple as the model for the Capitol Building in Richmond, Virginia, and went on to utilize federal principles in the design of several other well-known buildings. Today, the federal style can be found in homes, town halls, schools and even churches.
Where Are Federal-Style Homes Available?
Federal-style homes can be found across the country, though they're most commonly located on the East Coast. New York's Bleecker Street is littered with the federal style, and Boston's Beacon Hill is well known for its architecture tour, which showcases several buildings, including the Massachusetts State House, designed by Charles Bulfinch. Further south in Washington, D.C., neighborhoods like Georgetown are also known for their federal roots.
What Is A Modern Federal-Style House?
Like many other architectural styles, the federal style has been frequently adapted in recent years as homeowners have sought out ways to retain the charm and history of their house while modernizing it for daily use. Modern federal-style houses may feature contemporary decor and designs, though the original structure and key federal features are typically kept intact.
Get approved to buy a home.
Rocket Mortgage® lets you get to house hunting sooner.
Is A Federal-Style Home Also A Historic Home?
It's important to note that while many federal-style buildings have been around for more than a century, homes can be quite old without being considered historic.
Some of these houses may be an authentic example of federal-style architecture, but not designated historic simply because they aren't located within a preservation district. But this may not be a bad thing, as buying a historic home sometimes means jumping through more hoops to obtain financing.
The Bottom Line: Federal-Style Houses Bring History To Life
At its core, federal-style architecture is rooted in symmetry and simplicity with just a dash of ornamentation that sets it apart from similar styles. Federal-style homes, which first entered the scene in 1780, can still be found sprinkled across the country – so for buyers wishing to own a piece of U.S. history, a federal-style house may be just the ticket.
If you're ready to buy a house, apply for approval online today so you can start browsing for your dream home.
Get approved to see what you can afford.
Rocket Mortgage® lets you do it all online.
Related Resources
Viewing 1 - 3 of 3