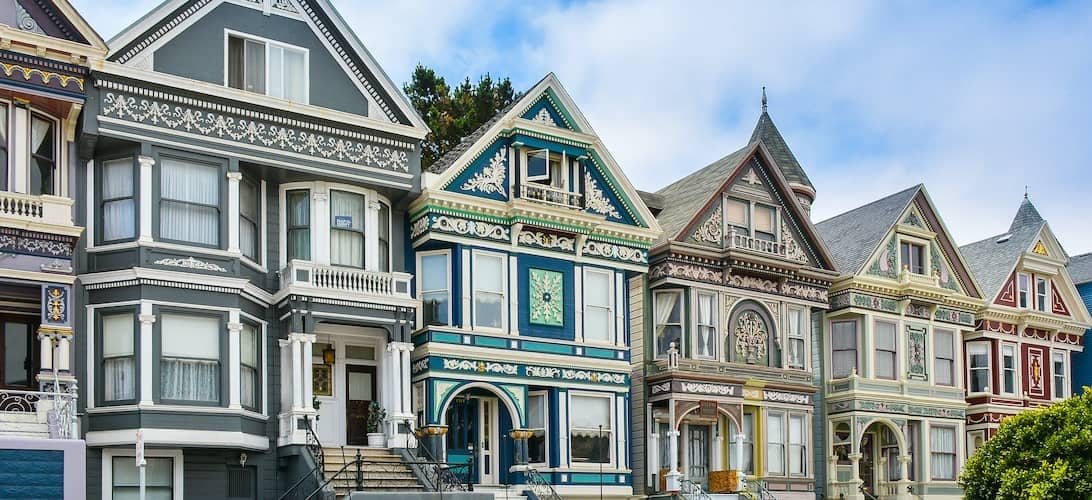 The Charms And Headaches Of Buying A Historic Home
Victoria Araj7-minute read
February 26, 2023
Share:
Disclosure: This post contains affiliate links, which means we receive a commission if you click a link and purchase something that we have recommended. Please check out our disclosure policy for more details.
Buying a historic home can be a thrilling experience. For some exploring the possibility of buying a house, there is nothing more enticing than an old home, particularly if it's listed on the National Register of Historic Places and is located in a historic district.
Historic homes give property owners the chance to own a piece of history and embrace the character and stories of a beautifully crafted home. But historic houses also come with particular issues that newer homes don't. So, before you commit to owning a historic home, it's important you understand how to find and buy the right historical house and be prepared for the endless care and maintenance your new home will require.
What Is A Historical Home?
Although many types of houses may appeal to buyers looking for a historic look and feel, in the United States, historic places – including homes – are determined and then monitored by the National Park Service. The National Register of Historic Places is a federal list on which there are currently over 95,000 places listed. Additionally, states and municipalities can designate a home or district as historic.
What Makes A Home Historic?
Just because a home is old doesn't mean it is registered or qualified to be a historic home. To be accepted as a historic property, the home needs to be at least 50 years old (although there are some exceptions) and meet one of four criteria:
It's connected to significant, historical events.

It's connected to the lives of significant individuals.

It's considered an embodiment of a particular master or historic style.

It has provided or is likely to provide important historical information.
If you're ready to start hunting for a historic home, make sure you've started the approval process with your mortgage lender. Historic areas can be competitive markets, so you'll want to make sure you've got your financing in order before diving in and making offers.
Get approved to buy a home.
Rocket Mortgage® lets you get to house hunting sooner.
What Is A Historic District?
A historic district can be designated at the federal, state or local government level. Typically, a local designation will be the most restrictive when it comes to what owners can change about their properties. A historic designation typically means that a district must be preserved by all who own property within the district, and that permits are required for any work that affects the exterior of the home.
Often, an individual home that is not in itself eligible to become historic due to a lack of notability or significance can gain protections by being part of a cluster of properties and places that are together designated as a historic site. However, some buildings within the boundaries of a historic district may be defined as "non-contributing" and escape the protections and
What Are The Benefits Of Buying A Historic Home?
Owning a historic home is a one-of-a-kind experience that can bring lovers of history, art and architecture closer to their community and the past. If you're thinking about purchasing a historic home, read more about the advantages that motivate homeowners to buy them.
Owning A Unique Piece Of History
For a niche group of homeowners, a historic home is an emotional investment. Many prospective home buyers seek a unique old house that they can connect with. It's common for prospective home buyers to share a passion for architecture or history. So when these buyers look for homes on the market, they are guided by those passions and attracted to charming features and one-of-a-kind historic structures.
Joining
A Community Committed To Preservation
When buying a home in a historic district, a person is not only committing to being a good neighbor, but also a good steward of history. This is a commitment shared by other homeowners to do what it takes to preserve the character and history of the district, even when it will cost them more to do so and limit certain property rights enjoyed by non-historic homeowners.
Receiving A Higher
Return On Your Investment
Believe it or not, many well-preserved homes in well-maintained historic districts have been significantly outpacing their newer rivals in value increases. This difference can be caused by a number of factors, like the desirability of a historic neighborhood or increasing property values in areas receiving improvement.
Getting
Financial Assistance For Renovations
If you're interested in purchasing a historic home but are worried about the price tag, there may be grants or loans available to pay for a portion of renovation costs. After checking out general grants available to first-time home buyers, your first stop should be your State Historic Preservation Office (SHPO). They'll be able to help you access state-specific assistance for historic home renovation.
You should also look into the National Trust for Historic Preservation's tax credit program, the Historic Tax Credit (HTC), which could provide you with a tax credit for rehabilitating a historic building. You will also want to look into historic preservation easements, which may afford you significant tax relief if they apply.
Excited to experience the benefits of a historic home? It's likely that other buyers are eager, too. Boost your chances of getting the house of your dreams by opting for a Verified Approval when you apply with Rocket Mortgage®. By submitting your finances for more rigorous scrutiny, you'll stand a better chance of showing sellers you're serious about closing the deal.
What Are The Downsides Of Buying A Historic Home?
While the thought of owning a historic home might seem like a dream come true, it's important to be realistic and consider some of the headaches that may await you if you purchase a historic home.
Stricter Regulations
In some historic districts, oversight is minimal. However, in many tourist-heavy districts, the process will be closely reviewed for architectural compatibility and historic sensitivity by experts in the field. Restrictions may be even stricter than those of many homeowners associations.
If you're a serious prospective historic home buyer, be sure to read all applicable preservation regulations before purchasing the property.
More Complicated Renovations
Added levels of oversight invariably add months, and sometimes years, to any construction or home improvement project. In addition, homeowners in historic districts are required to apply for review or permits for any work that affects the exterior appearance of the home, including additions, demolitions and alterations.
Those who buy a historic home without a passion for history or architecture may find the historic oversight intrusive.
More Costly And Frequent Repairs
Some requirements, like the use of historically authentic materials, can add significantly to the costs of these products. Although the National Register of Historic Places does not require any renovation or upkeep of historic homes, many state and local districts do, so homeowners must maintain their property to community standards with historically accurate materials. Unless you're handy and up-to-date on your local historical building standards, you'll likely need to find a professional to help with these repairs. Factor these extra costs into your budget when considering any historic home.
Lower Return On Investment
Unfortunately, the return on a historic home investment is unclear. The same qualities that some homeowners find onerous or costly are also the ones that protect resale value. Districts or homes that are not well-preserved will not be as attractive to those interested in purchasing a historic home, and resale value will reflect that.
However, there is some debate about whether treating a home as an investment makes sense in the first place, as it's sometimes difficult to time the market and sell on demand. It may be wiser to view your home as a cost-effective way to live more comfortably and enjoyably.
More Difficulty Arranging Financing And Insurance
It's possible that prospective historic home buyers could run into some difficulties during the home buying process. For example, it could be harder to schedule an appraisal – and sometimes lenders shy away from historical homes altogether. Before submitting an offer on a historic home, you should secure preapproval ahead of time to ensure your loan won't fall through during closing.
Also, because renovations on historic properties can be so costly, many insurance companies will be hesitant to offer homeowners policies. Luckily, there are insurance companies that specialize in historic homes, but, as with everything else historic, it'll cost more.
Tips For Buying A Historic House
Buying a historical piece of real estate is just like purchasing any other property, except it will require a little more research and consideration. To help you find the right property for your situation, you can do the following:
Tour as many houses as possible. The more homes you can compare, the better. This will allow you to find out what architectural styles and room layouts you like best.
Get a Verified Approval letter. Competition for a historical home can be tough, so any way you can set yourself apart from the other offers is worth the time and effort.
Make sure you have a home inspection. Historical properties can have numerous issues that may or may not be obvious. Protect yourself by including an inspection contingency clause within the purchase agreement and make sure your home inspector has experience with older historic homes.
Research maintenance and renovation costs. Once you have the inspection, you can use the report to find what repairs the house may need and how much the work will cost. This precaution can help you avoid costly surprises down the road.
Check the historic rehab regulations for the home. Not all historic districts have the same rules, so you'll want to carefully read through all the restrictions that apply to the property.
Renovating and maintaining a historic home requires more time and labor than a newer house. To better understand what's involved in the process, you should carefully analyze all your options.
See What You Qualify For
Congratulations! Based on the information you have provided, you are eligible to continue your home loan process online with Rocket Mortgage.
If a sign-in page does not automatically pop up in a new tab, click here
The Bottom Line
There are many benefits and drawbacks involved with the purchase of a historic home. For example, you can save money in the form of tax breaks, but older homes can often surprise you with emergency repairs. You'll need to determine what owning a piece of history is worth to you. If the time and investment required aren't something you're comfortable with, it's best to make that decision before you invest anything.
As you continue your home buying journey, you can help streamline the process and get approved for a mortgage before you submit an offer on the historic home of your dreams.
Related Resources
Viewing 1 - 3 of 3