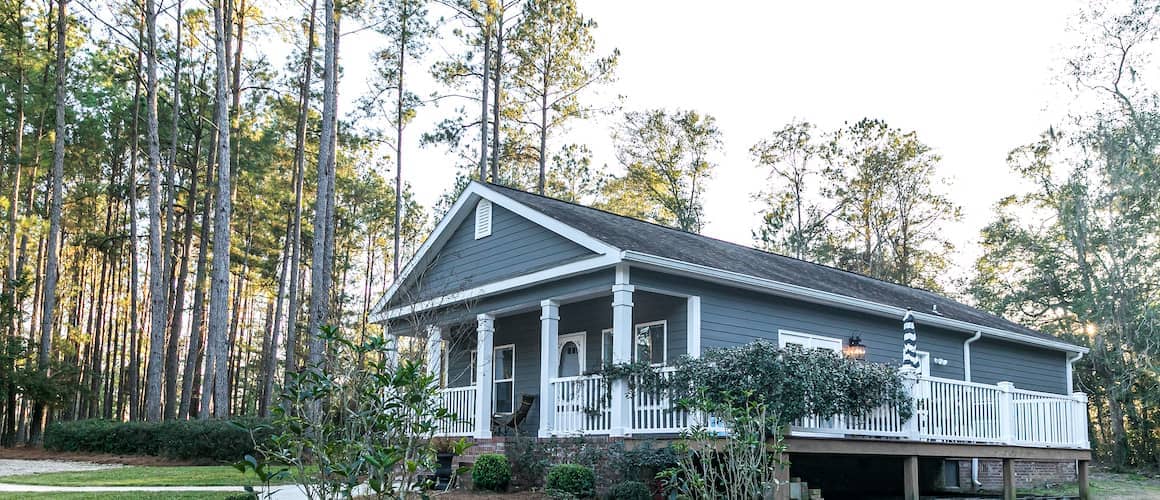 Single-Wide Vs. Double-Wide: Which Is Right For You?
Breyden Kellam5-minute read
July 24, 2023
Share:
Buying a home on a budget is no small feat. For this reason, some cost-conscious home buyers have opted for a manufactured home — one built in a factory or warehouse and then transported to the home site – rather than a traditional site-built home. However, once you've settled on a manufactured home, there's still the question of which type is right for you. While manufactured homes come in various styles and layouts, the choice usually boils down to the two major types, single-wide or double-wide.
In this article, we'll discuss single wide versus double wide — the difference between the two key characteristics, and the pros and cons associated with both types of manufactured home.
What's The Difference Between Single-Wide And Double-Wide?
Before deciding whether a single-wide or double-wide manufactured home is right for you, it's important to know the difference between these two floor plans. The primary difference has to do with how the home is built. A single-wide home is built in one long section. A double-wide, however, must be built in two separate sections and joined together on site to make a larger home. Double-wide manufactured homes are typically twice the size of single-wide homes. A double-wide also differs from the single-wide on account of its higher square footage, bigger land or lot size, longer setup process, increased costs and heightened difficulty in its ability to move.
See What You Qualify For
Congratulations! Based on the information you have provided, you are eligible to continue your home loan process online with Rocket Mortgage.
If a sign-in page does not automatically pop up in a new tab, click here
What's A Single-Wide Manufactured Home?
Did you know that manufactured homes used to be more commonly referred to as mobile homes? That is until 1976, when Congress passed the National Manufactured Housing Construction and Safety Standards Act, which authorized the U.S. Department of Housing and Urban Development (HUD) to create construction standards for manufactured homes.
So, what may have been considered a single-wide trailer home in the past no longer accurately lives up to the building standards that constitute a single-wide manufactured home today. The modern single-wide home offers homeowners a dwelling that is cozy in size, narrow and long in its floor plan, easy to relocate, and relatively inexpensive.
What's A Double-Wide Manufactured Home?
As the manufactured home grew in popularity among homeowners, so did its size. In 1967, two single-wides were combined to create the first double-wide home. Today, a double-wide manufactured home can be distinguished by its much larger floor plan, wider and shorter size, greater (but still relatively affordable) cost, and other defining features.
Single-Wide Vs. Double-Wide Key Characteristics
As you choose the right type of manufactured home for you, it may be helpful to compare the key characteristics and differences. Below, we've provided a detailed chart to help you make an informed decision. Keep in mind, though, that the figures shown below are general ranges.
Single-Wide Home

Double-Wide Home

Square Footage

500 – 1,300 sq. feet

1,000 – 2,300 sq. feet

Dimension

12-18 feet wide

40-80 feet long

20-36 feet wide

32-90 feet long

Floor Plan

Fewer room layout options Narrow and long shape

More spacious floor plan

Wider and shorter shape

Average Cost (2021)*

$73,000

$132,000
Data from Manufactured Housing Institute
Size
As we've already discussed, the size of a single-wide versus a double-wide home will vary greatly. You can usually expect for a single-wide to range between 500 and 1,300 square feet, with a width of 12-18 feet and a length of 40-80 feet.
Double-wide homes are typically twice the size of single-wide homes, with square footage ranging from 1,000 - 2,300 or even greater. They will also have larger widths (usually 20-36 feet) and lengths (32-90 feet). Lot sizes for each type of manufactured home will also vary. A double-wide has a larger footprint, so it generally requires more space than a single-wide.
Floor Plans And Upgrades
Since single-wide homes are smaller in size, this inevitably affects the floor plan. Because of their long, narrow shape, traditional single-wide homes usually have fewer room layout options. Individuals who choose to live alone or couples without children may find such a floor plan ideal.
On the contrary, a double-wide has a much more spacious and flexible design; some may even find that it resembles a site-built home in its look and feel. This is the ideal option for larger families.
While manufactured homes can be harder to personalize than the traditional home, there are still many opportunities for renovations and additions — especially on a double-wide home. If possible, you might consider adding an extra bedroom or bathroom, or even a front porch to the outside of your home.
Mobility
Both single-wide and double-wide homes are mobile, meaning they can be picked up and transported from one place to another. However, since a double-wide comes in two halves and a single-wide only has one piece, moving will be easier with a single. A double will need to be separated and moved in two stages, making a sudden move much more difficult.
Cost
How do the single-wide and double-wide compare when it comes to cost? Generally speaking, a single-wide home will cost less than a double-wide since it's smaller in size. For a single-wide home, you can expect to pay anywhere from $45,000 - $73,000 or more. And a double-wide can end up costing anywhere from $82,000 - $132,000 or more. You should also be prepared to pay setup costs averaging $1,500 - 5,000 for both types of manufactured home.
However, it's important to note that cost will vary greatly depending on location and the options and features you select for your single-wide or double-wide home. If you're looking to customize your home with porches, decks, and interior upgrades, this could lead to a significant boost in price.
Resale Value
Another important factor to consider when choosing between a single-wide or double-wide home is resale value. Resale value is the amount you can expect to receive for your home if you sell it in the future.
While you may pay less for a new single-wide home, it also has 30%-50% less of resale value than a double-wide home — making it much harder to resell. This is because a double-wide looks more like a traditional home and has a spacious, more customizable floor plan that prospective buyers will likely find appealing.
Single-Wide Vs. Double-Wide Pros And Cons
Both single-wide and double-wide manufactured homes have their benefits and drawbacks. Let's briefly consider some.
Single-Wide Pros And Cons
| | |
| --- | --- |
| Single-Wide Home Pros | Single-Wide Home Cons |
| Less expensive | Smaller in size |
| Easier to transport | Lower resale value, therefore harder to resell |
| Low maintenance costs | Limited design and alteration potential |
| Quick setup and construction | |
| Lower taxes | |
Double-Wide Pros And Cons
| | |
| --- | --- |
| Double-Wide Home Pros | Double-Wide Home Cons |
| Larger in size | More expensive |
| Spacious and flexible floorplan | Longer construction time |
| Easier to resell | Higher taxes |
The Bottom Line
The right manufactured home plan for you will depend on your unique needs and preferences. If you're looking for a home that's smaller in size, less expensive and easier to transport, the single-wide could be the ideal match.
If you're seeking a more spacious abode that's easier to revamp and resell, then you may find that the double-wide home is the better fit for you. No matter which manufactured home you choose, you'll want to know what financing options are available to you. Learn more about manufactured home financing and find out whether financing with Rocket Mortgage® is right for you.
Related Resources
Viewing 1 - 3 of 3