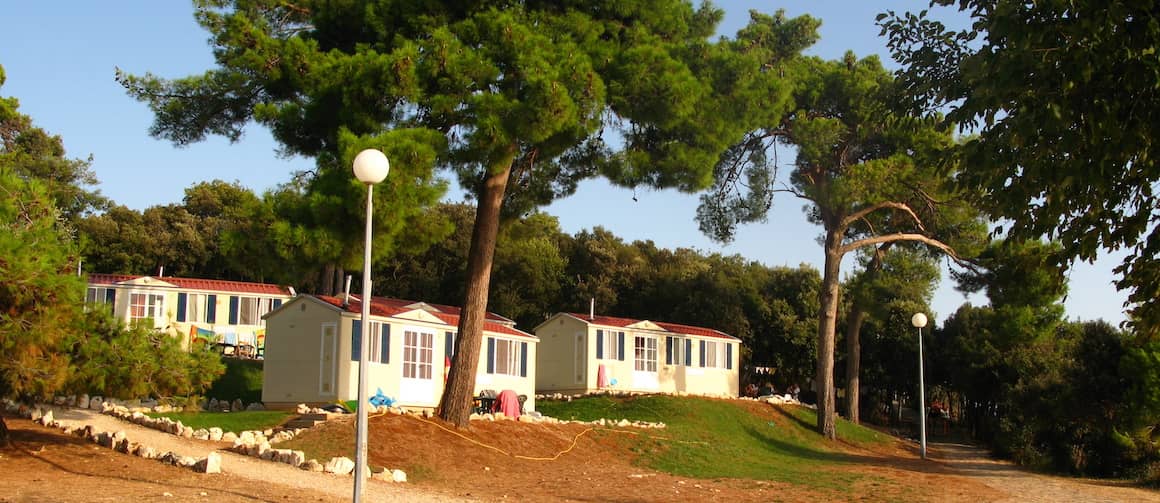 Pros And Cons Of Manufactured Homes: A Guide
Melissa Brock7-minute read
May 17, 2023
Share:
Home is more than just a place to park your car or sleep at night. It's the place where you can make memories and feel at ease in your own space. Feeling at ease in a home may be easier when you can better afford it.
Affordability is just one advantage to consider when you're thinking of the pros and cons of manufactured homes and whether they're a right choice for you.
What Is A Manufactured Home?
Manufactured homes are homes put together in pieces in factories based on building codes put in place by the U.S. Department of Housing and Urban Development (HUD). The homes are built in a factory, starting with a steel frame. The factory will then add layers of insulation, the flooring system and plumbing as well as the wooden floor frame. Once assembled in this controlled environment, it's then transported to the home site and installed on a temporary or permanent foundation. Unlike stick-built homes, a manufactured home isn't exposed to the elements in the same way.
The history of manufactured homes began prior to World War II, when they were used as temporary housing for workers, later used for affordable housing for soldiers. After World War II, the public began turning to manufactured homes for an affordable (and movable) option and adopted the term "mobile home."
On June 15, 1976, HUD regulations changed when Congress implemented the National Mobile Home Construction and Safety Act to ensure the safety and quality of manufactured homes. Manufactured housing sometimes comes with a stigma associated with the term "mobile home." However, after the passing of the act, the term shifted to "manufactured" homes instead of "mobile" homes. It is no longer common practice to use the term "mobile home."
HUD's manufacturing and safety standards require that manufactured homes contain a certification label or HUD Tag, which ensures that it meets body and frame requirements, thermal protection, plumbing, electrical, fire safety and other HUD code standards. It will usually fit three general floor plans: single-wide, double-wide or triple-wide.
What Is The Difference Between Modular And Manufactured Homes?
You may have heard about modular homes as well. Modular homes and manufactured housing are prefabricated structures, meaning both prefab homes are factory-made.
However, a modular home is partially constructed in a factory, not fully built in a controlled setting. Modular homes must meet local building codes and standards (as opposed to HUD standards) and may look just like traditional stick-built homes. You can also choose from a wider variety of floor plans than manufactured homes.
Like traditional stick-built homes, modular home values may fluctuate within the regular housing market.
See What You Qualify For
Congratulations! Based on the information you have provided, you are eligible to continue your home loan process online with Rocket Mortgage.
If a sign-in page does not automatically pop up in a new tab, click here
How Much Do Manufactured Homes Cost?
According to the latest available data from the U.S. Census Bureau, the average cost of manufactured homes was $128,300 as of October 2022 across all available widths. The average price boils down to about $55 per square foot.
Buying land can cost more upfront than living in a manufactured home community but also requires knowledge of zoning laws and other local requirements. It may add to your costs if you need to incorporate a foundation:
Pier and beam foundation: A pier and beam foundation typically costs between $1,000 – $2,000, and anchors hold your home down with steel straps to the frame.
Slab foundation: A slab foundation usually costs between $4,000 – $9,000 and forms a slab of poured concrete with anchors.
Basement foundation: Basement foundations cost about $12,000 – $25,000 and offer larger living spaces for occupants.
Pit/crawl space foundation: Pit foundations cost between $2,000 – $15,000 and refer to digging a pit out of the ground underneath your mobile home to make a crawl space.
You may also pay delivery costs, applicable taxes (including property taxes) and for specific features that may differ compared to "traditional homes." Costs will likely vary depending on the area where you live.
Is It Harder To Get Home Loans For Manufactured Homes?
You may find it difficult to get financing for manufactured homes because many lenders do not offer conventional loans for manufactured homes. However, it's a different story if you want to purchase a manufactured home to go on a permanent foundation and if it meets specific requirements.
For example, Fannie Mae's MH Advantage® program allows buyers to finance these types of homes with 3% down and a 30-year loan term. However, you must finance a minimum of 600 square feet and not put a home on leased land. Fortunately, interest rates for this program tend to be lower for these than for a traditional loan.
Freddie Mac also offers conventional loans for manufactured homes if the home is on a permanent chassis, considered real property and has at least 400 square feet of living space.
Chattel mortgage loans may also give you another option. Chattel mortgages are loans for manufactured homes or another movable piece of personal property, which serves as collateral for the loan.
Government-backed loans such as FHA loans for manufactured homes may also give you another home loan option. An FHA loan is a government loan backed by the Federal Housing Administration. You can choose between the Title II FHA loan program and the FHA Title I program. The Title I program doesn't require your home to be attached to land you own, but the Title II program does.
You can get a conventional loan on manufactured homes affixed and converted to real property with Rocket Mortgage®. Check with your lender about your options.
Personal Property Vs. Real Property
Most lenders do not consider these homes to be personal property, rather than real property:
Personal property: A manufactured home is personal property if it's on a temporary foundation, and you can move it later. For example, if you put the home on a concrete slab, it's considered personal property.
Real property: A manufactured home is classified as real property if it's attached to land permanently. For example, removing wheels, axles and towing hitch would make a manufactured home more similar to a site-built home and be considered real property.
Do Manufactured Homes Hold Their Value?
Current manufactured homes may depreciate less than older generations of manufactured or mobile homes, but they may not appreciate as much as traditional single-family homes. Their classification as "personal property" may impact their value.
However, it's important to recognize that the land where the home stands will likely appreciate and could positively affect your home value. Several factors can affect home value, including:
Housing market conditions
The community
Initial price and age of the home
Inflation rate of the broader market
Supply and demand
Availability of an organized resale network
Maintenance and upkeep
Looking for the right place to build?
Find the perfect plot for your new house on Rocket Homes.
Manufactured Homes Pros And Cons
It's a good idea to weigh manufactured homes pros and cons before you decide whether they will make sense for your situation.
Pros of Manufactured Homes
Manufactured homes might be a good idea for some home buyers based on these benefits:
Affordability: Manufactured homes may be more affordable than stick-built homes because of the standardization of creating the homes in a factory and cutting down on assembly costs.
Customization: You can customize the floor plan, kitchen, living room and exterior of a manufactured home, such as choosing kitchen islands, backsplashes, porches, roof and siding preferences.
Fast construction: It may take less time to build a manufactured home compared to a stick-built home. The construction time may be shorter because the factory process is streamlined and less likely to encounter delays.
Standards: Manufactured homes have high safety standards, including HUD's environmental impact standards. In short, HUD standards ensure that you'll live in a quality home.
Cons of Manufactured Homes
Manufactured homes might not be a good idea for some home buyers for the following reasons:
Must have a foundation: You can't just wheel your home wherever you feel like it, like a camper or RV. Manufactured homes require finding undeveloped land or space in a manufactured home community.
Community fees: Depending on your location, you may need to pay applicable community fees, typically between as little as $100 per month to $800 per month. Not only that, but like rent for an apartment, manufactured home community fees can increase costs.
Little appreciation: Long-term value might not appreciate as much as it would for a traditional home due to the manufactured home categorization of "personal" property versus "real" property.
Reputation: Manufactured homes may have a negative connotation, and many homeowners in certain markets veer away from investing in manufactured homes.
Financing challenges: You may find financing a manufactured home more challenging than a traditional home, as outlined above.
FAQs: Pros And Cons Of Buying A Manufactured Home
Consider some common frequently asked questions you may have about manufactured homes before you purchase.
How can I buy a manufactured home?
Manufactured home retailers are pretty easy to find. You may start by looking in a manufactured home park with ready access to a community and potential utilities and amenities. You may also buy land to put your manufactured home on, though you will have to pay attention to deed restrictions and zoning laws.
You can buy a manufactured home through a manufactured home dealer, who will offer showrooms to tour as well as online 3D tours that can help you choose the right size, layout and other features to fit your needs and lifestyle.
Are manufactured homes ever a good idea?
Manufactured homes can offer many benefits to homeowners, including affordability, a wide range of customization options and high-quality standards. A manufactured home might fit your needs if you're looking for this type of setting and potential community atmosphere.
How long do most manufactured homes last?
According to HUD, manufactured homes built today can last 30 – 55 years, due partly to the HUD-required standards. However, this range depends on the level of upkeep and maintenance you devote to your home.
Why don't manufactured homes hold value?
Manufactured homes may not hold value like traditional homes but may keep it better than other assets, such as vehicles. The value depends on the housing market, price and age of the house, inflation rate, maintenance and upkeep and other factors.
The Bottom Line: Living In A Manufactured Home Can Be A Good Path To Homeownership
Living in a manufactured home has changed a lot since the 1970s, and it's an often-overlooked option for those searching for affordable real estate. Manufactured homes offer homeowners more customization and energy efficiency options than you might believe, even compared to site-built homes. You may also see benefits to living in a tight-knit community.
Write down your own list of the pros and cons of buying a manufactured home and discuss your options with a lender before making a final decision. If a manufactured home sounds like the right option for you, explore loan options with Rocket Mortgage.
Related Resources
Viewing 1 - 3 of 3