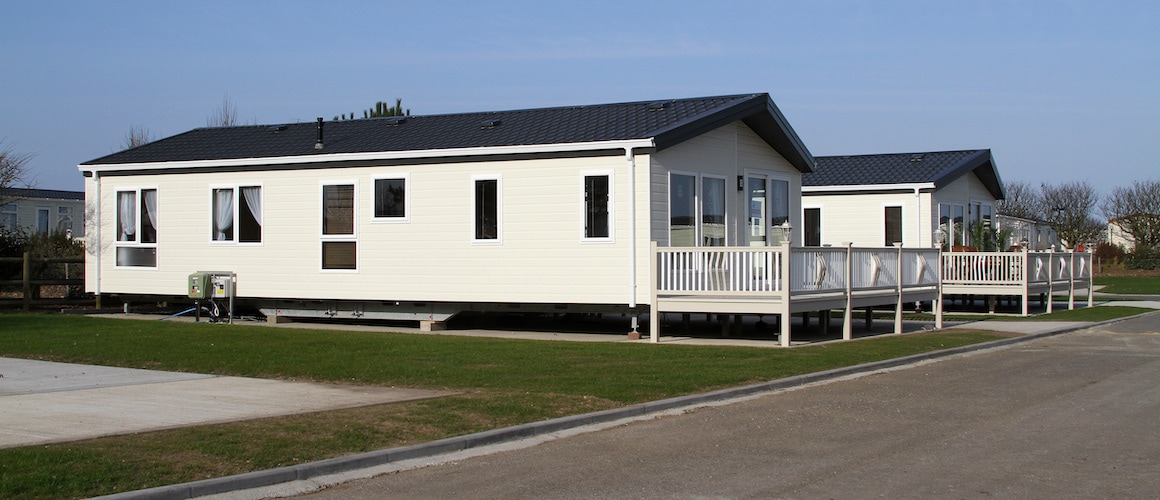 Can You Get An FHA Loan On A Mobile Home?
Sarah Sharkey4-minute read
June 21, 2023
Share:
When considering a mobile home purchase, it's often more difficult to obtain a mortgage than a traditional house. Luckily, FHA loans can be used to purchase a mobile home. If you are ready to move forward with a mobile home purchase, here's what you need to know about finalizing your purchase with the help of an FHA loan.
What Is Considered A "Mobile Home"?
In the broadest sense, a mobile home can be any living structure on wheels. However, the U.S. Department of Housing and Urban Development (HUD) has specific standards for mobile homes financed through an FHA loan.
A HUD-approved "mobile home" is actually a manufactured home. Manufactured homes are built offsite (not at their final address) in accordance with HUD's Manufactured Home Construction and Safety Standards building code. The home has to be built after June 15, 1976, when the updated standards went into effect. An approved manufactured home will have a red certification label attached to each transportable section.
The sticking point of the HUD code is that manufactured homes must be constructed on a permanent chassis.
How An FHA Loan Works
For home buyers who want to purchase a mobile home, the FHA loan program is a viable option. An FHA loan is a mortgage option backed by the Federal Housing Administration. Although borrowers work with an FHA-approved lender, the FHA insures the loan.
The backing of the FHA means that the lender is protected from loss if you default on the mortgage. With this financial backing, lenders are more willing to work with borrowers that meet the loan program's requirements but might not qualify for a conventional loan.
See What You Qualify For
Congratulations! Based on the information you have provided, you are eligible to continue your home loan process online with Rocket Mortgage.
If a sign-in page does not automatically pop up in a new tab, click here
How To Get An FHA Manufactured Home Loan For A Mobile Home
When pursuing an FHA loan for a manufactured home, you must decide between the Title II FHA loan program and the FHA Title I program.
The FHA Title I loan program doesn't require your manufactured home to be attached to the land. However, the FHA Title II FHA loan program does require the home to be permanently attached to land that you own. Rocket Mortgage® offers FHA loans for manufactured homes under Title II.
Like borrowers purchasing traditional homes, borrowers seeking an FHA loan for a mobile home will apply for an FHA loan through an FHA-approved lender. The major difference is that the manufactured home in question must meet the specific building and construction requirements set by the FHA.
FHA Home Loan Eligibility Requirements
When applying for an FHA home loan, both the borrower and the property must meet specific criteria. Here's a look at those requirements:
Manufactured home meets building code: The manufactured home must meet the building and construction code approved by HUD. Some of the code requirements include a living area of at least 400 square feet, the removal of the towing hitch, and a HUD-approved seal visible on the exterior.
Property requirements: The home must be permanently attached to the land, taxed as real estate, and have access to water and sewer facilities. Plus, the homeowner can access the property regardless of weather conditions. You're also required to have a foundation inspection under the standards of the Permanent Foundations Guide for Manufactured Housing. If you've had a qualifying inspection in the past, that can be used.
Credit score: The FHA loan program works with borrowers with credit scores as low as 500. Borrowers with a credit score of 500 to 579 must make a 10% down payment, while borrowers with a credit score of at least 580 can make a down payment of 3.5%. We require a credit score of at least 580 to qualify.
Occupancy: You must plan to use the home as a primary residence.
The Pros And Cons Of Using An FHA Loan On A Mobile Home
As with all loan products, there are a couple of pros and cons when using FHA loans. Here's what you need to know.
Pros
Lower down payment options: Borrowers with a credit score of at least 580 may qualify for a 3.5% down payment
Low debt-to-income ratio (DTI) requirements: The maximum DTI allowed for FHA loans is 57%. Lenders will assess borrowers with a high DTI on a case-by-case basis.
Lower credit score requirements: Borrowers with a credit score as low as 500 can pursue an FHA loan. These credit score requirements are much lower than some other loan types.
Cons
Mortgage insurance is required: Borrowers must pay mortgage insurance with an FHA loan. The lender will charge an upfront payment worth 1.75% of the loan value. Plus, an annual mortgage insurance premium (MIP) is added to your monthly payment.
Borrowing limits: FHA loan limits may come with borrowing limits. For Title I manufactured homes, the borrowing limit is up to $92,904 for a manufactured home and lot. Title II loans follow regular FHA loan guidelines.
Hard to make competitive offers: When house shopping for an FHA loan, it's often challenging to make competitive offers due to the slow pace of the FHA loan approval process.
The Bottom Line
As a prospective home buyer, the affordable appeal of a manufactured home is easy to see. If you want to move forward with your manufactured home purchase with the help of an FHA loan, apply for mobile home financing with Rocket Mortgage. You can also give our Home Loan Experts a Call at (833) 326-6018.
Related Resources
Viewing 1 - 3 of 3