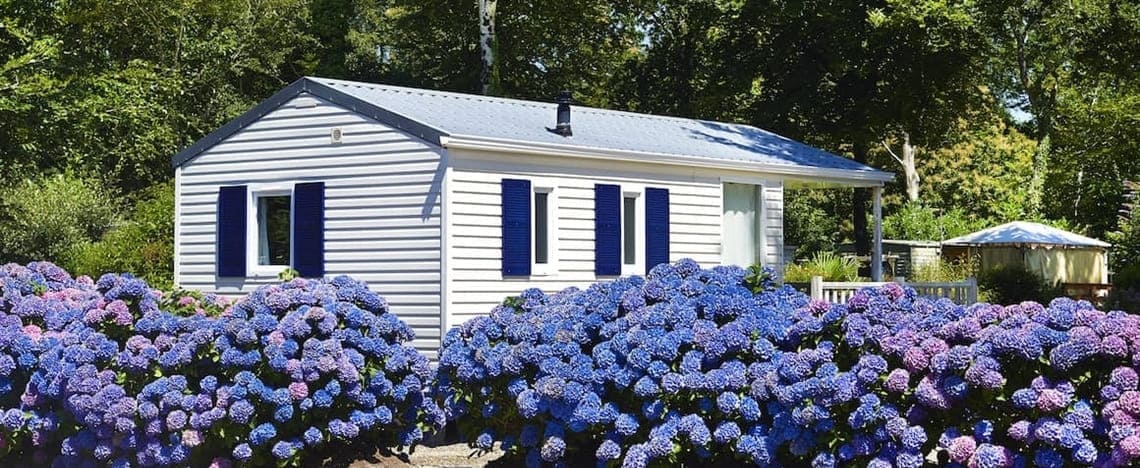 Mobile Home Loans: Options for Financing A Mobile Or Manufactured Home
Sidney Richardson8-minute read
December 07, 2023
Share:
With home prices still climbing, some are seeking alternatives to traditional housing. One great option that may cost less than a traditional home without compromising much on necessary features is a manufactured home – which you might know as a "mobile home." Unlike a conventional home, which averaged $348,079 in 2022, a manufactured or mobile home will typically cost much less.
Rocket Mortgage® is now offering financing for manufactured homes on permanent foundations. We do not, however, offer financing for true mobile homes (those built prior to June 15, 1976) or manufactured homes not attached to a permanent foundation. Keep in mind that this housing option tends to be financed a little differently than a typical home – so if a manufactured home interests you, let's look at how to secure a loan for your future home.
The Difference Between Mobile And Manufactured Homes
Before we talk about financing, we should clarify the difference between a mobile home and a manufactured home because they're often used interchangeably. A mobile home is a prefabricated home structure built on a permanent chassis that was constructed prior to June 15, 1976.
A manufactured home is a very similar structure that was built after June 15, 1976. In 1976, the U.S. Department of Housing and Urban Development (HUD) put new safety standards into effect for mobile homes and changed the name of these structures going forward to "manufactured" homes rather than "mobile."
The main difference between manufactured and mobile homes is that manufactured homes follow the new safety regulations set in place by HUD while mobile homes were built prior to their implementation. Mobile homes were also often intended to be easily movable, whereas many manufactured homes are not built to move after they are assembled.
See What You Qualify For
Congratulations! Based on the information you have provided, you are eligible to continue your home loan process online with Rocket Mortgage.
If a sign-in page does not automatically pop up in a new tab, click here
How To Qualify For Mobile Home Financing
Financing a mobile or manufactured home is a little different from financing a house because most lenders do not consider these homes eligible for most types of mortgages. However, some lenders will give you a loan for a manufactured home if it meets their specific requirements and rests on a permanent foundation.
Here are a few ways you can prepare to qualify for a loan to pay for a manufactured or mobile home.
1.
Check Your Credit Score
Your credit score is a key factor that lenders will consider when deciding whether to approve a mobile home loan. If you have a good credit score (typically 620+) and solid credit history, you will qualify for lower rates and better terms on most loans. Lower rates can save you thousands over the life of your loan, so it's important to have your credit in order before applying. Different lenders will have different minimum credit score requirements, but it's a good idea to make sure your score is as high as possible before applying for any loan.
2.
Save For A Down Payment
While it's not always required, you may also want to think about saving for a down payment on your manufactured or mobile home. Rocket Mortgage requires a down payment of at least 5% of the loan on manufactured homes, though putting a larger sum down (if you can) is usually a good idea as it will help lower your monthly payments.
3.
Find The Right Lender
Once you've decided on a loan type, it's important to research the pros and cons of each lender that you're considering when shopping for a mobile home loan. The right lender can influence important factors like fees and interest rates on the loan. It's best to compare apples to apples and try to find a loan with the lowest interest rate and fees.
Once you find a lender you're comfortable with, be sure to ask about your options in detail. They'll be able to help you find the right loan for your needs and your goals.
Get approved to buy a home.
Apply online for expert recommendations and to find a solution that works best for you.
Types Of Loans For Mobile Or Manufactured Homes
For those looking to finance a mobile or manufactured home, you have a few options. Let's explore each one and the pros and cons that come along with them.
Conventional Loans
Most lenders will not give you a conventional loan for a mobile or manufactured home because these structures are not considered real property. Rocket Mortgage offers conventional loan financing on manufactured homes that have been permanently attached to land and converted to real property. If you have a manufactured home that meets some very specific criteria, however, conventional mortgage sources Freddie Mac and Fannie Mae do actually offer specialized loans.
Fannie Mae
While not all lenders finance manufactured homes, some may offer Fannie Mae's MH Advantage® program, which allows buyers to finance manufactured homes with loan terms of 30 years with down payments as low as 3%. To qualify, however, your home will need to fit very specific criteria. For instance, the home must be at least 12 feet wide, have a minimum of 600 square feet and can't be on leased land.
Freddie Mac
Freddie Mac also offers conventional loans for manufactured homes if they meet all of Freddie Mac's requirements. These requirements are similar to Fannie Mae's – the home must be built on a permanent chassis, must be considered real property and has to have at least 400 square feet of living space.
Keep in mind that not all lenders will finance mobile or manufactured homes, but Fannie Mae and Freddie Mac do both offer conventional loan options for qualifying properties.
FHA Loans
The Federal Housing Administration (FHA) offers home loans with fixed interest rates and lower credit, debt-to-income ratio and down payment requirements. These are popular with first-time home buyers. They also offer manufactured home loans called Title I and Title II loans.
Title I loans can be used to purchase manufactured homes but not the land on which they sit. There are a few stipulations, such as that the property must be your primary residence, it has to meet FHA guidelines before being placed on a rental site and must be connected to utilities. These loans tend to have short terms (typically up to 20 years) and low loan limits.
Title II loans can be used to purchase both a manufactured home and the land it sits on jointly. You can't be renting your land from a mobile home park or community. A real property loan means the land is yours.
Only manufactured homes built after June 15, 1976 can qualify for this type of financing. These loans also require that the manufactured home in question counts as real property and meet FHA standards for permanent foundations on manufactured homes.
If the home you're considering meets the minimum requirements, an FHA loan may be easier to qualify for. You'll be able to get the loan without having to make a large down payment and may even save money on interest compared to other financing options.
VA Loans
If you want to buy a manufactured home and the land it sits on, you can also get a VA loan. VA loans are only available to veterans and qualifying active duty service members through the Department of Veterans Affairs. There are many benefits that come with a VA loan, including the ability to put no money down and avoid paying mortgage insurance.
To qualify for a VA loan for a manufactured home, your home must be on a permanent foundation, meet HUD guidelines and must be purchased with the land underneath it; mobile homes or manufactured homes not on permanent foundations do not qualify.
Chattel Loans
A chattel loan can be used to purchase different kinds of property like cars, boats and mobile homes. These loans typically have shorter terms and lower loan limits than traditional mortgages, and they also hold the property being financed as collateral for the loan, which can be risky. This means that if you default on payments, your home could be taken to satisfy the debt. Chattel loans aren't offered by Rocket Mortgage.
That said, they are a common financing choice for mobile, manufactured and even modular homes.
Personal Loans
If all else fails, you may be able to use a personal loan to finance your manufactured or mobile home. Personal loans don't have the same types of restrictions on how your house is built, so you can likely qualify even if your house is a fully movable mobile home not attached to a permanent foundation. Some lenders will offer borrowers up to $100,000 for a personal loan, which may be more than enough to finance a manufactured home.
Keep in mind that if you have bad credit, this option may cost you. Personal loans tend to have higher interest rates for those with poor credit (20% or higher, in some cases).
For home buyers who aren't sure that traditional financing is the right fit or those interested in properties that don't meet the minimum requirements, personal loans may be the easiest way to buy a manufactured home. You'll be able to use the money to buy any manufactured home you're interested in without having to worry about loan restrictions.
Getting A Personal Loan Has Never Been Easier.
The Rocket LoansSM application process makes borrowing simple.
FAQs About Mobile Home Loans
Do all lenders issue mobile home loans?
It depends on the type of mobile home you're getting. If you're buying a mobile home that won't be attached to a permanent foundation, you'll need to find a lender that specializes in chattel loans or mortgages for mobile homes that can be moved. Speak with your home loan expert to discuss your options.
What types of interest rates can I expect when applying for a mobile home loan?
If you're buying a mobile home that's on a permanent foundation, you can expect interest rates to be similar to what you'd get with a conventional mortgage for a standard home. However, if you're buying a manufactured home that can be moved, interest rates may be higher. Of course, your exact interest rate will depend on your credit score and your financial situation.
Can I still get financing if I'm purchasing a single-wide home?
Typically, you can. However, every lender is different. Some lenders have minimum square footage requirements that the home will have to meet to qualify for financing. Let your lender know what type of home you're interested in and see which loan options they offer.
How long will I have to repay my loan?
It depends on the lender. However, if you're financing a mobile home on a permanent foundation, you'll likely encounter loans with terms from 15 to 30 years. However, if you're using a chattel or personal loan, you'll likely have shorter repayment terms.
Is it harder to get financing for a mobile home than a traditional home?
It can be more difficult to finance a mobile home than it is to finance a traditional home. However, as long as you make sure your finances are in good shape and look for a lender that specializes in manufactured and mobile home loans, you'll set yourself up for success.
The Bottom Line
Financing a mobile or manufactured home can be difficult, particularly if you want to do so with a mortgage. Since many lenders don't consider manufactured or mobile homes real property, there are lots of requirements and stipulations you'll have to meet if you want to qualify for a mortgage.
If you can't meet them, however, don't panic – there are plenty of other financing options too, including personal and chattel loans. Before buying a manufactured or mobile home, be sure to research all your options to decide what's right for you.
If you think conventional financing of a manufactured home is right for your needs, you can start the mortgage approval process with Rocket Mortgage. You can also call us at (833) 326-6018.
Get approved to buy a home.
Apply online for expert recommendations and to find a solution that works best for you.
Related Resources
Viewing 1 - 3 of 3