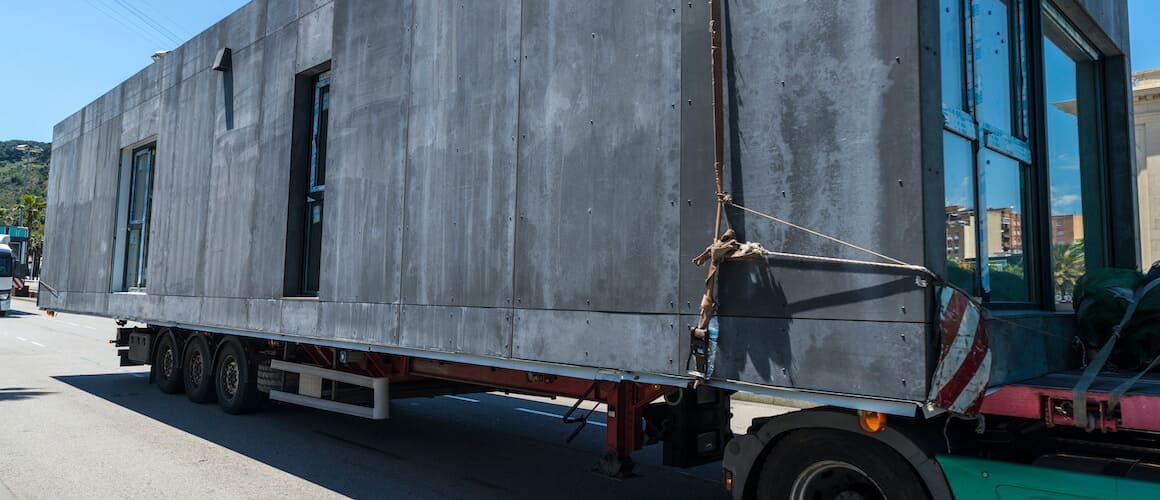 Modular Homes: Pros, Cons And How To Finance
Kevin Graham5-minute read
May 22, 2023
Share:
Maybe you want a brand-new home, but you don't want to draw up a blueprint and wait months for it to be constructed from scratch. A modular home combines the ease of getting something prefabricated with the financing options available for traditional stick-built homes. But what is a modular home? This article will go over all the ins and outs.
What Is A Modular Home?
Modular homes are customized houses built offsite in a climate-controlled factory. Individual sections (called modules) are then transported to the property and assembled on a permanent foundation.
Once the concrete has been poured, your modular home is permanently affixed as real property. That means you can benefit from financing it just as you would a traditional mortgage.
Modular Vs. Manufactured Homes
While both are under the umbrella of prefabricated homes, that may be the only commonality between modular homes and manufactured homes. Both are built in massive, climate-controlled factories, which makes their construction exponentially faster than on-site construction.
While on-site "stick builds" take months to construct due to weather conditions, prefabricated homes can take just a few weeks to construct. In labor costs alone, prefabricated homes are much more cost-effective than traditional homes.
That's where the similarities end and the differences begin:
Modular homes:

Modular houses are prefabricated homes transported module by module, usually in a semi-truck, to the property. There, the house will be assembled using a crane and placed on a permanent foundation. You're likely not able to tell the difference between a modular home and a traditional house once constructed.

Manufactured homes:

Manufactured homes have a different history. Before 1976, manufactured homes were widely referred to as mobile homes. As mobile homes increased in popularity as a viable permanent housing option, the U.S. Department of Housing and Urban Development (HUD) established new regulations via the Federal Manufactured Home Construction and Safety Standards code. To this day, manufactured home construction remains the only federally regulated type of home construction on the market. If not permanently attached to the foundation tied to the land, these have to be financed with a mobile home loan because without the underlying land value, they tend to depreciate like cars. The terms of this loan are usually less favorable than the traditional type of home loan you can get from Rocket Mortgage® if your manufactured home is attached as real property on a permanent foundation. Rocket Mortgage does offer financing on manufactured homes built on or after June 15, 1976 that are permanently affixed to the land (real property) and have a HUD tag. FHA loans for manufactured homes require a foundation inspection according to the standards set by the Permanent Foundations Guide for Manufactured Housing. If you've had a prior inspection, that can be used to qualify.
See What You Qualify For
Congratulations! Based on the information you have provided, you are eligible to continue your home loan process online with Rocket Mortgage.
If a sign-in page does not automatically pop up in a new tab, click here
Pros And Cons Of Modular Homes
Whether you're debating manufactured vs modular homes or are simply considering a more sustainable option than a stick-built house, there's plenty to consider before taking the plunge.
Advantages Of Modular Housing
Here are some of the pros of owning a modular home:
Sustainable construction: Modular builders and manufacturers overwhelmingly reported the largest benefit of modular construction is reduced waste. Because companies can order supplies in bulk to a single location, the environmental impact of transporting small batches of varying materials for an on-site build is lessened.
Affordability: Arguably the most compelling perk of modular homeownership is the bang for your buck. While they are virtually indiscernible from stick-built homes, they are considerably cheaper to build.
Earlier move-in date: A modular home can be constructed in weeks rather than months or years compared to an on-site construction.
Traditional mortgage options: Lenders appraise modular homes the same way they do on-site builds. That means you can expect the same competitive interest rates, insurance premiums, taxes and loan options as traditional houses. All the standard options are available. These include conventional loans and FHA loans as well as those from the VA.
Customizations: Manufacturers often have various floor plans available for you to mix and match to meet your specific needs. The interior can be designed however you like – rustic, modern, log cabin and so on.
Energy efficiency: Modular homes are often constructed to be more energy efficient than their stick-built counterparts. You'll feel the effects when your monthly utility bill arrives. Plus, their highly customizable nature allows you to opt for home solar panels and other energy efficient options.
Disadvantages Of Modular Housing
Modular homes aren't for everyone. If the following considerations are giving you pause, they may not be the right fit for you.
Land: Since modular homes are immovable, it doesn't make sense to build on rented land. If you're building a modular home from scratch, you'll need to buy and prepare land before you can install your home.
Upfront costs: While a manufactured home owner could just rent land with no upfront costs, you'll need to prepare to spend more upfront. Preparing the land alone may cost $4,000 – $11,000 between surveying and excavation work if it's undeveloped land.
Zoning restrictions: As popular modular homes might be in your #TinyHome Instagram feed, they make up a small percentage of homes in the U.S. Many cities either have outdated or an absence of zoning laws, which can make finding appropriate land difficult.
Construction loan: You'll likely need a construction loan to afford the manufacturing of your new home. Those may require a 20% – 25% down payment and can be converted to a permanent mortgage after construction. Rocket Mortgage doesn't do construction loans, but we can help you with permanent financing.
How Much Does A Modular Home Cost?
Modular homes vary widely in size and price. You may opt for a tiny home under 400 square feet or build a 2,500-square-foot home. You're not just paying for the base home itself, either.
Often, you'll need to buy land before installing the prefab home. If that land isn't primed for a house, you may need to spend more money leveling and removing trees from the property. Then you'll need to connect utilities and pay for the installation itself. Still, it may be a more affordable option than a traditional home.
On average, a modular home costs $100 – $200 per square foot compared to $100 – $400 per square foot for newly constructed stick-built houses according to October 2022 data from HomeAdvisor by Angi.
Meanwhile, the average selling price of a manufactured home in 2021 was $108,100 with an average price per square foot around $72, according to the U.S. Census Bureau's Manufactured Housing Survey.
How Is A Modular Home Built?
A modular home is built in pieces in a factory. It's then transported to the land on which it will rest. A foundation is poured. The different modules are anchored to the foundation and put together. A local home inspector will have to come in order to make sure the finished home conforms to local building codes.
How To Finance A Modular Home
The way you finance a modular home depends on whether you're building it or buying one that already exists.
To build a modular home:

If you're building a modular home, you'll need a construction loan and may be a land loan if the property hasn't already been acquired. Construction loans are going to come with higher down payments. As a reminder, Rocket Mortgage doesn't offer these. However, once the house is built, you'll need to convert your loan to a permanent loan, which we offer.

To buy a modular home:

Buying a modular home that's already been constructed is just like buying a stick-built home. You'll go through a preapproval process so that you know how much you can offer, providing things like W-2s, tax returns, pay stubs and bank statements.
The Bottom Line
A modular home is one with various parts made in a factory before being put together on-site. It's much faster and can be more cost-effective than a traditional stick-built home. At the same time, the financing options are similar to traditional homes and you can get a standard mortgage.
If you would like, you can start a mortgage application or give us a call at (833) 326-6018.
Get approved to buy a home.
Rocket Mortgage® lets you get to house hunting sooner.
Related Resources
Viewing 1 - 3 of 3