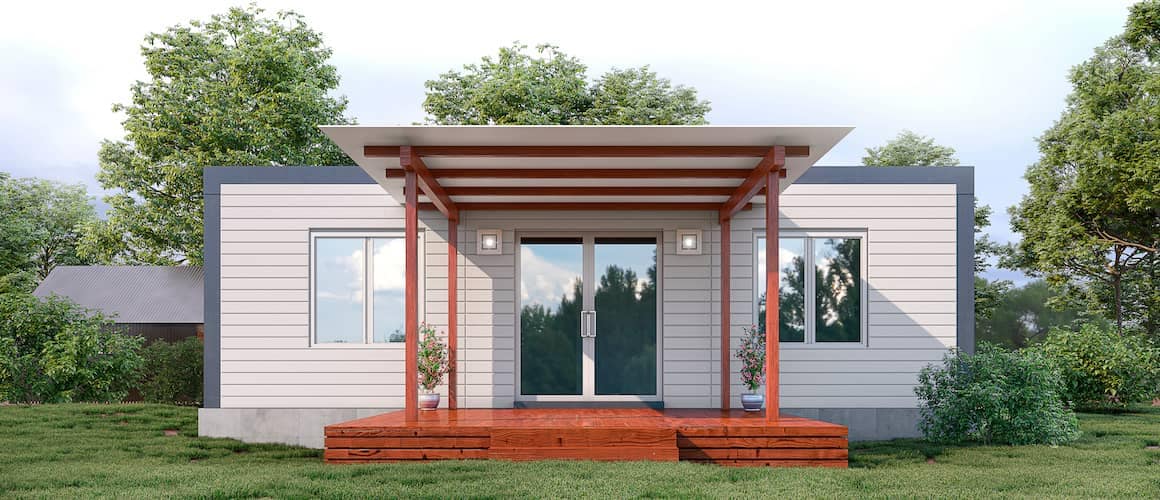 Modular Home Prices: What To Expect When Buying
Sam Hawrylack6-minute read
July 24, 2023
Share:
Modular home prices vary considerably depending on the location and features. However, because modular homes are built in a factory in stages, the cost is typically lower than traditional homes, making it easier to afford the floor plans and features you want in a home.
Keep reading to learn the average modular home prices and what to expect for different stages of building them.
How Much Are Modular Homes?
While modular home prices differ based on location, size and design, the average cost is $100 to $200 per square foot, according to HomeAdvisor.
The price varies based on the home site location and the area's accessibility to deliver and install the home. Other factors that affect pricing can include:
Land preparation
Utility connections
Driveway and walkway needs
Landscaping
For example, if you install a modular home on land not prepared for a home, you'll pay extra costs to level and prepare the ground. You may also pay fees for permits to clear the land and build the house there. Other factors include utility connections necessary for every home and specific aesthetic features, such as driveways and landscaping.
For example, all homes need water connections, sewer lines, gas and electricity. Because there aren't already utility hookups on the land, they must be created and connected, which adds to the costs.
All homes also need driveways and walkways, but the style and materials used will affect the total cost. For example, if you choose a concrete driveway versus asphalt, it will cost more. The same is true of landscaping. You can plant some trees or go all out and have bushes, trees and gardens planted, increasing the cost.
Of course, a home's features affect its prices too. You can choose basic homes with few features to complex homes with many features. The more extras a home has, the more it costs.
If you're on a budget, consider keeping the special features to a minimum. You can always add to the home in the future. At least you'll have a house to live in and call your own while you save money to enhance its features.
See What You Qualify For
Congratulations! Based on the information you have provided, you are eligible to continue your home loan process online with Rocket Mortgage.
If a sign-in page does not automatically pop up in a new tab, click here
Average Total Cost Of A Modular Home By Square Foot
The average cost of a modular home by square foot can help you determine your average cost based on the size of the home you want to build. But, of course, the price varies by location and the features you include in the house.
For example, a 2,000-square-foot home with two bedrooms will likely cost less than a 2,000-square-foot home with three bedrooms, just as a home with more square feet typically costs more than one with less square footage.
If you're on a tight budget, consider prioritizing the features you need, not just those you want.
According to HomeAdvisor, the base price for these types of homes is about $40 – $80 per square foot. Once you add other expenses, including finishes, delivery and installation, the price range is closer to $100 – $200 per square foot.
Let's use the median for those ranges – $60 per square foot for basic and $150 per square foot for total cost. Here's what you can expect to pay based on those numbers.
| | | |
| --- | --- | --- |
| Square Footage | Base Model Cost | Total Cost: |
| 1,000 | $60,000 | $150,000 |
| 1,500 | $90,000 | $225,000 |
| 2,000 | $120,000 | $300,000 |
| 2,500 | $150,000 | $375,000 |
Average Total Cost Of A Modular Home By Type
Modular homes are available in various types and styles, creating a difference in costs depending on their features.
However, don't assume that a certain type of home, such as a tiny home, will cost less than a townhouse. The features within the home determine the total cost. You could have a fully decked-out tiny home and a basic townhouse, and they might cost the same despite the larger square footage of the townhouse because of the highest cost of the features.
| | | |
| --- | --- | --- |
| Modular Home Type | Low-End Cost | High-End Cost |
| Tiny house | $20,000 | $50,000 |
| Cottage | $50,000 | $150,000 |
| Townhouse | $45,000 | $113,000 |
| Log home | $25,000 | $250,000 |
| Duplex | $90,000 | $225,000 |
Factors That Influence Modular Home Cost
In addition to the modular home itself, other factors can affect the modular home cost. It depends on the complexity of where it's built, the delivery cost, installation and other factors.
| | |
| --- | --- |
| Factor | Estimated Average Cost |
| Land clearing and preparation | $2,750 |
| Foundation installation | $8,500 |
| Utility connections | $6,450+ |
| Additions | $2,500 - $30,000 |
| Landscaping | $3,000 - $6,200 |
| Sales tax | $5,000 - $10,000 |
| Permits and fees | $500 - $5,000 |
Permits And Fees
Most areas require permits to alter the land to prepare it for the home, plus installation of the house. Additional permits may be necessary for the utility connections, soil testing and additions to the home, such as a deck, garage or shed.
The cost of permits and fees varies by location, but on average, it costs $500 – $5,000. Obviously, the larger the home or the more features it has, the more it costs.
If you're unsure about the cost in your area, talk to a local real estate agent or your city's permit department to get ballpark figures.
Land Clearing and Preparation
Construction sites aren't always prepared for a home. For example, if the land needs clearing of trees and debris or leveling, there will be land preparation costs. The cost varies based on the amount of work required to clear the area, but the average price is around $2,750.
Foundation
Modular homes need a base or foundation to secure it to the land. The type of foundation determines its cost, as does the location. For example, if you want a basement on the home, the foundation will cost more than a slab foundation, just as a larger foundation costs more than a smaller one.
On average, foundation installation costs $7 – $30 per square foot, with more complex foundations on the higher end.
Delivery
The base unit of a modular home plus delivery usually costs around $50 to $100 per square foot. Any additions to the home or necessary work to prepare the area will cost more.
The delivery costs don't include installation, so be sure to keep that in mind when budgeting to build a modular home.
Installation
The cost to install the home is additional, usually costing $5 to $35 per square foot. Installers complete the process in stages, including connecting the pieces, finishing any woodwork inside the home, installing stairs and adding finishing touches.
If there are any particular concerns, installers may charge more to account for the more complex work involved.
Utility Connections
All homes need utility connections to pass code and be livable. However, the cost to hook up each utility differs based on the location, complexity of the installation and number of lines needed.
Modular Home Additions
Modular homes don't have to be basic. If you want a basement, spiral staircase, shed or any other additions or features, you can add them to the plans, but it increases the cost.
Some common features and additions include a garage, basement, deck, shed or pool.
Sales Tax
If your state charges sales tax, you'll likely pay it on your modular home. The cost varies by location and the state's tax rate.
Get approved to refinance.
See expert-recommended refinance options and customize them to fit your budget.
How To Cover The Cost Of A Modular Home
If you don't have the cash to pay for the full cost of a modular home, you might consider a mortgage. Fortunately, many traditional mortgage lenders offer modular home loans, unlike manufactured home loans. Since manufactured homes aren't always permanently affixed to the ground, they can be harder to finance.
However, if you don't own the land, you may also need a land loan, a separate loan from the modular home financing.
FAQs About Modular Home Prices
Modular homes can be a great option for many families, no matter the price. They can be simpler to handle and, in many areas, save you money.
Is it cheaper to buy a modular home or build?
In most cases, modular homes are less expensive than building a house, mainly because there's less labor involved. Builders build the home in a factory and install it on the site when it's mostly built. But, of course, any additions or unique features can increase the cost, which might be more than a traditionally built home.
Do modular homes appreciate in value?
Modular homes are often seen as a wise financial investment because they can appreciate much like traditional, stick-built homes. These are unlike mobile homes, which usually depreciate in value, giving homeowners less money than they spent when buying the home.
Are modular homes worth the investment?
Modular homes typically appreciate in value over time, so they can be a good investment. The money you invest in the home with your down payment and subsequent mortgage payments will earn you more equity in the house. You can walk away with capital gains when selling a modular home in the right area and at the right time. Like selling any home, you're at the mercy of the market. But if you sell during a seller's market, you'll have a higher chance of earning capital gains.
Can you finance a modular home?
Many traditional mortgage lenders offer mortgage financing for modular homes. But, of course, you should always do your research and ask, as not all lenders will offer them. When you find a modular home loan, compare the rates and terms to ensure you're getting the best option.
The Bottom Line On The Cost Of Modular Homes
Modular home prices are often lower than traditional homes because there's less labor involved. However, you must factor in other costs, such as delivery, installation and land preparation when pricing out your options.
If you're considering a modular home, start your mortgage application online to see how much you can afford before designing your modular home.
Get approved to buy a home.
Rocket Mortgage® lets you get to house hunting sooner.
Related Resources
Viewing 1 - 3 of 3