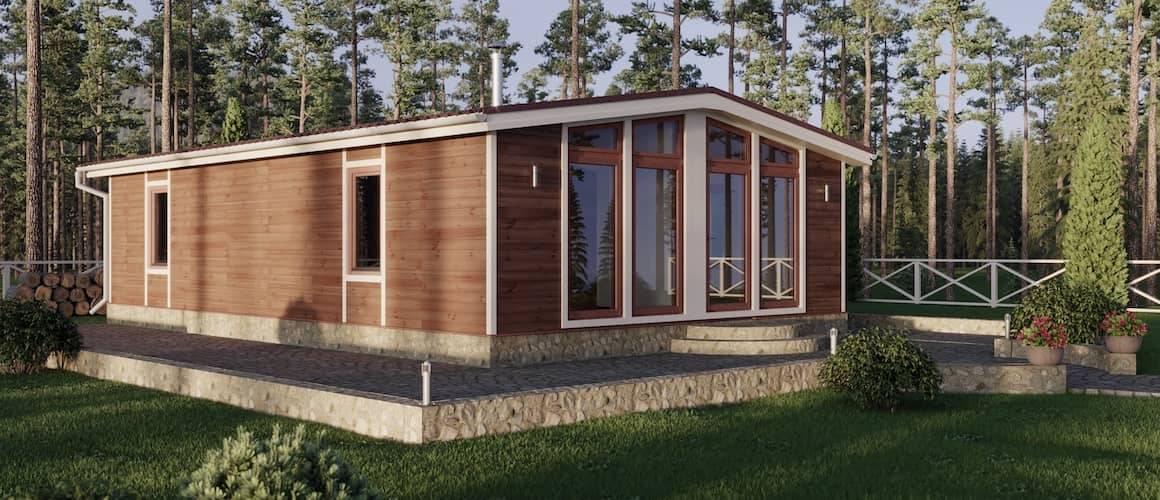 Modular Vs. Manufactured Homes: What's The Difference?
Carey Chesney4-minute read
May 22, 2023
Share:
The housing market is filled with options – like a grocery store, there is something for everyone. Modular and manufactured homes are affordable routes to homeownership. Understanding the key differences between these types of homes is essential for anyone interested in learning more about how to buy a house. Let's explore the differences together.
What Is A Modular Home Vs. Manufactured Home?
Modular and manufactured homes are prefabricated structures, meaning they are partially or fully constructed in an off-site factory.
The primary difference between modular and manufactured homes is that modular homes are held to the same local, state and regional building codes required for on-site homes. Manufactured homes are held to a federal code set by the Department of Housing and Urban Development (HUD) and have the ability to move.
Modular Home Defined
A modular home is like a traditional home, placed on a permanent foundation. The house structure is partially constructed in a factory and shipped to the homeowner's lot. The construction of a modular home must comply with local building codes and standards in the area where the home will be placed.
Modular homes come in all shapes and sizes. In many cases, it's hard to tell the difference between a modular home and a traditional stick-built home. Similar to standard on site-built homes, modular homes fluctuate in value with the traditional housing market.
Most banks and mortgage lenders offer financing on modular homes which means buyers will have a more diverse range of options when it comes time to purchase their home. Rocket Mortgage finances modular homes.
Manufactured Home Defined
A manufactured home is built in a factory or warehouse in accordance with building codes set forth by the U.S. Department of Housing and Urban Development (HUD). The homes are. transported to the home site, either in sections or as a whole, and installed on either a temporary or permanent foundation. In most cases, they will be permanently affixed.
Modern manufactured homes can come in three general floor plans:
Single-wide: A home built in one long section.
Triple-wide: A less common model with three sections joined together for a larger, more spacious home.
See What You Qualify For
Congratulations! Based on the information you have provided, you are eligible to continue your home loan process online with Rocket Mortgage.
If a sign-in page does not automatically pop up in a new tab, click here
What's The Difference Between Modular And Manufactured Homes?
While both manufactured and modular homes are cost-effective alternatives to traditional site-built homes, there are some key differences to consider when deciding between the two.
If you had your heart set on a site-built home but want to take a more cost-conscious and efficient approach, a modular home build might be the way to go. Once they're assembled, modular homes are essentially the same as site-built homes, sitting on a permanent foundation.
While both modular and manufactured homes are built in factories, manufactured homes are actually held to federal standards after the HUD Code was created in 1976. The established code transformed the term mobile home until the upgraded, modern manufactured homes that you see today.
Below we compare modular and manufactured homes:
| | | |
| --- | --- | --- |
| | Modular Homes | Manufactured Homes |
| Construction | Multiple factory-made pieces assembled at home site | Built-in sections, can be single or multi-width |
| Foundation | Permanent / traditional | Steel chassis with ability to be affixed to land |
| Mobility | No | Yes |
| Real Property | Considered real property once completed on site | Must be permanently affixed to the site, then must be converted from chattel to real property through the county |
| Financing options | Standard | Limited |
| Relative customizability | Higher | Moderate |
| Code requirements | Local, state and regional codes | Federal HUD code |
| Home site | Private property | Private property or land-lease |
Looking for the right place to build?
Find the perfect plot for your new house on Rocket Homes.
Customizing Modular And Manufactured Homes
Modular Home
Modular home design has come a long way from its inception. Modular home plans today come in all shapes and sizes, from a tiny home to a two-story colonial. A modular home can have a lot of custom features such as an attached garage, wrap-around porch, and an endless variety of floorplans. Because modular homes adhere to strict building codes and are placed on a permanent foundation, most banks and lenders offer a variety of financing.
Manufactured Homes
Manufactured homes have also come a long way from the basic single and double-wide days. While newer manufactured homes may not be as customizable as modular homes, they still come in a variety of architectural styles, floor plans, and add-ons that can meet your needs.
Financing Modular And Manufactured Homes
Mortgages are loans secured by real estate or land, and the permanent fixtures built on it. Modular homes are placed on a permanent foundation. Once a modular home is assembled, it's treated exactly like a site-built home so it can be financed through a regular mortgage. When it comes to a manufactured home, well, not so much. The difference comes down to the legal definitions of real property and personal property.
Rocket Mortgage® offers financing on manufactured homes built on or after June 15, 1976 that are permanently affixed to real property and have a HUD tag. FHA loans for manufactured homes require a foundation inspection according to the standards set by the Permanent Foundations Guide for Manufactured Housing. If you've had a prior inspection, that can be used to qualify.
Essentially, personal property is movable property and real property is immovable property – land and anything attached to the land. Some lenders do not finance the purchase of manufactured homes because the land on which they sit is generally rented, and the home itself can be moved. Thus, it is not considered real property.
While conventional loans are a common way to finance manufactured homes, there are certain circumstances where FHA or VA loans may be available.
Complying With Local Zoning Laws
Modular homes are subject to the same zoning laws as site-built homes, another characteristic that makes them more like traditional homes than manufactured ones.
Manufactured homes are constructed according to a code administered by the U.S. Department of Housing and Urban Development (HUD) and the local building code. The foundation for manufactured homes is also up to local code. When it comes to zoning, this means that local ordinances on land use can restrict where manufactured homes can be placed. For example, if a manufactured home is built for a specific state and the buyer cancels their order, the home must be resold to a buyer in that state.
Modular And Manufactured Homes Vs. Mobile Homes
There are different construction methods and standards when it comes to mobile, modular, and manufactured homes.
The term "trailer" no longer accurately represents what manufactured homes are. In 1976 Congress authorized the National Manufactured Housing Construction and Safety Standards Act which authorized HUD to establish construction standards for manufactured homes. Today we refer to mobile homes or trailers as "manufactured homes."
Mobile homes or trailers built prior to June 15, 1976, would not likely pass today's building standards. The manufactured homes we finance must have been built after this date in 1976. Today's modern modular and manufactured home is built for longevity. Congress intended to protect the quality, fire resistance, energy efficiency, durability, safety and affordability of manufactured homes by setting a standard to follow for the industry. It established uniform performance-based construction standards and encouraged cost-effective and innovative construction techniques. HUD also established a program to provide resolution of disputes between consumers, retailers and manufacturers.
The Bottom Line: Understand The Pros And Cons Of Modular And Manufactured Homes Before You Buy
There are a lot of options when it comes to modular and manufactured homes. If you're looking for a home that will appreciate over time, with a lot of options for upgrades and expansion, a modular home could be the perfect fit for your family.
If you're more interested in saving money and flexibility, a manufactured home may be the better option for the family on the move. Home buying can be overwhelming, so don't go at it alone. Check out the Rocket Mortgage Learning Center to learn more about home buying tips.
Get approved to buy a home.
Rocket Mortgage® lets you get to house hunting sooner.
Related Resources
Viewing 1 - 3 of 3