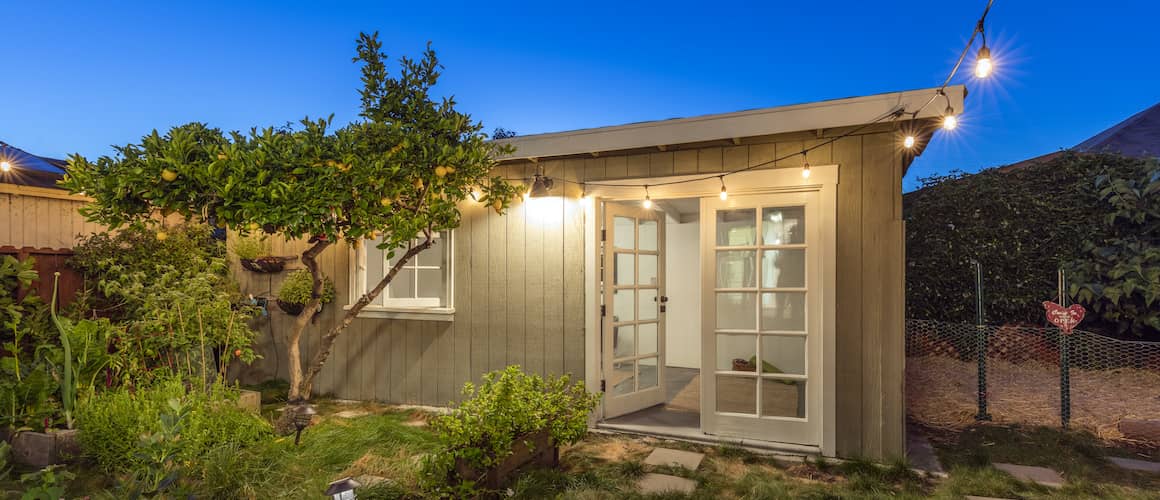 Accessory Dwelling Unit (ADU), Explained
Melissa Brock5-minute read
May 16, 2023
Share:
An accessory dwelling unit (ADU) refers to an extra living space on your property. These extra living spaces can add value to your property and provide a guesthouse for family members or other people who visit. If you're thinking about adding an ADU to your home or property, learn more about the ADU meaning and whether it makes sense to add an ADU to your property.
What Is An Accessory Dwelling Unit?
What is an accessory dwelling unit, exactly? An ADU house is a second home on your house or property. Examples of an ADU include a garage or shed converted into a tiny house, a basement apartment, or an apartment over a garage, sometimes called a granny flat. There are other types of housing options, such as a guest house, that can be classified as an ADU. An ADU is a separate accessory structure from the main house but cannot legally be sold or separated from the main house.
See What You Qualify For
Congratulations! Based on the information you have provided, you are eligible to continue your home loan process online with Rocket Mortgage.
If a sign-in page does not automatically pop up in a new tab, click here
Types Of ADUs In Real Estate
There are several different kinds of accessory dwelling units that can be added to an existing property, including a detached ADU, garage conversion, attached ADU and interior conversion.
Detached ADU
A detached ADU is a standalone unit that stands on the same lot as a larger dwelling on a property. Examples can include a carriage house or a converted outbuilding such as a granny flat or bungalow. You may want to consider the existing space on your property, whether you prefer a detached abode and other factors that impact the location of your ADU.
Garage Conversion
A garage conversion involves switching garage space over to living space as a mini apartment or another type of functional room, such as a home office or bungalow. Before you convert, make sure you really don't need the garage space for vehicles, tools or lawn mowers. You may regret the transition if you end up purchasing a new vehicle, lawn equipment or other items and could have used the garage space!
Attached ADU
An attached ADU connects to the main home. This living space is usually constructed alongside the side of the home or the rear of the home. These units may have a shared or separate entrance from the main single-family home. An example could be an existing breezeway or patio that you transform into a separate living space. If you have an existing area that you don't use, an attached ADU could make sense.
Interior Conversion
As you might imagine, an internal ADU means that part of an existing home is partitioned off and renovated to form a separate living space. You may choose a lower-level ADU (in the basement) or an upper-level ADU (in the attic). However, it's important to meet all safety and construction conditions for the home. Consider whether adding a fully separate living space in your home meets your needs or whether you'd rather have a separate unit, away from the main house.
Why Add An Accessory Dwelling Unit?
Homeowners may choose to add an ADU to a single-family home for two main reasons: to generate passive income or meet the housing needs for a family member. An ADU can offer privacy to a young family member seeking independence or an elderly family member who needs more supervision and/or freedom than assisted living. Rather than living in the main house with the rest of the family members, an ADU could offer more freedom and privacy.
You could also add an ADU to generate rental income.
Take the first step toward the right mortgage.
Apply online for expert recommendations with real interest rates and payments.
How Much Does It Cost To Add An ADU?
One of your main questions may center around costs, particularly if no ADU currently exists on your property. However, the cost to add one varies. Upfront costs depend on building the structure, adding or separating energy and plumbing expenses and more. It's important to remember that the type of ADU you choose may allow you to add in a passive income stream, tax benefits and an increase in the home's value.
You may consider purchasing a turnkey shed or tiny home, which simply needs to be connected to utilities. You can find a tiny home kit, shipping container home or other options online beginning at about $5,000 up to more than $25,000.
Converting an existing space on your property can cost less than adding onto an existing structure or building a new one. Costs vary depending on the structure, materials used, and the quality of the contractor. You can expect to pay at least $5,000 for a garage or shed conversion.
Accessory Dwelling Unit Pros And Cons
Let's take a look at the pros and cons before deciding on purchasing or creating an ADU.
Pros
Additional Income: You may earn rental income by renting out the ADU on your property.
Increase In Value: ADUs can add value to the property. Experts believe they will become increasingly desirable because the U.S. housing stock, consisting overwhelmingly of single-family homes, does not offer enough options for the young or the elderly. However, even if someone chooses not to use their unit for family members, they can earn passive income and homeowners tax benefits. Because legal ADUs are only recently becoming common, there is little historical data to rely on.
Opportunity For A Curated Space: ADU owners can curate a space that fits their wants and needs for their home/property. For example, if you have an elderly mother-in-law who needs a certain level of independence, you can cultivate exactly the right space for your mutual situation.
Cons
Will Require Maintenance: Having rental space means more maintenance and upkeep, including regular cleaning, corrective maintenance and emergency maintenance. Decide whether you have the bandwidth to DIY it or the cash on hand to hire individuals to tackle repair work as necessary.
Added Monthly Expenses: Owners must pay for the construction, maintenance, and monthly fees for the unit. You may have to pay these on an ongoing basis, particularly for costs like utility fees.
Will Take Up Space: Depending on the type of unit you choose, it may take up space on your property.
ADU FAQs
Let's take a look at a few FAQs about ADU real estate.
Are ADUs legally permitted?
Depending on where you live, you may have to adhere to zoning laws, which can prohibit turning a single-family home into a duplex or adding an external structure. Check your local government for more information, particularly if you plan to build an Airbnb-type rental. You can also check on property taxes, building permit requirements and special permissions.
Will adding an ADU increase my home's value?
As mentioned before, ADUs may increase your home value and add tax benefits – possibly more than single-family homes. You can check with a real estate agent to help you gauge how it will affect the value of your property.
How does an ADU access utilities?
Most ADUs connect to the main home's utilities. While an electric company might split the meter between the main house and the ADU, it may not always be an option depending on zoning laws. Additionally, internet and cable companies can create separate accounts for ADUs.
Does an ADU require a kitchen?
ADUs do require a kitchen – this makes it a habitable living space for others.
The Bottom Line: Accessory Dwelling Units Can Provide Housing Options
Now that you know the ADU definition and can thoroughly answer the question, "What does ADU mean?" is it possible having one can meet your needs?
Property owners should check into zoning requirements, costs, and other affordable housing options to make sure that an ADU makes sense for their property.
Set on adding an accessory dwelling unit to your property? Consider getting approved for a home equity loan or a cash-out refinance.
Get approved to buy a home.
Rocket Mortgage® lets you get to house hunting sooner.
Related Resources
Viewing 1 - 3 of 3