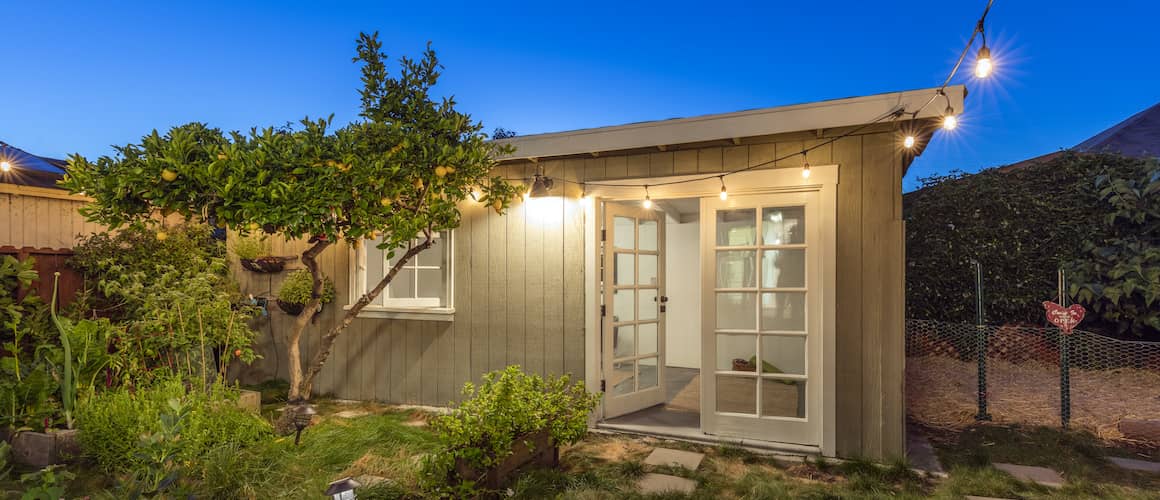 What Is An ADU And Would It Make Sense For You?
Ashley Kilroy4-minute read
May 06, 2022
Share:
An accessory dwelling unit (ADU) is an extra living space on your property. These simple additions can add value to a property and provide a quiet, separate place for guests to stay. If you're debating an addition onto your home or property, read on to learn more about whether an ADU might work for you.
Get approved to buy a home.
Rocket Mortgage® lets you get to house hunting sooner.
What Is An ADU?
An ADU is a second home in your house or on your property. Examples of an ADU include a garage or shed converted into a tiny house, a basement in-law apartment, or an apartment over a garage, sometimes called a granny flat. While an ADU does provide a separate dwelling place on your property, the second home cannot be sold or separated, legally, from the main house.
Why Might Homeowners Choose To Add An ADU?
There are two primary motivators for adding an ADU: to generate passive income or meet a family member's housing needs. An ADU can provide privacy for a young family member seeking independence or an elderly family member who needs a bit more supervision than independent living. An ADU offers more freedom and privacy than a large single-family home, which can be more costly than a smaller home with an ADU.
If an ADU owner doesn't have a family member who needs living space, they can generate income from a rental unit. Additionally, an empty nester might choose to live in the ADU and rent out the main home, depending on how much space they need.
How Much Does It Cost To Add An ADU?
The cost to add an ADU to a home varies. While the upfront costs depend on building the structure, adding or separating energy and plumbing, and other things, some homeowners might experience a passive income stream, tax benefits, and an increase in the home's value. Depending on which type of ADU a homeowner pursues, the costs and benefits may differ.
Turnkey Tiny Homes
When deciding to add an ADU, many people choose to purchase turnkey tiny homes to add to their properties. Turnkey sheds or tiny homes simply need to be connected to utilities. To find a turnkey property, potential buyers can search on Amazon.com or scour blogs via Google for tiny-home kits. Shipping container homes are another similar option that can be shipped to your property and connected to utilities. The cost of a turnkey tiny home starts at about $5,000 and can go to $25,000 or more. Turnkey ADUs do not include the cost of connecting electricity, plumbing, and other utilities.
Garage Or Shed Conversion
Many homeowners have small buildings on their property that can be converted into an ADU. Converting existing space tends to be cheaper than adding on to an existing structure or building a new one. There are plans available online to help DIYers create their own ADU space, or they can hire local contractors to build out an ADU. Costs will vary depending on the size of the structure, materials used, and the quality of the contractor. Most people can expect to pay at least $5,000 for a garage or shed conversion.
Take the first step toward the right mortgage.
Apply online for expert recommendations with real interest rates and payments.
ADU FAQs
The following are frequently asked questions by people who are considering an ADU buildout.
Are ADUs Legally Permitted?
Depending on where you live, there might be specific laws surrounding ADUs. Municipalities tend to like ADUs because they increase a property's value and property taxes. However, there is opposition at the local level from residents concerned with the overdevelopment of ADUs to create short-term, Airbnb-type rentals.
Additionally, zoning rules can prohibit turning a single-family home into a duplex or adding an external structure. Check your local government's website to determine whether ADUs are permitted in your area and what the regulations are. Be sure to research building permits to see if your plans to build an ADU require any special permissions.
Will Adding An ADU Increase My Home's Value?
Experts believe ADUs will become increasingly desirable because the U.S. housing stock, consisting overwhelmingly of single-family homes, does not offer enough options for the young or the elderly. However, even if someone chooses not to use their ADU for family members, they can earn passive income and homeowners' tax benefits.
Additionally, because legal ADUs are only recently becoming common, there is little historical data to rely on.
How Does An ADU Access Utilities?
Most ADUs connect to the main home's utilities. While an electric company might split the meter between the main house and the ADU, it may not always be an option depending on zoning laws. Additionally, internet and cable companies can create separate accounts for ADUs.
How Can I Finance The Purchase Or Creation Of An ADU?
If you're set on building an ADU, you may want to finance it with a cash-out refinance or a home equity line of credit (Rocket Mortgage® does not currently offer home equity lines of credit). Another option for funding the construction of an ADU is a construction loan.
Summary: ADUs Might Be The Next Big Thing
ADUs are on the rise as baby boomers reach retirement age and beyond. They offer independent living for family members or an opportunity for a homeowner to earn passive income. For more information about property laws, taxes and how to manage your largest assets, be sure to visit our Learning Center.
Get approved to buy a home.
Rocket Mortgage® lets you get to house hunting sooner.
Related Resources
Viewing 1 - 3 of 3