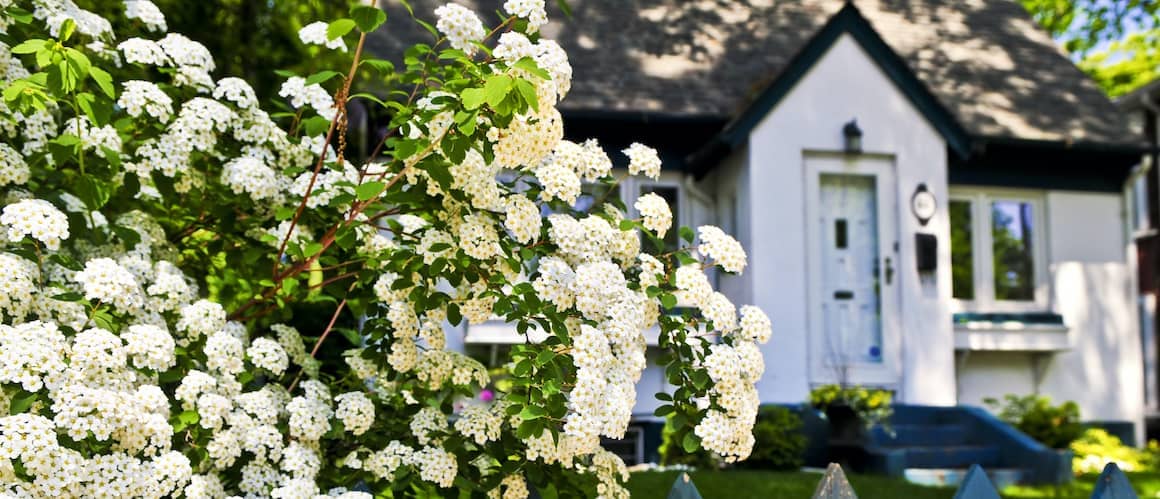 A Complete Guide To Bungalow Homes
Kevin Graham4-minute read
February 27, 2022
Share:
Disclosure: This post contains affiliate links, which means we receive a commission if you click a link and purchase something that we have recommended. Please check out our disclosure policy for more details.
If you're searching for a new home, you're probably familiar with some of the popular home styles: Cape Cod, ranch or split-level, to name a few. Maybe you've even considered jumping on the tiny home bandwagon. But have you considered a bungalow?
In this article, we'll explore the characteristics that have made bungalows a favored option for centuries of homeowners. To help you decide whether this is the house style for you, let's review what a bungalow is and what goes into buying or renting one.
What Is A Bungalow?
A bungalow is a style of house that is one to one-and-a-half stories tall, usually with a signature sloped roof. While there are many different types of bungalows (which we'll discuss later in this article), they are distinguished by their shaded front verandas, dormer windows and visible roof framing.
This home style carries a rich history, with origins traced back to the South Asian region of Bengal. During the early 1900s, bungalows became more popular in the United States, especially when California homeowners discovered how well wide roofs blocked the sun from their front porches. Since then, bungalows have remained a well-loved home style because they are cost-efficient and relatively easy to modify.
What Are The Characteristics Of A Bungalow House?
Although every bungalow home is different, there are several defining characteristics that make it easy to spot one from the street. Here are some of the typical features of a bungalow home:
More square footage:

Since most of the living space in a bungalow is on the first floor, its square footage is higher than most multistory homes. This is a selling point for house flippers who can take advantage of a bungalow's square footage to make major additions or renovations.
Low to the ground:

Without multiple stories, bungalows sit relatively low to the ground. Some homeowners plant trees and other landscaping around the exterior of the house to create increased privacy.
Fewer and smaller bedrooms:

Due to a bungalow's small size, its bedrooms are usually more compact and located off of the main living space. While bungalows don't offer the large, spacious bedrooms of multistory houses, they are easier to clean and maintain.
What Types Of Bungalow Homes Are Available?
Now that we know what to expect from a bungalow, let's take a look at some well-known variations of this popular house style.
Craftsman:

The Craftsman is the most classic version of the bungalow home. Craftsman bungalows typically feature shingled roofs and overhanging eaves over the veranda. Fun fact: During the early 20th century, homeowners could buy and build this type of bungalow from a mail-order kit.
California:

This style of bungalow is very similar to the Craftsman, except that the California version uses materials such as stucco, redwood shingles and horizontal siding.
Modern:

In recent years, homeowners and builders have added modern designs to the classic bungalow structure. Modern bungalows commonly feature curved outer edges, as well as a variety of materials like concrete, glass and brick.
Prairie:

Developed by a group of Chicago architects, this type of bungalow is defined by its large piers to support the porch roof, as well as its flat chimneys and linear design.
Mission:

Hints of Spanish architecture can be seen in the design of this type of bungalow, specifically in its tile roofs, art-inspired glass and archways.
Queen Anne:

The Queen Anne-style is inspired by Victorian homes and typically includes a wraparound porch and clapboard-covered sides.
The Benefits And Drawbacks Of Bungalows
evaluate the pros and cons of living in this type of home. Keep these important points in mind when deciding whether a bungalow home is right for you.
The Benefits Of A Bungalow Home
The major selling point for this kind of home is its low price tag. Since bungalows are smaller than single-family or multilevel homes, they're usually less expensive to purchase and have lower utility bills.
In addition to being a relatively inexpensive housing option, bungalows are popular among young families and homeowners with mobility issues thanks to their single-floor layouts. It's important in that case to make sure there's enough clearance for movement with any necessary equipment. Almost all of the living space in a bungalow is dedicated to the first floor, eliminating trips up the stairs and keeping family members close.
Plus, bungalows are the perfect candidate for home expansions – because homeowners have the option to build up (more floors above the half-story) or out. With enough land, homeowners could easily construct an attached garage or a loft space to the existing structure.
The Drawbacks Of A Bungalow Home
Although some people enjoy the single-floor layout of a bungalow, others might find the tight-knit structure too limiting. As mentioned above, the bedrooms in a bungalow tend to be comparably small and located in close proximity to the other rooms in the house.
Additionally, the historic construction of most bungalow homes may require extra maintenance or upkeep as compared to newer homes. Some wear and tear is expected with older homes, but homeowners should examine how well the property has been maintained before purchasing.
The final drawback of this home style is that since all of the windows and rooms are located on the first floor, there's a greater potential for break-ins. No matter where the bungalow is located, it's recommended that homeowners invest in a home security system to protect its residents and assets.
The Bottom Line
Is a bungalow right for you? Well, only you can answer that question based on your budget, needs and plans for expansion. However, it's clear that bungalows are a tried-and-true option for first-time buyers as well as homeowners who are interested in the ease of a single-floor layout.
If you're ready to find the bungalow of your dreams, start by determining how your budget matches up to homes in your area. Once you're prepared to take the next step toward homeownership, apply online for a mortgage that fits your financial plan.