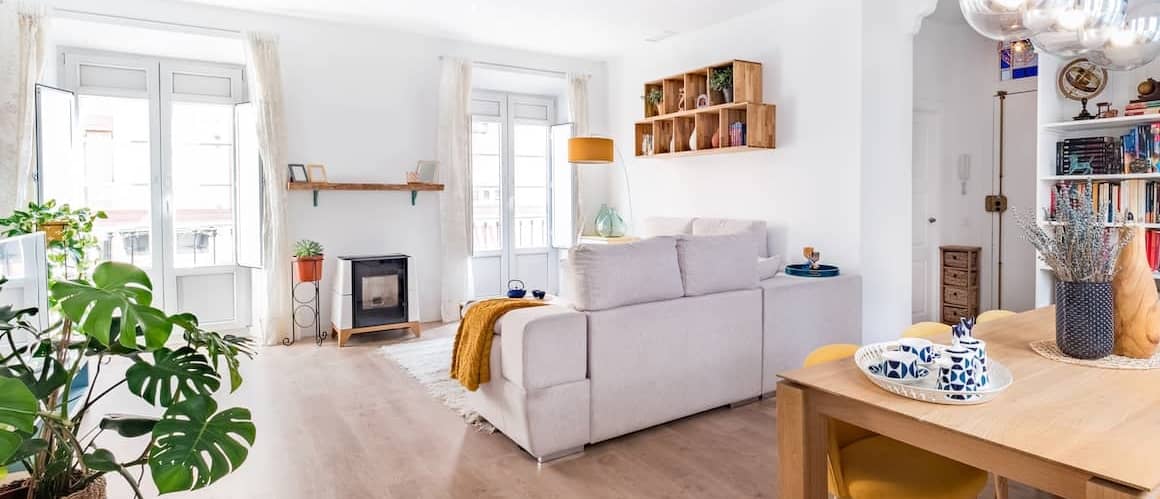 Airbnb Investment: Is It Right For You In 2022?
Katie Ziraldo5-minute read
January 12, 2023
Share:
There's no question that Airbnb has permanently changed the travel industry. If you've stayed in an Airbnb rental, you may have wondered what it would be like to be on the other side.
We can see the appeal! By becoming an Airbnb host, you can diversify your income without needing to be a real estate expert. Airbnb's rise in popularity has made this potentially a solid approach to buying an investment property, but that doesn't mean it will work for everyone.
In this article, we will explore Airbnb investments and the distinct advantages and disadvantages they may come with. Keep reading to learn more.
Airbnb Investment: How Does It Work?
If you're looking for passive income, a real estate investment may be a good option to consider. But what is the difference between a traditional investment property and an Airbnb?
A property is considered an Airbnb investment when either part or all of the property is rented out on Airbnb after purchase. These rentals are typically short-term, which allows you to host many guests throughout the span of the year, where traditional investment properties are most commonly rented to long-term tenants.
See What You Qualify For
Congratulations! Based on the information you have provided, you are eligible to continue your home loan process online with Rocket Mortgage.
If a sign-in page does not automatically pop up in a new tab, click here
Airbnb Investment And COVID-19
Before buying any investment property, the first step is to look at the market and any outside events that may be impacting it. A good example of this is the COVID-19 pandemic and the significant effect it has had on Airbnb over the last 2 years.
Like many companies, Airbnb struggled in 2020, ultimately laying off 25% of its employees. Although some may assume this implies an overall decline in Airbnb profitability, we have actually seen the opposite effect in certain markets. For example, rural Airbnb rentals - such as cabins or cottages - are currently surging as travelers who have been cooped up at home seek out safe, secluded travel destinations.
As we progress through the COVID-19 pandemic, it's unclear how the rental market will adjust. Those considering investing in an Airbnb property may want to wait 6 months to see how these trends hold up.
Get approved to see what you can afford.
Rocket Mortgage® lets you do it all online.
Is An Airbnb Investment More Profitable Than A Conventional Investment Rental Property?
Because each investment is unique, there's no quick answer to this question. But in high-demand areas, the nightly cost of an Airbnb can lead to higher profits.
For instance, let's say you want to rent out a one-bedroom apartment in Los Angeles. As of March 2022, the average monthly cost of that apartment is $2,563, meaning you could make roughly $30,000 if your tenant signs a 12-month lease. But short-term bookings are able to charge more per night, which means you could make more.
According to AirDNA, the average daily rate for an Airbnb in Los Angeles is just over $190, with units typically occupied 67% of the year. This means you could make over $46,000 off of your Airbnb – a pretty significant $16,000 more than you would through traditional renting. Airbnb also charges renters a maintenance fee, which means you may save on necessary repairs.
Still, when considering the potential for a higher profit through Airbnb, you must also consider the key differences between these types of rental properties and how those differences will impact your wallet.
Unique Expenses Of An Airbnb Investment
Managing an Airbnb involves several unique expenses you should consider, including:
Furnishing and decorating the property

Maintenance

Utilities

Amenities such as television subscription services

Potentially different, more expensive home insurance
Airbnb Investment: Pros And Cons
"The Airbnb market is competitive now and becoming more so every day," explains Isabeau Miller, the CEO of Beckon Homes, a company focused on helping real estate investors find, furnish, market and manage their Airbnbs. "Travelers now expect hotel-like amenities and services, with a personal and individualized touch."
These rising standards can also lead to some significant pros and cons:
Pros
Potentially higher profits

Less reliance on long-term tenants

Advertising on Airbnb means less effort to find renters
Cons
Higher upfront costs due to furnishings and decor

Potentially higher operating costs

Less security from long-term tenants

Managing an Airbnb is essentially a second job
What Kind Of Property Should I Buy For An Airbnb Investment?
Despite what some may think, an Airbnb investment does not need to be a vacation rental home, as many use Airbnb for business travel and other life events that may bring them to any number of locations across the country. This means it's possible to have a profitable Airbnb regardless of where you're located!
Prospective Airbnb investors should look at local listings first to see what kind of properties are in demand where they live. You can also rely on real estate experts to help you choose the right property for your investment.
"I made sure that I found a real estate agent who understood the Airbnb rental market in the area and the purchase process was easy," says Bryce Welker, owner of CPA Exam Guy, who also owns and operates multiple Airbnb rental properties. "I followed a template I found online that walks owners through the furnishing and set-up process to equip an Airbnb rental for both short and long-term stays."
Get approved to see what you can afford.
Rocket Mortgage® lets you do it all online.
Do I Need To Live Near My Airbnb Rental?
The short answer: no. Although it is more convenient to be located near your Airbnb property, it's not entirely essential.
If you choose to invest in a property that is not near your primary residence, you will likely need a property manager – but that may not be a bad thing. Some experienced Airbnb hosts find great value in having the help.
"I wish I had known how often people flake on you after expressing interest in renting your place," shares Welker. "I would have opted to hire a property management company from the start just to help with the frequent back-and-forths that end up going nowhere."
What Are the Best Cities For Airbnb Investment?
As we've discussed, COVID-19 has disrupted many Airbnb trends, making it difficult to clearly identify the current top cities. Top cities in the past have included Palm Beach and San Francisco, but to ensure you have the information you need to make a profitable investment, it might be a good idea to let the dust settle before choosing a location.
Legalities To Consider
Each locality will have different requirements for Airbnbs, and some may even require the property to be a primary residence. If the property is part of an HOA, there might be added wrinkles to consider.
Because these laws and guidelines vary dramatically between regions, you'll have to do some research into your local short-term rental requirements before purchasing a property.
The Bottom Line
If you're contemplating an Airbnb investment, you must consider all the benefits and challenges you may come across along the way, from the potential for higher profits to the loss of personal time required to advertise and maintain the property.
"Running an Airbnb can and will be a full-time job filled with needy guests, property issues and liability," summarizes Miller. "But being a communicative, thoughtful host with a beautiful, comfortable space can be incredibly profitable for investors and homeowners alike."
As a reminder, COVID-19 has significantly disrupted the Airbnb ecosystem, so it may be advisable to wait until the situation has normalized before deciding to take the plunge. However, if you are looking at buying a primary residence that can also bring in Airbnb income, the risks may be lower, as long as you can afford your mortgage without supplemental income. If this sounds like your situation, why not get preapproved to start the process?
Take the first step toward buying a house.
Get approved to see what you qualify for.
Related Resources
Viewing 1 - 3 of 3