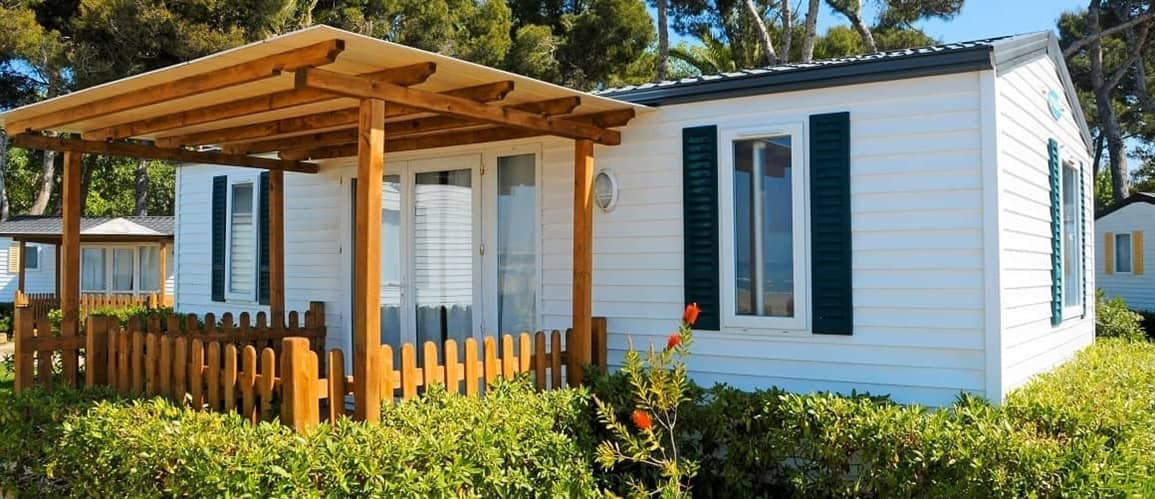 What Is A Chattel Mortgage And What Are They For?
Sidney Richardson3-minute read
February 27, 2022
Share:
Purchasing a manufactured home or other similar piece of movable property can be confusing. Since the home or property itself is often separate from the land it rests on, the rules for purchase can be a bit different from buying a traditional home.
A chattel mortgage is one way of financing a mobile piece of property – but what is it, and how exactly does it work? Read on for our guide to chattel mortgages and whether they might be the right choice for you.
Rocket Mortgage® does not currently offer chattel loans.
Chattel Mortgage Definition
A chattel mortgage is a loan for a manufactured home or other movable piece of personal property, such as machinery or a vehicle. The movable property, called "chattel," also acts as collateral for the loan.
Basically, this means that if you default on your chattel mortgage, your lender can take possession of the property being financed and sell it to pay off the loan. If you are struggling financially, this could mean you lose your home. Your lender doesn't own your property forever, however – if you pay off your chattel mortgage, the property belongs to you.
Great news! Rates are still low in 2022.
Missed your chance for historically low mortgage rates in 2021? Act now!
Chattel Vs. Traditional Mortgages
The main difference between chattel and traditional mortgages is that chattel mortgages can only be used for movable property, while conventional mortgages are typically reserved for stationary homes. Chattel mortgages are also usually only used to finance the movable property itself and not the land it sits on, unlike traditional mortgages which typically include both a home and the space it rests on.
Borrowers with mobile personal property usually must own, rent or buy land to keep their home or vehicle themselves. There are some exceptions, though; depending on where you live and what type of property you are financing, some lenders may include land rental costs in your loan payment.
Chattel loans have shorter terms and lower processing fees than their conventional counterparts, as well as lower maximum loan amounts. They also tend to have higher APR and interest rates. This means monthly payments may be high, but you'll also pay off your loan faster.
What Chattel Loans Are Used For
Chattel mortgages can be used for a variety of movable personal property, including:
Manufactured homes: Formerly known as "mobile homes," this type of property is often financed with a chattel mortgage. These movable homes are built offsite and relocated using a chassis. Movable homes of this kind built before June 15, 1976 are referred to as "mobile homes" while homes built after that date are called "manufactured homes" due to a change in standards set at that time by the U.S. Department of Housing and Urban Development (HUD).
Modular homes: Modular homes are similar to manufactured homes in appearance but are less "mobile" and are typically placed on a more permanent foundation. Since they are usually not moved after being placed, these homes can also be financed with conventional mortgages because they could be considered fixed. Modular homes must adhere to the same local building codes as traditional housing.
Vehicles: A chattel loan can also be used to secure a loan for a car or other vehicle, typically for business purposes. This is a more popular choice in other countries that have a national goods and services tax (GST) because this loan allows the vehicle's owner to claim GST associated costs as well as depreciation of the vehicle on their taxes.
Equipment: Chattel loans can also be used for heavy equipment such as tractors, forklifts and other similar machinery. This type of loan makes a lot of sense for farm equipment especially, which can be acquired and put to use right away in order to make money that can be used to pay the loan off.
Chattel Mortgage Lenders And Your Personal Property
As mentioned earlier, until you pay off a chattel mortgage, the property being financed belongs to your lender. This does not mean there is a permanent lien on your property, however. Once your loan has been paid in full, the property belongs to you and cannot be taken or resold by your lender.
If you fall behind on payments, however, remember that your property is also collateral for the loan. If you default on the mortgage, your lender will seize and repossess your property.
Tax Implications Of A Chattel Mortgage
The interest paid on a chattel mortgage is tax-deductible, just like interest paid on a conventional mortgage, though that is only deductible up to a certain amount. If you are financing a manufactured or modular home that's fixed to the ground, you may also be able to make property tax deductions.
The Bottom Line
Chattel mortgages are a little-known but potentially good option for someone looking to finance a manufactured home or even heavy equipment. Though these loans are smaller than conventional loans and tend to have higher rates, they are also shorter in term and more quickly paid off.
If you're interested in a traditional loan or refinancing, learn more about the home buying process with our Learning Center guides or apply for a mortgage today!
Low rates were a big story in 2021. It was a great year to refinance!
Great news about 2022 so far: Rates are still relatively low.
Related Resources
Viewing 1 - 3 of 3